Best Workout Clothes for Men & Women: Ultimate Guide with Reviews 2019
Will wearing specially designed workout clothes help me at the Gym?
Will it improve my performance, or somehow make working out any better?
These are valid questions. Investing in a new wardrobe, for clothes you only wear a few hours a week, may seem extravagant.
I will answer that question, show you what to look for while searching for the best workout clothes for women and the best workout clothes for men, and offer reviews of the best gear and activewear available today.
What's the Problem with Working Out in Regular Clothes?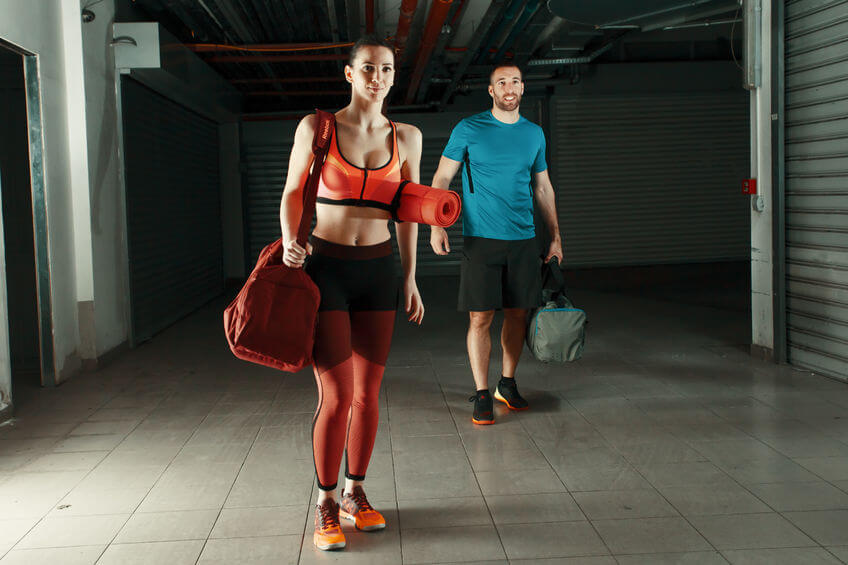 It goes without saying that activewear is designed for an active lifestyle.
It is designed for movement; Jumping, squatting, impact movements, running and so on.
It is designed to manage perspiration and the odor that may accompany it.
Imagine this:
You head to the gym for a few quick sets, and since you have no real workout shorts, you throw on a pair of cutoff jeans you normally use at the beach.
You get to the gym and begin your workout with a little cardio.
About 5 minutes in you start sweating because:
the gym is warm and possibly humid
your body is generating heat, so you are sweating
the heat and sweat are trapped in the heavy cotton denim
To make matters worse the sweat just sits there, like a hot wet towel around your waist.
As you continue, the perspiration becomes visible, making dark spots on the denim. The skin beneath becomes chafed from the rubbing of wet denim against skin.
So now you are not only uncomfortable, wet, hot and chafed, but you are also self conscious because of the wet stains on your shorts.
Not an ideal situation.
What is ideal?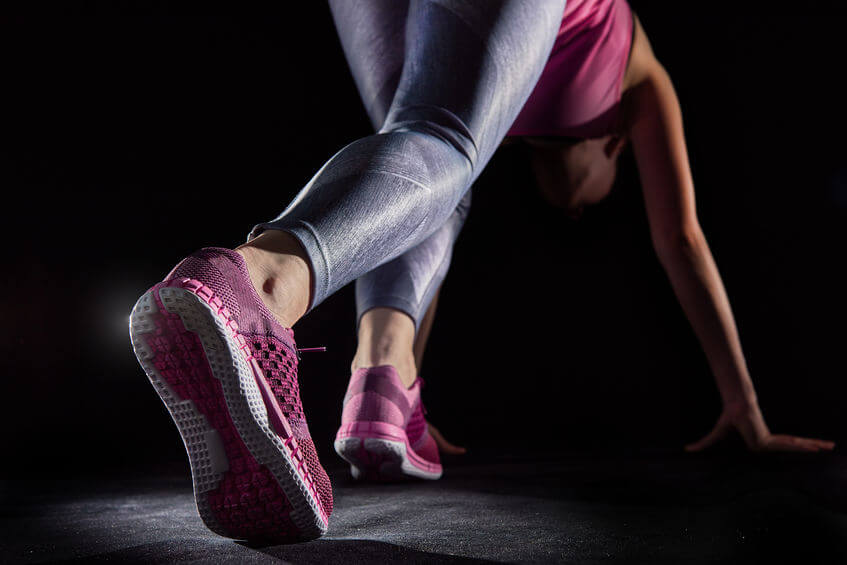 What Makes the Best Workout Apparel?
Several factors go into making the best workout clothes for women and men.
Cut and Construction
Activewear and sport's clothing is cut and constructed a specific way.
The best workout shirts have seams that follow the contour of your body, facilitate natural movement and allow the clothes to conform to your body.
They usually have durable seams to withstand the abuse of being stressed while working out.
Tapered Bottoms
Traditional sweatpants (link to Amazon.com) are too baggy and sometimes too long, obstructing performance.
Pants, leggings, even sweatpants designed for the gym, should have tapered legs. This prevents the hem from getting in the way.
Material
Cotton is nice, but it is not always the best choice for workout gear. Cotton absorbs moisture, which makes clothes heavy.
Cotton does not wick moisture, instead, it holds on to water, leaving the perspiration sticking to you.
Cotton also has little stretch, and loses its shape when damp.
Better materials are Polyester and Cotton/synthetic blends.
Lycra, spandex and elastane help workout wear move and flex, They insure the clothes keep their shape and conform to the body, even as you sweat.
Synthetic material is better at letting go of moisture, because it does not absorb water, in fact, it repels perspiration, allowing it to evaporate from your body.
Wash and Wear
Wash-ability is a number one concern when choosing activewear.
You wash gym clothes after every workout. It needs to stand up under frequent wash and use since you workout consistently.
Personally, I workout 5 days a week and I have about 5 outfits I cycle thru. Each of these gets washed once a week.
That's 52 washes per year. And that is a low estimate, especially if you only have 2 or 3 outfits.
You should be able to wash your activewear hundreds of times without problems.
Freedom of Movement
You need your workout clothes to move with you, not against you.
I have had the misfortune of wearing a pair of leggings with inadequate elastic at the waist. Performing any type of jumps, or jogging in these leggings was miserable.
I was constantly adjusting them and it became an annoyance, not to mention cut my performance.
Look for clothes that allow you to move. Four way stretch fabric is a good choice.
Leggings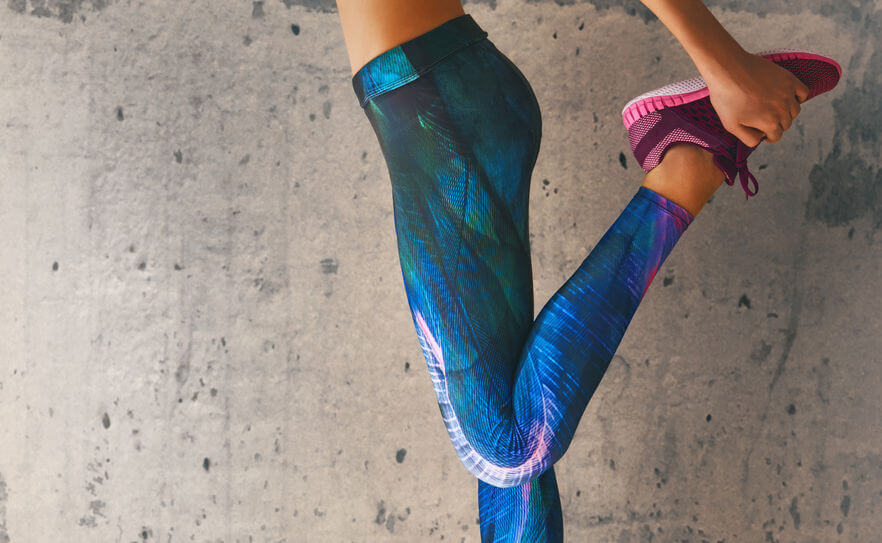 The best workout leggings have a wide elastic band or panel that holds the pants up and flattens and flatters the tummy area.
There is nothing worse than leggings that slide down. Nothing.
Lightweight
The best workout clothing brands know that lightweight clothing is king in the world of fitness apparel.
Nike and Under Armour boast about how light the material they use for tanks is because light weight fabric is comfortable.
Lightweight fabric does not constrict and you don't feel or notice much that you are wearing it.
The best workout apparel is that which you do not notice. If your workout clothes are drawing your attention, it is usually because of a problem or discomforts thy cause.
Moisture wicking anti microbial technology
Activewear should be designed to handle sweat, perspiration, climate etc. They are often made with sweat wicking, anti-microbial material to keep you dry and keep odor at bay.
Activewear is made to prevent your workout clothes from sticking to you or becoming heavy and stiff as you sweat.
You need clothing that will pull away moisture and allow it to evaporate naturally, keeping you cool and dry.
Heat regulation
If you live in a cold area, or workout outdoors, you may need workout clothes designed for the cold.
Layering is one option, and sometimes compression shirts or pants can be worn as a base layer to hold in heat.
Under Armour makes some leggings from their ColdGear (link to Amazon.com) line that have a brushed interior to keep you cozy. I have highlighted one pair in the reviews below.
Appropriate shoes
Always wear appropriate shoes at the gym, or anywhere you work out. Never wear Flip Flops, sandals, thongs, work boots, etc while working out.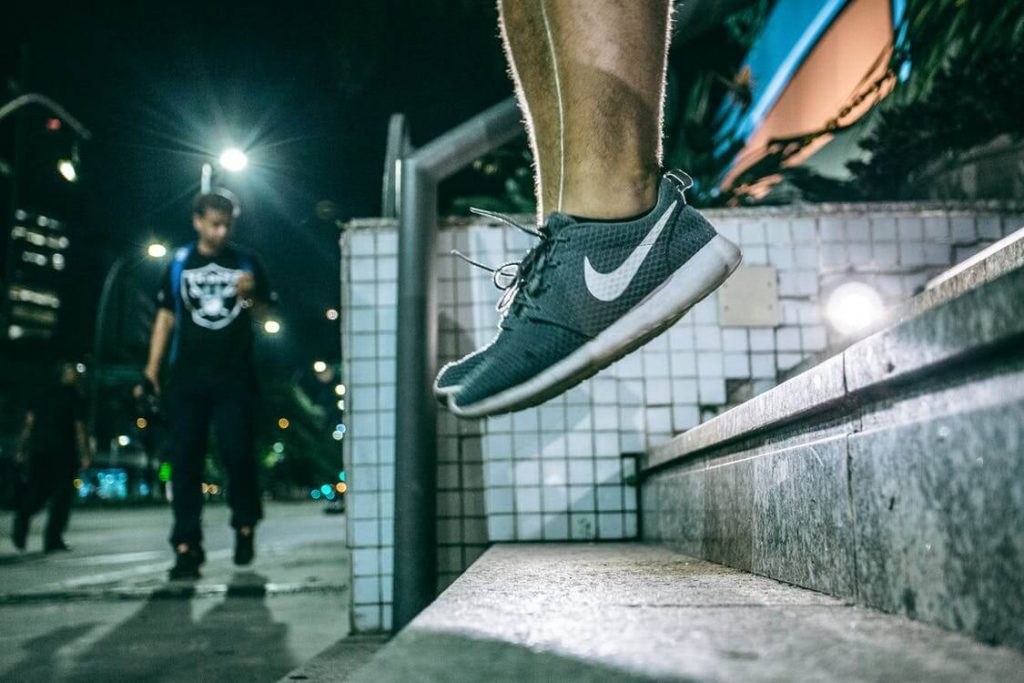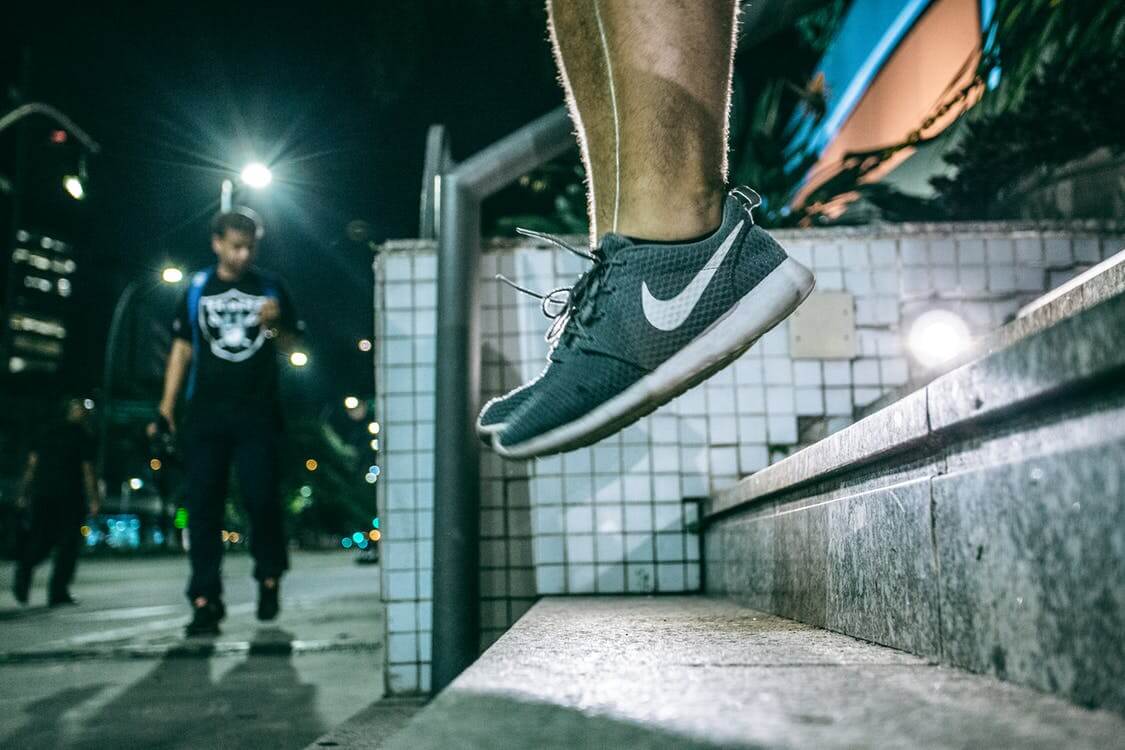 Check out our workout specific recommendations here:
What will it cost you?
Brand name athletic clothes from Nike, Adidas, Reebok, Under Armour and Lululemon may end up costing more, but many times, the extra cost is worth it.
Buying a 60 dollar pair of leggings may seem expensive. But if they fit well, look great, and look like new after the 50th wash, they are superior to a less expensive pair that loses elasticity and starts unraveling at the seams after 20 wears.
One pair of shorts you LOVE, that wash well, function perfectly and last for years is better than four pair of shorts that restrict movement, fade in the wash and otherwise perform poorly.
And let's be real here.
You just feel better when you wear high quality clothes. Feeling good and looking good can motivate you to wear the clothes and get your butt in gear to workout in the first place.
Invest in yourself!
You are already spending your time working out. It just makes sense.
There is a lot to consider. I chose a selection of tops and bottoms for men and women and reviewed them here.
Top 6 Training Leggings, CrossFit Shorts & Compression Tights for Women
Check out our previous articles about Best CrossFit Shorts for Women and Compression Tights.
Nike Women's Pro Cool Training Capri
Review: Attractive and functional, with several features to keep you cool, including moisture wicking dri-fit fabric. Nike makes many of the best workout pants for women's unique needs.
Pros
Cooling upper calf behind mesh section
Capri length
Wide flat elastic waistband for pants that stay up and look smooth
Cons
Takeaway
Stay cool and look hot with these Nike Capris.
Lululemon High Times Pant Full On Luon 7/8 Yoga Pants
Review: These workout pants have you covered, literally. They have a high rise and thick fabric which is NOT see thru, even if you bend over.
They are slimming and flattering, camouflaging small imperfections.
Pros
High rise, for good coverage in the back
Extra wide waistband lies flat and is flatters the tummy
Four way Lulon stretch fabric incorporates Lycra and wicks away sweat
Small waistband pocket/ key keeper
Cons
Expensive, but for the best workout leggings, they are worth it!
Takeaway
Feel and look great in exercise pants that fit in at the gym and beyond.
RokFit Women's ORION Shorts
Review: Mix it up with a super cute pair of Rockfit shorts. The length allows you to freely bend and squat.
Pros
Wide elastic band, plus drawstring close for a secure fit
Sweat wicking odor resistant fabric
Lined
Cons
Runs small, order larger size!
Takeaway
These shorts give you room to move as you squat, lift, jog and stretch.
Review: These shorts are perfect for lifting, Dance, volleyball, or as a base layer under soccer shorts.
They have a flattering fit that lifts the behind, yet they are not booty shorts, they are a bit longer.
Pros
Seams follow the shape of your body so the shorts move naturally, without riding up.
Flat smooth waistband, high compression
3" inseam
Cons
Takeaway
Short compression shorts, perfect for layering.
Under Armour Women's ColdGear Authentic
Review: These Under Armour ColdGear leggings will keep you warm while jogging on a chilly morning.
They have a brushed interior that traps heat, and are smooth on the outside, just like standard leggings. Best workout pants for cold weather!
Pros
Sweat wicking compression material
Keeps your legs warm in the cold
30" inseam
Cons
Thin elastic in the waistband, run small
Takeaway
Best workout leggings for cold weather.
Fleo EL Toro Full Leggings

Click Here for Pricing and Pictures on Fleoshorts.com
Review: I got a pair of the EL Toro leggings in both the Magnet colored Romey fabric and the Black Silky Silk fabric. The Romey fabric is a super soft matte finish fabric. It almost feels like suede, except it's stretchy. I think this fabric would be perfect for cold weather.
The silky silk is more like traditional legging fabric, except a bit thicker. While it is not shiny, it has slightly more sheen that the Romey fabric.
Truly, both these fabrics feel luxurious. They are thick and offer complete coverage.
The fit is the best. The snug fabric and the 4 inch waistband keep everything high and tight, if you know what I am saying.
I am just under 5'7" and the 28" leggings were plenty long, and would be fine for taller ladies or those with longer legs. If you are on the petite side, FLEO offers 25" and even 21" leggings too.
Pros
Thick luxurious fabric.
Snug fabric and 4 inch waistband offer a flattering fit that won't shift.
No annoying elastic in the waistband, the fabric does a great job keeping them in place.
Available in three lengths.
Cons
Only available in solid colors.
Takeaway
Perfect for lifting, training and running, best all-around workout leggings.
Top 5 Training Pants and Shorts for Men
Check out our previous article about TOP 15 Best CrossFit Shorts for Men
Blank WOD Shorts by Epic MMA Gear
Review: The best workout shorts for men with a blank, no graphics design for training or competition.
Pros
No logo, good for academy or competition, or a low key style
10" inseam. Single layer fabric, flexible. 4" leg split
Includes drawstring close
Cons
Takeaway
Sturdy, flexible, simple affordable gym shorts.
Reebok Cross Fit Super Nasty Shorts
Review: These slim fit shorts are built with movement in mind. The material is 13% elastane, giving the shorts flexibility, and a 10 inch inseam for decent coverage.
The comfort and quality of these shorts can not be beat, these are the best workout shorts for men.
Pros
Front tie, shorts stay secure
Small zippered pocket
Long lasting, sturdy yet light. Water repellant material
Cons
These run a bit large around the waist, especially considering they are a slim fit design.
Takeaway
From one of the best activewear brands comes this comfortable, functional board short that will quickly become one of your favorite.
HYLETE men's vertex zip pocket short
Review: These shorts are made to fit you. Each size is available in above the knee or tall style, plus the double inner and outer drawstring insures a secure fit.
Pros
Inner and outer drawstring for added security
Super stretch waistband, expands 4"
Two Strategically placed angled zippered pockets
Cons
The legs are baggy, no mesh liner
Takeaway
Like swim trunks, only far more comfortable, and functional, some of the best gym shorts.
VIRUS Men's Airflex 4-way Stretch Training Shorts
Review: These Virus Men's shorts have 4 way stretch thanks to the 9% spandex content and allow movement paired with great coverage due to the rounded leg slits.
These shorts sit just at the knee. Best gym shorts you can get.
Pros
One angled zippered pocket
9% spandex material for stretch and freedom of movement
Fast drying, durable and long lasting
Cons
Run a bit small in the waist
Takeaway
Soccer, Lifting weights, martial arts, MMA, CrossFit, whatever. These shorts rock!
Monsta Clothing Co. Men's MC-MonstaFlag Sweatpants
Review: Look good and stay comfortable at the gym in these Monster sweat pants. They have large side pockets, a drawstring close, and slightly tapered legs for a nice fit and a look you will love.
Pros
Drawstring close, 100% cotton, thick fabric
Soft, deep, jersey fabric side pockets
Tapered leg, no leg elastic
Cons
Run small and short, order up a size if you are tall
Takeaway
If you like to wear sweats at the gym these are the best workout clothes for men.
Top 5 Training Tops, Shirts and Hoodies for Women
Check out Top 8 Best CrossFit Shirts for Women 2019 and TOP 15 Best Sports Bras 2019
Reebok Women's Elements FT Full Zip Hoodie
Review: Reebok makes some of the best workout clothes for women, and this hoodie is no exception.
This slim fit jacket moves with your body and can be worn during a chilly morning jog or during warm-up at the gym. There are two slanted front pockets, one with a small Reebok logo.
Pros
Full length zippered jacket with drawstring hoodie
French terry fabric
Ribbed on the cuffs and bottom
Cons
Arms can be tight, especially on muscular arms
Takeaway
Perfect hoodie jacket for the gym, cut well and looks sharp.
adidas Originals Women's Crop Hoodie
Review: Cute and cropped, this hoodie is sure to be noticed at the gym or on the street.
Pros
Thick, shoelace style drawstring on the hood
Ribbed at the hem and cuffs
Large adidas logo on front
Super soft 70% cotton, with 30% polyester to prevent shrinkage and keep the hoodie soft
Cons
Cropped Hoodie, may show a bit of the torso
Takeaway
A Cool crop top hoodie for the gym and beyond.
Nike Women's Dry Performance Athletic Training Tank
Review: This sexy racer back tank is a Nike classic and for a good reason. It keeps you cool, with sweat wicking dri-fit fabric, and shows off your hard earned back muscles.
Pros
"Just Do It" Slogan on the shoulder straps
Free fit, very easy to move in
Longer, rounded back hem to offer better backside coverage
Cons
Should be worn with a sports bra, not enough coverage for bench work
Takeaway
One of THE best moisture wicking shirts!
Under Armour Women's Tech 1/2 Zip
Review: Under Armour is among the best workout clothing brands because of the tech innovations incorporated into their clothes.
This workout shirt is sweat wicking, quick drying and built with anti odor materials.
Pros
Four way stretch for ease of movement
Not too heavy, good for layering or a light chill
Contoured slim fit, very flattering
Cons
Takeaway
Very light jacket, comfy and good-looking.
Under Armour Women's Streaker Tank
Review: This tank is special: It is made with UA micro thread.
If you look close enough, you can see the micro thread lines which serve to keep the material from sticking to your body as you sweat and causing chafing.
Pros
UA Micro thread anti chafing and no stick material
Moisture transport technology keeps you dry, four way stretch allows movement
Ultra light weight material
Cons
Material is thin and you can see darker clothes worn under it
Takeaway
Easily one of the best workout shirts, this tank is so free and light you will hardly notice you have it on.
Bonus: 2 Great Sport Bras Recommendations
NIKE Women's Victory Compression Sports Bra
Review: Nike makes the best women's workout clothes, including this Victory compression bra.
This dri fit bra keeps you secure and supported for jogging and other high impact workouts, while keeping sweat away from the body.
Pros
Racerback style for ease of movement
Holds you still, keeps you in place with little to no bounce
Available in many colors
Bonded seams and brushed hem for comfort
Cons
Compression bra, feels tight
Takeaway
This sports bra has the quality and functionality Nike is known for, you won't be disappointed.
Under Armour Women's Armour Eclipse Bra
Review: If you like a supportive sports bra that does not flatten you out, this Under Armour bra fits the bill.
It has soft cups, with padded removable inserts with adjustable straps, which is hard to find in a sports bra.
PROS
Mesh lining and Moisture transport technology work to keep you dry
Cross position adjustable straps for security, flexibility and adjustability
Flattering padding and soft cups
CONS
Mid level support, may feel movement jogging
TAKEAWAY
Supportive and pretty, a perfect combination, one of the best workout apparel pieces a woman can own.
Top 5 Training Shirts and Hoodies for Men
Check out TOP 15 Best Compression Shirts for Men
Under Armour Men's HeatGear Armour Compression Shirt
Review: From the maker of the best men's workout clothes comes to this log sleeve compression shirt.
Under Armour's HeatGear gives SPF protection of 30, has mesh underarm panels that keep you cool, and US's moisture wicking technology to keep the sweat off your body.
Pros
Stays in place, wont ride or move even while grappling, under a gi or engaging in other high impact moves
Tight fitting compression shirt keeps everything in place, great as a base layer
Thin material, HeatGear is designed to keep you cool
Cons
Just because it has long sleeves, do not expect it to keep you warm-it wont. It is meant to be cooling
Takeaway
Stay cool, whether fighting on the mat, or running in the heat, this compression top delivers.
Reebok UFC Fight Night Conor McGregor Champ Walkout Hoodie
Pros
UFC, Conor McGregor, IRL Shamrock and Reebok printed on the hoodie.
Slim fit, with 95 % cotton for comfort, and 5 % elastane for movement.
Flat seams, two open pockets
Cons
Snug, especially in the forearms. Order up for a looser fit.
Takeaway
Be the envy of your gym buddies with this killer UFC walkout hoodie which is as comfortable and functional as it is cool.
Nike Men's Pro Cool Long-Sleeved Top
Review: The best workout clothes for men are those that are functional, like this Nike compression top.
It holds everything together, keeps you cool, shows off your muscles, and also works as a base layer.
Pros
Thin Dri-fit material, cooling back panels
Seams follow the contours of your body, and there are two bottom side slits, moves naturally and comfortably
Good for long torsos, does not ride up
Cons
Compression top, will fit tight
Takeaway
Thin compression top with natural movement and cooling feel.
adidas Men's Essentials 3-Stripe Full Zip Fleece Hoodie
Review: This soft, thick hoodie by adidas, one of the best activewear brands, is a classic sports jacket that is great for the gym or track.
The soft cotton blend makes the jacket warm and the slim fit looks nice.
Pros
Cotton polyester blend, ribbed cuffs, for comfort and flexibility
Full length metal zipper
Slim fit in the arms and torso, with a large hood
Cons
Takeaway
An eye-catching activewear jacket, that compliments an on the go lifestyle.
T-Shirt Venum Galactic 2.0 Carbon Dry Tech
Review: This Venum Galactic Dry Tech training shirt contains more than meets the eye.
It looks like standard street wear, but has dry tech thermoregulation technology, a slim fit, and flexibility.
Pros
5% spandex give this shirt the right amount of stretch
Slim fit, but not tight. NOT compression gear.
Sublimated printing, the striking graphics are incorporated into the shirt and will not wash, wear or peel off.
Polished, reinforced V neck
Cons
Takeaway
Looks like a T shirt, but functions like athletic gear.
Bonus: 2 Awesome Men's Tanks Recommendations
adidas Men's Training Ultimate Tank
Review: Sometimes the best exercise clothes are the ones you do not notice you have on, like this adidas ultimate tank.
It is very light climalite fabric, with just the right amount of cotton and polyester to make it comfortable and breathable, so you stay dry.
PROS
Climalite soft jersey cotton/polyester blend fabric sweeps moisture away
Classic coverage men's tank
Wears well, does not stretch or fade, even with heavy use
Good for bench work as the back has more coverage than other tanks
CONS
Runs just a bit small in the torso and lengthwise. If you are between sizes, order a size larger.
TAKEAWAY
Excellent everyday gym tank with good coverage, not skimpy.
Under Armour Men's Tech Tank
Review: This form fitting full coverage tank is so light, you will hardly notice you are wearing it and the back has good coverage so if you are using it to lift, it will keep your skin covered while sitting or lying on the bench.
PROS
Fits close to the body, but is not compression
This sweat wicking, antimicrobial material
Full coverage tank, good for bench work and those who want a little more coverage
CONS
Order a size larger for a looser fit. Conforms to the body.
TAKEAWAY
Pliable, light and slim fitting polyester tank top.
Top 4 Socks, Headbands and Accessories
Under Armour Men's Resistor III Lo Cut Socks
Review: Under Armour makes some of the best workout socks available.
These seamless, low cut socks have just enough spandex to maintain their shape, and are made with sweat wicking, Armordry technology.
Pros
Length covers the ankles
UA logo on back hem and at the top of the foot
Cons
Tend to wear quickly due to 100% polyester material
Takeaway
Snug, no slip, moisture wicking low cut socks.
NIKE Performance Cushion Low Rise Socks
Review: Nike has made the best workout socks, both absorbent and breathable, thanks to a cotton blend material, with a snug supportive, no slide fit due to the ribbed arch support.
Pros
75 % cotton thick and cushioned
Ribbed arch support, snug fit
Ribbed cuffs prevent sliding
Cons
Unisex socks, check size carefully before ordering
Takeaway
Thicker, cotton blend athletic sock with arch support.
Under Armour Women's Essential No-Show Liner Socks
Review: These Under Armour no show socks have a flat knit for a smooth feel. They are not too thick and made from Polyester and spandex. They stay up, with no slipping.
Pros
ArmourBlock anti odor and Armourdry technology
Several color varieties available in packages of 6 pair per pack
Built in Arch support band
Cons
Takeaway
Cute and comfortable ladies no show athletic socks.
Review: These functional headbands keeps stray hair out of your face while you work out. They can be worn on guys or gals, and has a thin silicone rail to keep them from sliding.
Pros
Large variety of colors to choose from
Silicone lined so they stay in place
½ inch thick, with 35% spandex content to retain shape and elasticity
Cons
They tend to stretch over time with heavy use
Takeaway
Stay put slim Nike Headbands are essential for anyone with long hair.
Wrap up
The best workout clothes for women and best workout clothes for men share a few things in common:
Always look for technical fabric. Sweat and moisture wicking fabric are a must.
Fabrics that stretch. Four way stretch, spandex, lycra etc.
Choose quality, fit and functionality over price- you won't regret it.
Share your thoughts. We want to hear what you think.
Leave a comment below, we read each one.
Thanks for stopping by!