Best CrossFit Shirts for Women with TOP 8 Reviews 2019
Have you been rocking your husbands or boyfriends oversize cotton t-shirt during your workout?
If you are like most folks, when you start a fitness routine, you wear whatever workout clothes you have in the closet. As you settle into your routine, you eventually find that these clothes may not be ideal.
Maybe they get too wet from sweat.
Maybe the pants roll down and need adjusting, or the top exposes your tummy during pull-ups.
Maybe you find yourself constantly adjusting your clothes.
If you are doing handstand pushups and finding out the hard way what happens when your shirt meets gravity.
The Point is this:
Workout clothes need to work! That means the fit, cut and material need to be appropriate for the task.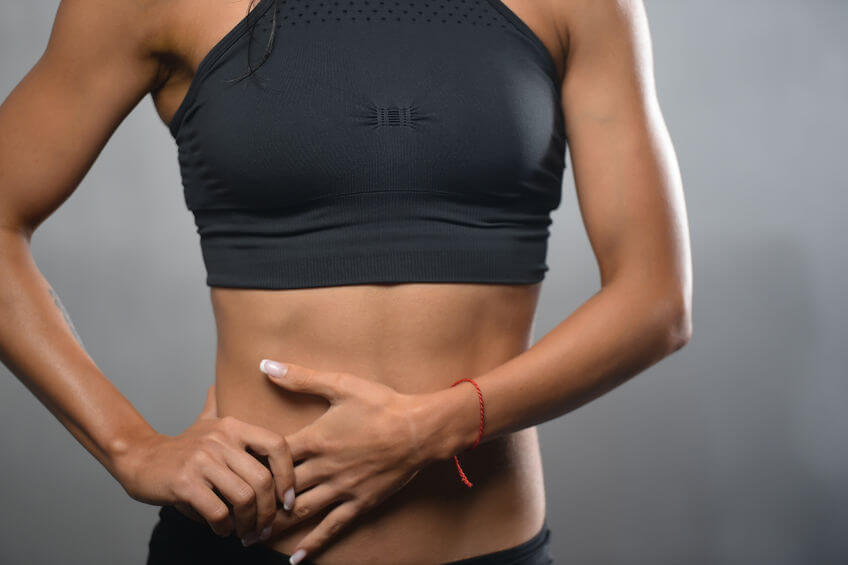 This article will cover CrossFit shirts for women, and what to look for in terms of style, fit, material and more.
We will round that out with a review of 8 of our favorite CrossFit shirts for women, to give you some fitness wardrobe ideas.
First Things First:
Shirts for CrossFit should
Be long enough to cover your waistband while your arms are raised.
Not reveal anything you want hidden.
Stay in place and not need adjusting.
Fit snugly so it will not snag on equipment or show your tummy during planks etc.
CrossFit shirts for Women: What Aspects to Consider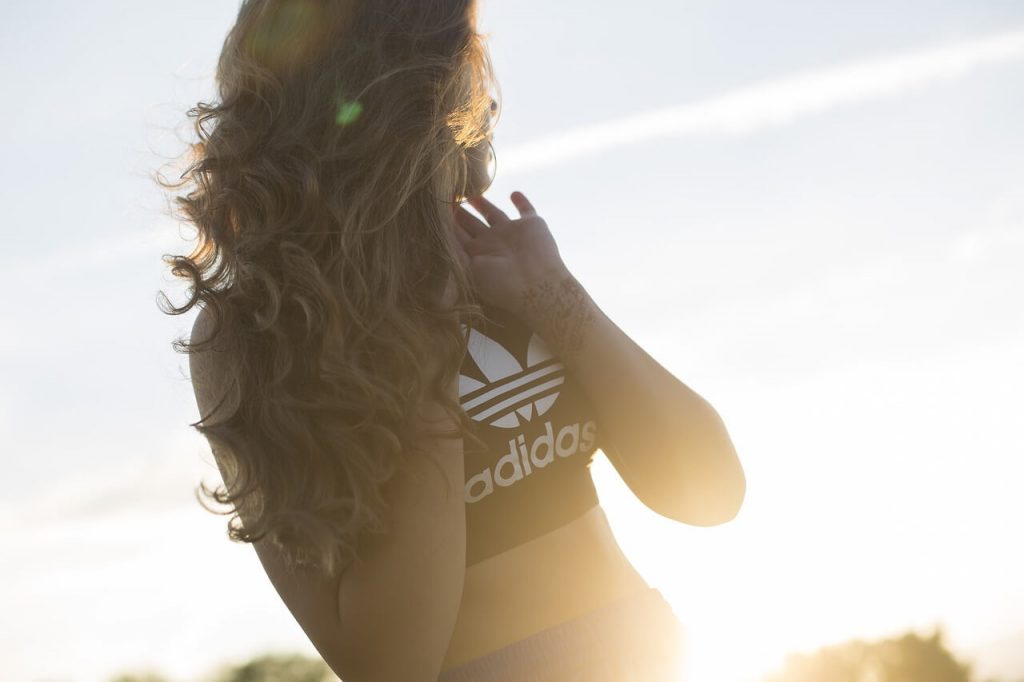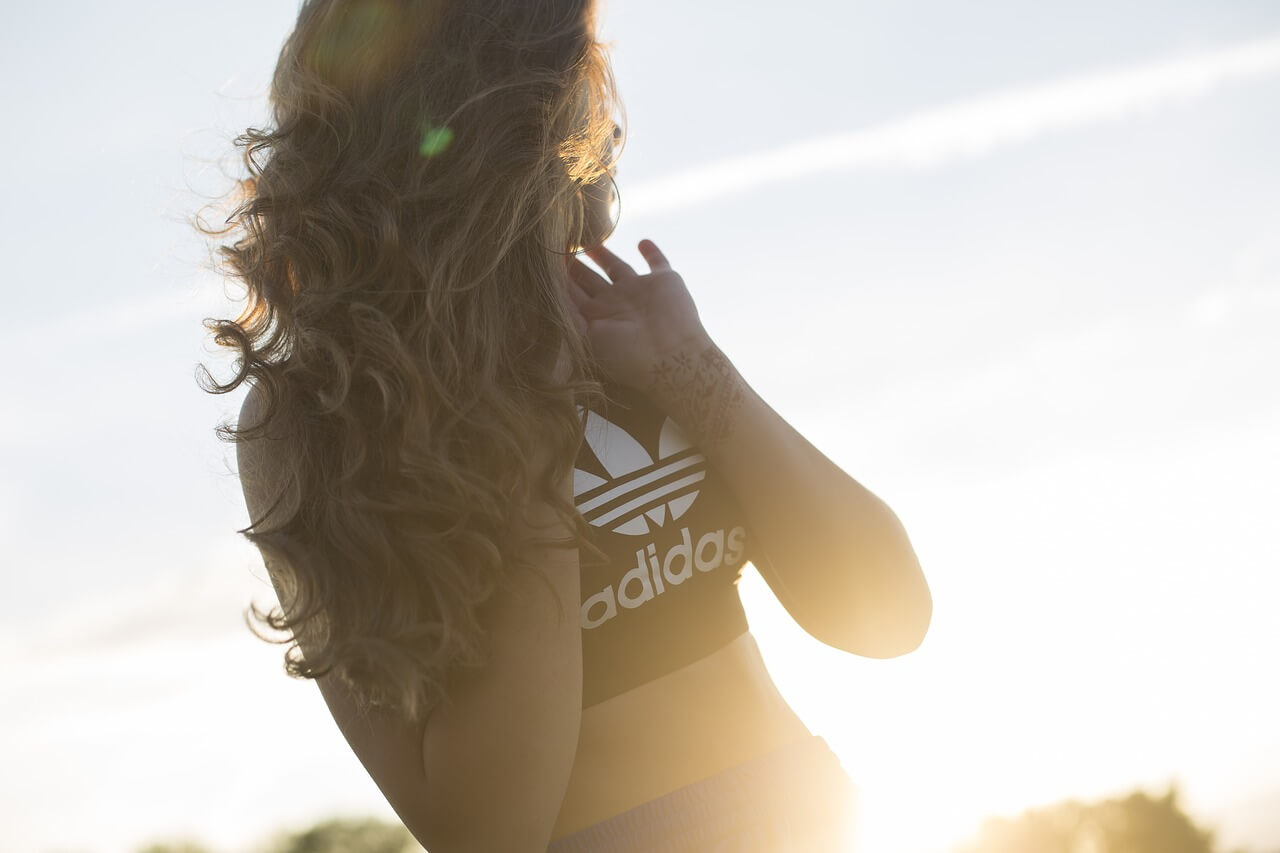 Material
Compression Wear
OK, ladies, this may apply to you, so hear me out. If you have any loose skin, from having babies, losing weight, or being overweight, or you have large breasts, you may want to consider compression tanks.
Imagine this:
You are doing a set or 20 box jumps but need to adjust your pants several times during the set because the loose skin on your belly causes them to slide. I know this happens to me, and it is annoying.
Compression material holds the skin in place, reducing unwanted bounce, jiggle and slide.
Compression material helps tremendously with these no-nos.
Cotton
Honestly, I LOVE cotton because it is a natural fabric, but it is HORRIBLE for CrossFit. Why?
Because it hangs on to sweat and holds it next to your skin.
If anything is going to make you sweat buckets, it's a WoD performed at full intensity. Cotton also tends to show the world your sweat. And that is not the look you are after.
Sorry gals, I need to advise against pure cotton for CrossFit.
Synthetics
Synthetics without a dry technology can feel HOT. As you sweat, you will feel the fabric stick to you, and since it is synthetic, it has no where to go.
At least cotton can soak up the sweat, not so with ordinary synthetics.
Dri-wear Dry Technologies
Dri-fit, Moisture-wicking, Cool Jade, UA Tech, hyderology, or whatever name it goes by, dry or moisture wicking technology is a must for CrossFit shirts for women.
You will sweat, so you need material that will pull moisture away from your skin and dry quickly.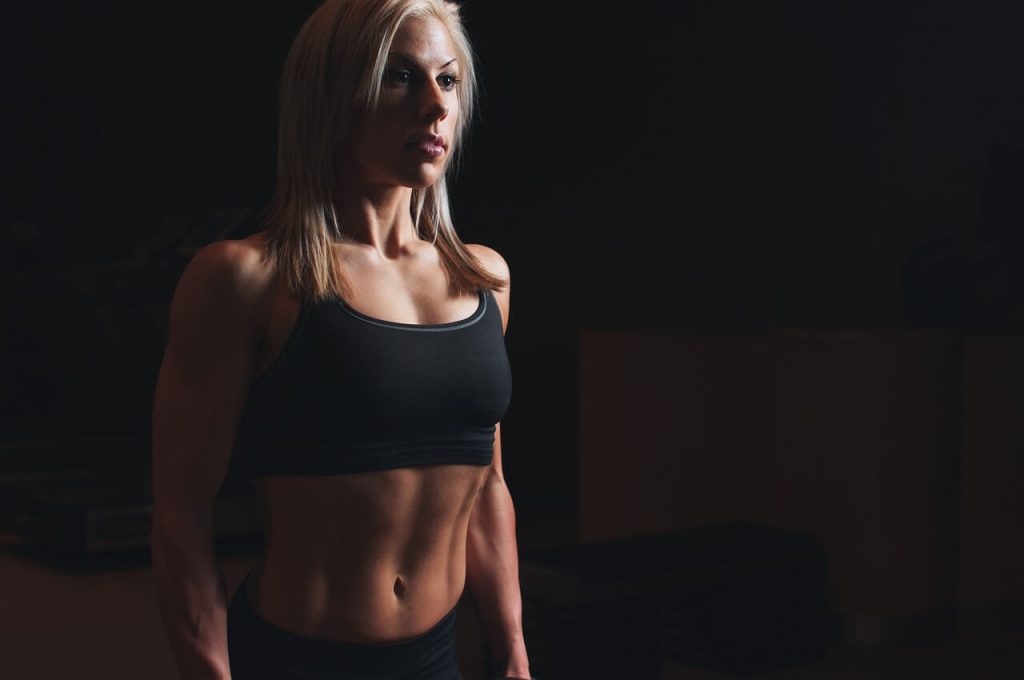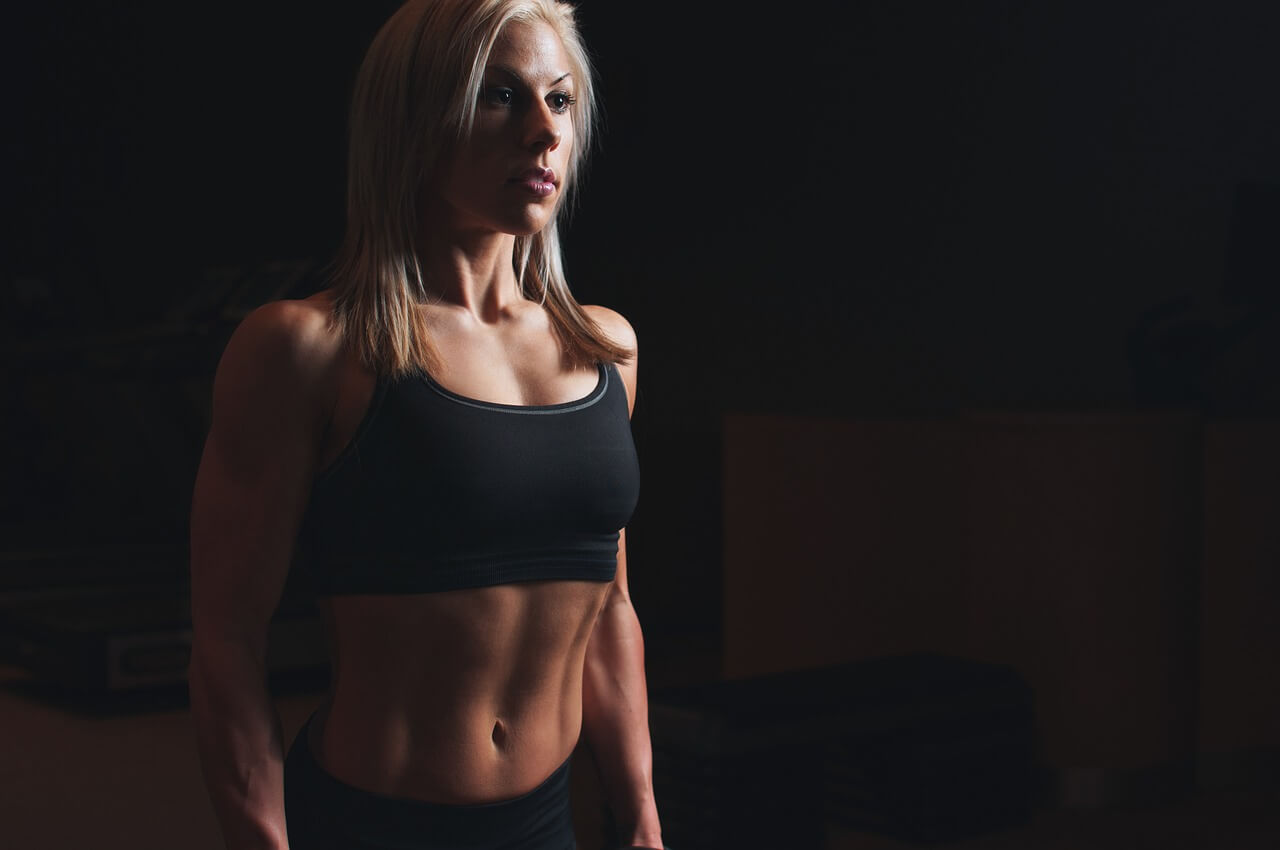 Style
Racer Back Tanks
Racer back tanks are, in my opinion, the best style for CrossFit. They keep you cool, the design from the back pulls the straps in and prevents them from slipping like they might with a bra or regular tank.
As a woman with narrow sloping shoulders (at least before starting CrossFit) I had a problem with straps falling off my shoulders. Many women of CrossFit will tell you, racer back style is where it is at.
Regular Tank
Regular tanks are OK too, and some women prefer them because the cover more skin than a racer backs tank usually does.
Racer backs are known for being low cut of showing a lot of back. Regular tanks can show a lot of skin, but they can also be cut modestly. Choose a style and cut you are comfortable with.
Short Sleeve
Meh. Not a huge fan of short sleeves because sleeves can pull and tug when you have your arms over your head.
Think: Rope climb, pull-up, dead lift etc. Sleeves just get in the way.
Long Sleeve
The only time I would recommend long sleeve is in cold weather, or if you want a compression shirt with full coverage.
The full coverage of a long sleeve compression shirt can help reduce arm jiggle, whereas a tank will only help in the tummy and breast areas.
They do have their place, but probably are not for most ladies everyday workout wear.
TOP 8 Best Women's CrossFit Shirts Reviews 2019
Nike Women's Pro Cool Training Tank Top
Review: This cute NIKE racer back tank comes in a huge variety of colors, has a great length and is cut for the curves of a woman.
Pros
Polyester/ spandex Dri-FIT fabric, to wick and dry
Mesh cooling back panel
Flat sewn seams to avoid chafing
Cons
Conclusion
This snug fitting racer back tank will keep you stylish and cool during your WoD.
Under Armour Women's Tech Victory Tank
Review: This Under Armour tank has a little extra length and coverage than the average tank. It has a wider back, quick drying fabric and wont slide up.
Pros
UA Tech Moisture transfer system keeps you dry
Wide back racer back style for more coverage
Slim fit and long
Cons
Material can be slippers and slightly see thru if too tight or stretched
Conclusion
This tank has you covered, with an extra long stay put torso.
Compression Tank Top-Women's Racer back Sleeveless
Review: The Compression Z Racer back tank is long and fitted, with ample back coverage, while still allowing full range of movement.
Pros
Compression flattens tummy and adds security in the bra area
Long length
Modest cut
Cons
Some say it is too loose in the breast area if breasts are smaller.
Conclusion
A great tank for bustier ladies because the compression keeps everything secure and the modest cut keeps everything covered.
RBX Active Women's Back Detail Yoga Tank Top
Review: This relaxed tank is roomy ad feminine, with a pretty twist at the back.
Pros
Soft material, relaxed fit
Very light material, great piece to layer with a cute sports bra
Available in many subtle, conservative tones
Cons
Conclusion
This tank is great for days you don't want a restrictive tank. It is more relaxed than most.
Reebok Womens CrossFit Forging Elite Fitness Tank Top
Review: The Reebok women's CrossFit tank is built with the Female CrossFit athlete in mind.
Pros
Slim Fit
Cotton blend
Fits close to the body and moves with you
Cons
Can see bra because of cut, sports bra recommended
Conclusion
This dynamic tank embodies the CrossFit attitude and its body hugging design allows you to perform any WoD exercise.
ASICS Women's Attacker Tank
Review: This gently fitted top is cut to conform, but not constrict. It is long but not too long, and has a fit women love.
Pros
Nylon/Lycra fitted tank
Incorporated "Hydrology" Dry technology so you never have to let them see you sweat
Fits true to size and is flattering
Comfortable high quality seams
Cons
No bra or extra support in that area, bra underneath necessary
Conclusion
This Black racer back tank by Asics fits fantastically and looks great with curve flattering, slimming, white piping accent and a modest back.
Nike Women's Dry Performance Athletic Training Tank
Review: This is THE top to show off your muscular back. It has a Band which of course reads "Just Do It".
The back is very open and allows a full range of the moment. The tank is roomy, not constructive.
Pros
Flattering back side
Fun "Just Do It" Slogan
Attractive Rounded hem
Dri-fit technology
Cons
Be sure to wear a nice bra underneath, because everyone is going to see it, at least from the back.
Conclusion
If you want to show of your back and biceps, this popular tank will deliver.
adidas Women's Essential Linear Logo Tank Top
Review: This sassy tank says "All Business" at the box. It is loose fitting, comfortable and will keep you dry.
Pros
Several bold colors available
High cut in the front
Moisture wicking technology
Lose fit and flattering curved hem
Cons
Arm holes are cut a little low, so you can see the side of the bra
Conclusion
This tank is great for killing it at the box or lounging at home, it is comfortable, wicks away perspiration, and looks great.
So, what are you waiting for? That wraps up our 8 CrossFit shirts for women, and we hope you find one that is right for you.
Let us know in the comments if we missed YOUR favorite shirt; we are always looking for the next great find.