Best CrossFit Shoes for Running & TOP 15 Shoe Reviews 2023
Looking for the best CrossFit Shoes for running available in 2023?
You have come to the right place.
The list of 15 of the best CrossFit shoes to move you from the track to the box has arrived!
In addition to letting you in on the TOP CrossFit shoes of 2023, I will let you in on a CrossFit Pro tip.
Did you know what specific style of shoe works particularly well for taking your workout from the road to the gym?
Find out below!
TOP 15 Best CrossFit Shoes for Running 2023
Reebok Men's CrossFit Nano 8.0
Review: This shoe can handle whatever your WOD throws at it, including a little running.
This shoe comes equipped with some CrossFit favorites, like RopePro traction, Toe Tec coving the toe area protect this wear prone area during intense workouts, and 0 drop means you have the stability you need to jump and lift.
Pros
0 Drop, low to the ground, stable for lifting.
Flexible enough in the midsole to accommodate short runs.
Reinforcement in key areas, rope, toe and flexweave over the upper.
Cons
The shoe has a wide toe box, but is rather shallow height-wise.
Takeaway
The Reebok Nano 8.0 are good CrossFit shoes for running, lifting, WODs and Metcons alike.
NIKE Men's Metcon 2 Cross Training Shoe
Review: Nike has made several upgrades to the Metcon this time around.
The heel is now firmer and more stable, they have done away with the sock liner to get rid of that annoying slip, they added grip and protection in key areas like the toe and rope area, and added a heel clip for a bit of stability.
Pros
Flat CrossFit shoe with enough flexibility for short runs.
Reinforced at the rope and toe.
Cons
Takeaway
Nike's best Metcon shoe yet!
Vibram Men's 5 Fingers V-Train Cross Trainer
Review: Vibram V-Train Cross training shoes follow the minimalist style Vibram is known for with a 0 drop feel the "ground beneath your feet" feel and an upper that hugs every toe.
The difference with these Vibram's and other models is they have a little more structure to support running and CrossFit.
Pros
Includes rope traction built into the sole.
Round lugged patters facilitate side to side movement such as agility work.
Flat stable sole, excellent for lifting, jumping and rope climbing.
Cons
These shoes take time to break in.
Takeaway
Innovative Cross training and running shoe hybrid.
Reebok Men's CrossFit Speed TR 2.0 Shoe
Review: The molded compression midsole and shock resistant EVA make the Reebok speed a versatile shoe you can use for both CrossFit and moderate running.
These flat 0 drop shoes make good lifters too.
Pros
Durable Cordura upper.
External heel clip for support and stability.
Flat, wide sole, good for lifting and jumping.
Cons
Takeaway
Easily a pair of the best shoes for running and CrossFit, hands down.
Altra Men's HIIT XT Cross Training Shoe
Review: The Altra HIIT XT is based on a solid stable Power platform, making it great for lifting.
Altra made its name with running shoes and this HIIT XT is their first try at a crossover shoe to cover both running and CrossFit training.
Pros
Removable insole.
Shoe has ample impact protection for running.
Wide foot shaped toe box.
Wide grippy base makes these shoes great for lifters.
Cons
Relatively large stack height will lessens stability during agility moves.
Takeaway
Solid hefty platform that can withstand the rigors of running and CrossFit.
NOBULL Men's Training Shoe
Review: No Bull's signature Guard plate beads are welded right to the fabric upper to create a material that is both durable and breathable.
The sole incorporates a round lugged pattern that allows you to easily and quickly move in any direction with speed and confidence. The shoe is flexible enough for running short distances prescribed by any WOD.
Pros
High Carbon lateral Medial guards built in.
Virtually indestructible upper fabric.
Flat and stable, great for lifting.
Cons
Takeaway
A versatile Cross trainer that does it all. One of the best CrossFit shoes for running and lifting.
ASICS Men's Conviction X Cross Trainer
ASICS Men's Mens Conviction X Athletic Shoe, Carbon/Black/Energy Green, 11.5 Medium US
RhynoSkin Synthetic Leather: An abrasion and tear resistant synthetic leather for increased upper durability.
Perforated Sock liner: Optimizes moisture drainage and improves breathability.
Integrated Lace Garage: Complies with rules regarding laces.
Seamless Construction: The use of seamless materials reduces the potential for irritation and friction caused by traditional stitches and seams.
Review: These shoes move seamlessly from Cross training to running with enough shock absorption to give you some protection while running, with several features that also make the shoe a good cross trainer.
A stable flat heel for heavy lifting, high abrasion rubber outsole and rhino skin upper for enhanced durability, and a shoelace garage to keep laces out of the way.
Pros
Asics High abrasion rubber outsole.
Rhyno Skin Protective and durable Faux leather upper.
4 mm drop.
Cons
Upper Material is on the thin side.
Takeaway
Best running shoes for CrossFit for Asics fans.
ASICS Men's Gel-Quantum 180 TR Cross Trainer
ASICS Men's Gel-Quantum 180 Tr Running Shoe, Black/Onyx/Vermilion, 7.5 M US
Ahar plus outsole: strategically positioned in critical areas of the outsole, this exceptionally durable compound is 50% more durable than standard Asics high abrasion rubber.
Trusstic system technology: reduces the weight of the sole unit while retaining the structural integrity of the shoe.
Solyte midsole material: a lighter weight midsole compound than Asics' standard eva and speva. Also features enhanced cushioning and durability.
Rearfoot and forefoot gel cushioning systems: attenuates shock during impact and toe-off phases, and allows movement in multiple planes as the foot transitions through the gait cycle.
Synthetic leather and mesh upper: lightweight, comfortable and breathable, enhancing performance and fit.
Review: Designed with both running and Cross Training in mind, the Asics GEL-Quantum do not disappoint.
They feature Asics GEL through the entire midsole to reduce running impact, an integrated trusstic system for stability and the shoe has a springy responsive feel you will love.
Pros
Strategically reinforced on the sole for excellent wear resistance.
Trusstic system adds stability.
Shoe is flexible for running and agility WODs.
Cons
Not the best shoe to lift heavy.
Takeaway
A great running shoe that holds its own in the box.
NIKE Men's Free X Metcon Training Shoe
Review: It is easy to see why the Nike Free X Metcon's are so popular for Cross training – in addition to being fabulous looking, these shoes are highly functional.
They have a firm foam midsole appropriate for Cross training and heavy lifting, reinforced mesh upper for added durability where needed, plenty of flex for short distance running and agility work, and did I mention they look cool?
Pros
Stable base – firm midsole.
Reinforced with precisely placed rubber on the upper.
Inner sock sleeve keeps your foot secure.
Cons
Not as cushy as other Nike Models.
Takeaway
The best Nike shoes for running and CrossFit.
Inov8 Men's F-Lite 235 V2 Cross Trainer
Review: The F-Lite 235 V2 is the natural evolution of the F-Lite series training shoe. This shoe is meant for lifting, running, and all types of training.
It is flexible enough to run, low to the ground, and stable for heavy lifting, with the durability needed to withstand whatever the days WOD requires.
Pros
0 Drop shoe.
Rope Tech Grip Protects shoes from wear.
Solid stable heel for serious lifting.
Cons
Takeaway
Excellent shoes for moving between cross training and running.
New Balance Men's Minimus 20v6 Cross Trainer
Review: Arguably some of the best fitness shoes available on the market today, the New Balance Minimus, is just what the name implies, a minimalist shoe.
The Mx20v6 will move you from the race track to the gym with ease. This ultralight weight shoe allows plenty of feedback from the ground, plus its 0 drop, feet to the floor feel and stable base make them excellent lifters.
Pros
4mm drop.
Minimal underfoot padding.
Very attractive fitness shoe.
Durable Vibram rubber outsole.
Cons
The tongue is at an awkward angle.
Takeaway
If you like a minimalist style shoe, the Minimus does not disappoint.
Vivobarefoot Primus Lite Men's Shoe
Review: Sleek, streamlined, flexible and road ready. These Primus lite cross trainers will take you anywhere.
They move with your foot and make a good minimalist runner. They also provide a flat stable base for lifting.
Pros
Low to the ground barefoot feel.
Extremely lightweight 7 oz.
Flat stable base for heavy lifting.
Cons
Upper material tears easily.
Takeaway
A good minimalist shoe for lifting and running.
Reebok Women's CrossFit Nano 6.0 Cross Trainer
Review: This edition Nano features sandpaper grip for the rope climb so you can give the rope a beating for a change.
The upper is still the durable Kevlar imbedded mesh the Nanos are known and loved for, and the women's model is shaped specifically for a woman's foot, not merely a smaller men's size making these my choice for best women's shoes for CrossFit and running.
Pros
Anatomically shaped foot designed just for women.
Kevlar imbedded upper.
Perfect 3mm drop.
Cons
Not a lot of arch support.
Takeaway
Best women's shoes for CrossFit and running!
RYKA Women's Influence Cross Training Shoe
Sale
Review: These Ryka Cross Training shoes can easily take you from track to gym.
They are well cushioned and supportive running shoes with good shock and impact protection, along with solid arch support.
Pros
Good arch support.
Strategically reinforced rubber sole.
Great for high impact agility work.
Cons
Not ideal for heavy lifting.
Takeaway
RYKA Influence Cross Trainers are a great choice for women for running, metcons and agility work.
Reebok Women's CrossFit Grace Cross Trainer
Review: The hard wearing outsole of the Reebok CrossFit Grace training shoes is what makes them a good fit for track, box or gym.
The low cut heel collar offers freedom with the most range of motion possible. These shoes are low to the ground and the upper is flexible making these shoes great for agility, Metcons and running.
Pros
Extremely light weight.
Rope traction built in.
0 drop shoe.
Cons
Not very good arch support.
Takeaway
A great shoe for the track or the box, flexible and versatile.
What to Keep in Mind Before Buying Shoes for Running and CrossFit?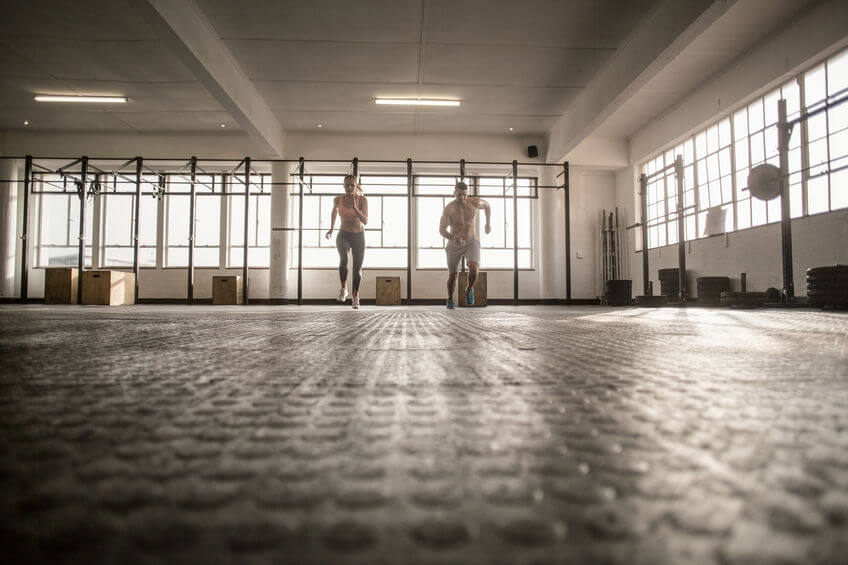 Is it even possible to buy one pair for both of activities?
CrossFit, by definition is the sport that specializes in no particular activity and is "constantly varied". Some days you do lifting, others running, others Metcon or agility type workouts. All workouts are intense.
So, you want to know if you can use one pair of shoes to cover everything?
That depends of what you like as far as footwear goes, and what happens to be on your WOD.
If your WOD calls for agility, plyometrics or cardio, you might like a shoe with a low drop, minimal padding but one that is flexible enough to move your feet.
Some people may be comfortable running in a similar shoe.
But…
If you like for padding and impact protection when you run, watch out, a minimalist style may not be for you.
Since padded well cushioned running shoes make the base of the shoe unstable, they are not a good choice for CrossFit. They with compress under weights and could cause problems with your ankles and knees.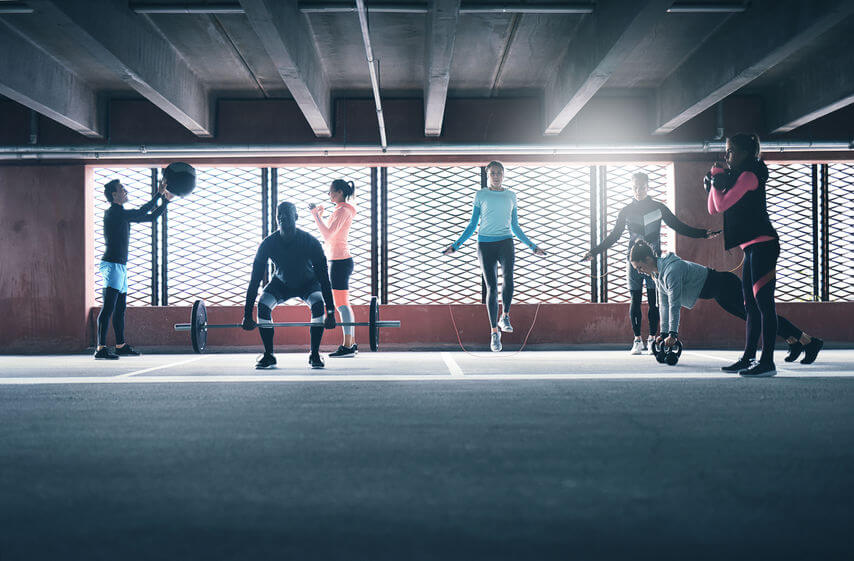 A stable base is best for lifting. Some people actually like to train barefoot, or in a simple pair of Chuck Taylors.
A minimalist style shoe is also a good choice for lifting, and many of those minimalist style shoes in my list are also designed for running, so they are versatile that way.
If you want to know more about the difference between shoes for CrossFit and running shoes, check here.
That wraps up the top 15 best CrossFit Shoes for Running.
My personal favorites are New Balance Minimus 20v6 Trainer for a minimalist style running – CrossFit shoe, or the Nike Free X Metcon as the best looking shoe, and finally, the Reebok CrossFit Nano 8.0 which is the latest Nano, with all the features you need in a CrossFit-Running shoe.
Want more?
See more CrossFit shoes for men and CrossFit shoes for women in our reviews here.
Don't forget to sight up for our newsletter.
We just need your email address to get you signed up and we will send you access to exclusive content and guides not available to non-subscribers.