TOP 10 Best Knee Sleeves for Running 2023 – Don't Let the Pain Stop You
Having problems with runner's knee?
It happens to the best of us!
Knee pain is one of the most common problems that runners experience. But, using a good knee sleeve can help reduce that pain and encourage a faster recovery.
Here, we have a list of the best knee sleeves for running, because not all knee sleeves are made to cope with the rigors of running.
TOP 10 Best Knee Sleeves for Running 2023
UFlex Athletics Knee Compression Sleeve
Sale
UFlex Knee Compression Sleeve Support for Women and Men - Non Slip Knee Brace for Pain Relief, Fitness, Weightlifting, Hiking, Sports - Red, Medium
Knee Support: With a 4-way stretch capability, our elastic knee compression sleeves offer the best knee support for women & men at every level of sports
Pain Relief & Prevention: Our knee sleeves for knee pain offer support and help protect joints from future injuries. Our compression sleeve helps reduce inflammation and swelling, promoting blood flow in the body to aid muscle recovery
Stay Active: Our knee wraps are perfect for all activities that put stress on the joint, letting you participate in your favorite sports without restricting performance or endurance. Great for running, biking, hiking, tennis, golf, volleyball, weightlifting, squats, and skiing
Comfort and Stability: The double silicone anti-slip design will ensure that the knee support brace stays in place all day long, while the breathable nylon-mesh/spandex material offers a smooth and comfortable fit
The Perfect Fit: Consult the size chart and choose the knee support sleeve that is right for you. If you prefer a tighter fit, we recommend that you buy a knee compression sleeve that is one size smaller
Review: This is one of the most popular knee sleeves on the market right now. It's designed with runners in mind and has silicone bands around the ends to help it stay in place while you run.
It provides supportive compression around the knee that helps the patella to stay in place while also creating a little warmth and reducing swelling.
This sleeve uses 3 layers of breathable material and molds to the contours your muscles so that you get support and compression without any rubbing or restrictions to natural movement.
Pros
Good value for money.
Comfortable compression.
Stays in place while you run.
Gentle heating effect.
Doesn't restrict movement.
Cons
Some long term durability issues.
Takeaway
Easily some of the best knee compression sleeves for running, these sleeves are the perfect choice for use while recovering from an injury.
Physix Gear Knee Support Brace
Physix Gear Sport Knee Support Brace - Best No-Slip Knee Braces for Knee Pain Women & Men, Compression Knee Sleeves for Running Workout Walking Hiking Sports Arthritis ACL Torn (1 Piece, Grey XL)
✅ NO-PILL, NO-INJECTION RELIEF! The knee compression sleeves men & women love! Averts pain, inflammation & injury by supporting & stabilizing the knee for people with meniscus tear, ACL, arthritis, post-surgery swelling, sports injury & joint aches.
✅ FLEXIBLE, FITS BOTH RIGHT & LEFT KNEES: The circle weave on the kneecap of our compression knee brace helps adjust the sleeve in the right position. This runners knee brace moves to the contour of your knee, perfect for climbing, running, or bending.
✅ COMES IN 5 SIZES (SM to XXL KNEE SLEEVE): We have the petite knee brace up to plus size knee compression sleeve for women/men, giving knee relief & protection for all sizes! Measure 4" above your knee cap & refer to our Size Chart for utmost benefits!
✅ KNEE PAIN SLEEVE WITH NO-SLIP SILICONE GRIP WAVE: Physix knee support for men & women stays safe in place, won't roll down, or bunch up in your back knee! Ideal for Runners, Hikers, Bikers, Weightlifters, Basketball/Volleyball/Tennis Players & more!
✅ 100% NO-RISK PURCHASE: With 3 pretty designs & colors (Pink/Grey/Beige) to match your outfit, our compression knee sleeve aims to relieve your pain & make you active again! If our running knee brace fails to satisfy you, contact us & we'll assist you right away!
Review: Another really popular option, Physix Gear's knee support brace is designed to be comfortable enough to be worn all day, not just while you're running.
It's made of thin, lightweight material with a 4-way stretch so you can wear it comfortably under your clothes with no one noticing. The compression is designed to provide support for your knee cap while also increasing blood flow and decreasing inflammation.
But, it's also a reliable option for running, designed to stay securely in place and not slip down. And, it's pretty durable for a knee sleeve so you can be sure you'll get your money's worth.
Pros
Stays securely in place while running.
Provides a comfortable amount of compression.
Durable and easy to wash.
Comes as a 1, 2 or 4 pack.
No rubbing or chafing.
Cons
Takeaway
This is the best knee support sleeve for running. It's very comfortable, stays in place, and provides the perfect amount of support for a pain-free run.
Blitzu Flex Plus Compression Knee Brace
Knee Brace for Torn Meniscus Knee Sleeves Weightlifting Knee Braces for Knee Pain Rodilleras De Trabajo Para Mujer Rodilleras Ortopedicas Para Dolor De Rodillas Orange L
KNEE PAIN RELIEF: Fight pain, recover and get back in the game with BLITZU knee sleeves. Our knee compression sleeve activates your body's natural pain-relieving mechanisms, provides targeted support, and promotes faster recovery from meniscus tear, ACL, PCL, MCL, arthritis, post-surgery, swelling, sports injury, joint pain as well as runners and jumpers knee problems.
NO ITCHINESS OR ALLERGIES: Our knee brace is made of breathable, form-fitting, and moisture-wicking premium materials. These knee sleeves are designed to keep you cool, comfortable, and itch-free. You don't have to worry about allergies or irritation while resting, recovering, or exercising.
OPTIMAL COMFORTABLE COMPRESSION: Well-balanced compression and comfort. These knee compression sleeves disperse the pressure and improve circulation around your knee area and provide you an adequate compression without restricting your movements. Ideal for runners, hikers, bikers, weightlifters, doing exercise, yoga, basketball, volleyball, football, tennis & more!
WEAR UNDER YOUR CLOTHES: Our knee sleeve is a super-comfortable, low-profile alternative to big, bulky, and uncomfortable osteoarthritis unloader knee brace on the market. The slim design makes it easy and comfortable to wear under your pants inconspicuously. This runners knee brace conforms to the shape of your knee, making it ideal for running, jogging, climbing or bending.
SPEEDY RECOVERY: Our knee brace is scientifically proven to increase blood flow and enhance the body's healing process for improved recovery and muscle soreness relief. BLITZU knee compression sleeves can improve longevity during training and competition by reducing muscular vibrations caused by repetitive impact against the knee when running or working out. It also reduces inflammation, which aids in the treatment of knee pain from acute or chronic joint injuries.
Review: These knee compression sleeves offer support to the patella and surrounding ligaments with light compression for circulation and quick recovery, without putting pressure on the knee cap.
They're not quite as durable as the above two options but they're an affordable choice if you're looking for a short-term solution to a knee injury.
The sizing chart is accurate, but be sure to size up if you're on the fence.
Pros
Comes as a pair.
Affordable.
Breathable, moisture-wicking material.
Comfortable compression and support.
Cons
They will lose their compression eventually so avoid washing too often to prolong their life.
Takeaway
These knee sleeves are an affordable option providing comfortable compression and support.
Pro-Tec Athletics Gel Force Knee Sleeve
Sale
Pro-Tec Athletics Gel Force Knee Sleeve, X-Large,black
Thick gel provides comfortable stabilization to the knee, and absorption of dynamic forces.
4way stretch material provides supportive compression while allowing full range of motion.
Light, breathable fabric keeps skin dry reducing any fabric irritation.
Medial and lateral sprial stays provide knee joint stability.
A tight fit is best for best support. It will take a few days to "break in" the brace, to allow fabric to stretch enough to conform to your knee area. May feel scratchy at first and be difficult to remove after a few hours of wearing.
Review: If you're looking for a little more than just compression style support, these gel knee sleeves might be your jam.
They have a circular gel pad that wraps around your knee cap providing extra comfortable shock absorption and support. But they also have both medial and lateral stays and 4-way stretch material resulting in even more support.
It's recommended to give them a few days to soften up and 'break in', and these knee sleeves should only be hand-washed if you want to get more than a few uses out of them.
Pros
Unique gel component offers very comfortable support.
Breathable, 4-way stretch material.
Spiral stays on both sides provide even more support without being restrictive.
Cons
A little pricey.
Requires breaking in.
Not machine washable.
Takeaway
The fit is a little tricky to get right, but once you do, these are really comfortable, supportive and good knee sleeves for running.
PowerLix Knee Compression Sleeve
Sale
POWERLIX Knee Compression Sleeve - Best Knee Brace for Knee Pain for Men & Women – Knee Support for Running, Basketball, Volleyball, Weightlifting, Gym, Workout, Sports – Please Check Sizing Chart
Phenomenal Protection: PowerLix knee brace applies stable pressure across your knee joint. It offers optimal muscle support between workouts and during casual everyday activities. With our sleeve, you'll be able to tackle any activity life throws your way, while ensuring you're a step ahead in injury prevention! Please take a look at our sizing chart and measure your circumference based on our instructions!
Push Yourself to the Limit! Our knee support is perfect for any activity that involves a great amount of stress on the joints, like baseball, basketball, soccer golf, gym, hiking, running, tennis, volleyball and more! You'll be able to enjoy exceptional knee support while still maintaining your peak performance and a full range of leg motion!
Premium Quality: Our knee sleeve is manufactured to provide superior support and comfort without compromising your mobility. Tight and breathable compression fabric maintains joint stability regardless of activity while avoiding the itchiness common to neoprene supports. It's quick at absorbing sweat and keeps your leg dry and odor free, giving you hours of continuous use!
Breathtaking Design & Anti-slip System: A special knitted technical design with two silicone gel strips, ensuring your sleeve stays always put, no matter what you do! The beautiful design of the sleeve in a variety of colors makes you look fashionable anywhere, anytime. The special fabric gives you a smooth and soft feel so you can wear them all day long!
100% Money Back Guarantee: We truly want you to be happy with your new knee brace, and our professional customer service will do whatever it takes to ensure your satisfaction. We are offering a 6-month guarantee, no questions asked.
Review: Measuring in at a very slightly longer length than other knee sleeves, this knee sleeve provides really great support for all of the surrounding muscles, increasing circulation and reducing vibrations and stress on the knee joint.
It's very comfortable, with the right amount of compression for significantly reducing knee pain, and, it stays in place securely with silicone strips.
Pros
Silicone gel grips.
Breathable, moisture-wicking knit material.
Very comfortable and supportive compression.
Slightly longer length encapsulates surrounding muscles.
Anti-odor properties.
Cons
Takeaway
A very popular, high performing knee sleeve.
Mava Sports Knee Support Sleeves
Mava Sports Knee Compression Sleeve Support for Men and Women. Perfect for Powerlifting, Weightlifting, Running, Gym Workout, Squats and Pain Relief
PAIN RELIEF from arthritis, joint pain relief, tendonitis, post-surgery, swelling as well as strains and sprains. The Mava compression knee sleeves reduce inflammation and swelling associated with injuries.
ANATOMICALLY SHAPED to prevent injuries and accelerate your recovery. Its heating effect improves circulations and promotes muscular recovery. Great for healing, recovery and rehab.
ANTI-SLIP SILICONE and elastic support material to offer stable compression. No slipping, no rolling off, no sliding down. So you won't have to readjust them. They will stay put.
COMFORTABLE for EVERYDAY WEAR: Good knee support with no stiffness. No itching. Designed for full mobility & comfort. Easy to wear thanks to its light and soft material. Unisex.
RECOMMENDED FOR: walking, hiking, jogging, running, workout, cross training, running, cycling, gym, tennis, dancing, basketball and other exercises. And any indoors or outdoors activity that put stress on your knees.
Review: These, thin, low-profile knee sleeves are some of the most comfortable on the market, really perfect for wearing underneath your clothes while recovering from a long run.
They're made of soft material that doesn't cause any itching or irritation, even when you're sweaty, and they're designed to have a warming effect so they're great to put on before your run on a cold morning to make sure your joints are warm.
Pros
Comfortable enough to wear all day underneath your clothes.
Warming effect to aid with recovery.
Soft, non-itchy material.
Supportive compression.
Cons
You need to get the fit right otherwise they'll slide down.
Takeaway
If you have sensitive skin that gets easily irritated or you're looking for something comfortable enough to wear all day underneath your regular clothes, these are the knee sleeves for you.
Cambivo Knee Compression Sleeves
Sale
CAMBIVO 2 Pack Knee Brace, Knee Compression Sleeve for Men and Women, Knee Support for Running, Workout, Gym, Hiking, Sports (Black,X-Large)
Benefits - CAMBIVO knee sleeves are featured with special 3D knitting technology that is effective in providing stable pressures to stabilize and support your knee and help to relieve arthritis pain; The knee brace also keep your knee warm and reduce stiffness; they are the best companion for your workouts and daily activities
Improve Sports Performance - With ergonomic design; CAMBIVO knee support enhance your performance when your workout involves a great amount of stress on the joints; Feel free to enjoying running, bicycling, hiking, basketball, baseball, football, soccer, volleyball, golf, tennis, skiing, weightlifting,weight training and other sports with ultimate mobility
Optimal Comfortable Compression - Well-balanced between compression and comfort, these knee compression sleeves disperse the pressure and improve circulation around your knee area for the relief of your knee pain. Whether you're walking or doing exercise, the knee braces provide you an adequate compression without restricting your movements
Double Anti-slip Silicone - Designed with double-lined anti-slip silicone grip rings on the top to stay in place and prevent slipping down during exercise, maintain stability, and provide extra reinforcement without sacrificing comfort
AMAZING LEVEl OF COMFORT AND BREATHABLE FABRIC- Designed and engineered using thin light 4-dimensional stretchable yet durable elastic material providing flexibility and breathability. Perfect for any season to absorb the sweat. You can easily slip it on(easy to wear) no matter what time of year it is. If you have the sizing issue or not satisfied with your purchase, please don't hesitate to contact our customer support. We will more than happy to assist you!
Review: If you're in the market for a pair of knee sleeves and you're on a budget, these might just do the trick. They come very highly rated, are very good value and reliable quality.
They offer comfortable compression from the breathable, 4-way stretch material, and it's thin enough that you can wear the sleeves for long periods of time without becoming uncomfortable.
The fabric doesn't bunch behind the knee and the silicone grips help them to stay in place.
Pros
Comes as a pair.
Breathable material.
Very, very affordable.
Anti-slip silicone grips.
Doesn't bunch behind the knee.
Cons
May need to size down for a secure fit.
Takeaway
These are the best budget knee sleeves that provide an affordable but good quality option.
CopperJoint Compression Knee Sleeve
Sale
CopperJoint Knee Compression Sleeve Knee Support for Women & Men - Breathable Copper Infused Nylon - Non-Slip - For Pain Relief, Recovery, Swelling & Circulation – Single Sleeve Only (Small)
NATURAL RELIEF – Our compression knee sleeve provides you with a natural way of managing your pain, meaning no more relying on medication. Our copper-infused nylon helps pull electricity from your body to relieve your pain and allows you to get all the relief you need, so you can continue your daily life without a worry.
SUPPORT WITHOUT LIMITS – A traditional knee sleeve for working out can be clunky and reduce your mobility, particularly when exercising. Our compression knee sleeve is ergonomically designed with durable copper-infused material. This provides compression and support along with freedom of movement
VERSATILITY ON THE GO – Whether you're working out, or just at your desk working. Our compression knee sleeve provides optimal knee support for any type of situation. You can use it for any activity that puts a significant amount of stress on your joints or you can simply use it to help with ongoing pain relief.
SUPPORT THAT DOESN'T QUIT – Anatomically contoured with a non-slip cuff that won't roll down during exercise, our sleeve stays on your knee for stability when you need it.
NO SWEAT NO RASH – Our sleeve is made from breathable moisture-wicking material. It's been specifically designed to remain dry when worn. Get knee supports that won't irritate your skin. That means you can forget about your joints and focus on what you're doing.
Review: I'll admit, not everyone's convinced as to how effective copper clothing is in… doing anything at all. There is no science to back up the inclusion of copper in compression clothing.
But, copper aside, CopperJoint knee sleeves are still a popular option for knee pain sufferers. How much of this is a placebo is hard to say. But, pain relief from placebo is still pain relief.
So, if you're keen to give it a try, you might be rewarded.
Pros
Unbeatable customer service.
Odor-eliminating properties.
Circulation-boosting compression.
Moisture-wicking and breathable.
Very comfortable.
Cons
Logo peels off pretty quickly.
Takeaway
If you're interested in trying out the possible benefits of copper-infused compression ware, these are highly rated knee sleeves.
TechWare Pro Knee Brace Support - Relieves ACL, LCL, MCL, Meniscus Tear, Arthritis, Tendonitis Pain. Open Patella Dual Stabilizers Non Slip Comfort Neoprene. Adjustable Bi-Directional Straps - Medium
ADJUSTABLE UNIQUE BiDIRECTIONAL SUPPORT Alternating Strong Closures Stabilize Patella to Reduce Knee Pain. Others Have Straps on One Side Which Provide Uneven Support. PLEASE MEASURE Circumference Around Knee and Thigh for PROPER FIT (see Sizing Chart Image). Choose from 5 Sizes - Medium, Large, Extra Large, XXLarge & XXXL. Mens, Ladies & Youth.
OPEN PATELLA DESIGN For Support and Compression Around the Kneecap and Tendon Areas to Heal Knee Injuries. Also 4 Flexible Spring Stabilizers Provide Better Knee Cap Protection and Stability.
BREATHABLE MOISTURE WICKING LIGHTWEIGHT NEOPRENE AND NO SLIP SILICONE STRIPS Ensures That Compression is Comfortable, Uniform and Stays in Place for Any Physical Activity.
COMFORTABLE SUPPORT PAIN RELIEF From Tears, Arthritis, Bursitis and Tendonitis. Gel Pad Helps with Inflammation and Swelling. Better Knee Mobility and Exercise Performance.
MAXIMUM SUPPORT for Runners Knee. If Your Game is Basketball, Football, Tennis, Volleyball, Weightlifting, Skiing, Running, Jogging, Walking, Hiking, Wrestling, Yoga, Gymnastics, Squats, Baseball, Martial Arts, Golf, Hockey, Dance, Soccer, Crossfit, Powerlifting, Gym Workouts, Cycling or Any Sports Activities.
Review: This is a brace more than a sleeve, which means it provides more structured support and is more guaranteed to encourage correct alignment than simple sleeves, but you don't get the same compression benefits.
If your knee problems are definitely due to alignment issues and the tracking of your knee through your stride, this brace is an excellent option, but it likely won't be as comfortable to wear while running.
Pros
A great choice for larger legs.
Provides more support than a compression sleeve.
Very secure fit with no room to slip.
Window over the knee cap.
Cons
May feel a little restrictive for running.
Takeaway
If you're needing really serious support, this is your knee brace.
IPOW Patella Stabilizer Knee Strap
Sale
IPOW 2 Pack Knee Pain Relief & Patella Stabilizer Knee Strap, Patellar Tendon Support Strap, Knee Brace for Running, Hiking, Soccer, Basketball, Jumpers Knee, Tennis, Volleyball & Squats
Shock-absorbing And Knee Pain Relief - Segmented fix design can make adjustment according personal knees' curves to supply better protection of patella, and do make a difference for your knee.
Full Adjustable And One Size Fits All - Double Knot Design, fully adjustable strap offered flexibility to make adjustment for tightness, fits for sizing of 10-18 inches in circumference.
Comfortable And Stay in Place - Adapted high quality raw materials and standardized production techniques, soft and breathable fabric with smooth edges and fine stitches make you wear without any discomfort, always stay in place after a long period of exercise.
Applicable Scene - Suitable for a variety of sports scenes, such as basketball, running, fitness, training, Jogging, especially for intense sports that require frequent jumping and landing, which can improve sports performance.
Hassle Free After Sale Service - Our knee straps are tested in real-life situations by user's demanding and are constantly updated based on our customer's feedback. If in a rare case you aren't satisfied with the item, feel free to contact us via your Buyer Central, our efficient customer service will absolutely offer you a satisfied solution.
Review: A knee strap, as opposed to a knee sleeve, is another option if you know your knee pain is a result of misalignment of the knee cap.
Knee straps sit just under the knee cap and are designed to keep it tracking correctly while you move, while also helping with some shock absorption.
Pros
Adjustable tightness.
Very stable and secure support.
Comfortable with no chafing.
Stay in place while you run.
Affordable.
Come as a 2 pack.
Cons
They don't come with any instructions – but you should be able to figure out what's going on.
Takeaway
An alternative to knee sleeves, providing support without widespread compression.
How to Choose the Best Knee Sleeve for Running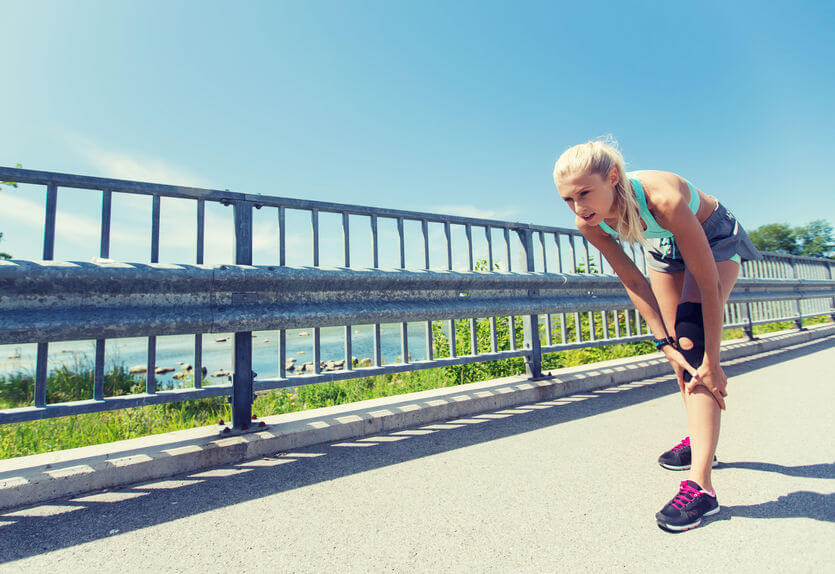 Struggling with knee pain?
A knee sleeve might be a helpful addition to your running attire.
But let's delve a little deeper into the mechanics first.
I'm not going to be one of those reviewers who simply tells you to buy a knee sleeve to solve all of your knee problems or even prevent injury in the first place.
Knee pain isn't a result of not wearing a knee sleeve!
Unless you have a clinically diagnosed degenerative disease, knee pain results from muscle imbalances, improper footwear, and consequent misalignment of the knee.
But firstly, let's not forget that a bit of knee pain is normal.
Just like sore muscles after a particularly strenuous run, getting sore knees every now and then is a normal response to the impact that you're putting on your joints when you run.
It's usually a sign that your shoes are wearing out, or you just stepped up your training significantly without giving your knees a chance to keep up. A little bit of knee pain every now and then is no reason to fret.
Persistent knee pain, on the other hand, has a root cause that needs to be addressed, rather than just wrapping it with a band-aid to treat the symptoms.
Find the Underlying Cause
Muscle Imbalance
If you're experiencing persistent, nagging knee pain during or after every run, you might want to invest in a muscle balance assessment to find out what's really going on.
Muscle imbalances mean that some muscles are too strong compared to others and end up pulling the knee out of alignment while you run, causing pain.
One of the most common causes of knee pain for runners is a tight ITB, and/or weak, tight hamstrings.
The solution, you guessed it, is strengthening and stretching exercises.
Stretching your hamstrings is relatively easy and can be done after every run simply by resting your foot on a nearby park bench and leaning forward.
Stretching your ITB isn't quite as straight forward and requires the use of a foam roller. If you don't have a foam roller already, have a read of our list of the best foam rollers for runners to get you started.
This is an excellent video for introducing you to foam rolling your ITB.
It can be REALLY painful to start with so you'll definitely want to be using your opposite leg to control how much weight you put on the foam roller.
The Right Shoes
If the problem isn't coming from a muscle imbalance, it's almost definitely coming from your feet.
Over or under pronation both result in shunting the knee out of alignment. The barefoot running community believes that this can be fixed through strengthening up your feet. But this can take time.
The safer, shorter route is to see a podiatrist and get the right shoes.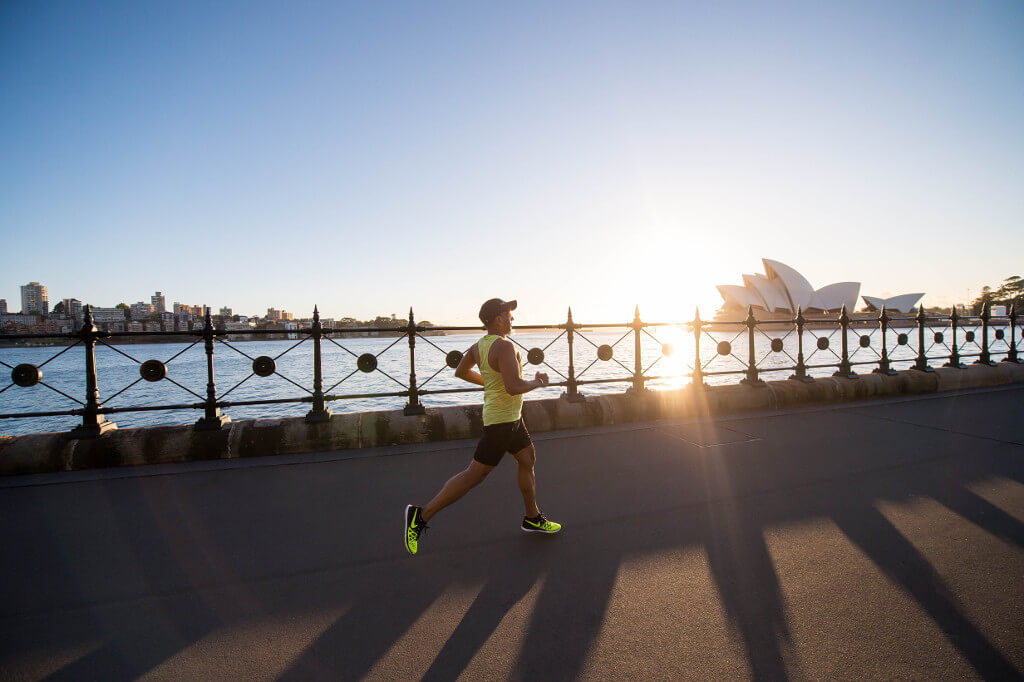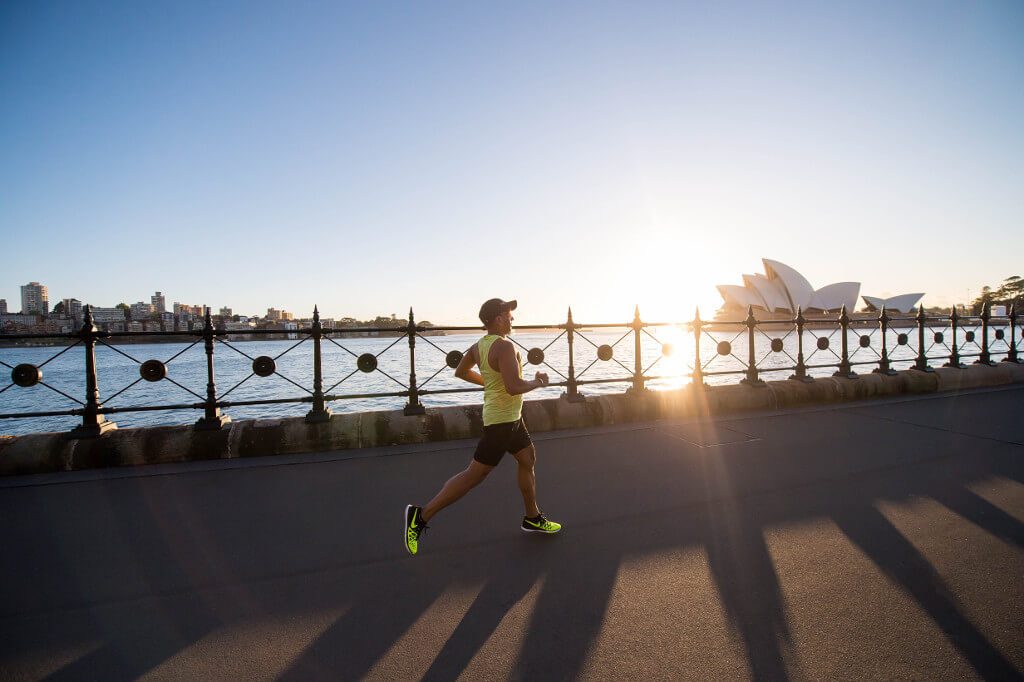 Choose the Right Sleeve
Now that you're addressing the root causes of your knee pain. There's no reason why you should continue to suffer through your runs until you've strengthened or stretched your way to complete recovery.
Using a knee sleeve can definitely make this process more comfortable.
So, what should you look for?
No Slippage
This is the main factor that sets running knee sleeves apart from the rest.
If anything's going to make your knee sleeve slide down your leg, it's running.
So, making sure your knee sleeve is designed to stay in place, on your knee and not on your ankle, is key.
The Right Size
Getting the size right is important because it will control how well the sleeve stays in place and how well it does its job.
Too much or too little compression will make your knee sleeve pretty much useless.
Soft, Comfortable Material
Running makes you sweaty, and sweat means chafing or irritation.
Soft, non-scratchy, breathable and moisture-wicking material is important for keeping your skin comfortable and healthy.
Is it All in the Compression?
You might have noticed one thing that knee sleeves have in common – they all deliver a degree of compression to the knee. This is for multiple reasons.
360˚ compression with some targeted areas of flexibility, provides support by limiting sideways movement and twisting of the knee. It encourages correct tracking of the knee joint underneath the knee cap and helps to keep things in alignment.
However, compression also helps to reduce pain and encourage recovery through decreasing swelling and increasing blood flow.
So, you'd be forgiven for thinking that surely compression clothing can do the same thing?
To a degree, it can. If your knee problems aren't so bad that you're limping, then wearing some compression tights could be a great way of supporting rehabilitation as you strengthen and stretch the problem muscles. Be sure to read our list of the best compression tights if you're in that camp.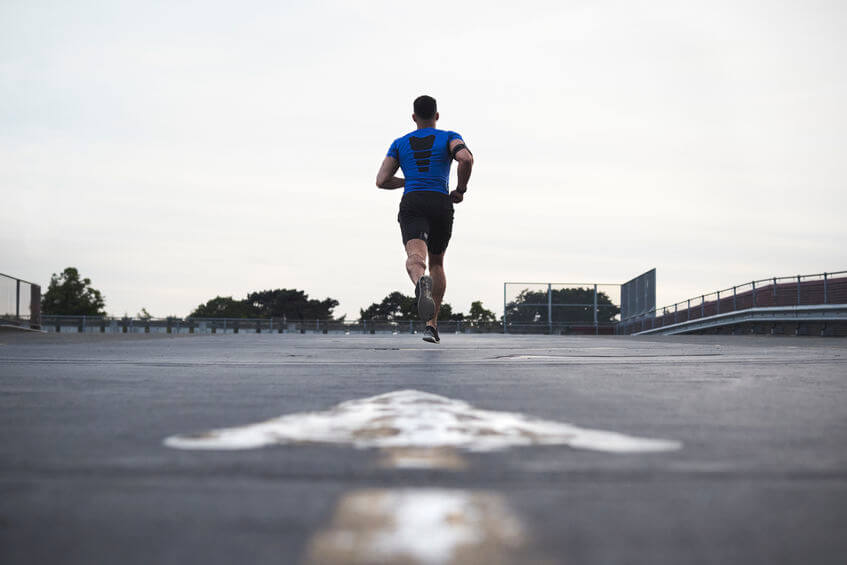 Tips for Preventing Runner's Knee
The 10% rule – Never increase training length or time by more than 10% per week.
Strength – This means the strength of all the stabilizing muscles as well as your main muscle groups. Doing slow squats while watching your knees with eagle eyes to make sure they track straight over your feet without wobbling, is a good way of strengthening all the stabilizing muscles.
Flexibility – Stretch, stretch, stretch! Stretching after every run is non-negotiable if you want a long and happy running career. This includes, calves, hamstrings, quads, hip flexors, and the ITBs.
The right shoes – Do you overpronate? Or underpronate? If you don't have the right kind of support in your shoes for your foot shape and foot strength, your knee will be out of alignment when you run and will be a sure-fire way of landing you with runner's knee. We have excellent lists of running shoes for overpronation and underpronation right here.
Knee sleeves for temporary relief – Using a knee sleeve is an excellent way of keeping your knees more comfortable while you work on the root cause. But relying on them too much will actually cause your knees to weaken and then you'll never be able to run without them again. Don't let this happen.
Interested in knee sleeves in general and not specifically just for running?
We have a list of all the best knee sleeves for use during your daily life right here. There are also other knee sleeves designed more specifically with CrossFit and squats in mind, providing a more specific kind of support for those activities, so make sure you're matching your knee sleeve with the activity you'll be using it for.
FAQs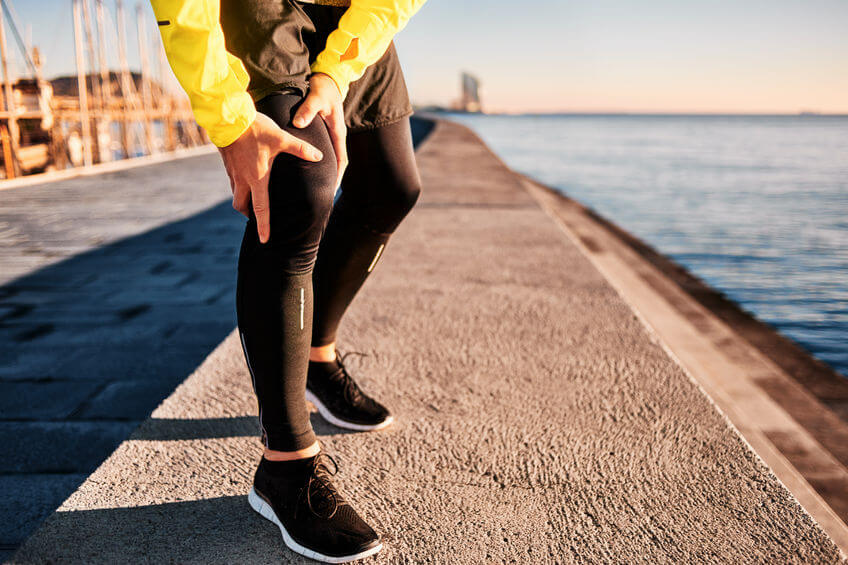 Are Knee Sleeves Good for Running?
Knee sleeves can be a great way of supporting your knee while you're recovering from an injury to help you get back into running sooner.
Do Knee Compression Sleeves Work for Running?
Knee compression sleeves can help relieve knee pain by providing support, reducing swelling and increasing circulation.
What are the Best Knee Sleeves for Running?
The best knee sleeves for running are those that provide a comfortable amount of support and stay in place while you run without feeling bulky or bunching up behind your knee. All of the sleeves on the list above are excellent choices.
Will a Knee Support Help when Running?
This depends on the source of your knee pain, but yes, for most people, a knee support can help relieve pain while you run, though you should address the root cause of your pain too and not rely on the support exclusively.
When should You use Knee Sleeves?
Only when you're experiencing persistent knee pain and are actively working towards recovering from it. They're not something you should wear all the time or you'll become dependent on them.
Can I Machine Wash My Knee Sleeve?
The safest answer is NO. And keep it far, far away from your tumble dryer as well. Machine washing your knee sleeve will likely stretch it and stress it too much, significantly shortening its life.
That brings us to the end of this article.
All of the best knee sleeves for running are included in the list above and are great options to help with your knee pain.
But remember!
Stretching and strengthening the right muscles is essential to help you recover so that you don't have to rely on your knee sleeve forever!
Are you subscribed to your newsletter? If not, you're missing out! Be sure to sign up before you leave.