TOP 8 Best Protein Bars for Women's Nutrition Reviewed 2023
We've all been there, running out the door without having had time to prepare a healthy, homemade snack.
Sometimes life can be too busy. But, we don't want our health to have to pay the price, right?
Having some healthy, whole food protein bars on hand can mean that you never have to worry.
I've done some research and put together a list of the tastiest, healthiest and generally best protein bars for women, so you don't have to trawl through ingredients lists.
Later on in the article, I also explain a bit about certain ingredients you might want to avoid when you're reading ingredients lists yourself.
TOP 8 Best Protein Bars for Women 2023
Health Warrior Pumpkin Seed Protein Bars
Health Warrior Pumpkin Seed Bars, Honey Sea Salt, 12 Bars
8 grams of plant protein from pumpkin seeds plus simple, recognizable ingredients that you would find in your pantry
Gluten free, soy free, dairy free, and Non GMO. Paleo friendly. USDA Certified Organic
Just 10 grams of net carbs with only 6 grams of sugar from one teaspoon of honey
Good natural source of phosphorus, manganese, copper, zinc and iron
Good source of magnesium for workout recovery
Review: This is a protein bar for those who appreciate wholesome simplicity. It is made of just 5 ingredients!
Containing just pumpkin seeds, honey, quinoa, coconut oil and salt, this is one clean living bar of goodness.
All of the ingredients are certified organic, the pumpkin seeds themselves are loaded with important minerals like iron and magnesium.
There are some variations to flavors so some bars have maple syrup and spices or chocolate. But, the basic concept is the same: whole, unprocessed organic plant foods.
Pros
8g protein, 12g fat, 7g sugar.
USDA organic ingredients.
Free of gluten, soy, dairy and GMOs.
Contains magnesium, copper, zinc and iron.
Completely unprocessed.
Excellent tasting.
Cons
Takeaway
These are easily some of the best protein bars for women. They are made of organic whole foods with nothing processed, and are low in sugar without being too low.
SAVE THE RAINFOREST by SHANTI BALANCE | Mango Cashew Turmeric | 15G Plant Protein | Organic Gluten Free Superfood | Gut Health Fiber | Immunity Boosting | Performance Nutrition | 12 Count, 2 oz Bars
Delicious, tropical mango, married with turmeric and cardamom spice. Mango Cashew Turmeric is soft and chewy with whole food inclusions like organic cashews and organic mango pieces for an irresistible chew and exciting consumption experience.
Recover fast, support your joint and muscle health, fight body-wide inflammation and give your immune system a boost. Made with only Clean Ingredients, NO refined sugars, NO Natural Flavors, Soy Free, Gluten Free. 15g Plant Protein and 35% LESS Sugar than the average Nutrition Bar.
Guilt-Free Ingredients, made with real food worth putting in your body.
HELP US SAVE THE RAINFOREST, ONE RAINFOREST BAR AT A TIME.
NEW EXTRAORDINARY MISSION, SAME EXTRAORDINARY INGREDIENTS. 5% of profits are donated to the Rainforest Foundation US.
Review: The ingredient list doesn't get much higher quality than what the gals have got going on at Shanti.
Made of entirely organic, raw, vegan ingredients, this is one plant-based powerhouse that will leave you feeling excellent, both for fuelling your body and for supporting the women-owned business.
The bars contain 20% of the RDI for iron and 8% for calcium making them a great choice for women. The sugar component comes from coconut nectar and a little natural sweetness from mango and goji berries.
This flavor contains turmeric for its anti-inflammatory properties but other flavors include spirulina, maca, cacao, coconut, and mulberry.
Pros
17g protein, 8g fat and 13g sugars.
Women-owned company.
6 different flavors with different properties.
Raw, organic, plant-based.
Free of soy, peanuts, preservatives, and refined sugar.
Cons
Takeaway
It doesn't get much cleaner than this. Shanti bars are easily some of the highest quality protein bars on the market and an excellent option for post-workout recovery.
Coffee Snax High Protein Coffee Bar
Protein Coffee Energy Bar, Made with Five Simple Ingredients, All Natural, Gluten Free, Non GMO & 16g of Protein, Made with Real Coffee (55mg Caffeine per bar), 12 Bars (Peanut Butter)
HIGH PROTEIN COFFEE ENERGY BAR - Our high protein coffee energy bar is amaizng in many situtaions. Perfect for a morning breakfast, on the go snack, or a pre-workout boost! Plus, we taste amazing!
FIVE SIMPLE INGREDIENTS - Roasted Peanuts, Honey, Whey Protein Isolate, Oat Flour, Coffee. Things you can pronounce and understand, just like food should be!
TASTE THE DIFFERENCE - Just one bite will have you back reaching for more. If it isn't one of the best tasting bars you have ever had, we will refund in full!
CAFFIENE KICK - These aren't just regular bars! These bars give you a kick both from the honey but also from 55mg of caffeine derived from the real coffee in our bars!
16G PROTEIN - Sourced from all natural whey protein, these coffee bars are non-gmo and contain no artificial ingredients or fillers. This protein boost will keep you feeling full and ready to take on the day or a workout!
Review: Made with just 5 simple ingredients, you can be sure this protein bar has nothing hiding in the ingredient list that you wouldn't want to be consuming.
Containing literally just peanuts, honey, whey protein, oat flour and coffee, it doesn't get much simpler than this.
With a good balance of protein, fat and carbs, with a hit of real coffee for a caffeine kick, this protein bar is a perfect pick-me-up for the mid-afternoon slump.
15g of sugar is a little on the high side, but if you treat it as a treat or it's the only sweet thing you have all day, you're still well under the recommended 6 teaspoons per day of added sugar.
Pros
16g of protein, 12g of fat and 15g sugar.
5 simple ingredients.
Real coffee for a caffeine kick.
Sugar content comes from honey, no other sweeteners.
No emulsifiers or oils.
Cons
Takeaway
This is the protein bar for you if you're a coffee fiend, appreciate a little caffeinated pick-me-up in a whole food package and don't mind a little sweetness.
RX Bar Peanut Butter Protein Bar
RX Bar Protein Bar, Peanut Butter, 1.83 oz (12 Count)
A REAL FOOD PROTEIN BAR: Our Peanut Butter RXBAR is the perfect protein bar for any peanut lover. Made with real food ingredients- egg whites for protein, dates to bind, nuts for texture. 12g of protein. 5g fiber. Gluten free.
ANYTIME HIGH PROTEIN SNACK: It's always the perfect time for a wholesome snack. That's why we suggest trying this real food protein bar for breakfast time, lunch time, or as a pre or post workout snack. Eat the whole snack bar or save some for later.
GLUTEN FREE AND GUILT FREE SNACK: Paleo, check. Whole30, check. Guilt and gluten- free, double check. RXBARs are the perfect protein bar for any healthy lifestyle. Check out RX Nut Butter for a keto snack option.
ON-THE-GO PROTEIN PACKED FUEL: RXBARs are great for the office, on-the-go snacks, or just a wholesome treat. Grab one bar for a protein-packed pre or post workout snack and get the energy you need.
WE'RE THE BAR THAT RAISED THE PROTEIN BAR, BAR: At RXBAR, we make protein bars. Simple real food ingredients, no gluten, no added sugar, and no B.S.
Review: This is another great choice if simple ingredients are your jam and you love peanut butter. The ingredient list is literally just dates, egg whites, peanuts, peanut oil and sea salt.
Other flavors obviously have a slightly different twist on the ingredients but they are still simple, wholesome and free of whey or soy protein.
The result is a slightly sweet, slightly chewy, really delicious protein bar.
Pros
12g protein, 8g fat, 15 sugar.
Simple list of whole food ingredients.
Nothing artificial or processed.
The protein comes from peanuts and egg whites.
The entire ingredient list is written in large print on the front of the packaging.
Cons
Takeaway
RX bars pride themselves on not making you search or squint for the ingredient list, so you can be sure there's nothing processed or artificial hiding inside.
PatterBar Clean Energy Bar
Patter Bar (Variety Pack, 12-pack)
FROM FIELD TO BAR: Made with 100% whole food ingredients. If it can't grow in your garden from the earth, we don't use it.
VEGAN, GLUTEN FREE: There's no supplement for whole food. The well-balanced diet of proteins, healthy and essential fats, and carbohydrates everyone needs.
REAL FOOD, REALLY: Zero preservatives, powders, lab created "natural" additives, or artificial anything. No added sweeteners whatsoever and preservative free. Made in the USA.
CLEAN ENERGY ANYTIME: Enjoy as a breakfast bar, meal replacement, or healthy snack. Great for athletes or professionals, hiking or at the office, adults or kids, breakfast or lunch on the go.
BY FOOD LOVERS, FOR FOOD LOVERS: Created by a classically trained chef and handcrafted with 100% real, whole food so you can stay energized and satisfied.
Review: Made in Denver, USA by a family-owned business, PatterBars are made from only whole food plant ingredients.
Each bar consists of a mixture of nut butters, unsweetened dried fruit, seeds and sea salt, delivering sustained energy and a healthy dose of protein with no blood sugar spikes.
Each ingredient is high quality and care has been taken to ensure that no additives make it into the final product. The coconut has not been sweetened or treated with sulfur, the nuts are roasted and hand made into nut butters onsite, and they even extract their own organic virgin coconut oil!
They come in 3 different flavors: fruit and nut, blueberry and lemon, and coconut and cashew, and all of them are delicious!
Pros
Made of only whole, plant foods.
No dairy or soy protein.
Nothing artificial or processed.
3 different flavors.
Delicious tasting.
Cons
Takeaway
Very high quality, simple ingredients in a great tasting, nutrient dense package.
LivBar Organic Macro Snack Bar
LivBar - Organic Superfood Nutrition Bar Variety Pack - USDA Certified - Non-GMO - Gluten Free, Peanut Free, Soy Free, Dairy Free, Protein Snack Bars with Compostable Wrapper - 12 Pack
SUPERFOOD BAR VARIETY 12 PACK: Indulge in the delectable variety of LivBar's Blueberry Vanilla Kale, Raspberry Kale Maca, Ginger Lemon Turmeric, and Coffee Maple Cacao superfood bars. Each delivering perfectly balanced whole proteins and complex carbs that naturally fuel your energy throughout the day. Healthy nutrition never tasted so good!
CERTIFIED ORGANIC INGREDIENTS: We believe real food is good food. LivBars are no exception. Our delicious protein bars are made with only the best Non-GMO, USDA Certified organic ingredients free of common allergens including gluten, dairy, soy, corn, and peanuts!
ON-THE-GO SNACK: Fuel your wildest adventures with the perfect on-the-go energy snack! Unlike other competitor's products, LivBars feature all natural and plant-based ingredients that don't melt or freeze. Stash them for your next run, hike, or ride!
COMPOSTABLE WRAPPER: On a mission to keep the environment and your health in tip-top shape, all LivBars are wrapped in 100% compostable cellulose packaging so you can feel good about what you eat!
ABOUT LIVBARS: Designed for active, healthy people on-the go and handmade in Oregon, we care about what goes into our protein energy bars -- so we guarantee only the best in our products!
Review: These organic whole food snack bars provide a pretty perfect ratio of proteins, fats and carbs to fuel you at any time of day, whether before, during or after a workout.
All of the ingredients are unprocessed, certified organic and vegan. They come in 4 great tasting superfood flavors: raspberry, kale and maca; blueberry, vanilla and kale; coffee, maple and cacao; and ginger, lemon and turmeric.
Pros
7g protein, 14g fat, 10g sugar.
Compostable, eco-friendly packaging.
USDA certified organic ingredients.
Seed protein sources.
Free from whey or soy protein.
4 different great-tasting ingredients.
Cons
Processed in a kitchen that handles nuts so not safe for people with nut allergies.
Takeaway
These protein bars are a great tasting, all-natural way of getting some superfood goodness into your life.
Primal Kitchen Peanut Butter Protein Bar
PRIMAL KITCHEN Peanut Butter Protein Bar, 1.34 OZ
Allergen Information: eggs;peanuts;tree_nuts
Item Package Dimension: 2.99999999694" L x 1.99999999796" W x 0.49999999949" H
Item Package Weight: 0.44974301448 lb
Ingredients: Peanuts, Coconut Oil, Prebiotic Tapioca Fiber, Eggs, Egg Whites, Flaxseed, Honey, Sunflower Seeds, Peanut Oil, Water, Sunflower Lecithin, Vanilla Extract, Monk Fruit Extract, Sea Salt, Rosemary Extract, Almonds
Review: This protein bar is very low in sugar, contains a good amount of protein and healthy fats, and is loaded with nutritious ingredients.
The protein comes from organic peanuts, sunflower seeds, flax seeds, almonds, and eggs while the fat comes from mostly from coconut oil.
They are sweetened with a little honey which won't spike your blood sugar the same way other sugars do, and the only highly processed ingredient is sunflower lecithin which is pretty good going in my books.
They also make other flavors such as almond spice and coconut and lime in case you're not a fan of peanut butter.
Pros
Mostly organic.
9g of protein and 15g of fat.
Only 2g of sugar.
Contains prebiotic fiber for gut health.
Contains no gluten, grains, dairy or soy.
Almost all unprocessed ingredients.
Cage-free eggs.
Cons
Not suitable for people allergic to peanuts.
Very low in carbs.
Takeaway
Primal Kitchen's protein bars are a great choice both for people following a paleo diet or people who just appreciate healthy whole foods in a low carb package.
Ketologie Keto Bar (Chocolate Almond Butter) – Ketogenic Nutrition Bar, Low Carb High Fat, with Coconut Oil, Grass Fed Hydrolyzed Collagen Peptides Type I & III [12 Pack]
☑️ SUPER DELICIOUS: Blended with high fat ducted cocoa, and with only 3g of Net Carbs & 17g of healthy Fat, this is the ultimate snacking option for busy people looking for nutritious Keto Fuel on the go!
☑️ MADE WITH CLEAN INGREDIENTS: Our delicious recipe features grass-fed bovine collagen protein, whey protein, coconut oil, cashew butter, almond butter, sea salt and is sweetened with a touch monk fruit and stevia. No preservatives and no artificial flavors or sweeteners.
☑️ CURB CRAVINGS AND MANAGE HUNGER: Many people use the Keto diet to kick the sugar habit, and our Keto Bars are a great way to manage those sugar cravings. Its low-carb formulation is a great way to keep you lean, and it includes dietary fiber to keep you full and satisfied so you aren't tempted to overeat throughout the day.
☑️ VERSATILE & CONVENIENT: Perfect for travel, work or play. Keep them in your car or office for when you need some extra fuel for your day. Packed full of protein, they're also the perfect training partner that won't let you down!
Review: This protein bar is packed with high-quality ingredients. It's designed for people following a ketogenic diet so it has almost no carbs, but this isn't an issue provided you're getting a healthy amount of carbohydrates from your other meals.
Its protein content is from animal sources in the form of milk proteins and collagen, but it also contains some healthy nuts and coconut oil for good fats, Dutch cocoa for a decadent taste, and chicory fiber.
It's sweetened with stevia and monk fruit, and like the Primal Kitchen bar, the only really highly processed ingredient aside from the protein content is sunflower lecithin.
Pros
Contains grass-fed collagen.
Only 2g of sugar.
14g protein and 17g of fat.
Contains almonds, cashews, flaxseed and coconut oil.
Contains 2mg of iron and 73mg of calcium making it a great choice for women.
Cons
Whey protein is not suitable for people with a dairy intolerance.
Not suitable for vegetarians or vegans.
Too low in carbs for optimal post-workout recovery.
Takeaway
This protein bar is a good option if you're following a low carb or ketogenic diet. It's one of the few truly low carb protein bars that doesn't contain IMO.
Characteristics of an Awesome Protein Bar
Knowing what to look for in a protein bar can be a bit of a minefield of opinion and contradiction.
There was a time when it was all about soy or whey protein and hundreds of ingredients that you could barely read.
Now, we're moving towards a plant-based, whole foods focus where less is more.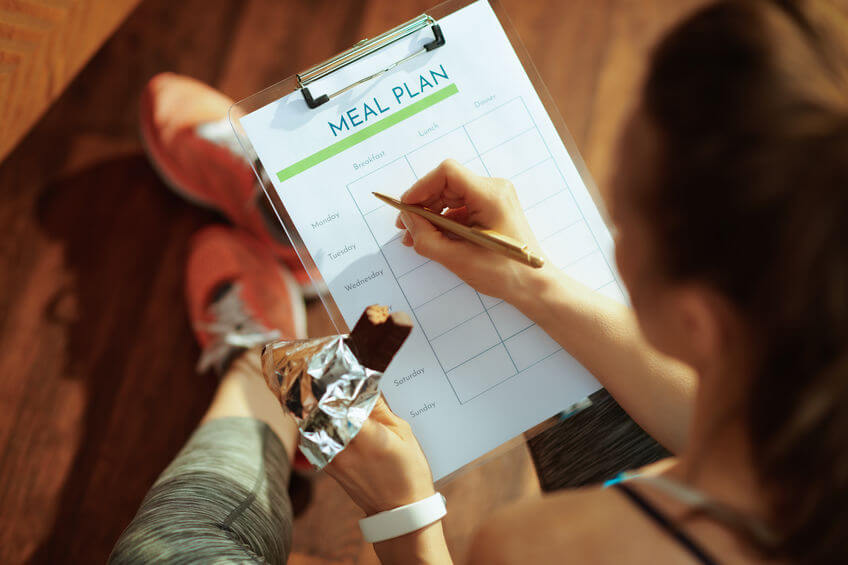 Protein is tending to come more from nuts and seeds than soy or dairy. And, if there's an ingredient you can't read (like Isomalto-oligosaccharide – but we'll get to that) you're probably best avoiding it.
This also includes avoiding sugar alternatives like sugar alcohols (sorbitol, erythritol, xylitol and maltitol – basically be suspicious of anything with 'ol' at the end).
Then there's the ratio of macros to think about.
Depending on your values, your preferences for these ratios will vary.
Those in the keto and paleo communities prefer a higher ratio of fat to protein and little to no carbs.
Others prefer the presence of some healthy carbs for optimal post-workout recovery and to avoid going into ketosis.
Thankfully, the days of the low-fat obsession seem to be behind us and most of us agree that a healthy dose of fat is a good thing. The main differences in preference seem to be the amount of carbs.
Now, I'm not going to tell you how to eat.
There's nothing worse than someone telling you what to eat!
But, there are many of the opinions that in the west, we actually eat too much protein. An average of 125 lbs woman only needs about 42g of protein per day.
A meat-eater will get this really easily by eating 3 square meals per day and won't need to supplement with snacks.
Even vegetarians meet this pretty easily (1 cup of lentils contains roughly the same amount of protein as a burger).
Unless the rest of your diet is pretty dreadful, you're not going to have massive protein demands from your protein bar.
The idea, instead, is to provide your body with a healthy amount of protein, fat and carbs to ensure optimal muscle recovery, or sustained energy that won't make your blood sugar go crazy if you're eating it as a snack on the go.
The exception to this is if you're actively looking to build muscle mass.
If this is you, you might be looking more in the realm of 50g protein per day. For more guidance on building muscle in a healthy way and getting the right nutrition to support muscle building, be sure to have a read of our guide to muscle building for women.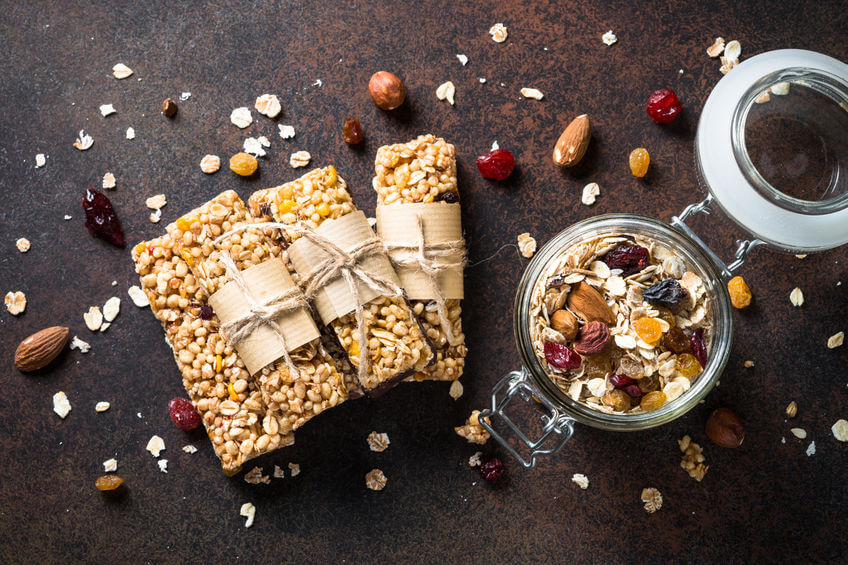 So Girls, Do We Have Different Criteria for Protein Bars than Men?
In all honesty, the answer is no.
There are only slightly different nutritional requirements between men and women. Women require fewer calories due to having a smaller body mass and a lower muscle to fat ratio, but the ratio of macronutrient requirements is the same between the sexes.
Both men and women should consume a diet of about 15% protein and 30% fat, the remaining 55% coming from healthy carbohydrates such as fruit, vegetables and whole grains.
Women do require slightly more iron, calcium and folate (Vitamin B9), but these extras are more likely to be made up of your main meals than your protein bar.
So, the ideal protein bar will have a modest amount of protein (think around 10g,), a little more fat for satiety (maybe 15g) and less than 15g of sugar. If you can get some iron or calcium in there too then that's an added bonus!
However, if you're looking for something to give you more instant energy during a really long training session or immediately after, you might be better off with a higher carb content.
Take a look at our article on the best energy bars for runners if you think this might be you.
If you're not sure whether you are getting all of the nutrients you need in order to support a vigorous workout routine, have a read of our guide to the best workout supplements for women and see if anything takes your fancy.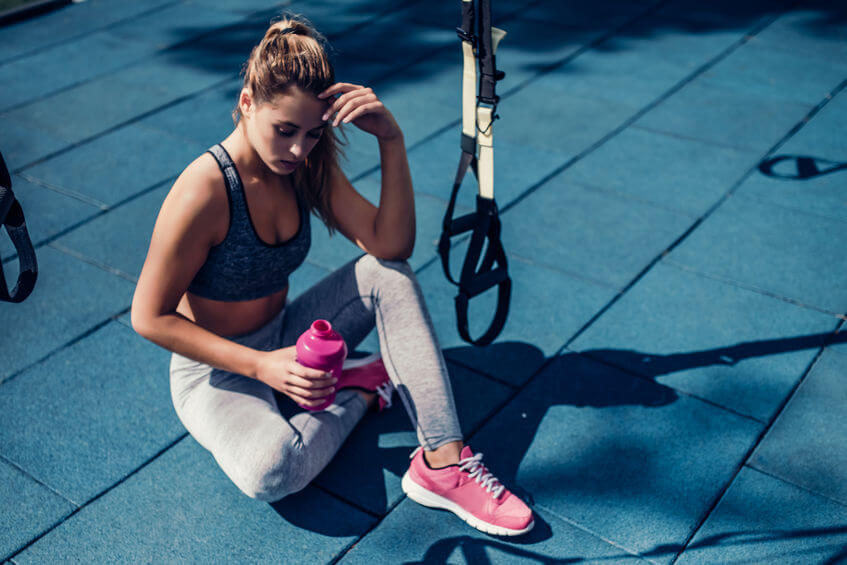 What's the Deal with IMO?
As the low-carb craze took the nutrition world by storm, food manufacturers began looking for ways to make protein bars taste less like tree bark and more like food, but without the sugar.
Introducing IMO.
IMO, or Isomalto-oligosaccharide, is essentially a sweet-tasting syrup that is also high in fiber.
Manufacturers started using it in 'healthy' protein bars to add fiber and a sweet taste while not adding to the overall sugar content of the bar.
Too good to be true? Probably.
As we've found with other sugar-cheats like aspartame, sugar alcohols, and even stevia to a degree, tricking your body into thinking it's eating sugar by giving it the sweet taste without the actual carbohydrates can be a recipe for disaster.
Sometimes, you're actually better off just eating real sugar.
While IMO can occur naturally in whole foods, most of the time it's cheaper for processed food manufacturers to make it out of starch. This industrially manufactured IMO has been found to spike blood glucose and consequently insulin.
Not ideal if you're attempting to stay in ketosis or just be a healthy person in general!
I've been careful to make sure none of the protein bars on this list contain IMO, but be careful to read the ingredients of any other protein bars you might be considering to make sure they don't contain this blood-sugar spiking ingredient.
If, after reading this, you think you might be more of a smoothy person after all, or you're looking for a way to boost the protein content of your morning smoothy, be sure to read our list of the best protein powders for women.
You should now be feeling pretty well equipped to choose some protein bars that will leave your taste buds and nutritional needs very satisfied.
Remember, the best protein bars for women are made of simple, whole food ingredients with minimal processing and not too much sugar!
If you liked this and would appreciate more articles like it, sign up for our newsletter and get all the latest reviews direct to your inbox.