TOP 21 Best Sports Bras for Running Reviewed 2019 for More Comfort
Today we are going to go over the 21 BEST sports bras for running, plus what to look for to find the right running bra for you.
Ladies, believe me, I feel your pain!
I know what it's like to run in a bra that does not fully support you, squishes your ladies into an ugly "uniboob", shows the world your nipples when it's cold, is a struggle just to get on because it's too darn tight and just plain sucks.
So, I searched everywhere to find the best running bras for women with big boobs, women with normal boob size, and all sizes.
Ready, let's dig right in!
TOP 21 Best Sports Bras for Running 2019
Panache Women's Underwire Sports Bra
Review: Panache sports bras are the best sports bra for running with large breasts. They offer support, lift and comfort while separating the breasts so you avoid the dreaded uniboob look.
The Panache bra just makes you look and feel good while doing high impact sports like running. Once you try a good sports bra that fits and flatters, you will never go back!
Pros
Padded underwire for max support – great for busty ladies.
Breathable, moisture-wicking material so you can train hard with confidence.
Encapsulated cups lift and separate and provide individual support for each breast.
Cons
Pricy, but honestly worth it!
Takeaway
If you have a large bust, give this bra your trust – it will support you and the ladies as you run or do other high impact activities.
Brooks Moving Comfort Women's Fiona Bra
Review: Ladies, you will love the Brooks Moving Comfort Fiona bra. It has a back closure – just like a regular bra, so it's not a fight with yourself to get the dang thing on and off.
This bra has good structure, lifts and separates, and makes you feel secure while running.
Pros
Adjustable Velcro straps to get a perfect fit.
Hooks closed in the back, making it easy to get on and off.
Looks smooth under your workout T shirt or running tank.
Cons
Not padded and lined, so if it's cold outside, don't say I didn't warn ya'.
Takeaway
Comfortable and supportive running bra with a back closure to get on and off easily.
Victoria's Secret Incredible Sports Bra
Review: This Victoria's Secret Incredible bra is great for girls who have large breasts. This bra supports without squishing and looks good too.
You can use this bra for intense workouts including running, and they have comfortable wide straps that form a posture perfecting racerback style you will love.
Pros
Racerback style improves posture.
Wider straps stay put without digging into your shoulders.
Ideal for women with relatively large breasts and small ribcages.
Cons
Challenging to get on and off.
Runs small in the ribcage/band.
Takeaway
More than just a pretty bra, this sports bra is supportive and comfortable, and fits women with large breasts and smaller ribcage well.
New Balance Women's Shockingly Unshocking Bra
Review: Women with larger breasts will be happy to know that this New Balance running bra prevents bounce and does not feel tight and restrictive around the ribcage.
I love the back closure that allows you to put the bra on and take it off like a normal bra, that's so much easier than struggling to get it on and off.
Pros
Good choice for women with large breasts and wider ribcage.
Unshocking! Really minimizes bounce and reduces shock.
Back close bra is easy to get on and off.
Cons
Creates a bit of a uniboob look.
Takeaway
If you want no pain when you run and jump, this shock eliminating sports bra is a great choice.
Enell Full Coverage High Impact Sports Bra
Review: The Enell full coverage high impact bra means business. This bra is designed for women who are C cup and larger and it seriously reduces bounce.
The bra will feel tight, but you will feel secure while you run, jump and workout. This bra allows you to focus on your workout, instead of worrying about your boobs.
Pros
Front closure is a bit easier to get on and off that the over the head style.
Snug and secure – reduces impact.
Ideal for runners with large breasts.
Cons
It's not the prettiest bra, but it does its job well.
Takeaway
Among the best running bra for large breasts, supportive, secure and stable, with a front close.
Under Armour Women's Seamless Longline Bra
Review: This Under Armour Longline bra looks more like a crop top than other sports bras.
It is great for ladies from a B cup to a D cup and if you want it tight and supportive, order a size down.
Pros
Adjustable straps.
Padded liner is removable and prevents peek through.
Longline style covers more of the ribcage and looks cute too.
Cons
Challenging to get on and off.
Takeaway
High quality, soft fabric, and a cute longer crop top style that is supportive for cup sizes B to D.
Champion Women's Curvy Strappy Sports Bra
Review: This Champion bra offers mid-level support for jogging and running. It has a back clasp that you can undo, to make it easier to get over your head, which is important because it can be hard to get a bra off when you have been sweating in it.
I love that this bra accentuates your shape and looks like without squeezing your boobs into a uniboob.
Pros
Comfortable mid-level support for jogging or a short run, is not too restrictive or tight.
Give shape and has a flattering silhouette.
Back clasp allows you to loosen the bra before you pull it over your head.
Cons
If you are looking for more than mid-level impact control, you might want a different bra.
Takeaway
Fantastic, high quality, mid-level support and impact control sports bra that is easy to get on and off.
Glamorise Women's Double-Layer Sport Bra
Review: The Glamorise double layer bra does not play around when it comes to bounce control. It has a compression fit that holds the ladies down.
This bra features a wire-free inner bra and a stretch panel, adjustable outer so you control the level of bounce control by either raising or lowering the panel, which is a unique feature I have never seen in a sports bra before.
Pros
Outer panel allows you to adjust the level of impact control.
Wide comfortable straps do not dig into your shoulders.
Bra sits low enough so it does not dig into your armpits or chafe.
Cons
Glamorise uses special sizing, be sure to check the size chart carefully.
Takeaway
Best high impact sports bra for running for ladies with large breasts, thanks to the ability to adjust the impact control.
Nike Women's Victory Compression Sports Bra
Review: This Nike compression bra is good for runners who wear between and A cup and a C cup. It is tight just about everywhere and holds you firmly in place.
It is made with breathable moisture wicking fabric that will keep you dry mile after mile.
Pros
DriFit Moisture wicking fabric.
Snug compression fit.
Racerback style enhances posture and provides multidirectional support.
Cons
This bra runs small, order up.
Takeaway
While this bra is quite tight, it will hold your boobs still while you run, which prevents pain and chafing, which is the job of a good sports bra.
Nike Women's FE/NOM Flyknit Sports Bra
Review: This new HIGH impact running bra from Nike combines the comfort, softness and form shaping quality of Nike's Flyknit fabric with enough compression to keep you in place while you hit the pavement or trail.
The bra has virtually no seams and stays in place to eliminate chafing and you will not need to adjust the straps because the racerback style keeps them in place as you move.
Pros
Sweat wicking dri-fit technology.
Flyknit is compressive and formfitting, without feeling too tight and restrictive.
Racerback style allows you to move your arms without the straps falling from your shoulder.
Cons
The ribcage band is tight.
Takeaway
This phenomenal running bra is the best running bra of 2019, it holds you in without holding you back.
Brooks Women's Juno High-Impact Sports Bra
Review: The Brooks Juno running bra is a great choice for runners who are well endowed. This bra compresses the breasts and completely prevents movement, no matter how hard you strike the ground.
The racerback style keeps the straps in place and the straps are wide and comfortable so they won't dig into your shoulders.
Pros
Racerback style keeps straps in place and helps improve posture.
Tight, controlled, NO bounce fit – excellent support for large boobs.
Perforated in strategic areas for superior ventilation.
Cons
Creates a uniboob, flattens the chest.
Takeaway
The Brooks Juno running bra is a modest bra with excellent coverage that really keeps the ladies under wraps and prevents bounce.
Freya Women's Active Underwire Sports Bra
Review: If you have never heard of the Freya brand, this might be the time to give them a try. This excellent runner's bra features underwire, which is hard to find in a sports bra.
This bra encapsulates each breast, as opposed to flattening and compressing like some others. This creates flattering lift and separation, yet remains supportive.
Pros
Features a racerback hook so you can switch between racerback style and straight straps.
Strategically placed meshed panels and moisture-wicking fabric keep you cool and dry.
Back close makes this bra easy to get on and off.
Cons
Sizing is tricky, check the size chart carefully and measure before you buy.
Takeaway
Supportive and sexy running bra that prevents bounce.
Anita Women's Momentum Sports Bra
Review: Anita active makes an excellent running bra for ladies of all sizes. You will love this lined bra because it prevents headlights, and there are no awkward seams over the cups.
The bra uses encapsulation instead of compression to hold your breasts in place, and it closes from the back, making it much easier to get in and out of.
Pros
Hydrophilic material means it keeps sweat away from your body.
Closes in the back so it's easy to get on and off.
Lifts and separates, creating an attractive look.
Cons
Takeaway
Holds you together as you run without creating a uniboob.
Triumph Women's Triaction Underwire Sports Bra
Review: This Triumph sports bra is an encapsulation style running sports bra which means it prevents the uniboob look and is flattering instead.
It has decent support and prevents bouncing, allowing you to run comfortably.
Pros
Form supporting underwire.
Racerback style helps straps stay in place.
Back clasp loosens so it is easy to get on and off.
Cons
Underwire may poke out after a while.
Takeaway
Comfortable and flattering running bra that prevents bounce.
Under Armour Women's Mid Crossback Sports Bra
Review: This super cute medium impact bra is great for gals between an A cup and a D cup. Its light support is comfortable and stylish.
The racerback design ensures the straps don't fall and the under band adds just a little support and prevents the bra from riding up.
Pros
No slip, attractive racerback design.
Medium impact support – good balance of comfort and support.
Ideal for ladies between an A and D cup with narrow ribcage.
Cons
Not enough running support for DD and larger cups.
Takeaway
Supportive and stylish medium support running bra for ladies with A to D cup size.
Champion C9 Women's Smooth Sports Bra
Review: The Champion C9 bra is a great running bra because it is supportive without squishing or compressing too much. It lifts and separates well, and is lightly padded so you do not show more than you intended and it looks smooth under a t-shirt or tank.
I also like that the band does not come up too high and cause chafing of your underarm.
Pros
Lightly padded for modesty.
Adjustable band unlatches to allow easy removal.
Racerback style keeps straps up while running.
Cons
Not ideal for cup sizes over DD.
Takeaway
Cute and comfortable sports bra that looks good under a shirt and creates a flattering form.
Shock Absorber Women's Ultimate Run Bra
Review: The Shock Absorber bra works very well for big-chested runners. This bra is a racerback style, with two sets of clasps, one at the back of the neck and one to secure the band.
This adds extra support and means you do not have to hike this thing over your head to get it on and off. What a relief!
The inner is seamless so there is no rubbing or chafing, and the bra is quite snug and secure, so you may want to reserve this bra specifically for running.
Pros
Absorbs shock and eliminates bounce for ladies with large breasts.
Fully back closeable, so you can easily get it on and off.
Band is slightly adjustable.
Cons
This is a UK sized bra – check the conversion and size chart carefully before ordering.
Takeaway
If you are a runner with large breasts and you want 0 movement, this is the best sports bra for running for you.
Berlei Women's Sf3 High Impact Underwire Bra
Review: If you are a large-breasted runner you will appreciate the Berlei bra. It has supportive underwire and a fit that prevents bounce for high impact sports like running.
It's also cooling, with cleverly placed mesh panels, and it comes in some of the cutest patterns I have seen on a sports bra.
Pros
Can be worn as racer back or with straight straps.
Strategically placed cooling mesh panels around the cups and side of the bra.
Back close makes it a breeze to get on and off.
Cons
No padding, your nipples may peek through if it's cold.
Takeaway
Breathable, supportive, prevents bounce and looks fabulous, what more could a woman ask for?
Nike Women's Pro Classic Padded Sports Bra
Review: This Nike bra works well for ladies with relatively smaller ribcages. It is lightly padded for modesty and it holds you down with a snug compression fit.
This is a classic style running sports bra.
Pros
Snug compression fit.
Racerback style.
Dri-fit technology keeps you comfortable during a tough workout.
Cons
Removable padding is challenging to replace.
Takeaway
A classic over the head style compression running sports bra by Nike.
Reebok Women's Wireless Racerback Sports Bra
Review: This Reebok sports bra is a good choice for runners between an A cup and a D cup. It is supportive, without being restrictive.
I love the open racerback style that allows you to show off your shoulders and frees you from having to adjust the straps every few minutes. I also like that the straps are adjustable so you can get the level of support you need.
Pros
Adjustable straps.
Racerback style.
Supportive cups that are not too restrictive.
Cons
Creates a bit of a uniboob look.
Takeaway
The best Reebok running bra out there, snug, yet not too tight, with comfy adjustable racerback style straps.
Freya Women's Epic Underwire Crop Top Sports Bra
Review: This Epic running bra is great for the well-endowed lady who wants to engage in high impact activities, like running.
It has underwire support, an encapsulating design that flatters your figure and offers a ton of support, and the straps adjust to a racerback style to help them stay in place.
Pros
Encapsulation style bra, flattering and supportive.
Option to switch to racerback with slide hook.
Good motion control and modest coverage to avoid headlights.
Cons
The racerback hook is challenging to fiddle with.
Takeaway
Best running sports bra for large boobs, inner sling that encapsulates and offers a lot of support.
Buyers Guide to the Best Running Bras
If you have ever shopped for a running bra you know what a struggle it can be. Trying bra after bra out and not finding your perfect goldilocks bra is frustrating.
If you are wondering "what should I look for in running bras" or "What kind of sports bra do I need for running?" you are in the right place.
So keep reading.
Here are the top 5 questions you need to consider before deciding on the best running bra for you.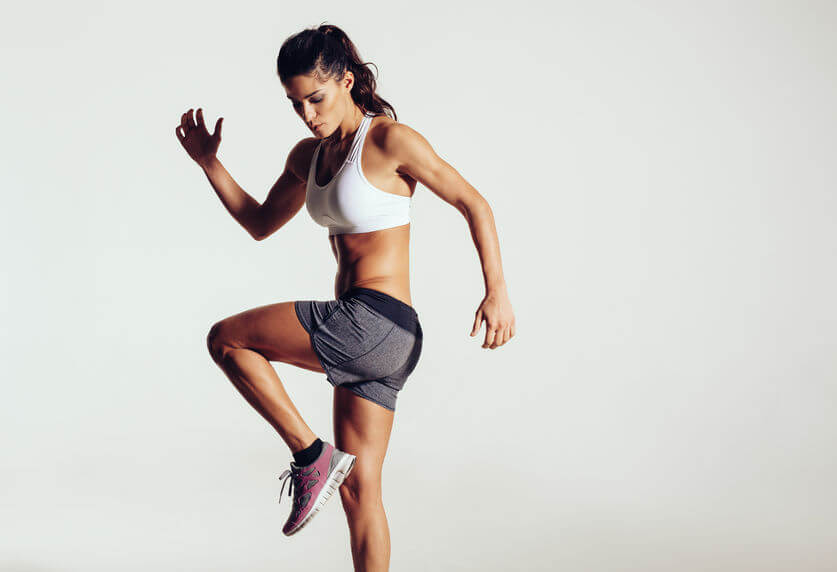 Encapsulation Control vs Compression Control
Encapsulation Style
Encapsulation style running bras encapsulate or hold each breast individually. These offer a more natural shape, while still giving excellent support.
They are sometimes a little more expensive because they are more detailed to make than a compression style bra which simply covers both breasts and flattens them. Women with large boobs do best with encapsulation style sports bras.
Compression Control
Compression control uses a compression panel to flatten the breast to prevent them from moving. This is how sports bras were classically made and they create the uniboob look. Compression control is usually seen on sports bras you put on over your head.
Compression style bras work well for A to C cup sizes.
Over the Head or Hook and Clasp Open
Let me tell you, I am not a big fan of wrestling a tight sports bra over my head, especially when I have been sweating in it and am already hot.
I LOVE the back close style bra, so you will see me singing their praises.
Bless the advances in sports bra technology that allowed for the creation of the back close sports bra!
Racerback or Straight Straps
Racerback bras are the cat's meow when it comes to running – especially if you have a large chest.
Racerback bras support large breasts better. The cross angle of the straps support large breasts since they form a more effective angle.
Racerback bras improve posture. Racerback bras pull your shoulders back and encourage you to stand up straighter.
Racerback bra straps will not slip off your shoulder. Because the straps are crossed and pulled inward, they simply can't slide down your shoulders.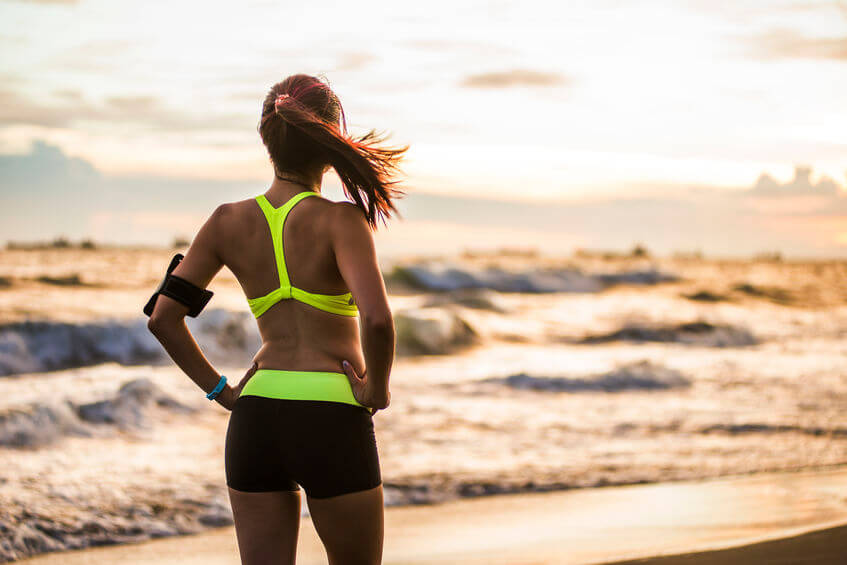 To Underwire or Not to Underwire
An underwire is a thin curved piece of (usually) metal that allows the bra to lift, separate and shape the breast. I love the idea of the underwire, but only if it is finished well.
Some underwires have been known to poke through the fabric and stab you right where it hurts, in the heart. OUCH!
If you decide on an underwire sports bra, buy the best quality you can afford and that way you can be sure the bra won't "stick it to you".
Padded or Not
What you don't want is ridiculous push-up style padding in your running bra, you would end up a hot mess if you tried to run in a heavily padded bra.
But…
A little light padding is useful because it covers your nipples and allows you to be modest.
Many women are uncomfortable or self-conscious when they poke out from under their gym shirt or running tank, and that small amount of padding or an extra layer of fabric from a lined bra really helps call off the show, if you know what I am saying.
FAQ's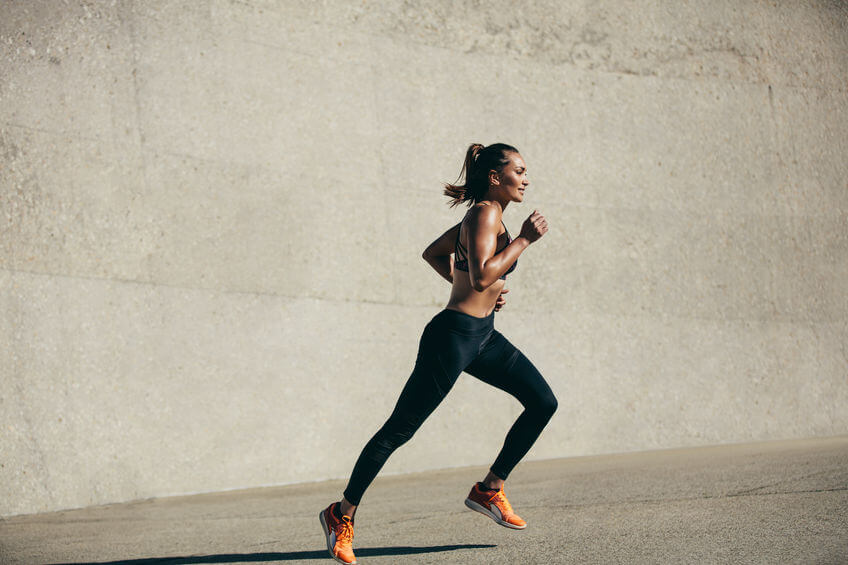 How Should a Sports Bra Fit for Running?
A running bra will fit snug. Remember, it's not an all-day bra. This running bra should be comfortable enough to wear an hour or two while preventing movement and bounce.
The band should not ride up, the straps should not slide down or dig into your shoulders and your breasts should not spill out anywhere. All of these are signs of a poor fit.
Check out this video for some great tips on how to fit a sports bra for running
What is the Best Sports Bra for Running with Large Breasts?
I have a few favorite sports bras for running with large breasts. The Panache Women's Underwire Sports Bra is a flattering encapsulation style running bra that has a supportive underwire and is loved by runners with big breasts.
The Glamorise Women's Double-Layer Sports Bra is also a great choice for runners with large boobs. It has a unique front panel that allows you to choose the level of compression and bounce control you want by simply adjusting the front panel.
Why Wear Sports Bra for Running?
You need extra support when you run. A regular bra will be too hot, slide off your shoulders and will not support you or prevent bounce and pain as you run. A regular bra may also chafe and rub as you run.
A running sports bra solves all these problems. The best running sports bras are designed with moisture-wicking material, have cooling mesh panels and material that will not absorb sweat.
Running bras are much more supportive, control motion and reduce bounce. They also have straps that stay put without ever needing adjustment.
Do Sports Bras Stop Bouncing?
For the most part, running sports bras greatly reduce bounce and control motion. While no bra can completely eliminate bounce, the best running sports bras reduce impact by 50 to 75 percent depending on your size and how well the bra fits.
How to Stop Bra Chafing When Running?
Getting a running bra with a great fit is the first step to prevent chafing. See the question about how to fit a sports bra above for advice on the best fitting running bra.
Another trick runners use to prevent chafing?
Bodyglide is the runners secret weapon. Bodyglide for her is specially formulated to wear under your bra, is safe for your clothes, has skin-calming ingredients and creates a soft silky barrier between your skin and parts of your bra that might cause chafing.
Can I Wear a Sports Bra All Day?
Sports bras are designed to be worn for a limited time only. They are much tighter and more restrictive than regular bras and should only be worn while you run or participate in other sports.
If you wear a sports bra all day, you may find it eventually becomes uncomfortable and may hinder flow of lymph fluid.
If you want to see more sports bras reviewed, check out this list of best sports bras 2019.
Which Sports Bra Has Encapsulation Type of Support?
Several running sports bras use encapsulation style support.
The Anita Women's Momentum Sports Bra and the Freya Women's Active Underwire Molded Sports Bra are two running sports bras that use encapsulation for support.
Summary
Now you have seen the best sports bras for running, why not take a look our roundup on the best leggings for running and the best women's running shoes to complete your running wardrobe.
Want to keep track of your run times and chart your running path? Check out this lineup of women's sports watches that can track mileage, heart rate, map your route and more.
Do you love running gear?
So do we!
Be sure and sign up for the newsletter and never miss another running gear review!