TOP 21 Best Sports Bras for Running Reviewed 2023 for More Comfort
Today we are going to go over the 21 BEST sports bras for running, plus what to look for to find the right running bra for you.
Ladies, believe me, I feel your pain!
I know what it's like to run in a bra that does not fully support you, squishes your ladies into an ugly "uniboob", shows the world your nipples when it's cold, is a struggle just to get on because it's too darn tight and just plain sucks.
So, I searched everywhere to find the best running bras for women with big boobs, women with normal boob size, and all sizes.
Ready, let's dig right in!
TOP 21 Best Sports Bras for Running 2023
Buyers Guide to the Best Running Bras
If you have ever shopped for a running bra you know what a struggle it can be. Trying bra after bra out and not finding your perfect goldilocks bra is frustrating.
If you are wondering "what should I look for in running bras" or "What kind of sports bra do I need for running?" you are in the right place.
So keep reading.
Here are the top 5 questions you need to consider before deciding on the best running bra for you.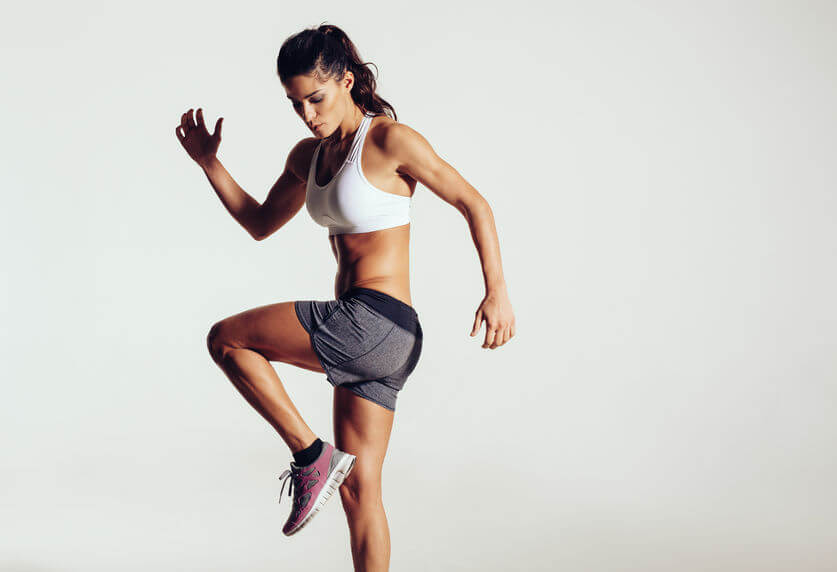 Encapsulation Control vs Compression Control
Encapsulation Style
Encapsulation style running bras encapsulate or hold each breast individually. These offer a more natural shape, while still giving excellent support.
They are sometimes a little more expensive because they are more detailed to make than a compression style bra which simply covers both breasts and flattens them. Women with large boobs do best with encapsulation style sports bras.
Compression Control
Compression control uses a compression panel to flatten the breast to prevent them from moving. This is how sports bras were classically made and they create the uniboob look. Compression control is usually seen on sports bras you put on over your head.
Compression style bras work well for A to C cup sizes.
Over the Head or Hook and Clasp Open
Let me tell you, I am not a big fan of wrestling a tight sports bra over my head, especially when I have been sweating in it and am already hot.
I LOVE the back close style bra, so you will see me singing their praises.
Bless the advances in sports bra technology that allowed for the creation of the back close sports bra!
Racerback or Straight Straps
Racerback bras are the cat's meow when it comes to running – especially if you have a large chest.
Racerback bras support large breasts better. The cross angle of the straps support large breasts since they form a more effective angle.
Racerback bras improve posture. Racerback bras pull your shoulders back and encourage you to stand up straighter.
Racerback bra straps will not slip off your shoulder. Because the straps are crossed and pulled inward, they simply can't slide down your shoulders.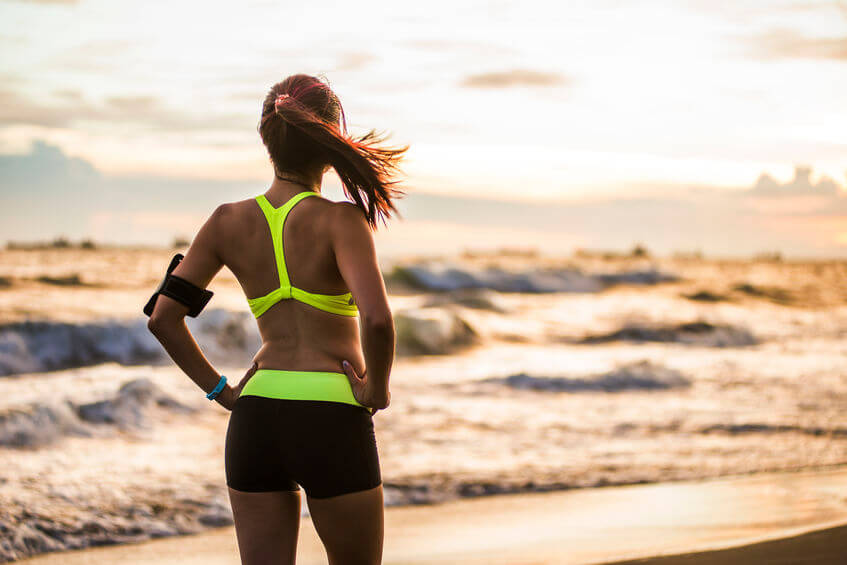 To Underwire or Not to Underwire
An underwire is a thin curved piece of (usually) metal that allows the bra to lift, separate and shape the breast. I love the idea of the underwire, but only if it is finished well.
Some underwires have been known to poke through the fabric and stab you right where it hurts, in the heart. OUCH!
If you decide on an underwire sports bra, buy the best quality you can afford and that way you can be sure the bra won't "stick it to you".
Padded or Not
What you don't want is ridiculous push-up style padding in your running bra, you would end up a hot mess if you tried to run in a heavily padded bra.
But…
A little light padding is useful because it covers your nipples and allows you to be modest.
Many women are uncomfortable or self-conscious when they poke out from under their gym shirt or running tank, and that small amount of padding or an extra layer of fabric from a lined bra really helps call off the show, if you know what I am saying.
FAQ's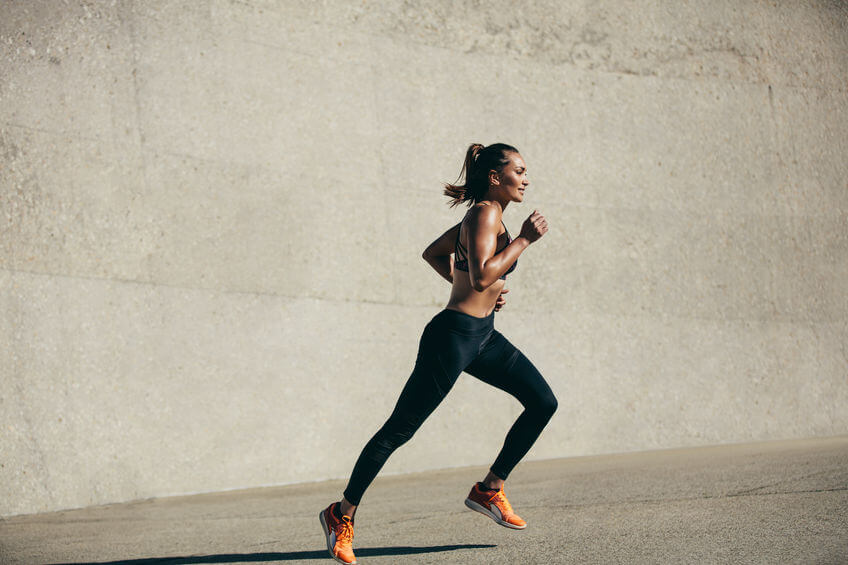 How Should a Sports Bra Fit for Running?
A running bra will fit snug. Remember, it's not an all-day bra. This running bra should be comfortable enough to wear an hour or two while preventing movement and bounce.
The band should not ride up, the straps should not slide down or dig into your shoulders and your breasts should not spill out anywhere. All of these are signs of a poor fit.
Check out this video for some great tips on how to fit a sports bra for running
What is the Best Sports Bra for Running with Large Breasts?
I have a few favorite sports bras for running with large breasts. The Panache Women's Underwire Sports Bra is a flattering encapsulation style running bra that has a supportive underwire and is loved by runners with big breasts.
The Glamorise Women's Double-Layer Sports Bra is also a great choice for runners with large boobs. It has a unique front panel that allows you to choose the level of compression and bounce control you want by simply adjusting the front panel.
Why Wear Sports Bra for Running?
You need extra support when you run. A regular bra will be too hot, slide off your shoulders and will not support you or prevent bounce and pain as you run. A regular bra may also chafe and rub as you run.
A running sports bra solves all these problems. The best running sports bras are designed with moisture-wicking material, have cooling mesh panels and material that will not absorb sweat.
Running bras are much more supportive, control motion and reduce bounce. They also have straps that stay put without ever needing adjustment.
Do Sports Bras Stop Bouncing?
For the most part, running sports bras greatly reduce bounce and control motion. While no bra can completely eliminate bounce, the best running sports bras reduce impact by 50 to 75 percent depending on your size and how well the bra fits.
How to Stop Bra Chafing When Running?
Getting a running bra with a great fit is the first step to prevent chafing. See the question about how to fit a sports bra above for advice on the best fitting running bra.
Another trick runners use to prevent chafing?
Bodyglide is the runners secret weapon. Bodyglide for her is specially formulated to wear under your bra, is safe for your clothes, has skin-calming ingredients and creates a soft silky barrier between your skin and parts of your bra that might cause chafing.
Can I Wear a Sports Bra All Day?
Sports bras are designed to be worn for a limited time only. They are much tighter and more restrictive than regular bras and should only be worn while you run or participate in other sports.
If you wear a sports bra all day, you may find it eventually becomes uncomfortable and may hinder flow of lymph fluid.
If you want to see more sports bras reviewed, check out this list of best sports bras 2023.
Which Sports Bra Has Encapsulation Type of Support?
Several running sports bras use encapsulation style support.
The Anita Women's Momentum Sports Bra and the Freya Women's Active Underwire Molded Sports Bra are two running sports bras that use encapsulation for support.
Summary
Now you have seen the best sports bras for running, why not take a look our roundup on the best leggings for running and the best women's running shoes to complete your running wardrobe.
Want to keep track of your run times and chart your running path? Check out this lineup of women's sports watches that can track mileage, heart rate, map your route and more.
Do you love running gear?
So do we!
Be sure and sign up for the newsletter and never miss another running gear review!
[starbox id=katielynwriter]