Best Stall Bars for Your Home or Garage Gym & TOP 8 Reviews 2022
Wall bars, Swedish ladders, Stall bars…
Whatever you call them they may be new to you, but they have actually been around since the inception of gymnastics itself.
You may have seen a stall bar at a yoga studio, gymnastics class, CrossFit box, or even a friend's home gym.
If you are curious to see if this attractive piece of gym equipment is right for you, read on.
I will go over the stall bar basics, the benefits of using and having a stall bar in your home or garage gym, workouts you can do with your stall bar, and give an in-depth review of 9 of the best stall bars for home use.
Is a Stall Bar Necessary to Make Your Home or Garage Gym Complete?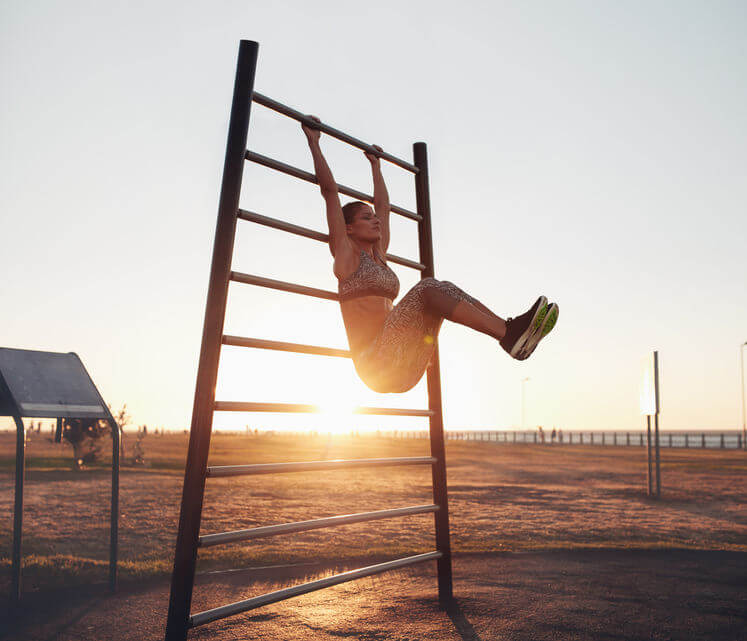 Is a set of stall bars absolutely necessary to complete your home gym?
No. Not necessarily.
Body weight athletes have a complete routine that uses just their body weight and nothing more. Some folks get by with a simple all-in-one home gym. Others use just workout videos and resistance bands.
But…
Even though a set of stall bars may not be a requirement for making your home gym complete, they are certainly a justifiable and desirable addition.
They are simple, customizable and multipurpose.
A tool that can be used for stretching specific targeted muscles, stretching, bodyweight training, core work hanging and spine decompression and more.
Stall bars are used by gymnasts, bodybuilders, weight lifters, CrossFit athletes, kids, physical therapy practitioners, martial artists and even contortionists!
Swedish ladders are an extremely versatile training tool.
What are Benefits of Having a Set of Stall Bars in Your Home Gym?
You might wonder if getting a set of stall bars for your home gym is worth it.
I think it is worth it because it is so versatile.
It can be used to stretch, strengthen and expand mobility. Some other Stall bar benefits include:
Stall bars develop strength.
Stall bars can be used for stretching, mobility and increasing flexibility.
Stall bars do not take up a lot of space.
The best stall bars double as pull up and chin up bars.
Hanging from the stall bar can stretch the spine alleviating back pain.
Stall bars can be used for many body weight exercises.
You could get a full body workout using just the stall bars.
What to Keep in Mind Before Buying Stall Bars for Your Home Gym?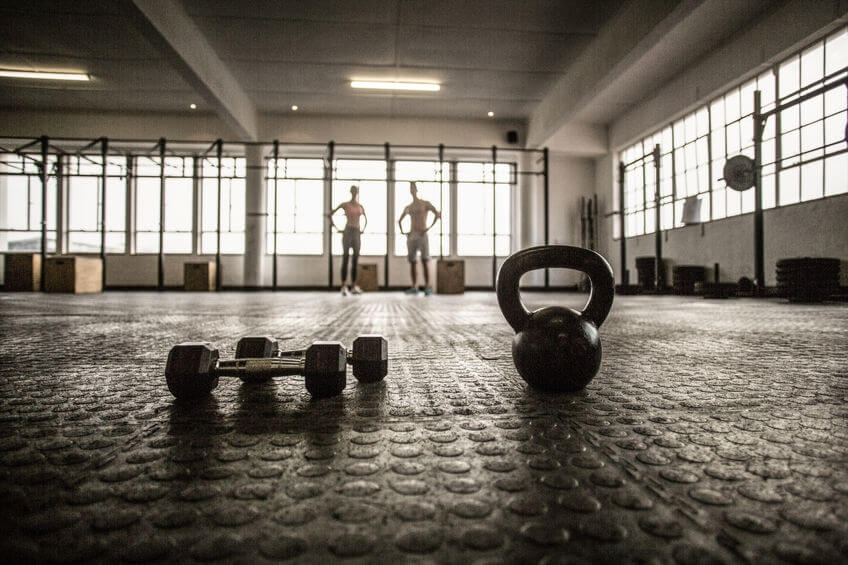 Material?
Most stall bars are wood, metal, or a combination of both.
Wood is desirable because it feels better to hold on to and it has a lot of aesthetic appeal. Wood is a common choice for home or garage gyms.
However…
Wood does have its limits – weight wise. Be aware of how much weight the wood can support, which depends in part on the thickness of the dowels or rungs of the ladder.
Metal is also a fine choice. It is stronger and has an edgier look. Rogue Fitness makes a popular set of metal stall bars, so check them out.
What Height?
The biggest limiting factor is height. Many home ceilings are just 8 or 9 feet high. Considering many stall bars are also 8 or 9 feet high, you can see how this might pose a problem.
Also if you are planning to use the stall bars for chin ups and pull ups, you need to leave space for that so you are not bumping your head on the ceiling.
Bottom line?
Check the height of the stall bars and your ceilings and do a little math before you decide on the best stall bars for your home gym.
What Width?
Width is a matter of preference. Traditionally stall bars are 3 feet wide, but today they come in many different widths, from 2 feet and beyond.
Keep in mind, a narrower width might fit a small space better, but it also limits many movements.
It is best to stick with the 3-foot width if you can.
Is it Better to Build a DIY Set of Stall Bars or is a Stall Bar Worth it to Invest in?
If you have the time, desire and resources to build a set of stall bars, a DIY option may be perfect for you.
Many people do make their own stall bars, like Tommy Down with TD Gymgear.
You should understand that DIY stall bars are no small project. Carefully consider the pros and cons before you get started.
Pros:
You can make the dimensions, height and width whatever you like.
You may save a few bucks if you don't count your time and labor as a cost.
You can have a piece of handcrafted gym equipment to be proud of.
Cons:
You need woodworking tools.
You need woodworking skills.
You need time to do the project.
You need space to complete the stall bars.
You need to invest in the materials, including mounting hardware.
Stall Bar Workouts and Exercises
Strength Training Stall Bar Routine
This video goes a long way in demonstrating just how versatile Stall bars are. The athlete featured here is muscular and solid, and after seeing this routine it is easy to see why.
It is also easy to see how useful a too a set of stall bars is. This video shows a lot of core and arm strength training exercises.
The Suples Gladiator Wall Routine
The Suples Gladiator Wall comes with a suspension trainer similar to a TRX trainer. You can use any suspension trainer with any stall bars, provided the stall bars can hold the weight.
This video shows you exercises for all major muscle groups and covers both strength training and cardio using the Stall bars and a suspension trainer.
Stall Bar Routine for Flexibility and Mobility
Another popular use for stall bars is flexibility and mobility training.
This video covers both mobility and stretching to give you an idea of what you can do using a stall bar and create your own routine based on your needs.
Top 8 Best Stall Bar Reviews 2022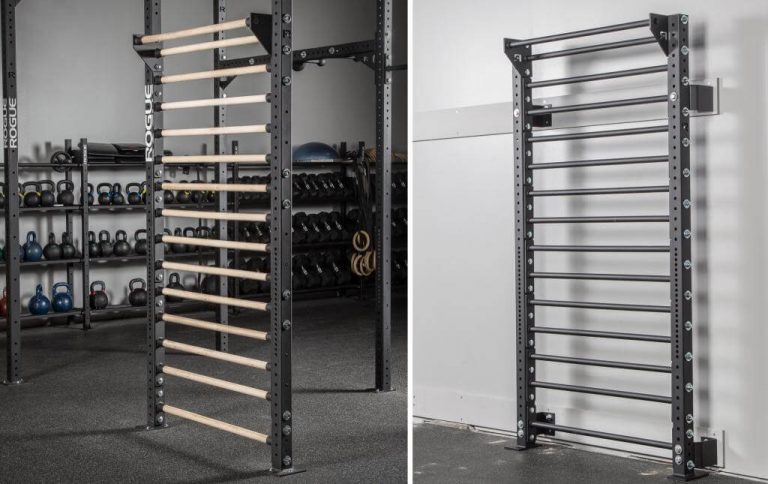 Review: The Rogue Stall Bar 3.0 is the business! You have your choice of 1.5 inch thick round Oak dowel rungs or round metal rungs, plus chose to mount it to the wall, or use the rig/rack mount option to attach it to your monster or infinity rig.
This rack is tall! 90 inches tall to be exact. Check your ceilings before you commit to these.
They are also wide, which you may like. They are 43 inches wide, which is the widest width stall bar set in this list of stall bar reviews.
The best thing about these stall bars? They are heavy duty and practically indestructible.
They will break you before you come close to breaking them.
Pros
Made in the USA.
Very sturdy – the best you can get.
5 inch thick oak rungs or 1.25 inch metal rungs – practically unbreakable.
42 inches with – the widest available.
Cons
Mounting hardware for wall mount is not included. Wood rungs will need sanding.
Takeaway
The strongest, sturdiest, buffest and best stall bars you can get.
Vita Vibe - Professional Series Stall Bars
Review: There are two things that set this stall bar apart from the rest.
First, the frame is made from sturdy yet lightweight powder coated aluminum, but the rungs are made from wood. You have the strength of metal combined with the feel of wood.
Second, the round shaped rungs on this Swedish ladder are completely adjustable and can be set at equal distances from each other, or any spacing configuration you like.
Pros
Combo of metal frame and wood rungs for the best of both worlds.
Rungs are fully height adjustable.
Available in 74, 82 or 90 inches high.
Cons
The assembly instructions need to be improved.
Takeaway
One of the only adjustable stall bars for home gym use.
3B Scientific Eucalyptus Wood Stall Bar
3B Scientific Eucalyptus Wood Stall Bar
Stall bar for performing range of motion exercises from sitting or standing positions
Versatile for use in sports medicine clinics, gyms, physical therapy clinics, or hospitals
Eucalyptus wood coated in anti-humidity sealer for durability
Measures 94.5 x 4.3 x 36.6 inches (H x L x W), with 1.5"-diameter dowels
Weight capacity of 250 lb.
Review: The 3B Scientific stall bar has two features that set it apart from the competition.
First, the top bar can be used for both chin ups and pull ups because it sits far enough from the wall to allow room.
Second, the unit is among the tallest of all these stall bar reviews. The wood dowels are 1.5 inches thick and have around, rather than oval shape.
Pros
Top bar is for chin ups and pull ups.
94 inches tall for those looking for high or tall stall bars.
Strong Eucalyptus wood rungs are 1.5 inches thick.
Cons
Quite tall at 94" and not adjustable. Check your ceilings before you buy.
Takeaway
If you want a tall, sturdy wood stall bar, this is a great choice.
Limitless XVP Fitness Stall Bar System
Limitless XVP Fitness Swedish Ladder Wood Stall Bar – Physical Therapy & Gymnastics Ladder w/ 11 Strategic Rods - Ideal for Back Pain Scoliosis Exercise Equipment & Range of Motion
SAVE UP TO 50% ON THE ONLY Swedish ladder system crafted from solid wood (not cheap spec wood like other affordable kits). Physical therapy trainers love how you can get the same HIGH QUALITY wood stall bar setup you'll find in $600 professional machines FOR HALF THE INVESTMENT! SAVE EVEN MORE when you toss aside your gym membership and experience the ease of use with this VERSATILE home gym equipment.
#1 BEST DESIGN – 11 RODS ARE STRATEGICALLY PLACED for maximum workout benefits and pain relief, making it IDEAL for home, gym, hospitals and clinics or for USE AS a gymnastics ladder, ballet stretch bar, cross fit training equipment or indoor gym.
EXPERIENCING PAIN? "BEST IN CLASS" BACK PAIN, ARTHRITIS and SCOLIOSIS exercise equipment provides gentle upper and lower back pain relief, or arthritis relief when used as a wall stretch bar, traction system for spinal decompression or to complete tension relieving lumbar stretches you can't otherwise perform outside the therapy office.
TARGET EVERY MUSCLE – GAIN FULL RANGE OF MOTION: BY using the included TRAINER STRAP you can transform this stretch ladder into the perfect indoor gym. BEGINNERS can exercise while sitting or standing then ADVANCE to using it as NINJA TRAINING equipment, PARKOUR training equipment or advanced obstacle course training equipment.
"THE ONE TO GET" – GUARANTEED: We believe it's amazing how simple design adjustments can make your life far easier so we made our Swedish wood stall bar 32" WIDE, allowing it to LINE UP PERFECTLY to your homes wall studs & 7' 8" TALL so you can use it in any room. Requires Assembly. Go ahead, click add to cart now. You'll LOVE the versatility of this dual exercise and pain relief device, or your MONEY BACK – no questions asked!
Review: This Limitless XVP stall bar system is a generous 7 feet 8 inches high and 32 inches wide.
It is rated for up to 200 lbs, so it is better for smaller adults and kids. It is made from solid wood with 1 inch thick round dowels for the rungs.
Pros
Real, solid wood at an affordable choice.
TRX style suspension trainer included with purchase.
7 feet 8 inches high.
Cons
Only for those under 200 lbs, best for small adults and children.
Takeaway
An affordable set of stall bars for those under 200 lbs.
DANI Wall Bars SO-01-220, 87 in Wooden Swedish Ladder Set: Pull Up Bar for Training and Physical Therapy - Used in Homes, Gyms, Clinic, and Schools
SUPERIOR MATERIALS: Sturdy construction for reliability and safety using beech and pine. All materials and varnish are natural, environmentally friendly, and certified. All details are sanded smooth and polished.
DIMENSIONS AND SPECIFICATION: Robust play set holds up to 265 lbs. A compact design: 87 in (Height) x 31 in (Width) ensures this ladder is ideal for use in homes, apartments, gyms, clinics, hospitals, garages, and schools. Requires 8 ft of clearance. Weighs 44 lb. Attaches to wall.
INCLUDES: Swedish Ladder, pull up bar, horizontal struts, wall mounting kit, and assembly instructions.
MULTIPURPOSE VERSATILITY: Can be used for gymnastics, strength training, fitness, parkour, bodybuilding, and physical therapy to improve athletic ability, stamina, balance, and range of motion.
FEATURES: Aesthetic design, easy assembly and mounting. Made for ages 2 and older. Manufacturer guaranteed. FREE SHIPPING!
Review: The Dani stall bars set by Sports Baby is made from a combination of Beech wood and pine. The unit height is an ample 87 inches high, but the width is just 31 inches.
The set of stall bars is rated for 265 lbs so it covers a wide range of people. The Dani Stall bars set would be a good fit for a small home gym or yoga studio.
Pros
Has a reinforced chin up and pull up bar.
Mounting hardware included.
Rated for up to 265 lbs.
Cons
Only 31 inches wide, not very wide.
Uses round wood rungs vs oval shape.
Takeaway
A solid wood stall bar on the narrow side.
Gibson Stall Bar
Numerous flexibility and strength building exercises you may do on these units
Great for individual and group training
Can be attached side by side to create an exercise and workout wall
Review: The Gibson stall bar is proudly made in the USA from hardwoods. The round rungs are an ample 1.5 inches thick and the height of these stall bars is 8 feet.
The unit has two reinforcement slats that run across the back for added stability, and all mounting hardware is included with your purchase.
Pros
Made in the USA.
Has chin up bar.
5 inch solid wood rungs.
Cons
This stall bar is very tall at 8 feet high, check ceilings to make sure it fits.
Takeaway
Solid, sturdy, American made stall bars for home and garage gym.
Suples Gladiator Stall Bar
Suples Gladiator Wall - stall Bars, stall bar, Pull up bar, Push up bar, Strength Training, core Training, core bar, Workout, MMA, Wrestling, UFC, Judo, Training Bars
Gladiator Wall accessories available (dip bar, ropes, pulley, etc.) (Search ie: Suples Wall Bench)
88" H / 35" W / 11" D
Installation instructions included for easy set up.
Support up to 400 lbs.
Review: The Gladiator stall bar can hold a hefty 400 lbs thanks to its solid beech wood construction. This is a tall stall bar set, coming in at 93 inches tall and three feet wide.
My favorite part of this set is the extended pull up bar that sits far away from the wall. The circular rungs sit a foot away from the wall, which is also ample space.
Pros
Holds up to 400 lbs, higher than many stall bars available.
Chin up bar sits a foot away from the wall.
Includes the Gladiator instructional DVD.
Cons
93 inches high – too high for standard ceilings.
Takeaway
Designed for the big and tall user, this stall bar set sits a foot from the wall and holds 400 lbs!
VSB24-80 24" Wide Stall Bars/Swedish Bars (with Chin-Up Bar) (80" Tall)
Heavy-gauge steel frame with a lightly textured matte black powder coat finish
24" wide by 80" tall - Ability to mount side by side to create an entire workout wall
Ten evenly spaced (8" apart) wooden rungs plus one 12" offset Pull-up rung
1.5" diameter wooden rungs - sanded smooth natural hardwood ash
Weight Capacity - 300 lbs when properly installed - 10 Year Warranty - Made in USA
Review: VBS stall bars are a narrower set of stall bars, compared to the others here. It is just two feet wide so it would be ideal for small spaces.
The steel frame and thick circular wooden rungs allow it to hold up to 300 lbs, which is more than many stall bars out there.
Pros
Holds 300 lbs.
Slim 24 inches wide for smaller spaces.
Steel frame with 1.5 inch wooden rungs.
Cons
The chin up bar is too close to the wall.
Takeaway
A great set of stall bars for small spaces.
Don't wait, install a set of the best stall bars in your home gym and you won't be disappointed.
Don't forget to sign up for the Garage Gym Power newsletter and receive access to exclusive content as our way of saying thanks for being a reader.
Latest posts by Michael DuBoff
(see all)