TOP 13 Best Mini Steppers on the Market Reviewed 2020
We all know we should be doing more with our legs.
They have the largest muscles in the body and are the most effective way of getting some serious cardio in.
But what if you're not a runner?
Mini steppers are the little brothers and sisters of full-sized regular stepping machines and offer a decent cardio workout for your legs without the impact of a treadmill.
This article will introduce you to the best mini steppers 2020 and fill you in on everything you need to know about these handy little machines.
TOP 13 Best Mini Stepper Reviews 2020
Xiser Commercial Mini Stairmaster
Review: Extremely tough and made of top quality materials, this is the kind of mini stepper you will have in your home gym for a lifetime and never need to replace.
It doesn't come with any fancy features, but its simplicity is what makes it reliable and a failsafe choice.
Pros
Very stable due to its longer length.
Made of aircraft aluminum which is extremely strong and durable and maybe accounts for the huge 400 lbs weight limit.
5 year warranty.
Tall hydraulic cylinders are very quiet.
Adjustable resistance.
Cons
Doesn't include a display.
Doesn't include resistance bands.
Takeaway
This is likely to be the best mini stepper on the market and definitely among the best mini steppers 2020.
Sunny Health & Fitness Mini Stepper with Resistance Bands
Review: This mini stepper is a solid little machine equipped with resistance bands for a full body workout.
It uses an up and down motion rather a circular elliptical so it does require a bit of balance, but the resistance bands can help with that.
Pros
LCD Monitor tracks your stats.
Comes with removable resistance bands.
Hydraulic system makes for smooth stepping.
Cons
Resistance bands may not provide enough resistance if you're used to pretty hefty weight training.
Takeaway
This is another of the best mini steppers available right now, being good value for money and a sturdy machine.
Sunny Health & Fitness Twister Stepper
Review: Similar to the mini stepper above but with a twisting motion incorporated into the stepping motion, this mini stepper activates more muscles than the simple up-down machines.
Pros
Adjustable resistance.
LCD monitor tracks your workout stats.
Removable resistance bands.
250 lbs max user weight.
Cons
The twisting motion may not be suitable for people with knee problems.
Manufacturers recommend a 15 minute limit for working out to prevent the pistons from overheating. Alternating with floor exercises or a different machine could be an option.
Takeaway
This is a great option for a mini stepper if you're looking for a reliable machine and appreciate the twisting motion.
Review: This is a newer addition to the market than the mini steppers above but just as worthy for a spot in your garage gym.
It is well built, stable and sturdy.
Pros
Includes a display which records workout stats.
Includes 2 resistance bands.
Wide anti-slip pedals and a wide base make this a very stable machine.
Cons
The temperature of the room affects how hard it is to move the pedals so you'll get an easier workout in a warmer room and a harder work out in a colder room.
Resistance is not adjustable.
Takeaway
This is easily one of the best mini steppers on the market.
Review: This is another popular mini stepper that is a well-priced, entry level option. It doesn't have adjustable resistance so you may outgrow it at some point but it's a good place to start.
Pros
Electronic display tracks time, steps and calories.
250 lbs max weight.
Suitable for use at a standing desk.
No issues with squeaking compared to a lot of other models.
Cons
No adjustable resistance.
Takeaway
This is a decent entry-level mini stepper with limited fancy features but a reliable, solid design.
Sunny Health & Fitness Twist-in Stepper with Handle Bar
Review: Strictly speaking this is still a mini stepper, it just has a handle to help out when balance issues are a problem.
Oddly enough it doesn't come with adjustable resistance which is a definite drawback but aside from this, it is a solid mini stepper.
Pros
Handle has adjustable height and comfortable padded grips.
LCD display on the handle bar records strides per minute, steps, calories and time.
Incorporates twisting motion.
Cons
Doesn't have adjustable resistance.
Takeaway
This is the best mini stepper with handles for those with balance issues.
Exerpeutic 850 Mini Stepper
Review: This mini stepper is new to the scene and likely to receive really positive feedback for its excellent stepping motion that allows your foot to stay flat rather than having your heel drop.
It's Bluetooth compatible which is also rare and has adjustable step height.
Pros
Natural stepping action.
Bluetooth compatible with free My Cloud Fitness app.
10" step height is the highest available for mini steppers right now.
Adjustable step height so you can challenge yourself by extending the range of motion.
LCD display.
250 lbs max weight.
Cons
Doesn't come with resistance straps.
Takeaway
This is a good quality, well designed mini stepper that mimics real stepping motion without putting undue stress on your calves.
Flexispot Home Exercise Stepper
Review: Distributed by top-rated Sunny Health & Fitness, this is another decent mini stepper that deserves more attention and works well at a standing desk.
Pros
Smooth, comfortable stepping motion.
Heavy-duty steel frame is tough and stable.
Electric monitor tracks workout.
Cons
Resistance is not adjustable.
A little squeaky until you add some lube.
Takeaway
This is a sturdy, compact mini stepper that could be worth a look if you're looking for the best mini stepper for under your desk.
Review: This is a well-made, durable mini stepper of reasonable quality for its price point.
It doesn't have adjustable resistance which is a drawback, but the height of the pedals can be adjusted to alter the depth of your step which is a plus.
Pros
LCD monitor tracks workout.
Hydraulic system is smooth and quiet.
Textured, non-slip pedals.
Cons
Doesn't have adjustable resistance.
Takeaway
This is a solid, reliable mini stepper, provided the resistance setting suits your level.
Review: This mini stepper incorporates the twist action and resistance bands for a total body workout. It is a sturdy design with adjustable tension.
Pros
Comes with removable resistance bands.
Has adjustable tension.
Electric monitor tracks workout.
Cons
Some problems with the monitor.
Takeaway
This is a decent mid-range mini stepper which allows for a true full body workout with the twist motion and resistance bands.
Goplus Twister Stepper with Handle
Review: This is another great mini stepper with a handle to aid those who don't trust their balance.
Bear in mind you won't be able to incorporate your own free weights or resistance bands as the handle will get in the way.
Pros
Adjustable handle height.
Adjustable stepping height.
Adjustable resistance with 12 levels.
Cons
Some issues with the LCD display.
Takes up more space than a stepper without a handle.
Takeaway
If you're looking for a twist stepper with a handle, this is an affordable option worth considering.
Harvil Mini Adjustable Twist Stepper
Review: This is a decent, budget mini stepper for those who don't want to commit to a more expensive machine.
Pros
LCD display.
Adjustable resistance.
Large footplates and sturdy, wide base.
Cons
90 day warranty is pretty short.
Takeaway
This is a surprisingly well-made mini stepper considering its low price which makes it good for beginners.
LocTeC FP1 Exercise Stepper
Review: This mini stepper has a slight twist action to activate more muscles and is constructed using a sturdy, strong design.
Pros
Display screen counts your steps, calories and time.
Hydraulic pistons create low impact stepping.
Large slip-resistant foot plates.
Cons
Tension not adjustable so will depend on your body weight for how easy it is.
A little overpriced for the quality.
Takeaway
Some people have had great results with this stepper, but for the same price or less you could get a more reliable machine from a more reputable brand.
Mini Stepper vs Regular Stepper Machine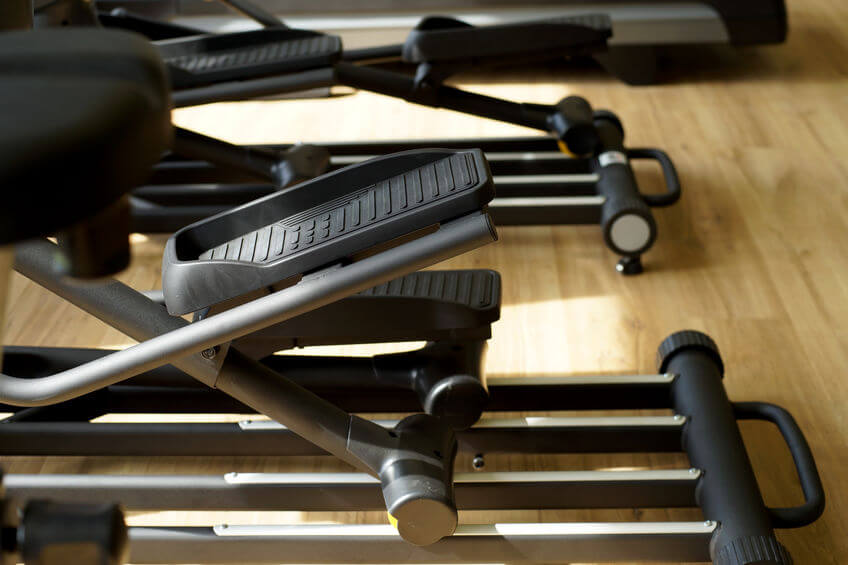 So what's the difference between a mini stepper and a regular stepper machine?
The main difference between regular stepper machines and mini steppers are the size and presence of handles.
Regular step machines are much larger and typically have a waist height console in front of you similar to a treadmill.
They also have handles and may include features such as built-in workouts with varying resistance, workout stats and entertainment features.
However, they are also much more expensive, are not easily portable and take up space in your home or garage.
Mini steppers, on the other hand, allow you to get similar benefits for a much smaller price and in a smaller package too.
Mini steppers are the ideal size for a home gym, taking up hardly any space and being really easy to move around.
What are the Different Kinds of Mini Steppers?
There are two different kinds, the standard mini stepper which uses a straight up and down motion, and the twist mini stepper which twists out to the side slightly on the downward motion in order to utilize more of your glutes.
Both can make for an awesome workout but if your knees aren't ship shape you may want to pass on the twisting options as the twisting action will likely make things worse.
Is it Worth Adding a Mini Stepper to My Home Gym?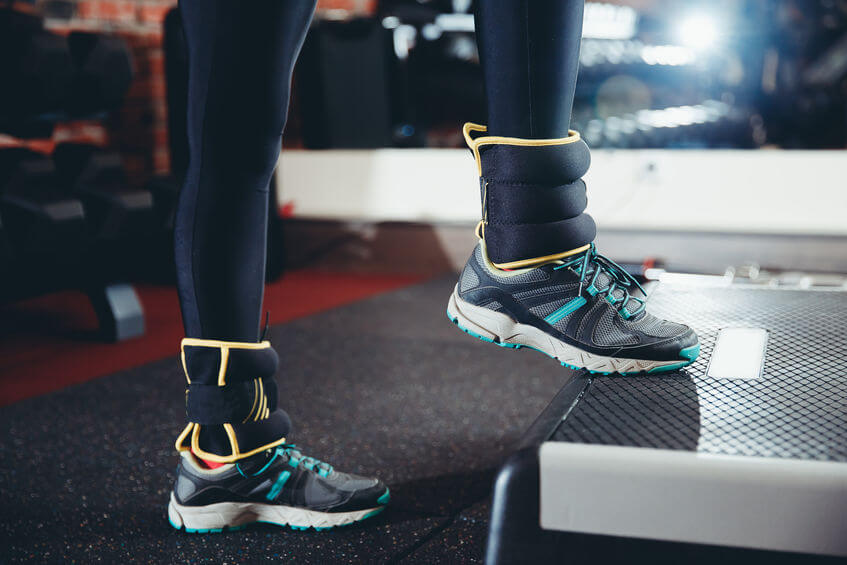 It depends on what your goals are.
A mini stepper won't add muscle or contribute significantly to sculpting by itself. It needs to be used with a combination of other resistance exercises to achieve any significant muscular improvements.
However, a mini stepper is an excellent way of incorporating low-impact cardio and muscle toning into your exercise regime while working out a range of muscles in your legs and core.
When set on a high resistance, a mini stepper can make for an intense leg workout!
When combined with resistance bands, your upper body can also get in on the action.
If you don't have any other cardio machines in your home gym set up, the mini stepper could be a great addition due to its compact, convenient size, very low price point, and low impact.
What Should I Look for When Choosing My Mini Stepper?
There are few things to think about when choosing the best mini stepper machine for your needs:
Whether the resistance is adjustable – this is a pretty key part of choosing the best mini stepper, but oddly enough, not many mini steppers actually have adjustable resistance. You can adjust how hard you work by altering your style but it still could be a little luck of the draw as to whether you get the right amount of resistance for your needs if you purchase a machine without adjustment options.
Note that heavier people will find harder resistance levels more easy than lighter people as your body weight helps to push the pedals down!
Movement of the pedals – do you want to get some twisting action in there or would you rather stick to the straight forward up-down motion? Also, do you want your feet to stay flat, cycle slightly, or your heel to drop each time you depress the pedal? These are all important questions and you'll want to try out the different options to decide what you like.
Step height – the height of the step determines the range of motion of your leg and consequently the range of muscles you use. The higher the step height the harder the workout. Some mini steppers that don't have adjustable resistance do have adjustable step height which is a good compromise.
Weight limit – the more expensive mini steppers can cope with a huge amount of weight, but the more budget options hover around the 220 lbs mark so you'll want to make sure you get a mini stepper that works for your body weight.
The inclusion of resistance bands – this is more a convenience factor than a deal breaker as you can add in your own resistance bands easily enough. But if you don't have any, it's a nice addition to the machine as it converts it from a lower body workout to a whole body workout.
Warranty – this can be a deal breaker. Basically, you want the machine with the longest warranty possible as this is a fairly clear indication of the quality.
How Can I Stay Motivated and Inspired on My Mini Stepper?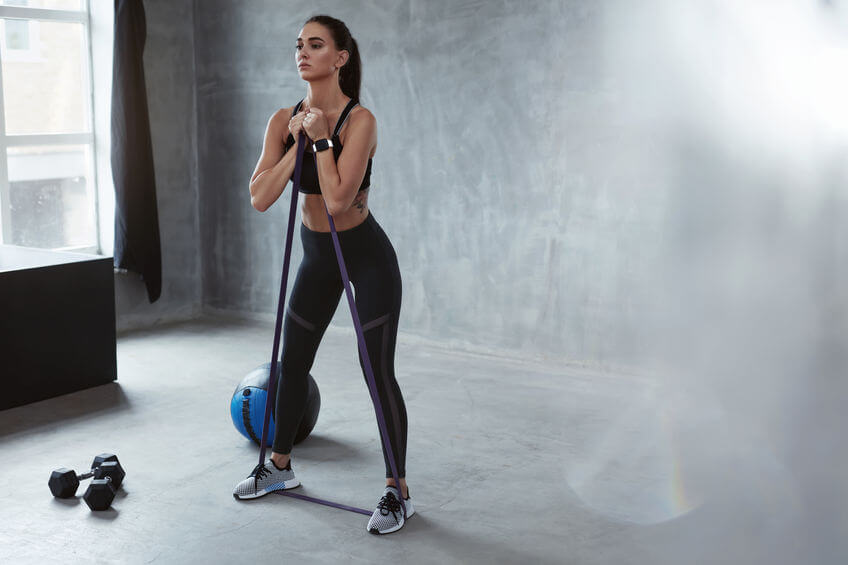 One of the best ways to stay motivated is you mix it up and keep your workouts interesting so that you don't get bored.
Doing a workout on your mini stepper doesn't have to mean that you get on the machine and grind away relentlessly without combining any other exercises into the mix.
Using resistance bands or light weights at the same time as using your mini stepper gives the upper body a workout at the same time.
Some mini steppers come with resistance bands attached, but if yours doesn't, there's no reason why you can't add your own.
Alternatively, try treating your mini stepper workout like circuit training and hop on and off every few minutes, interspersing your stepping with resistance bands or body weight exercises.
The workout will be more intense and you'll stay interested.
And finally, don't forget to check out Youtube if you need some more ideas or for someone to yell at you!
Summary
Hopefully, this article has set you up with all the necessary knowledge to choose your best mini stepper for your home workouts.
Remember that everybody's different so you'll need to be clear on your preferences before you commit. It's highly recommended to try out some different models first before purchasing.
If you're interested in something slightly different, take a look at our article on the best maxi climber machines.
Make sure to comment below if you've tried any of the mini steppers reviewed above and don't forget to subscribe if you haven't already!