TOP 15 Best Pea Protein Powders of 2023 Reviewed (Buyer's Guide)
With literally hundreds of different options, it's challenging to decide on a pea protein powder that's cost-effective.
After learning that pea protein was a good alternative to whey, I wanted to figure out what options were available and which were worth considering.
Fortunately:
Through that process, I found 15 pea protein powders that are good options based on your needs and budget.
To come, we'll go over 15 of the best pea protein powders and also cover what's essential when it comes to making a pea protein buying decision. From there, I'll discuss answers to some of the most important pea protein questions you might ask.
TOP 15 Best Pea Protein Powders of 2023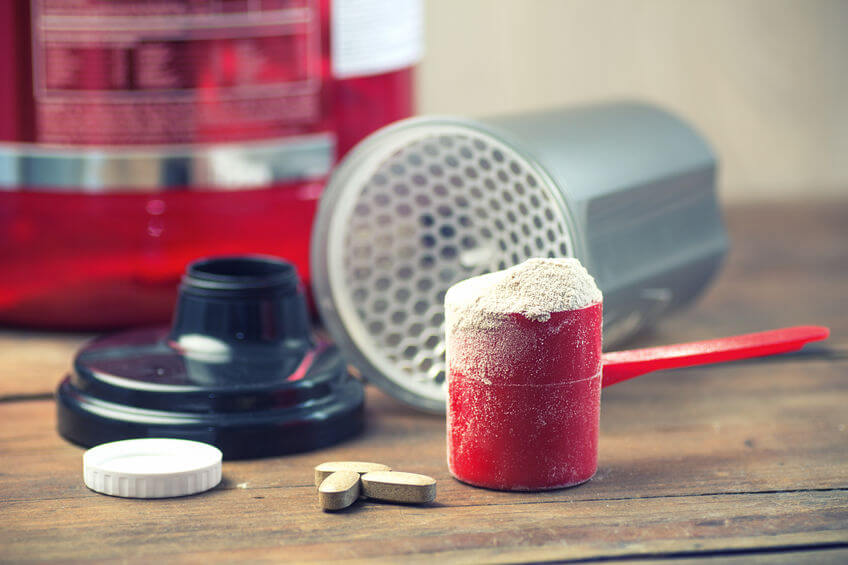 Pea Protein Buyer's Guide Essentials
Even though you've just gone through this list of pea proteins, there are some specific details that you want to look out for when you're making your decision on which protein to purchase eventually.
Look for Minimal Ingredients
When you're purchasing a protein powder supplement, whether, from dairy or plant, you want to look for minimal ingredients so that you know you're getting a protein product with high amounts of protein and minimal fillers or additives.
While there are certainly some products mentioned here that contain more than one ingredient, the majority of them are minimal, which keeps costs low and quality a bit higher.
Look for at least 20g of Protein per Serving
For protein supplements to be effective, you need to have a relatively high amount of amino acids in the protein you consume. Effectiveness requires getting enough grams of protein so that you get enough of some specific amino acids like leucine.
Studies indicate that if you want to build muscle, you should aim to have 20-30 grams of protein per serving. Otherwise, you might not be having enough.
Even more:
The majority of quality pea protein supplements contain a minimum of 20g of protein. If you purchase one that has 10 or 15 g per serving, you're probably paying too much relative to other options.
Avoid Fillers & Artificial Sweeteners
While artificial sweeteners like aspartame and sucralose are subjects of controversy, these ingredients cost money, which means you're paying a little more per serving.
On top of potentially being related to complications, artificial sweeteners are simply not necessary, especially if you opt for an unflavored version that you'll mix with other ingredients.
Keep in mind:
Since stevia is natural and safe, choosing a pea protein that contains it is acceptable.
Look for Verification of Ingredients
A few years ago, protein powder distributors were, unfortunately, spiking their powders with nitrogen.
Since nitrogen sometimes reads falsely as protein, manufacturers capitalized on this factor to inflate the protein content of their product.
As a result:
Many consumers began demanding third-party laboratory verification of ingredients.
You should too.
While not every product will have third-party verification, it's not a bad idea to look for products that do. Even though you might pay a bit more, you'll have a piece of mind that you're receiving the protein the label claims.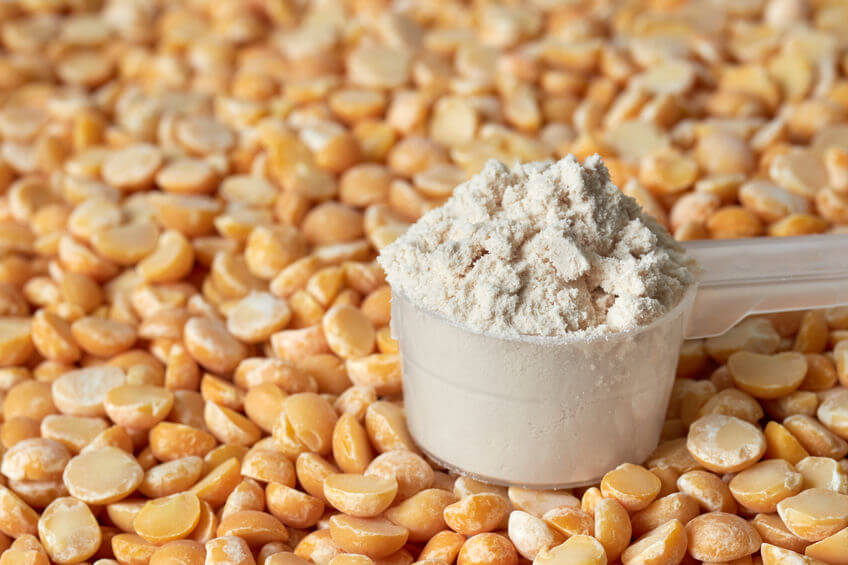 Be Conscientious of Blends
While protein blends are acceptable, it's essential to know the quality of the proteins that you're consuming.
Plant proteins are not all equivalent in terms of quality and the amino acids they provide. Pea protein is a good source because its amino acid profile is very similar to that of whey.
Other non-animal protein sources instance, won't provide you with the same benefit per gram of protein, as pea protein will.
If you're interested in a blend for the sake of variety, find a product that clearly labels their protein sources and decide which is best for you.
Cost per Serving
When searching for a pea protein powder, try to compare prices of the most popular products. Chances are, they are relatively close to each other in terms of cost per serving.
From there, you can decide based on reviews and the ingredient list.
Unfortunately, some brands inflate their prices because of their brand, despite possibly being an inferior product.
Many times, these expensive products have low amounts of protein per serving and use exciting verbiage on their package despite being no better than their cheaper competitors.
Mostly:
Consider brand names as viable options, but don't decide on that alone. Lesser-known brands might provide a better option in terms of quality and cost per serving.
Pea Protein Frequently Asked Questions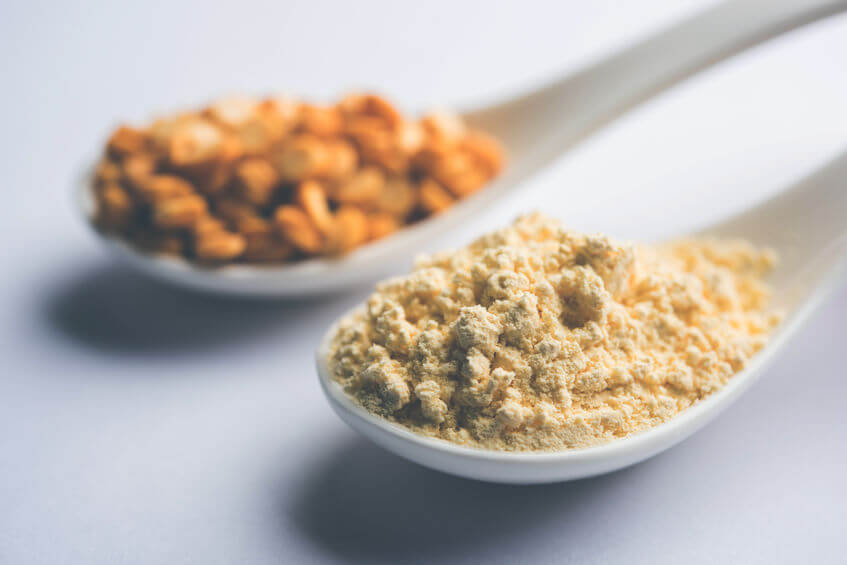 Is Pea Protein Powder Good for You?
Mostly:
The answer here is yes.
Pea protein powder is an affordable and effective way for you to increase your daily protein intake.
Increasing daily protein intake is a great way to support your body if you exercise and want to build muscle and strength or even lose weight.
Pea protein has been shown to provide several different benefits, such as supporting muscle growth similarly to whey protein.
In fact, pea protein is arguably the best plant protein you can choose due to its impressive amino acid profile.
But that's not all…
Other studies have suggested that pea protein powder might help you better manage food cravings and have greater control, even when you're eating junk food.
These factors can make maintaining or losing bodyweight easy with less sacrifice.
Not to mention:
Since pure pea protein powders often only contain pea protein isolate, you know that you're getting a plant protein devoid of dairy and, potentially, artificial sweeteners.
Is Pea Protein Bad for Your Kidneys
It's true…
If you have a pre-existing kidney issue, consuming a diet high in protein can cause damage.
However:
Research suggests that if you have healthy, functioning kidneys, then using protein supplements likely won't present any issue.
But…
Not everyone will know if they have a kidney issue.
If you're concerned about potentially having malfunctioning kidneys, you should consider talking with your doctor before beginning a protein supplement routine.
Is Pea Protein as Good as Whey?
Many people compare animal proteins and plant proteins because of the amounts of amino acids each source provides.
Animal proteins like whey are the go-to source of protein because of their robust amino acid profile. Whey contains all of the amino acids needed to build muscle in high concentrations.
Plant proteins, on the other hand, often have lower amounts of essential amino acids, which means you need to consume more grams of protein to get the same response as whey.
Fortunately:
Pea protein is a close second to whey in terms of amino acid profile.
Interestingly, pea protein is a great option because it contains really high amounts of an amino acid known as leucine, which is known as the amino acid that stimulates the process that builds muscle.
Additionally:
When pea protein is put up against whey to compare muscle-building effects, research shows that even though the amino acid profile is slightly different, the overall impact on muscle mass is the same.
Essentially:
Pea protein will help you build muscle just as well as whey and will do so without having to consume dairy or a product derived from animals.
Final Thoughts
If you need a quality plant-based protein powder, pea protein is one of the best options available.
However:
Knowing what to look for to find the best pea protein powder is essential to gain a cost-effective product that will help provide the many benefits that pea protein can provide.
Now:
Make sure to consider subscribing to our newsletter so you can stay up-to-date on the latest products, trends, and fitness information right to your inbox!