TOP 13 Best Racing Flats 2023 Reviewed for 5km to Marathon
Got some races coming up?
Looking for a pair of shoes that will help you along to your next PB while not smashing your legs too much in the process?
This list will introduce you to the best racing flats of 2023, right from the barest minimum 5km shoe, to the best options for marathon racing.
I've also gone into a bit more detail later on so if you're new to the concept of racing flats, skip to that guide section first.
Unless stated otherwise, all of the shoes below are available in both men's and women's versions.
TOP 13 Best Racing Flats of 2023
Nike ZoomX Vaporfly Next%
Review: This very untraditional racing flat has completely outdone all previous expectations of what a marathon shoe could be.
It has a high stack height with loads of foam in the midsole coupled with a carbon plate that provides a very springy feel. Meanwhile, the upper is made of a plastic Vaporweave which is designed to stay light by avoiding the absorbance of rain or sweat.
It is inarguably a very fast shoe, maybe even the fastest out there, provided you have the right running style for it, that is.
Pros
ZoomX foam.
Engineered woven mesh upper.
Weighs just 6.6 oz.
Carbon fiber plate for high responsiveness.
Excellent traction.
Cons
Expensive.
Some issues with the upper bunching in the forefoot.
Takeaway
Easily the best racing flats for marathon racing, these unique shoes have taken the marathon world by storm and are the best Nike racing flats.
Review: Built to a similar mold but with marginally less stability than the Next% and with a mesh Flyknit upper, the 4% is just one small step behind the Next%.
It uses the same combination of ZoomX midsole foam and a full-length carbon fiber plate for a lightweight balance of cushioning and responsiveness. It also has a 10mm drop which is slightly better suited to heel strikers than the Next%'s 8mm.
Pros
ZoomX foam midsole.
Full-length carbon plate.
Flyknit upper.
Fast.
Cons
Narrow fitting.
Not long-lasting.
Expensive.
Takeaway
This is another of the best competition shoes for marathon racing and is almost guaranteed to improve your time given your running style matches the shoe.
Reebok Floatride Run Fast Pro
Review: One of the lightest racing flats on the market, the Reebok Floatride Run Fast Pro clocks in at less than 4 oz. but still manages to be one of best distance racing flats on the market.
It provides a good amount of stability for such a lightweight, well-cushioned shoe and is likely to be a good alternative to the Nikes above, particularly for less efficient runners.
Pros
Floatride midsole is highly cushioned but lightweight.
Engineered mesh upper.
EVA sockliner makes for a really comfortable fit.
4mm drop is great for forefoot strikers.
Cons
No wide sizing available.
Unisex, so no chance for anything female-specific here.
Takeaway
This is an excellent racing flat for a range of distances, performing well from marathons right down to 5km.
adidas Men's Adizero Adios 4 Running Shoe, Black/White/Black, 10 M US
Weight: 8 ounces (size 9); Midsole drop: 10 mm (heel: 27 mm / forefoot: 17 mm); Arch type: High / normal
Tight, snug fit for racing performance: Recommend a half size bigger
Mesh, textile and synthetic upper for durability
Boost is our most responsive cushioning ever, delivering incredible energy return: The more energy you give, the more you get
Continental Rubber outsole for extraordinary traction in wet and dry conditions
Review: The Adizero Adios is Adidas's marathon shoe and it held the record until it was outdone by the Vaporfly. But, it's also a great 5 or 10km shoe for heavier runners who appreciate more cushioning than your classic race flat.
There's nothing overtly fancy going on. The technology is highly effective but understated, leaving you with a high performing shoe for races and up-tempo training runs that's not quite as 'in your face' as the Nike designs.
It's also more durable than your average race shoe, with just the right amount of cushioning to keep your legs feeling fresh.
Pros
Continental rubber outsole provides great traction on wet surfaces.
Boost midsole is lightweight, responsive and durable over long distances.
Open mesh upper is very breathable.
Lightweight – 8 oz. for men and 6.6 oz. for women.
Cons
Sizing runs small and snug – recommended to purchase half a size up to wear for anything other than racing.
Takeaway
The next best racing flats for marathon distance after Nike's Vaporflies.
ASICS Women's GlideRide Running Shoes, 7.5, Rose Petal/Breeze
Engineered Mesh Upper: Multi-directional mesh material improves ventilation and stability.
GUIDESOLE Technology: The curved sole design and stiff forefoot of our GUIDESOLE technology reduce ankle flexion and provide a shock-absorbent landing zone to lessen fatigue of other leg muscles and increase runner efficiency.
FLYTEFOAM Midsole Technology: Our FLYTEFOAM technology provides exceptional bounce back and responsiveness no matter the distance, utilizing organic super fibers to help reduce packing out that traditionally happens with softer, low density foams.
Rearfoot GEL technology cushioning system: Attenuates shock during impact phase and allows for a smooth transition to midstance.
GUIDESOLE Technology: The curved sole design and stiff forefoot of our GUIDESOLE technology reduce ankle flexion and provide a shock-absorbent landing zone to lessen fatigue of other leg muscles and increase runner efficiency.
Review: As a higher stability option, the GlideRide isn't exclusively a racing flat but it's an excellent marathon racing choice for 3hr + runners or those with a style that doesn't benefit from the Vaporflies.
It is actually a neutral shoe, but it's got a more stable design than many other neutral racing shoes.
It's well-cushioned and highly structured. But, it's very lightweight at just under 10 oz. for men and just over 8 oz. for women, and stiff enough to provide a responsive, snappy ride.
Pros
Rockered style propels you forward at higher speeds.
Equally suited to midfoot strikers and heel strikers.
Engineered mesh upper with plush padding around the heel and tongue.
Flytefoam Propel and Flytefoam midsole foam.
Cons
May feel too stiff for some people – but this is deliberate for the rockered effect.
Takeaway
This is shoe provides a unique feel that takes a bit of getting used to, but once you're there, it's a smooth, fast, well-cushioned and stable ride and a great choice for mid-level marathon runners.
Review: Another great racing option from a stability perspective, the Fastwitch 9 is an actual stability shoe with a medial post to protect against overpronation.
But, despite this, it is still extremely lightweight, weighing in at just 6 oz. for men and just over 5 oz. for women.
It's well suited to a range of distances from 5km right up to half marathon, is well cushioned for such a lightweight shoe and yet offers a firm, fast and responsive ride.
Pros
Full length rubber outsole provides excellent traction and durability.
Extremely lightweight but well-fitting mesh upper.
CMEVA and SSL EVA midsole foam is very lightweight and responsive.
4mm drop encourages midfoot striking.
Cons
Weight saving holes in the sole can let water in during wet weather.
Takeaway
Easily the best racing flat for stability on the market. This is the best option for overpronators looking for a lightweight racing shoe.
New Balance Women's 1500 V6 Running Shoe, Guava/Peony, 10 M US
Cushioned, Lightweight Running Shoes: These running shoes feature REVlite in the midsole which delivers incredibly lightweight cushioning, and a small medial post to offer support if you need it
Premium Responsiveness and Durability: With a strong and durable rubber sole, the New Balance 1500v6 is a performance running shoe that is super responsive, to provide a quick and agile feel
High Breathability for Impressive Comfort: These running shoes feature engineered knit uppers for amazing breathability, which you'll appreciate during long-distance runs
Attractive, Eye-Catching Design: With a bold race day-inspired design, these New Balance running shoes will add a perfect finishing touch to your running gear
A Versatile Shoe: Whether running is your new fitness goal or your passion, these performance running shoes are built to take you through anything from 5K to 26.2 in comfort and style
Review: The New Balance 1500 v6 is another great stability racing shoe worth considering if you're an overpronator.
Not quite as lightweight as the Fastwitch, it weighs in at 8.6 oz. for men and 6.4 oz. for women. However, it is just as versatile, being light and fast enough for a 5km but well-cushioned enough for a marathon.
It's a little more structured and cushioned than your average racing flat so it's a good choice for people who don't want to go quite as minimal.
Pros
RevLite foam midsole.
Removable insole allows for custom orthotics.
Medial post for pronation support.
Fantom Fit engineered mesh upper.
Cons
The little extra piece of elasticated fabric around the heel cuff may not be comfortable for everyone.
Takeaway
These are a well cushioned and well structured pair of racing flats for mild to moderate overpronators.
Review: The New Balance 1400 v6 is similar to the 1500 v6 but neutral. It's a little lighter than the 1500s with a 10mm drop instead of 6mm which makes it well suited to heel strikers.
But, it still has a little more cushioning than your classic racing flat so it's another great option for races right up to marathon distance.
Pros
RevLite midsole foam.
Blown rubber outsole provides extra bounce and traction.
Uses a racing specific last.
Seamless engineered mesh upper.
Cons
Takeaway
These are a highly popular pair of race shoes and easily some of the best racing flats of 2023.
Review: The Brooks Asteria is another great lightweight racing flat with stability features which make it a great choice for overpronators looking for support up to marathon distances but without the weight.
It's slightly more cushioned than the Hyperion below which together with its 8mm drop makes it comfortable enough for heel strikers.
Pros
BioMoGoDNA midsole foam is biodegradable.
Guide rails provide stability.
Segmented crash pad for shock absorption and a smooth heel to toe transition.
Lightweight – 8.2 oz. for men and 6.8 oz. for women.
Cons
Not quite as fast as the Hyperions.
Takeaway
This is a lightweight but well cushioned and moderately supportive race shoe that encourages more efficient running.
Review: A highly popular, neutral racing flat, the Hyperion is another ultra-lightweight option. Similar to the 1400, in terms of cushioning, it makes a great 10km – half marathon distance shoe.
Omega Flex Grooves in the sole give it a really comfortable amount of flexibility and the upper is designed to be soft and comfortable enough to be worn without socks.
The latest model on the Market, the Brooks Hyperion Elite takes this shoe a step further with a DNA ZERO midsole. But it has a very limited life, with a max capability of two marathons.
Pros
Very lightweight – men's 6.3 oz. and women's 5.3 oz.
BioMoGo DNA midsole provides ample cushioning for longer distances and is biodegradable.
Can be worn without socks.
Very flexible for a race shoe.
Cons
A little narrow fitting.
10mm drop doesn't quite fit the shoe as it's not cushioned or stiff enough for heel strikers.
Takeaway
This is a lightweight, flexible and super comfortable racing flat.
Review: The Lyteracer 2 is a traditional road racing flat that stays true to Asics's style and design. It's more suited to heel strikers and comes with a comfortable layer of Asics's latest Flytefoam Propel midsole foam which is lightweight and responsive.
It provides a little more stability than your classic neutral race flat due to the Trusstic System that runs through the midsole and helps to guide your roll through.
Pros
Flytefoam Propel midsole.
High Abrasion Rubber outsole provides great traction.
Trusstic system provides torsional stability.
EVA sockliner for a soft feel.
Cons
Asics tends to fit narrow.
Takeaway
A classic racing flat, the Lyteracer 2 is lightweight with a firm and responsive midsole.
Review: The Saucony Type A9 is definitely a classic racing flat compared to some of the more cushioned options on this list. It's not cushioned enough for marathon distances but is ideal for 5 and 10km races where speed is the priority over comfort.
Its 4mm drop is best suited to forefoot strikers. If you're used to heavily cushioned shoes, these will likely not be your cup of tea, but they more of a true race flat than any of the above listed shoes.
Pros
Extremely lightweight – 5.9 oz. for men and 5.4 oz. for women.
SSL EVA midsole is lightweight and responsive.
PWRTRAK outsole provides durable traction.
Lightweight and breathable open mesh upper.
Cons
Toebox is a little tight.
Takeaway
Incredibly lightweight and with a durable outsole, these are the best racing flats for 5k.
Review: Altra are best known for their zero drop shoes meaning they're only really suited to forefoot and midfoot strikers. If that's you, then keep reading.
The Vanish R's are Altra's first true racing flat. They are ultra-minimalist, about as lightweight as it gets, with a highly responsive low to the ground midsole.
However, they do have quite a specific fit with a snug-fitting midfoot and wide toe box that won't suit everyone. The unisex (aka men's) design also means sizing is a bit tricky for women.
Pros
Ridiculously lightweight at just 3.9 oz.
Wide, spacious toe box.
Altra's classic foot-shaped design.
EVA Propel Plate for added responsiveness.
Cons
Female specific version not available.
Takeaway
A truly minimalist racing flat with 0mm drop and ridiculously light weight.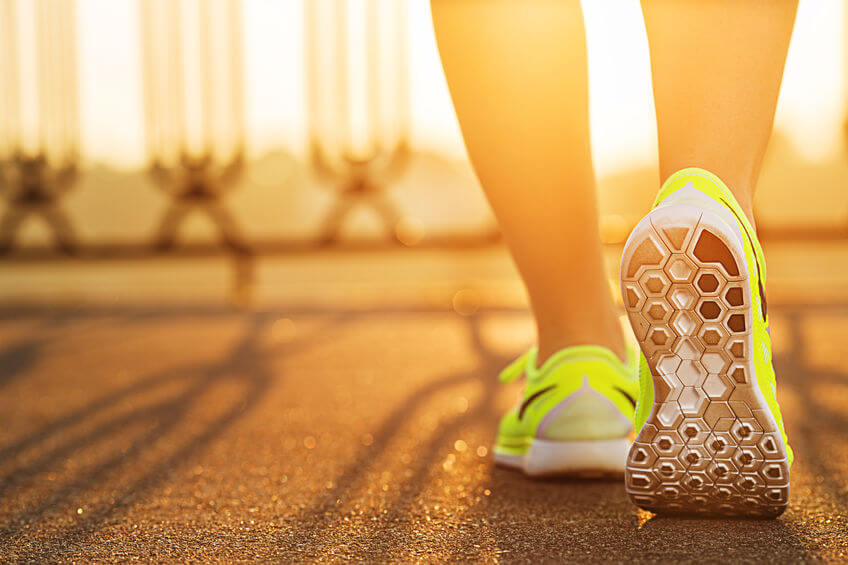 What is a Racing Flat?
Racing flats are running shoes specifically designed just for racing.
Traditionally, they are as light as possible with minimal cushioning and a low or zero drop (difference in stack height, or thickness of the sole, between the heel and toe).
They aim to be as responsive as possible, but tend to be less durable due to their lightweight construction.
They are scientifically proven to make you run faster, with some caveats like longer recovery and a higher risk of injury that is.
These days, technology has come far enough that shoes can still be reasonably well cushioned and lightweight. But the amount of cushioning in a shoe can be a trade-off with responsiveness and speed.
Consequently, there are a wide range of racing shoes available now, some more cushioned and better suited to marathon distances, some with a higher drop, moderate cushioning and a little stability, and some that remain a true race flat – minimalist and unforgiving and that you probably wouldn't want to wear for more than a 10km.
So, how do you know what kind of racing flat you need?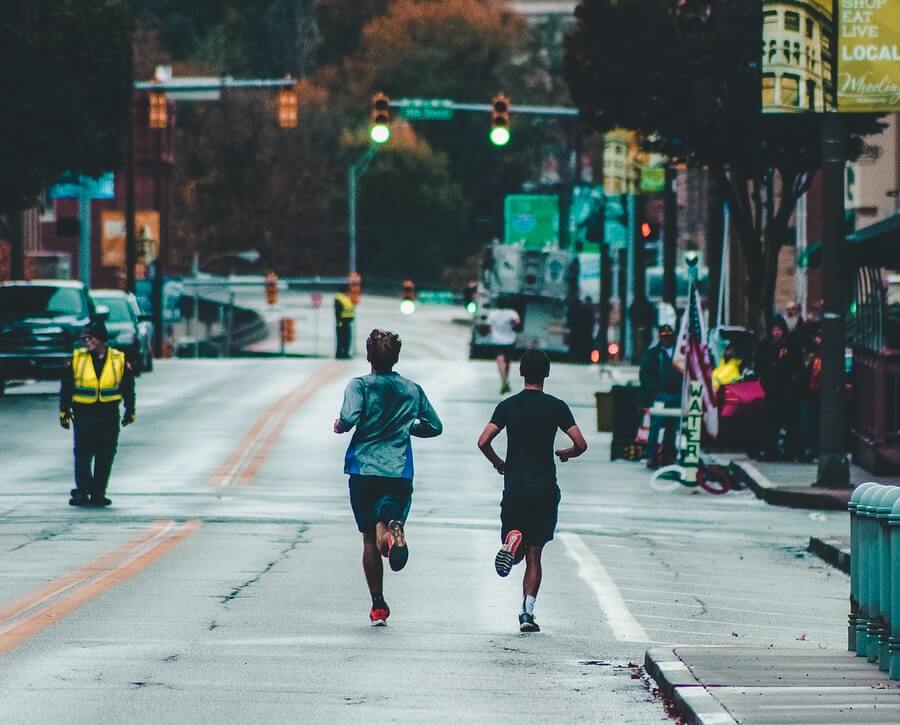 How to Choose Your Next Competition Shoe
There are a few things to consider:
What Kind of Runner are You?
How heavy are you? How strong is your core? How does your form hold up?
All these things translate into what kind of race flat will suit you.
Lighter runners are lighter on their feet and experience less shock with each foot strike. This means they can get away with less cushioning and not experience the same exhausting effects of impact that a heavier runner would experience.
But, if you have a strong core, are an experienced runner and have good form, then you can get away with less cushioning than a newer runner or a heavier runner with weaker form.
What part of your foot do you land on?
There are three broad categories of foot strike pattern. People who land on their heel (heel strikers), people who land on the outer edge of the middle of their foot (midfoot strikers) and people who land on the balls of their toes (toe strikers or forefoot strikers).
People who land on their heels typically need the most cushioning because they don't have the arch of the foot and the ankle doing any (or much) shock absorption. They do best with slightly higher drop shoes (8mm or more).
Midfoot and forefoot strikers can get away with less cushioning and feel more comfortable running in lower drop shoes (8mm or less).
What Distance are You Mostly Racing?
Are you running marathons? Half marathons? 10km? 5km?
Here, it's just basically common sense.
The longer the race, the more cushioning you need. And it's not just a case of comfort.
If your legs are exposed to increased shock repetitively over the length of a longer race, they'll get more tired than they would do otherwise and that could affect your form and speed.
Generally speaking, a minimalist racing flat is perfect for a 5 or 10km race. But for a half or full marathon you need more cushioning.
Are you just getting into running? If you're new to racing, check out our guide to training for a 5km.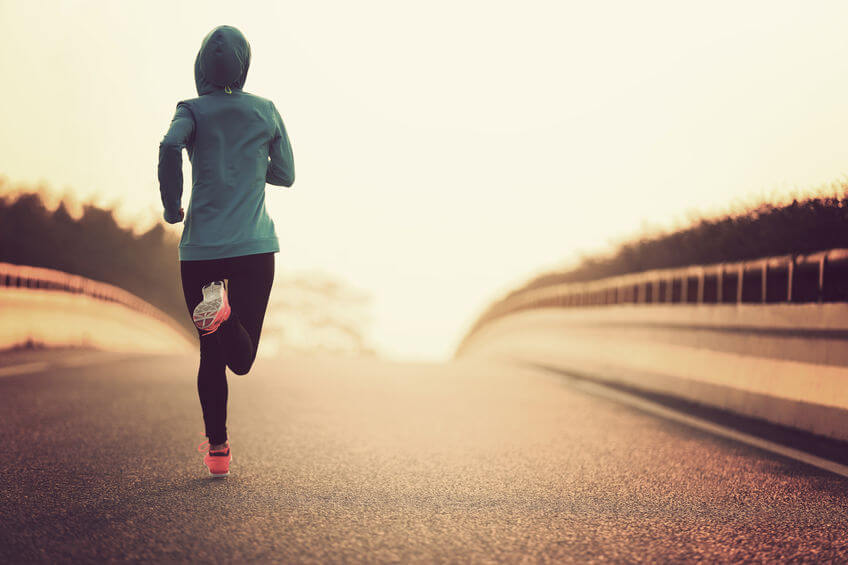 Do You Need Some Stability?
If you usually run in stability shoes when you're training, then you should probably consider a racing flat with some stability features too, especially over longer distances.
A mild overpronator can get away with a neutral race flat over a 5km, but upwards of this and you're asking for trouble.
If you're an overpronator and think you might be in need of some more training shoes, we have a guide to the best running shoes for overpronation that will shorten your search.
How Often do You Race?
This is important from a recovery perspective.
If you're running weekly 5km races at your local park, you're probably better off wearing your regular training shoes than a race flat that will pound your legs and increase your recovery time.
Even if you're doing a series of races over a season leading up to one final, important event, you might want to consider wearing more cushioned shoes for the less important races, saving your legs so you can get back into training sooner, and saving your race flats for the big event.
If you need extra help with recovery to stay injury-free through the season, I'd recommend looking into calf compression sleeves and foam rollers as super useful props.
Bringing it Together
Hopefully, that makes sense and you have a better idea of which type of racing shoes you need.
There's a huge price range when it comes to racing flats, so you need to make sure you're investing your dollars wisely.
The hugely pricey Nike Vaporflies are arguably worth their price, but probably only for sub 3 hour marathon runners. The advantage that slower or less efficient runners get from these shoes will not be enough to justify their high price.
If you're looking at 3.5 hr + for your marathon time, you'd do better keeping yourself more comfortable in a lightweight but well cushioned running shoe, not necessarily a racing flat.
Some of the best long-distance running shoes are light enough to be comfortably worn in a 3.5 hr + marathon and would probably be a safer choice than something more minimalist.
FAQs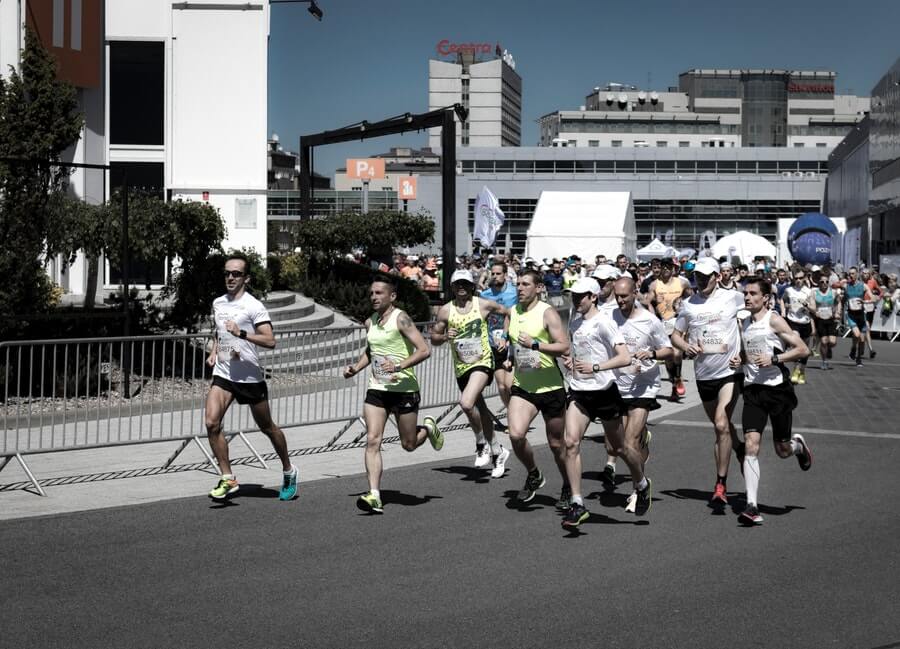 What are the Best Racing Flats?
There is no simple answer to this question! There are many great racing flats that are well suited to different runners. The Reebok Run Fast Pro is a great all-rounder though.
How Tight should Racing Flats be?
Imagine a sock-like fit. Racing flats should be a little tighter fitting than your regular running shoes but not so tight that they're uncomfortable or limiting circulation!
Should You Train in Racing Flats?
No. They're less durable so you'll wear them out unnecessarily. And, they don't provide your feet with enough cushioning for regular training.
But, in saying that, it can be beneficial to familiarize your feet with your racing flats before race day.
Do Racing Flats make You Faster?
Yes!
What's the Difference Between a Racing Flat and a Minimalist Running Shoe?
This is an interesting one. If you're a forefoot striker, then the difference between a low drop minimalist shoe and a racing flat might not be very much.
The main difference would be that a racing flat would hopefully be as responsive and fast as possible.
But, if you're a heel striker, a minimalist shoe may not provide enough cushioning in the heel for you. If you're interested in minimalist shoes, we have a list of all the best models right here.
How Many Miles do Racing Flats Last?
This varies a lot, but on average around 200 miles.
That brings us to the end of this quick guide to the best racing flats of 2023.
Hopefully, your understanding of the different types of shoes out there has increased and you feel ready to pick out your next pair of race shoes!
Thanks for reading and don't forget to subscribe if you haven't already.