TOP 11 Best Rice & Brown Rice Protein Powders Reviewed 2023
When you hear "rice," you probably think "carbs."
But did you know that rice can be turned into an ultra-potent protein source?
In this post, we'll go over 11 of the best rice protein powder products you can buy today.
Top 11 Best Rice & Brown Rice Protein Powders Reviewed 2023
Naked Rice Premium Organic Brown Rice Protein
Naked Rice - Organic Brown Rice Protein Powder – Vegan Protein Powder - 5lb Bulk, GMO Free, Gluten Free & Soy Free. Plant-Based Protein, No Artificial Ingredients - 76 Servings
ONLY ONE INGREDIENT: 100% Organic Sprouted Brown Rice Protein with no artificial sweeteners, flavors, or colors and is GMO-Free, Soy-Free and Gluten Free.
VEGAN PROTEIN SOURCE: Naked Organic Brown Rice Protein Powder is an excellent source of plant-based protein powder for those on a vegan diet.
PREMIUM VEGAN NUTRITION: 25g of Protein, 0g of Sugar, 4g of Carbs, 120 Calories, and 4.9g of BCAAs (branched-chain amino acid) per serving.
METALS AND MELAMINE TESTED: Our Naked Organic Rice Protein Powder is independently tested by third-parties for metals and is melamine free.
EXCELLENT SOURCE OF AMINO ACIDS: Naked Rice is made using a hexane-free extraction process to create a superior vegan amino acid profile that is similar to whey protein.
Review: Made with nothing but 100% organic sprouted brown rice protein, NAKED RICE packs a whopping 25 grams of protein and just four grams of carbs in every 30-gram serving.
Regarded by some as the best organic brown rice protein powder in the market today, this product is as pure as it gets.
It contains absolutely no artificial flavors, colors and sweeteners and is 100% soy-free, gluten-free and non-GMO.
Pros
Excellent protein content per gram.
Loaded with 4.9 grams of BCAAs per 30-gram serving.
Low carb content.
Contains a good mix of beneficial nutrients, such as calcium, iron and magnesium.
Certified vegan.
Cons
May cause gassiness in some people.
A bit grainy.
Takeaway
If it's a pure rice protein powder you're looking for, then you'll definitely love this product. It's made with just a single ingredient and is 100% organic and free from all sorts of artificial additives and sweeteners.
It's also certified vegan, so it's a great protein source for you if you avoid animal products.
If you want more options, though, then be sure to check out my comprehensive list of the best vegan protein powders in the market today.
Sale
NutriBiotic Plain Rice Protein, 3 Lb (1.36kg) | Low Carb, Vegan & Raw Protein Powder | Grown and Processed Without Chemicals, Gluten or GMOs | Keto Friendly & Easy to Digest
80 PERCENT PROTEIN CONTENT: delivers an easily digestible protein with an extensive array of naturally occurring amino acids, the building blocks of protein
BOOST YOUR NUTRITION & ENERGY: nutrient-rich, easily digestible & wholesome protein source from whole grain, sprouted brown rice
YOU'LL BE HAPPY IT'S MISSING: Absolutely NO chemicals used in the processing at any time. Made without pesticides, herbicides, PCBs, preservatives, GMOs, and gluten
A TRUSTED SOURCE FOR OVER 40 YEARS: NutriBiotic was founded with the guiding principle that everyone deserves good health and continues to help customers achieve healthier, happier lives by providing innovative, high quality nutritional supplements and personal care products
IMPORTANT NOTE: NutriBiotic protein products have lids designed to keep the inner seal inside the lid when opened. This assures the product is sealed every time you close the container. When opened for the first time, the inner seal will stay inside the lid. This is normal and the product is not used or defective
Review: Another ultra-pure product, NutriBiotic Rice Protein is made with only whole grain sprouted brown rice.
While it doesn't contain as many beneficial micronutrients as the NAKED RICE Premium Organic Brown Rice Protein, it's still considered by a lot of people as one of the best brown rice protein powder products, thanks to its impressive 80% protein content per serving.
Pros
Packs 12 grams of protein in every 15-gram scoop.
Gluten free.
100% vegan.
Has beneficial micronutrients iron and phosphorous.
Just 2 grams of carbs per serving.
Cons
Not the best-tasting option around.
Not completely organic (if that's what you're looking for).
Takeaway
NutriBiotic Rice Protein may not be as packed with as many micronutrients as the first product on our list, but its excellent 80% protein content per serving more than makes up for this.
That's what you're buying it for anyway, right?
The only downside is that it's not really known its flavor. But if you can get over that, then it's still a solid choice.
Growing Naturals Organic Rice Protein
Growing Naturals | Vanilla Rice Powder 15g Plant Protein | 2.8G BCAA, Low-Carb, Low-Sugar, Non-GMO, Vegan, Gluten-Free, Keto & Food Allergy Friendly | Vanilla Blast (2 Pound (Pack of 1))
THE PROTEIN EVOLUTION IS HERE | You have found the low carb, allergen-friendly, truly organic brown rice protein clinically tested as good as (or better than) whey. Now it is your chance to feel the difference that GN Rice Protein can make in your life.
ORGANIC & FOOD ALLERGY-FRIENDLY | Free of gluten (verified by batch), soy, dairy, corn & lactose. Our rice protein is non-GMO verified, vegan & Kosher. Organic process uses NO chemical solvents to separate & concentrate naturally occurring protein
GREAT WHEY SUBSTITUTE | Our patented plant based protein provides a powerful and healthier substitute to whey protein when looking to build muscles, strength and expediting exercise recovery without the food allergens, cholesterol or dairy-bloat. Whether you need Essential Amino Acids and BCAAs for sports nutrition, a slowing of muscle loss with age, or just replenishing a key nutrient missing from your diet, this is the one protein that fits all.
MAKE ANY MEAL HIGH PROTEIN | Always at your fingertips on your pantry shelf, this stable protein source is the ideal custom foundation for baking, blending and more and is 100% digestible. Stir this protein sourced from an ancient-grain into shakes, protein bowls, soups, sauces, oatmeal, pancakes & more. With only 3g of carbs and 1g of sugar our protein is the perfect natural supplement for muscle growth and maintaining a balanced diet
FOR THE HEALTHY MINDED | Our independently 3rd-party tested products are made with sustainable, plant-based proteins designed to fuel people who thoughtfully select what goes in their bodies, whether by choice or necessity. From Vegans to those managing Celiac, IBS, diabetes, food allergies, and more, this product is the perfect addition to your lifestyle. These products are Keto, Low-FODMAP, and the most food allergy-friendly proteins you'll find.
Review: While the Growing Naturals Organic Rice Protein has a pretty good protein content at 24 grams per 33-gram serving, that's not really where it shines.
It's considered one of the top-rated brown rice protein powder products around because of its delicious organic flavor.
Pros
77% protein content per gram.
5 grams of BCAAs per serving.
Completely vegan and non-GMO.
Gluten free.
Considered as good as whey in promoting muscle building.
Cons
Not as pure as the first two products on the list in terms of ingredients used.
Can be too sweet for some people.
Takeaway
Not a fan of plain, flavorless protein powders? Then this product is for you.
Considered by some as one of the best tasting rice protein powder products around, it'll definitely leave you wanting more.
Just keep in mind that it uses a host of other ingredients aside from brown rice, so it's not the purest option on our list.
Sunburst Superfoods Organic Brown Rice Protein Powder
Review: With 24 grams of protein per 30-gram serving, the Sunburst Superfoods Organic Brown Rice Protein Powder is one of the most protein-packed options on this list – and it only has 3 grams of carbs per serving.
It also has all nine essential amino acids, making it one of the highest-quality plant-based protein sources we'll talk about today.
Pros
84% high-quality protein content for every 110-calorie serving.
Processed at low temperatures to preserve as many nutrients as possible.
Easily digestible.
100% pure and vegan.
Organic, non-GMO and gluten-free.
Cons
Slightly gritty texture.
Pretty flavorless, so you can't consume it on its own.
Takeaway
High-quality protein means better muscle building – and this product gives you just that.
If you can get over the slightly gritty texture, then it's definitely one of the best brown rice protein powder products you can use – especially if you work out a lot.
Just pair it with a good pre-workout supplement, and you're all set.
Don't know what to get? Check out my list of the best organic pre-workouts you can buy today!
Sunwarrior Classic Plus Protein Powder
Sunwarrior Pea Protein Powder with Bcaa & Amino Acids 5 Raw Superfood Pea Protein Gluten Free Low Carb Dairy Free Vegan & Keto Friendly | Plant Based Classic Plus Protein Powder Vanilla 750g 30srv
Classic Plus protein is packed with 5 powerful superfood sources. It is gentle on digestion and includes plenty of potent BCAAs and essential amino acids, natural fiber, vitamins, and minerals. This enlightened nutrition is a perfect fit for the discerning warrior, who expects a protein to taste as amazing as it makes them feel.
Classic Plus has 17-20 grams of protein per serving, and Classic Plus's protein comes from Quinoa, Brown Rice, Pea, Amaranth, and Chia. We are committed to delivering the highest quality ingredients in our products that are nutritious and good for your body which is why we mix, blend, and package our own products in Southern Utah where we can closely monitor every batch!
USDA Organic Certified, 17 to 20 Grams of protein per serving (varies by flavor), Complete Amino Acid profile, 5 Organic Superfoods, Builds muscle, Gentle on digestion, Great taste and texture, Fit and Lean formula with 100 calories and 4g carbs or less per serving, Sprouted and fermented ingredients.
Sunwarrior has your best health in mind with every ingredient we acquire, and every formula and flavor we create. Where most companies are looking for the bottom line, we refuse to cut corners because we know you deserve clean, quality products every time with no shortcuts.
The exact amount of protein you need every day is dependent on several factors: How much you weigh, your gender, your physical activity, age, muscle mass, and overall health. With all that in mind, the general consensus among health experts is that the average woman needs 46 grams and the average man needs 56 grams. Consuming a daily protein shake will help you reach the recommended amounts.
Review: If you don't mind getting your protein from other sources in addition to rice, then the Sunwarrior Protein Classic Plus is one of the best pea and rice protein powder products around.
Its proprietary organic protein blend contains brown rice, peas, quinoa, chia seeds and amaranth.
Pros
Provides 18 grams of protein in every 25-gram serving.
Made with five excellent protein sources.
Comes in three flavors: natural, chocolate and vanilla.
Organic, non-GMO and vegan.
Contains zero soy, dairy, gluten and added sugar.
Cons
Uses other ingredients in addition to rice (can be a pro depending on what you're looking for).
Can be a bit challenging to mix.
Takeaway
Protein from 100% plant-based superfoods plus delicious flavors – what's not to love?
The only reason to not consider this product is if you prefer to get your protein solely from rice.
Raw Warrior Brown Rice Protein Powder
Raw Power Raw Warrior Brown Rice Protein Powder, one Kilo (35.2oz/1000g), Premium
Raw Warrior Brown Rice Protein Powder is a 100% Raw, Vegan, Organic, Sprouted, Non-GMO protein powder with 22.4 grams of protein per serving!
Mix or blend one or more servings of Raw Warrior daily into smoothies, shakes, juices, or other recipes to supplement diet with protein.
Ingredients: 100% Raw, Vegan, Organic, Sprouted, Non-GMO Whole Grain Brown Rice Protein. (No fillers, binders, additives, sweeteners, etc.)
Combine with fruits and superfoods to make a super smoothie, and take Thor's Hammer tablets with smoothie for Ultimate Nutrition!
Review: Another option with 80% protein content per gram, Raw Warrior is one of the most affordable brown rice protein powders on this list.
It's made with 100% pure organic sprouted whole grain brown rice protein and is free from any sort of binder, filler, sweetener, color, flavor and additive.
Pros
Packs 22.4 grams of protein in every 28-gram serving.
Organic, raw and vegan.
Easy to absorb.
Has zero cholesterol, pesticides, trans fats, gluten, dairy and hydrogenated oils.
Excellent value for money.
Cons
Only comes in one size: 1 kilogram.
Virtually flavorless, so you can't consume it on its own.
Takeaway
This product is as good as any other alternative on this list in terms of overall protein content.
Where it truly shines, though, is the fact that it's one of the most budget-friendly options around.
Prescribed For Life Rice Protein
Review: If you liked what Raw Power Raw Warrior had to offer but wished the product came in other sizes, then the Prescribed For Life Rice Protein is perfect for you.
It's practically the same pure, high-quality product. The only difference is that it comes in six different sizes.
Pros
80% protein content.
Highly absorbable.
Free from fillers, additives, gluten, GMO ingredients and dairy.
Fine texture.
A wide range of size options: 12 oz, 1 kg, 2 kg, 5 kg, 10 kg and 25 kg.
Cons
Not a lot of reviews online.
Nutrition facts unavailable.
Takeaway
If you can get over the lack of reviews and missing product information, then this product is definitely a pretty good option to consider.
It not only has a high protein content per serving, it also comes in an impressive range of sizes that go up to a whopping 25 kilograms.
Garden of Life Raw Protein & Greens
Garden of Life Raw Organic Protein & Greens Vanilla - Vegan Protein Powder for Women and Men, Plant and Pea Proteins, Greens & Probiotics, Gluten Free Low Carb Shake Made Without Dairy 20 Servings
HIGH PROTEIN: 20 grams of raw plant protein from Organic peas and sprouted Organic grains, seeds and legumes plus 6 Organic greens and veggies
POST WORKOUT RECOVERY: Help your muscles recover with a clean nutritional shake powered by Organic non-GMO whole food protein and nutrient-rich green energy
GREEN SUPERFOOD DRINK: This delicious Vanilla protein powder is power-packed with green energy from raw, Organic veggie and green juices including Spinach, Kale, Broccoli & Alfalfa Grass
PROTEIN POWDER WITH PROBIOTICS: Tasty, smooth low carb protein shake with 1.5 Billion CFU probiotics and 13 non-GMO enzymes for easy digestion
VEGAN PROTEIN POWDER: USDA Organic, NSF Certified Gluten Free, Certified Vegan, Kosher and Informed Choice Trusted by Sport—delicious with water or unsweetened almond milk
Review: Packed with 20 grams of protein in every 27-gram serving, Garden of Life Raw Protein & Greens is another great product that uses other plant-based protein sources in addition to rice.
Its organic protein and greens blend contains wholesome ingredients such as sprouted brown rice, peas, spinach, chia seeds and lentils.
Pros
74% protein content in every gram from organic grains, seeds and legumes.
Packed with beneficial nutrients from 6 organic vegetables and greens.
Contains 13 non-GMO enzymes and 1.5 billion CFU probiotics to promote healthy digestion.
Comes in three delicious flavors: chocolate, lightly sweet and vanilla.
Gluten free, organic, vegan, dairy free and soy free.
Cons
Uses other protein sources instead of just pure rice.
Texture can be a bit gritty.
Takeaway
If you're looking for vitamins, minerals, probiotics and digestive enzymes to go with your protein, then this is the perfect product for you.
It's also a convenient and super tasty way to get your daily dose of greens and veggies if you're not a big fan of eating them whole.
Nubeleaf Organic Brown Rice Protein
Nubeleaf Brown Rice Protein Powder - Non-GMO, Gluten-Free, Raw, Organic, Vegan Source of Fiber & Essential Amino Acids - Single-Ingredient Nutrient Rich Superfood for Cooking, Baking, Smoothies (8oz)
ONE INGREDIENT, MULTIPLE BENEFITS: nubeleaf's Organic Brown Rice Protein Powder is easily digested, nutritionally complete and rich in essential vitamins and minerals. This is a complete protein with a balanced amino acid profile and low carbohydrate content, an excellent option for vegans and those suffering from digestive difficulties, food allergies, and sensitivities to dairy, wheat or soy.
MAKE IT PART OF YOUR DAY, EVERY DAY: Add nubeleaf's Organic Rice Protein Powder into your favorite juice, smoothie, protein shake, yogurt, breakfast cereal, oatmeal and baked goods to help increase muscle mass, support healthy blood levels of cholesterol, boost immunity, help with weight management, and digestive health.
MAKE GOOD NUTRITION EASY ON YOURSELF: Our whole food powders deliver concentrated, long-lasting nutrients in a much smaller quantity than their fresh counterparts – making it easier to create nutrient rich food for you and your family! Shelf stable for 24 months with no refrigeration required.
All NATURAL & ALLERGY-FRIENDLY: To preserve the integrity of our ingredients, we never use artificial colors, flavors, additives or preservatives. Our product is produced in a facility that does not handle nuts, wheat, soy, eggs or dairy, so those suffering from food allergies can share in the goodness.
OUR MISSION: We believe in healthy people and a healthy planet. Offering pure ingredients to maximize your body's natural vitality, we also work to improve the global community as a whole. We view sustainability as a way of life when choosing products, selecting partnerships, and collaborating on company decisions.
Review: Don't let Nubeleaf Organic Brown Rice Protein's super simple packaging fool you.
It can easily go toe to toe with any of the other items on this list with its excellent 75% protein content.
It's also made with just 100% pure organic brown rice, so it's perfect for you if you're not a big fan of additives, fillers and extenders in your rice protein powder.
Pros
Loaded with 7.5 grams of protein in every 10 gram serving.
Free from dairy, gluten, artificial flavors, colors, preservatives and additives.
Certified organic.
Packed with fiber for gut health and effective weight management.
Vegan and non-GMO.
Cons
Texture can be a bit too grainy.
Virtually flavorless, so you can't consume it on its own.
Takeaway
If you don't mind adding a bit of texture to your protein shake, then this product is definitely worth considering. It's one of the best pure brown rice powders around.
Vega Protein & Greens Protein Powder
Sale
Vega Protein and Greens Vegan Protein Powder Chocolate (25 Servings) - 20g Plant Based Protein Plus Veggies, Vegan, Non GMO, Pea Protein for Women and Men, 1.8lb (Packaging May Vary)
Packaging may vary - You may receive our fresh new label, but it's still the great taste you love.
PROTEIN AND GREENS adds effortless nutrition to your every day, sweetened with stevia—no added sugar, and 120 calories per serving.
20G PROTEIN: Made with 20 grams of plant-based protein and real green vegetable ingredients including organic spinach kale, organic alfalfa and broccoli, for an on-the-go protein powder for women and men.
KETO FRIENDLY: Keto-friendly protein powder with four grams net carbs, gluten free, and non-whey real food ingredients that are good for the body, feed the mind, and respect the planet. Vegan certified, Non-GMO Project Verified, with preservatives.
SHAKE, BLEND OR BAKE. Shake with 1-1/2 cups of ice-cold water or beverage of your choice. Blend into your favorite recipe for a smooth and delicious vegan protein shake.
Review: If you want to be spoiled for choice in terms of flavors, then Vega Protein & Greens is the product for you. With seven different flavors to choose from, there's surely something to satisfy whatever craving you may have.
But this product is definitely not just about flavor choices, with its 67% protein content and micronutrient-dense formulation.
Pros
20 grams of protein in every 30-gram serving.
Excellent micronutrient content (percent daily value): 25% vitamin A, 10% vitamin C, 80% vitamin K, 8% calcium and 25% iron.
Made with high-quality plant-based nutrient sources: brown rice, peas, spinach, kale and more.
No added sugar.
Non GMO, vegan, low glycemic, gluten free, soy free and dairy free.
Cons
Decent but not excellent protein content.
Texture can be a bit chalky.
Takeaway
Vega Protein & Greens is another great option if you're looking for a tastier, more convenient way to eat your greens while boosting your daily protein intake in the process – unless you want something that's made with just rice.
Available in berry, chocolate, coconut almond, plain unsweetened, salted caramel, tropical and vanilla, it's surely designed to satisfy virtually every craving imaginable.
PlantVital Plant Based Complete Protein Powder
Plantvital Plant Based Protein Powder w 18 Superfoods, Veggies & Probiotics: Kale, Beets, Spirulina & More. Vegan, All BCAA's, Organic, Non-GMO, Gluten Free
𝗧𝗛𝗘 𝗢𝗡𝗟𝗬 𝟭𝟬𝟬% 𝗖𝗟𝗘𝗔𝗡 𝗣𝗟𝗔𝗡𝗧 𝗕𝗔𝗦𝗘𝗗 𝗣𝗥𝗢𝗧𝗘𝗜𝗡 𝗚𝗥𝗘𝗘𝗡𝗦 𝗢𝗡 𝗧𝗛𝗘 𝗠𝗔𝗥𝗞𝗘𝗧 - Our SUPER PURE vegan, vegetarian, unflavored complete plant protein powder contains 18 organic, non-GMO, superfoods, fruits, vegetables & probiotics. It's 100% sugar free, gluten free, lactose free, soy free, with ZERO fillers & additives.
𝗡𝗢 𝗢𝗧𝗛𝗘𝗥 𝗦𝗨𝗣𝗘𝗥𝗚𝗥𝗘𝗘𝗡𝗦, 𝗚𝗥𝗘𝗘𝗡𝗦 𝗣𝗢𝗪𝗗𝗘𝗥 𝗢𝗥 𝗚𝗥𝗘𝗘𝗡 𝗝𝗨𝗜𝗖𝗘 𝗖𝗢𝗠𝗣𝗔𝗥𝗘𝗦 - 𝗪𝗘 𝗚𝗨𝗔𝗥𝗔𝗡𝗧𝗘𝗘 𝗜𝗧 - Read their fine print. You'll find lab created binders, thickeners, sweeteners, guar gum, lecithin, xanthan, so called "natural flavors", stevia extracts & more. NOT ONE additive is in Plantvital. The perfect 2 for 1. Both Protein AND Superfoods - Greens Supplement.
𝗚𝗜𝗩𝗘 𝗬𝗢𝗨𝗥 𝗕𝗢𝗗𝗬 𝗧𝗛𝗘 𝗣𝗨𝗥𝗘𝗦𝗧 𝗣𝗥𝗢𝗧𝗘𝗜𝗡 & 𝗚𝗥𝗘𝗘𝗡𝗦 𝗢𝗡 𝗧𝗛𝗘 𝗠𝗔𝗥𝗞𝗘𝗧 - Plantvital meets the highest 3rd party industry certifications. Our nutrient dense whole foods superfood powder delivers 24g protein, 9.1g essential amino acids, 4.8g BCAA's, 4.1g glutamic acid, 6mcg B12 (150% daily dose), powerful antioxidants, 1 billion CFU probiotics & 0g sugar.
𝗬𝗢𝗨𝗥 𝗗𝗔𝗜𝗟𝗬 𝗦𝗨𝗣𝗘𝗥 𝗚𝗥𝗘𝗘𝗡𝗦 𝗡𝗨𝗧𝗥𝗜𝗧𝗜𝗢𝗡𝗔𝗟 𝗦𝗔𝗙𝗘𝗧𝗬 𝗡𝗘𝗧 - Plantvital Complete Plant Based Protein Powder is crafted to be as close to perfect as we can get. 18 ALL NATURAL ingredients work harmoniously to give you maximum benefit. Boost work & gym performance, support lean muscle, reduce stress, improve sleep hygiene, adaptogen support, and aid in cholesterol/blood sugar levels. Also pregnancy safe.
𝟭𝟬𝟬% 𝗥𝗜𝗦𝗞-𝗙𝗥𝗘𝗘 𝗣𝗨𝗥𝗖𝗛𝗔𝗦𝗘 - We believe deeply in what we've created. That's why we stand behind our gluten free, dairy free vegan, vegetarian green superfood protein powder with a Lifetime Guarantee. If you're not happy with your purchase, simply call or email.
Review: Made from nothing but the highest quality plant sources, including brown rice, peas and chia seeds, PlantVital Plant Based Complete Protein is loaded with 24 grams of protein in every 32.43-gram scoop.
It also packed with beneficial micronutrients from fruits and vegetables, as well as gut health-promoting probiotics.
Pros
74% protein content (all nine essential amino acids).
Provides gut health support.
Rich in micronutrients from 18 superfoods.
100% vegan and organic.
Free from gluten, sugar, soy, lactose, corn, and GMO ingredients.
Cons
Bag can be difficult to reseal.
Not the best tasting product on this list.
Takeaway
Why stop at protein when you can also get vitamins, minerals and probiotics at the same time?
This is exactly what PlantVital Plant-based Complete Protein allows you to do.
Quick Guide to Rice Protein Powders
Rice protein powders typically come in two forms: pure and blended.
The former, as the name suggests, is made with nothing but rice.
The latter is usually made with rice plus a host of other plant-based protein sources, such us peas, chia seeds, sunflower seeds and spinach.
Both are good options. It just depends on what it is you're looking for.
Things to Keep in Mind Before Buying Rice Protein Powders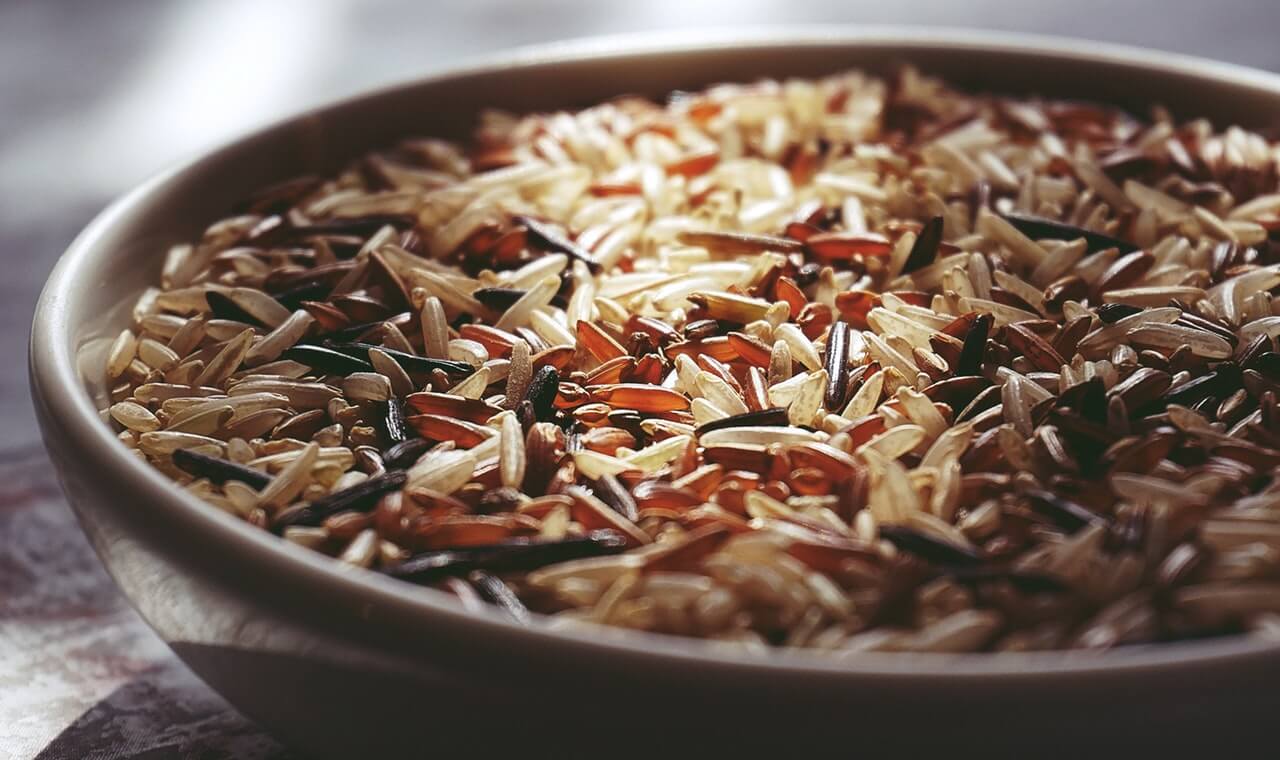 Type of Rice Protein Powder
Again, rice protein powder products are available in two forms.
Do you want something that's made with just rice and contains mostly protein or are you looking for something that packs a wider variety of protein sources and provides other beneficial nutrients?
Allergies and Food Intolerances
If you have any food allergies or intolerances, pure rice protein powders may be the better choice for you.
Blends obviously contain a wider variety of ingredients. If you're allergic or intolerant to one, then you're out of luck because there's no way to take it out.
Flavors
Are you looking for something you can consume directly or do you want something flavorless to add to your smoothies?
If it's the former, then you'd want flavored rice protein powders. If it's the latter, then plain, unsweetened varieties are your best bet.
Protein Content Per Gram
Protein is the number one thing you're paying for when it comes to these products, so you'd want one with excellent protein content per gram.
Anything above 70% should be good – unless the product also contains a host of other nutrients to make up for having less protein.
Also, it's better if you can find one with a complete amino acid profile.
FAQs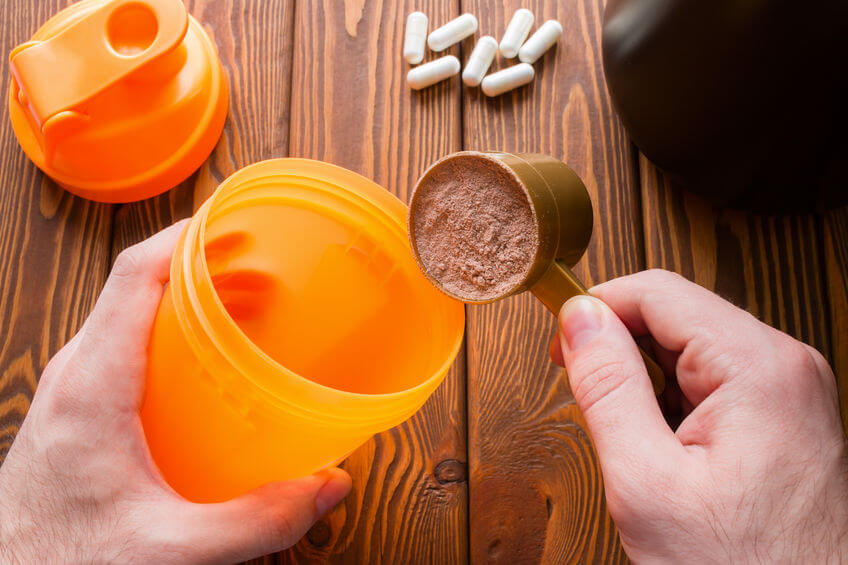 Is Rice Protein Good For You?
Yes, especially if you get a product that has all nine essential amino acids.
The only time you should avoid rice protein is if you are allergic or intolerant to rice.
Is Brown Rice Protein Good for Muscle Building?
The short answer is yes.
Even if some camps claim that it is inferior to products like whey because it doesn't have high enough levels of lysine, it's still a great option, especially for people with lactose intolerance.
Can You Get Fat From Rice?
Not necessarily, especially if we're talking about rice protein.
But even if it's just plain rice, getting fat still has more to do with the amount of calories you take in than the type of macronutrients they come from.
As a general rule, as long as you burn more than you consume, you should be fine.
But this doesn't mean you can eat only junk food as long as you keep your overall caloric intake low. You need to feed your body quality calories if you want to stay healthy, get stronger and build more muscle.
The Bottom Line: Rice Is More Than Just Carbs
Gone are the days when rice is considered no more than a virtually flavorless source of carbohydrates.
All the products in the "best rice protein powder products" list above have more than enough of the muscle-building macronutrient to help you get bigger and stronger.
Love this type of content?
How would you like to get free access to more super exclusive tips, guides and reviews? Sign up for our newsletter now by entering your email below!