TOP 16 Best Shorts for Squatting & Deadlifting Reviewed 2020 + Quick Guide
Ladies!
Do you need a pair of squatting & lifting shorts that do not ride, bunch up, become see-through or restrict your movement?
Gentleman!
Do you want a pair of squatting and lifting shorts that are not baggy, sloppy baller style shorts yet are not tight and scandalous at the same time?
I have what you need!
I reviewed 16 of the best shorts for squatting & lifting. There is a list of 9 squatting shorts for men, 7 squatting shorts for women, plus a quick buying guide to help you choose.
Let's get down to business!
TOP 9 Men's Lifting Shorts for Squatting 2020
Rogue Men's Fight Shorts 2.0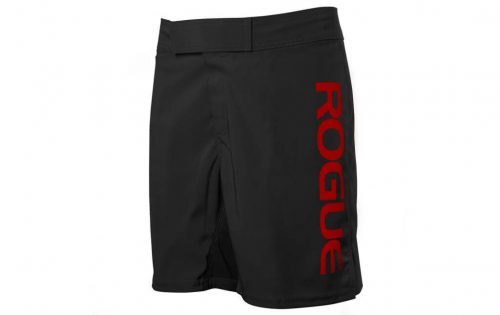 Review: If you do not like your shorts so tight that everyone can see what ya' got, but you do like them short because that makes them more comfortable to squat – then these Rogue shorts are for you.
These shorts are made from a rather heavy and durable material, with a decent size side slit so you can bend freely.
They will last forever and they look cool.
Pros
5-inch side slit allows you to move unrestricted.
Velcro close keeps them in place.
Durable, can withstand years of abuse.
Cons
No pockets large enough for a phone.
Takeaway
Quality, durable shorts that let you move freely.
Ouber Men's Bodybuilding Lifting Shorts
Review: These Ouber men's lifting and squatting shorts are some of the best shorts for weightlifting you can get. They are not too short, but not too long either.
The side slit allows you to show off your quads and more importantly, they help you get into a deep squat without being restrictive.
The material is so light, you will hardly feel you are wearing them.
Pros
V cut scalloped slits allow you to bend and squat unhindered.
Show off your quads and motivate others to not skip leg day.
Made from soft stretchy lightweight material.
Cons
Takeaway
Good looking, soft, comfortable shorts for squatting and lifting.
Adidas Men's Soccer Parma 16 Shorts
Review: These loose-fitting elastic band shorts are made from thin stretchy material and are cut above the knee so they will not get in the way when you squat.
They are lightweight and breezy, yet short enough for squatting.
Pros
Light breathable material – barely-there feel.
Short enough they will not catch on your knees during a squat.
Stylish and simple.
Cons
Takeaway
Thin and lightweight so you can focus on your squat, not your shorts.
Virus Men's Origin Active Shorts
Review: These Virus men's lifting shorts look cool and function well for squats and other lifts.
They have wide leg openings and a side slit that lets you bend over without restricting your movement.
My favorite feature of these shorts is that they have three zippered pockets to store your phone & cash.
Pros
3 zippered pockets.
Side slit for mobility.
Wide leg opening allows you to squat comfortably.
Cons
Not many color choices available.
Takeaway
Good shorts for squatting, a solid pair of lifting shorts.
Nike Men's Dry Training Shorts
Review: If you like your shorts a little roomy and not too short, these are great. They sit above the knee, but are not so short that they show too much.
The loose fit and stretchy material combined with the side slit allows you to move and bend and do all the heavy lifts and squats without being distracted by your shorts.
Pros
9" inseam lands above the knee – perfect for squatting.
Motion vent side seams allow you to bend freely.
Dri-fit material keeps you cool and dry.
Cons
Takeaway
These understated shorts are great for squatting and won't draw a lot of attention.
Anthem Athletics Hyperflex Lifting Shorts
Review: These Anthem shorts are some of the best lifting shorts around.
They are not too short, nor too long, have large zippered pockets, won't catch on your knees as you bend and will not impede your range of motion.
Pros
Deep zippered pockets on BOTH sides.
Relaxed stretchy material.
Drawstring close for a sure fit.
Cons
Some find the pocket openings too narrow and deep – but they are great for a large phone.
Takeaway
One of the best shorts for lifting out there.
Under Armour Men's Raid Shorts
Review: These relaxed fit Under Armour lifting shorts hit the sweet spot when it comes to length. They are 10 inches, just enough to hit at or slightly above the knee for most guys.
They are short enough to stay outta the way when you are lifting and squatting too!
Pros
Thick elastic band found only on Under Armour shorts.
Stretchy lightweight fabric.
10-inch inseam sits at or just above the knee.
Cons
Careful: If put stuff in the pocket, it can swing around and hit you where it counts.
Takeaway
Good looking, lightweight, just long enough lifting shorts.
Jed North Men's Lifting Shorts
Review: Jed's shorts are a little shorter and snugger than most in this list, but damn it if they are not the best shorts for squatting.
If you hate long baggy basketball shorts, these slim, trim squatting shorts are the right fit.
Pros
Slim flattering fit.
Soft stretchy material.
Deep zippered pockets.
Cons
Drawstring ties from the outside and is really bright neon green.
Takeaway
Flattering lightweight short and snug fitting squatting shorts.
YoungLA Men's Bodybuilding Squatting Shorts
Review: YoungLA lifting and squatting shorts set themselves apart from the rest because of the quality material.
It has just a little stretch, but not so much that you are showing off more than you intended. The inseam is about 4 inches, but be careful, these run small and snug so order a size up.
Pros
Two deep zippered pockets.
Short inseam, snug fit.
A little give, but not too stretchy.
Cons
Takeaway
Show off your legs while you squat with these lifting shorts for men.
TOP 7 Women's Lifting Shorts for Squatting 2020
90 Degree By Reflex Women's Shorts
Review: These super cute sweat shorts by 90 degrees are popular for a reason – they perform well at the gym.
They are not as snug as booty shorts, while still being short enough to squat deep, and the fabric is thick enough so your underwear will not show through.
They have an external drawstring so they stay secure, and a fun, casual look you can wear inside the gym and out!
Pros
Soft 4-way stretch material moves with you.
Thick material will not allow your undies to peek through as you squat.
Dual side pockets for your stuff.
Cons
Runs large, consider ordering down a size.
Takeaway
Thick material, good fit, and won't show your undies when you bend or squat.
Feed Me Fight Me Women's Squat Shorts
Review: Ladies, these booty shorts have it going on! They come in a ton of super cute designs, have a squat friendly 3-inch inseam, and are made from stretchy, comfy fabric that won't show your panties as you lunge and squat.
Pros
3 inch inseam.
4 way stretch fabric.
Really cute prints.
Cons
Takeaway
Super cute booty shorts for squatting and lifting.
Under Armour Women's HeatGear Middy Shorts
Review: Great for ladies blessed with a larger booty, long enough they won't show any butt cleave or cheek peek as you squat and lift.
These are some of the best compression shorts for weightlifting for women I have found for keeping it all together during your workout.
Pros
Won't roll up.
Does not get sheer as you squat and bend.
Light compression.
Cons
Takeaway
A respectable pair of compression squatting shorts for women.
Tough Mode Women's Squatting & Lifting Shorts
Review: These Tough Mode booty shorts have you covered on squat and leg day – literally. They will not peek, ride, curl or show anything you did not intend to show.
Plus they come in cute prints so there is something for everyone.
I recommend the prints over the solids as they offer more coverage and have less stretch.
Pros
Stays put while jumping, bending and squatting.
Wide comfortable flattering waistband.
Soft thick material.
Cons
Beware – the pattern prints are better/thicker than solid prints.
Takeaway
Attractive, fun, no ride, no roll, booty shorts for squatting.
Rogue Women's Booty Shorts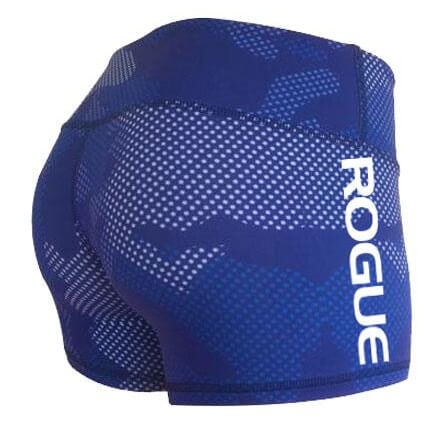 Review: Rogue booty shorts are super short, with a 2-inch inseam. But even though they are short, they won't ride up and offer plenty of coverage while squatting, deadlifting and jumping.
They are made from 4-way stretch fabric and have a light compression feel, and a wide waistband that is both flattering and comfortable.
Pros
2-inch inseam, super short booty shorts.
Stay put fit – no more futzing around pulling your shorts down.
Soft stretchy material.
Cons
Takeaway
Great fit, super short booty shorts for lifting and squatting.
Under Armour Women's Play Up Shorts 2.0
Review: OK, ladies, listen up! These shorts are great for leg day! They are not tight or revealing like booty shorts, but they are short, so they are very comfortable to squat in.
They allow you to bend deep without revealing anything, thanks to the scalloped and vented side slits.
They also have the signature wide Under Armour waistband and two side pockets for your things.
Pros
3 inch inseam.
Loose lightweight fit.
Scalloped side split – great range of motion.
Cons
Pockets do not have zippers, so things may fall out.
Takeaway
Comfortable, stylish and functional – a great pair of squatting shorts.
Fleo Original Style Lifting Squat Shorts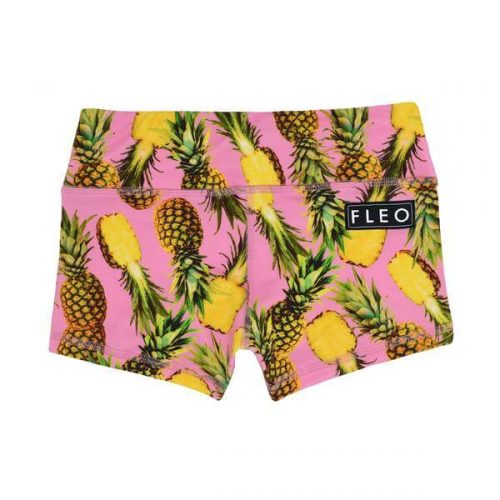 Click Here for Pricing and Pictures on Fleoshorts.com
Review: FLEO knows the struggles of women who lift! They know you want shorts that won't peek through, won't ride up, won't show any butt cleave or crack in the back as you lift and squat, and won't restrict your range of motion.
FLEO thought of everything when they made these squat shorts.
The short inseam with wide waistband, keeps your bum covered yet the 2.5-inch inseam is short enough so they do not restrict bending and squatting. Plus they come is a gazillion of the cutest fabrics in the world.
Did I mention they are comfortable enough to sleep in too? Grab a pair of these wonderful shorts, you won't be disappointed!
Pros
2.5-inch inseam.
Awesome fun prints.
3-inch thick ample coverage waistband.
Inner liner keeps these shorts snug and peek proof.
Cons
Not all colors and patterns available in all sizes.
Takeaway
As fun as they are useful, best squatting shorts you can get!
Quick Buying Guide to Shorts for Squatting & Deadlifting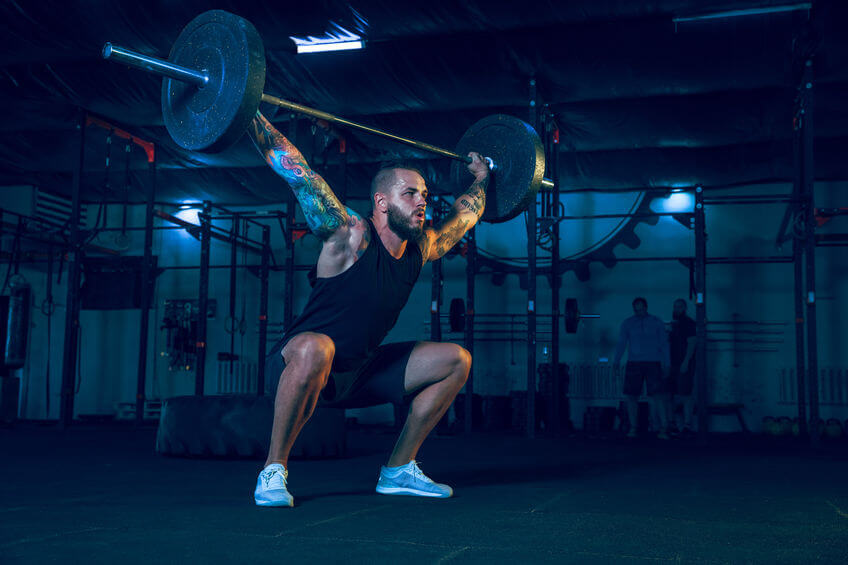 Range of Movement
Shorts with no stretch limit and restrict movement. Not cool when you are squatting.
Look for shorts that have at least a little stretch to them so you are comfortable and so you don't end up busting a seam when you squat deep.
Men's Squatting Shorts vs Women's Squatting Shorts
There are some differences between women's squatting and lifting shorts and those made for men.
Generally, women's shorts have a shorter inseam and are snugger. Some women's shorts are so snug they are called booty shorts, because they conform to the shape of the booty.
They happen to be really comfortable to lift in, so it's common to see this style short at the gym.
I separated my list of the best squatting shorts with one list for men's shorts and one list for women's shorts.
If you want to see more workout shorts, I reviewed CrossFit workout shorts for both sexes. My list of the best CrossFit shorts for women is here.
My list of the best CrossFit shorts for men is here.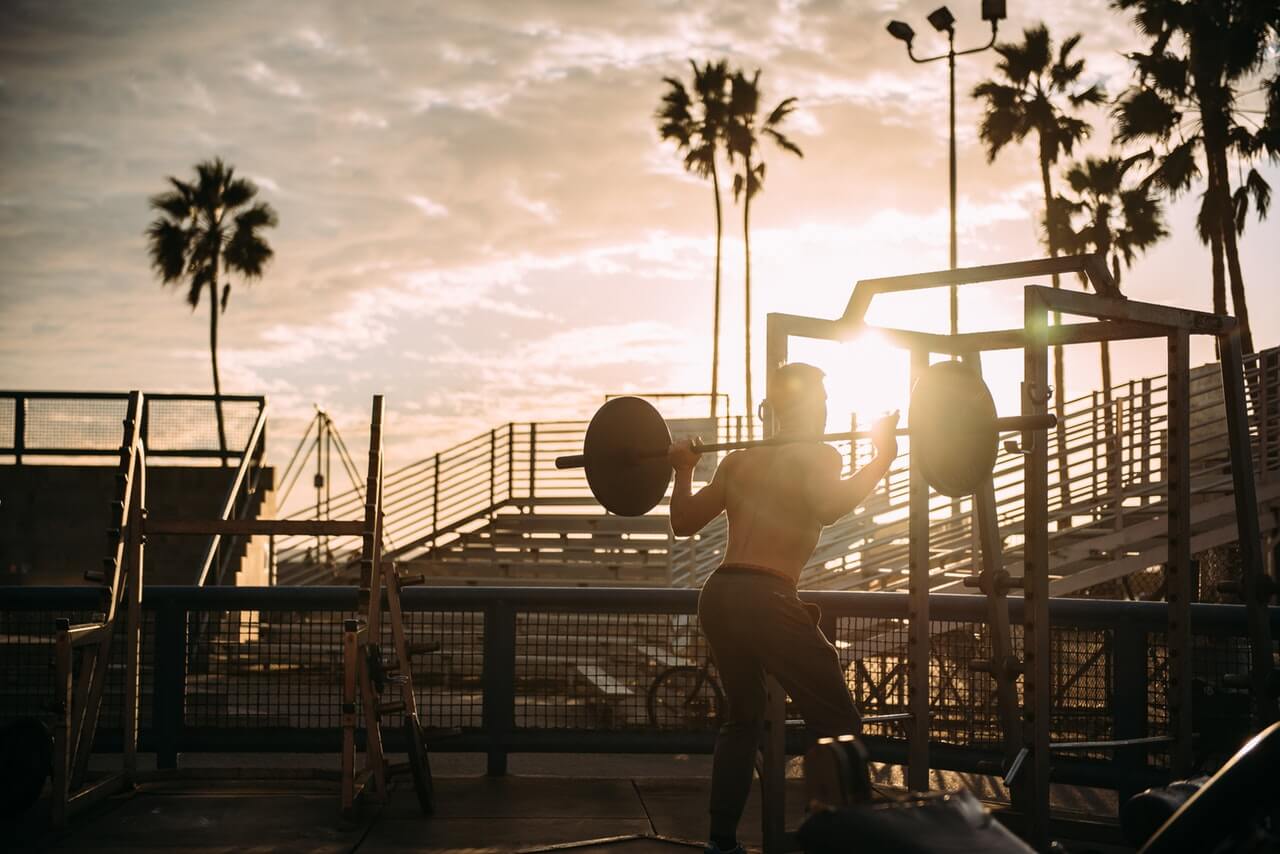 Pockets or No Pockets
I like the pockets. They are handy. But they can also add bulk and can weigh the shorts down or throw off the stylish sexy silhouette they create.
You have to decide what works for you.
I will say this: If you do decide to get shorts with pockets – make sure they are zippered pockets so your stuff does not fall out.
Length
Long baggy baller style shorts may be comfortable, but they are a no go on squat day.
Why?
The long fabric catches on your knees, possibly causing a wardrobe malfunction. Worse than that, they can get in the way and be a distraction. Not something you want when you are dealing with a heavy barbell.
Look for shorts that sit above the knee.
While you are at it, consider this – you work hard at the gym, so why not show off that hard work with shorts that are a little shorter?
Show some thigh, it won't kill you, and it just might improve your squat performance.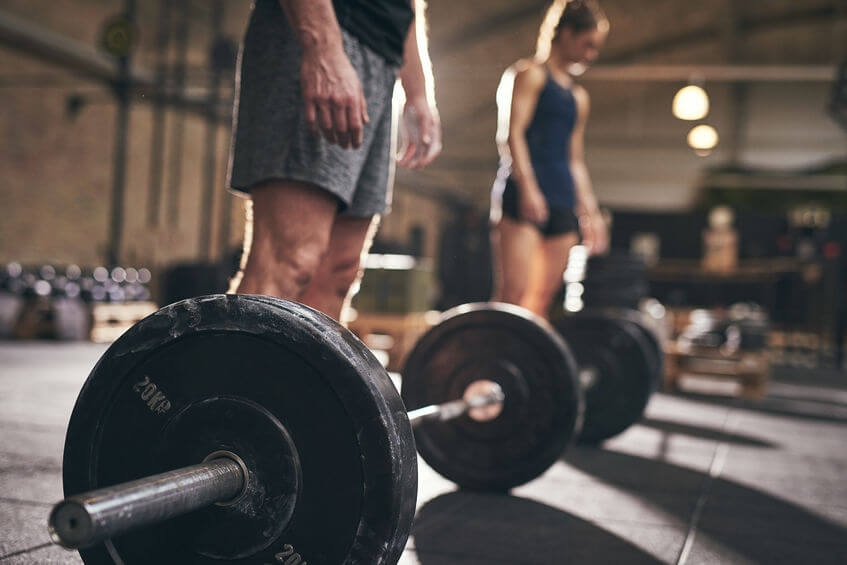 That's a Wrap
That wraps up our list of the 16 best shorts for squatting to help you get down.
While you are looking for the perfect squatting shorts, why not consider a new pair of lifting shoes or workout shoes?
I reviewed the top workout shoes here, and have several great suggestions if you need a pair of lifting shoes here.
Do you love gym gear?
So do we!
Sign up for the newsletter and we will always help keep you in the loop when new gear, shoes and sports apparel hit the market.