TOP 10 Best High Impact Sports Bras for Large Breasts Reviewed 2023
Are you a big breasted lady?
Good news!
You don't have to be held back by breast pain or bouncing when you exercise!
There are some truly excellent sports bras for large breasts which will keep you feeling secure and supported no matter what activity you choose to undertake!
Keep reading for a roundup of the best sports bras for large breasts and a few key pointers on what to look for.
TOP 10 Best Sports Bras for Large Breasts 2023
Enell High Impact Sports Bra
ENELL Women's Full Coverage High Impact Sports Bra (100) (US, Numeric, 0, Regular, Regular, Black)
SUPPORT, STABILIZE, SECURE - The ENELL SPORT is scientifically designed to support, stabilize, and secure. We are determined to provide sports bras that well-endowed women can count on when and where it matters most.
FINDING YOUR PERFECT FIT - For the very best fit, please do not refer to your current bra size. Sports bras for large breasts require exact measurements to ensure a bounce-free fit. While wearing your everyday bra, take your actual measurements around the fullest part of your bust and around the rib cage directly under your breasts. Then refer to the ENELL size chart to see which ENELL size is your perfect fit. If in-between sizes, size down.
SNUG IS SECURE - ENELL fits differently than any other bra. It may seem too small, at first, but a snug fit ensures superior support and comfort. ENELL bras feature our signature hook-and-eye front closure, stabilizing bottom band, and comfortable wide straps that don't dig or pinch to keep you secure, supported, and comfortable during high-impact activities.
MOVEMENT CONTROL BAND FOR EXTRA SUPPORT - The wide elastic band provides superior support to help reduce back pain, boost your posture, and keep the girls where they belong.
LYCRA SPANDEX AND MOISTURE-WICKING NATUREXX FABRIC - Made from high-quality LYCRA spandex that will not only help keep the girls more secure, but also more comfortable. NATUREXX transfers moisture away from your body and prevents heat build up, keeping you cool and dry.
Review: This is an excellent quality, a very well-designed sports bra that leaves you with no doubts that your girls will be supported while you move.
It features a string of hook and eye closures at the front that take a bit of practice (you have to do up a couple, then arrange your breasts, then do up the rest), but this combined with the full coverage back and incorporated cross strap is about as secure as it gets.
Not everyone will love the fact that it is a compression bra, so your breasts will be somewhat squashed together and against your chest. But, it works and allows you to run with little to no bouncing.
Pros
Moisture wicking.
Fully enclosed back with incorporated cross-strap.
Hook and eye closure at the front.
Wide non-stretchy shoulder straps.
Almost completely eliminates bouncing.
Cons
Can take a bit of practice to get it on.
Takeaway
This could be the best sports bra for back support and easily the best sports bra for large breasts of 2023. It reduces bounce to almost nothing, keeping you supported and comfortable.
Glamorise Full Figure Sports Bra
Full Figure Plus Size No-Bounce Camisole Sports Bra Wirefree #1066
CAMISOLE: A breathable mesh camisole design provides upper bust containment and bounce control.
REINFORCED CUPS: Full coverage, non-stretch cups mean you're held up (and in).
EASY ON & OFF: Hook-and-eye closure with 3 columns & 3 rows increases with size.
CUSTOM FIT: Stay-in-place back and adjustable, non-stretch straps stay put through any movement.
DESIGNED IN NEW YORK SINCE 1921: We have over 100 years experience crafting bras for curvy women.
Review: If you're not a fan of underwires, you should take a closer look at this bra. The cups are reinforced but wire-free and the wide, non-stretch straps are easily adjustable.
The company has a troubleshooting guide to help you get the perfect fit! But maybe the best feature of this bra is the mesh panel above your cleavage that keeps your breasts comfortably contained when they bounce upwards, but also gives you a bit of modesty and ventilation too.
Pros
Breathable, moisture-wicking material.
No underwire.
Functional top panel protects against upwards movement.
Excellent support and containment.
Very comfortable.
Cons
The trim causes issues for some people – may not be hypoallergenic.
Takeaway
This is one of the few bras to offer reinforced separate cups but without an underwire. This is a very comfortable option for people who don't like underwires but need the support of them.
New Balance Shockingly Unshocking Sports Bra
Sale
Review: If you're looking for something that really doesn't compromise on bounce, this is your bra.
Your chest stays so well contained you might actually be able to forget that you're a large-breasted woman for once!
It does compress your breasts into one package, but underneath the uni-boob appearance, your breasts are actually supported in individual molded cups which is essential for large chests.
Pros
No bounce.
Straps are wide and adjustable.
Traditional hook and eye closure at the back.
Molded cups.
Cons
Little bit of uni-boob going on.
Takeaway
If you don't mind the uni-boob look, this is the best sports bra for runners with large breasts. Made specifically for running by New Balance, you can be guaranteed to avoid any bouncing.
Champion Spot Comfort Full Support Sports Bra
Champion womens Spot Comfort Full Support Sports Bra, White, 38DD US
SUPPORT LEVEL – High-impact sports bra made for running and high-intensity workouts.
THE FEEL – Tight compression fabric for a stay-put fit.
THE SHAPE – Wire-free sports bra with lightly molded cups for shape and support. Cups are non-removable.
THE STRAPS – Adjustable gel-infused bra straps reduce dig-in and feel easy on skin.
THE CLOSURE – U-shaped back with cushioned hook-and-eye clasp adjusts for a custom fit with your toughest workouts in mind.
Review: This is a really highly rated sports bra for busty women. It manages to achieve excellent support and hardly any bounce without just squashing your breasts against your chest, which is a hard feat to achieve!
It is very comfortable, with gel padded straps and moisture-wicking material which keeps you dry and chafe-free. The hook and eye closure at the back is secure but easy to undo.
Pros
Gel padded straps.
Comfortable fit without being tight.
Easy to undo back closure.
Durable.
Very little bounce.
Cons
The seams are itchy in places.
Sizing is a little off.
Takeaway
This is an excellent, high impact sports bra for large breasts. It ticks all the boxes for large breasted women so you won't be held back from any activity.
Freya Epic Underwire Crop Top
Review: This is a really popular sports bra for runners who appreciate underwires and individual cups as opposed to compression bras.
You get support for each breast rather than mushing them together into a uni-boob. The straps can also be reconfigured into a racerback style if that's what you prefer or if it results in a better fit.
Pros
Coolmax inner fabric keeps you cool and dry.
Padded, adjustable straps.
Straps can be adjusted into the racerback style.
Soft, comfortable material.
Cons
Not everyone loves the shaping.
Takeaway
This is a sports bra for women who don't like sports bras. It looks like a regular bra, keeping your breasts separated, but supports them completely.
Panache Underwire Sports Bra
Panache Women's High Impact Underwire Sports Bra, Black, 36DD
AMAZING COMFORT: Our sports bra is designed to fit like a normal bra, not like other sports bras that just compress your breasts. We also designed ours with ventilating mesh panels on the shoulders and bust as well as cushioned shoulder straps
MAXIMIZE SUPPORT: The 5021 sports bra individually encapsulates each breast - lifting, shaping and supporting them from all sides. The adjustable back converts this into a racerback bra, which is great for running
MINIMIZE BOUNCE: By encapsulating the breasts rather than simply strapping them down, Panache sport comfortably reduces 'bounce' by an amazing 83%, whilst fitting and feeling like a normal bra. Reducing the bounce helps maintain shape and perk
GREAT FOR HIGH IMPACT SPORTS: Our bra is made to support your during any exercise, including yoga, basketball, or CrossFit. We want you to get the most out of your workout with the best activewear bra for regular and plus size women
FIND THE PERFECT FIT: Panache strives to accommodate all shapes and sizes, but please note that our sizing is listed in UK sizes. You can use our sizing guide, conversion chart in the product images to get a perfectly fitting bra
Review: Panache are one of the leaders when it comes to sports bras for bigger breasts and their bras are really popular, but they are a little more pricey too.
This underwire sports bra goes up to 40GG size and really does prevent bouncing, no matter how fast you're running.
The underwire is encased in silicone and a padded strap making for support so comfortable that you'll be happy to keep wearing it even after your run.
Pros
Well-structured cups keep your breasts separate.
Thick, comfortable straps can be converted into a racerback.
Flattering shape – looks good under a t-shirt.
Moisture-wicking microfiber.
Cons
Some problems with the underwire being prone to popping out.
Takeaway
If you can figure out a way of stopping the underwire from popping out, this is one of the most comfortable and supportive sports bras on the market.
Shock Absorber Active Sports Bra
Sale
Review: This is a wireless sports bra that finds the middle ground between being compression, and keeping your breasts separated.
It provides great support in a comfortable package, with a good amount of coverage over your cleavage and wide, padded straps.
The wide chest band is secure but doesn't feel restrictive and the whole design definitely doesn't look like a sports bra.
Pros
Wide, adjustable, padded straps.
Secure, comfortable fit.
Moisture-wicking and breathable.
Front is nice and high so you won't fall out when bending over.
Cons
Might be a little tricky to find the right size.
Also a little tricky to put on.
Takeaway
This is a great sports bra for hot weather, being thin, breathable and moisture-wicking but still supportive.
Berlei Sf4 Extreme Impact Underwire
Review: Another really top quality and high performing sports bra, Berlei's Sf4 is a winner for big-chested ladies.
It's also another great choice for hot weather as it's breathable enough to stop you from getting sticky with mesh panels and overall lightweight design.
The straps can be worn like a regular bra or crossed over for a more secure fit.
Pros
Underwire and defined cups keeps breasts very separate.
Lightweight and breathable with mesh panels.
Very supportive.
Flattering shape.
Cons
Relatively low cut cleavage for a sports bra.
Takeaway
A popular, high quality and very supportive bra for high impact activity, that performs well in hot weather.
Yvette High Impact Sports Bra
Yvette High Impact Sports Bras for Women Front Closure Sports Bra Workout Bra with Ventilation Racerback for Plus Size, Black, 4XL(DF)
Imported sports science and technology fabrics, add high elastic spandex fiber, good elasticity, without losing support force, breathable sweat fabric, avoid sweat
High Impact Sports Bras for Women with zipper closure is very easy to take on and off.
Splicing fabrics and colors increase the layering of sports underwear, making it more rich and fashionable
Anti-skid Shoulder Straps to avoid slipping off while doing exercise. Double straps for maximum support and avoid chafing and digging in.
Mesh back to increase heat ventilation in heated sports activities and also features a sexy back looking.
Review: This is a bra for the die-hard lovers of crop stop style sports bras. The design actually makes it look like you're wearing two crop tops, so if that used to be your deal, this is your gateway bra to wearing one that does the job of two!
This sports bra is impressively supportive for a bra without an underwire, the zippered front makes it easy to take on and off, and there is plenty of mesh to keep you cool and dry.
Pros
Zip up closer at the front.
Racerback with plenty of mesh for breathability.
Anti-slip shoulder straps.
Double layer for extra support.
Cons
Sizing is a little tricky to work out.
Could potentially shrink in the wash so use a cold cycle and don't tumble dry.
Takeaway
This is the choice for girls who prefer crop tops.
Syrokan Coolmax Full Figure Sports Bra
SYROKAN High Impact Sports Bras for Women Support Underwire Cross Back Large Bust Cool Comfort Molded Cup Black 32DD
NO UNIBOOB, NO SIDEBOOB: Molded cups with wide curvature wire for a supportive fit, encapsulate each breast - lifting, shaping and supporting.
HIGH SUPPORT: Lightly lined with double layer for firm support and bounce control, firm flat bottom band for added anchorage.
STAY IN PLACE: Adjustable padded straps with J-hook fastening for a racerback option, stay put through any movement.
COOL COMFORT: Breathable mesh panels and microfiber lining wicks away moisture leaving the skin, keep you cool and dry.
IDEA FOR HIGH IMPACT: Up to H cup, plus size. Perfect high supports sports bra for running, gym, workout, basketball, etc.
Review: And now to round off the list with a more affordable option. The Syrokan sports bra is an underwire bra with molded cups to keep your boobs separate, and wide shoulder straps that can be clipped together for a racerback.
The Coolmax inner fabric is moisture-wicking to keep you cool, and the overall look is versatile enough for everyday wear.
Pros
Available in an H cup.
Slightly padded, molded cups.
Straps can be worn as a racerback.
Doesn't look or feel like a sports bra.
Cons
Takeaway
This is affordable option for large breasted women just starting to work out and looking to upgrade their sports bra.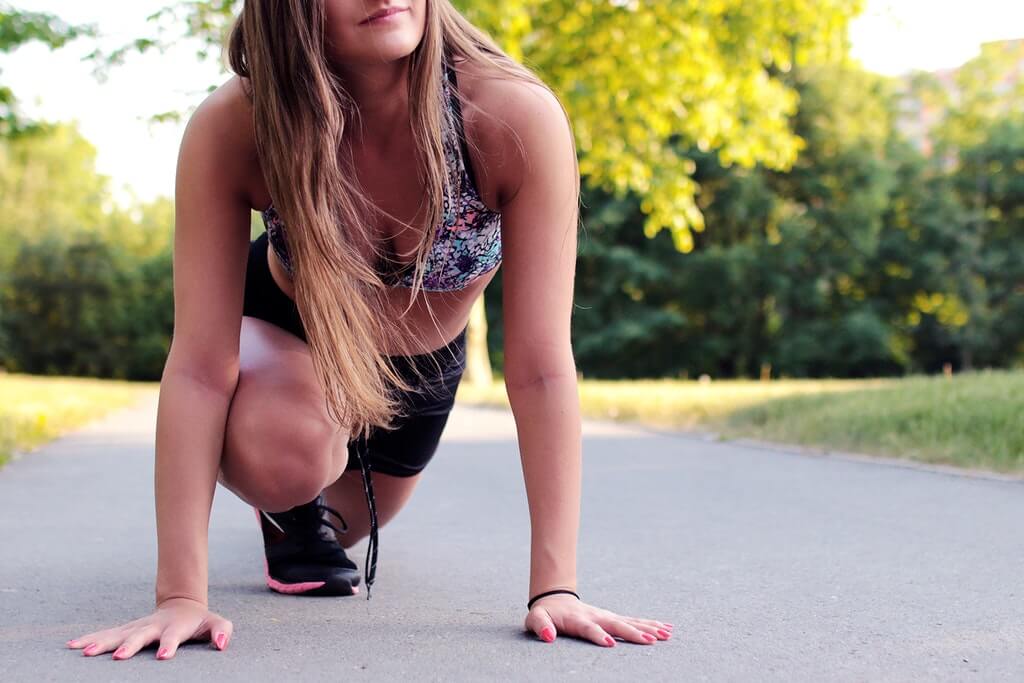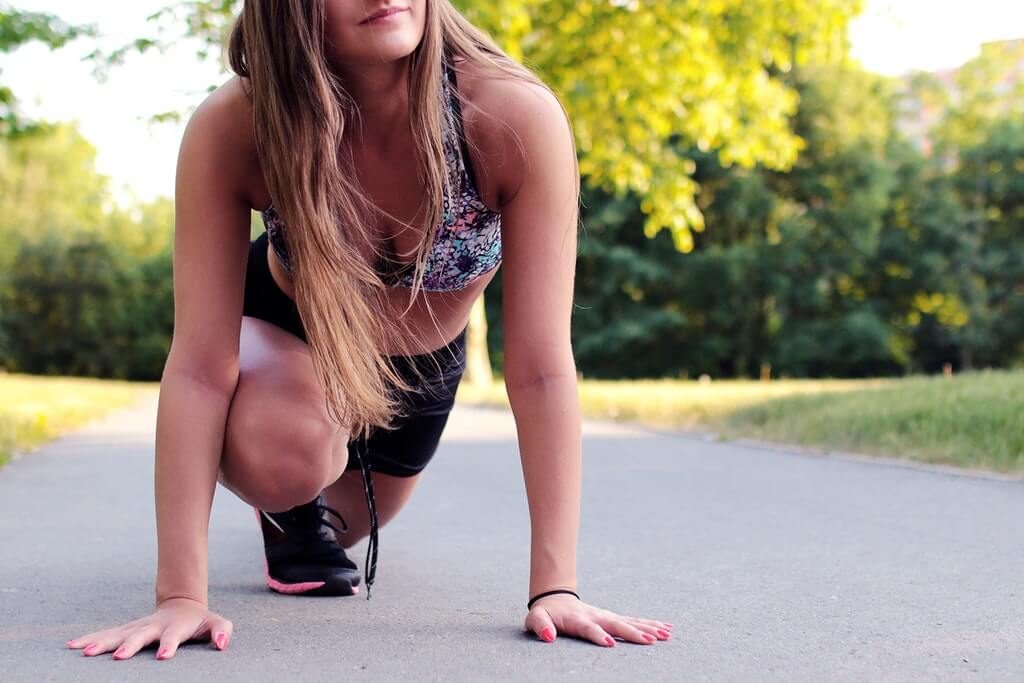 How to Choose?
Choosing the best sports bra for large breasts is not a decision to take lightly. Just like when you're choosing your next pair of women's running shoes, there is a lot of comfort and potential injury at stake.
Even though the price tag is lower with a sports bra, the decision requires the same careful weighing up of pros and cons.
The best sports bras aren't like regular bras. They have some key features that make them comfortable and practical when it comes to working up a sweat.
If you're interested in looking at sports bras in general to see what's out there – take a look at our list of the best sports bras.
So, what to look for?
Broadly speaking, there are two different styles of sports bra for large breasts that provide support in two different ways.
Different Styles of Sports Bra
Bras that support by compressing the breasts. Think your classic crop top. They usually don't have an underwire and often results in a uni-boob. They can work for some people, but usually aren't the best choice for large breasted women.
Alternatively, bras that support through enclosing the breasts in separate cups with the help of an underwire, don't compress the breasts so much, are better at keeping them separate, and provide better prevention of bouncing. – These are the ones you want for big breasts!
Other things you'll want to look for include:
Things You'll Want to Look for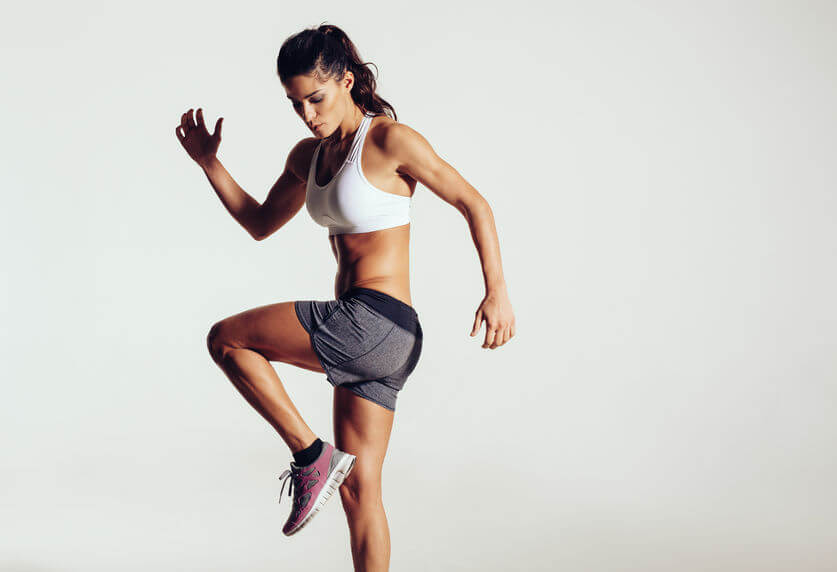 Wide, Padded, Non-stretch Shoulder Straps
This is really important.
Thin shoulder straps won't be able to take the weight of your breasts. The elastic will quickly fail and your bra will lose some of its ability to support you.
Thin straps will also dig into your shoulders and be really uncomfortable.
Hook and Eye Closure
This isn't a deal-breaker, but hook and eye closures usually ensure the most secure and snug fitting closure around your chest.
Wide Chest Band
Most of the support actually comes from the chest band so having one that is nice and wide with very firm elastication is important.
A thin one won't provide enough support and will likely end up digging into your flesh and feeling uncomfortable.
A Little Padding in the Cups
This helps with support, durability and modesty, keeping those nips in line regards of the temperature outside.
Moisture-wicking and Breathable Material
Nobody likes chafing!
Moisture-wicking material is essential to keeping you dry, cool and chafe-free.
High Coverage Over the Cleavage
We all know the saying "what goes up, must come down", and the same is true with breasts, but in reverse.
"What goes down, will bounce up", and having spillage out of the top of your bra is a very real and very annoying possibility.
Having your cleavage nicely contained behind some mesh helps to prevent this as well as providing a bit of modesty and additional support.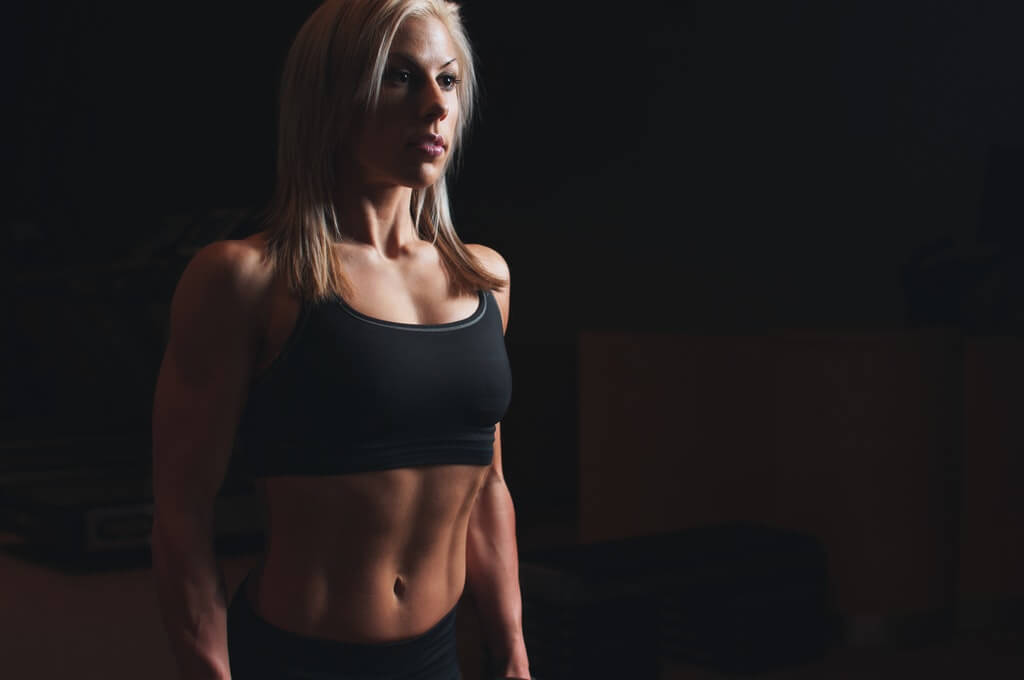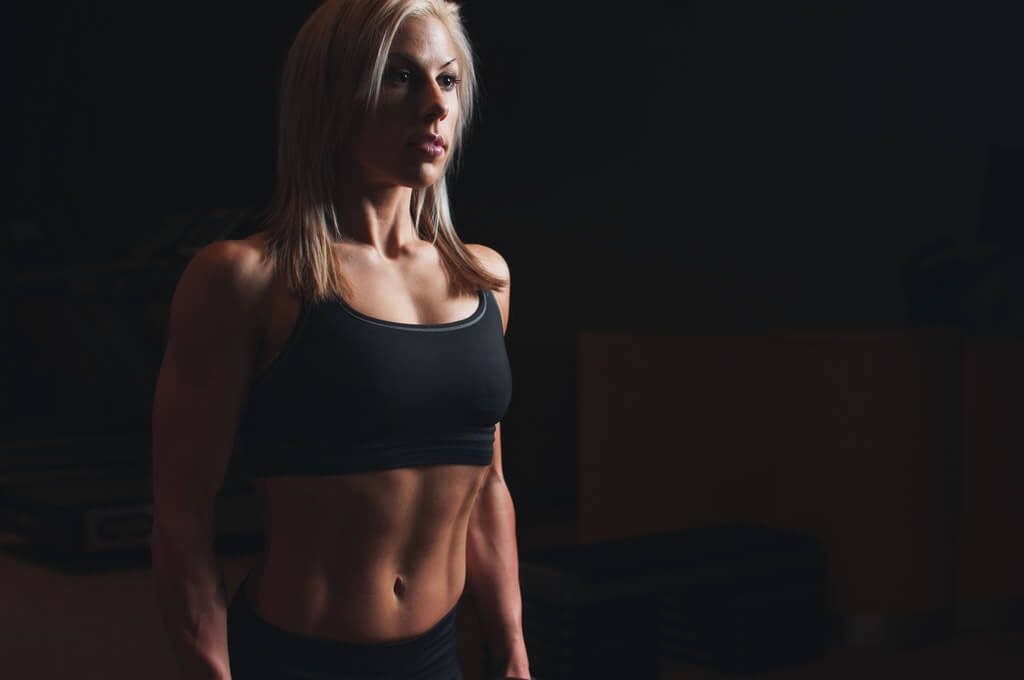 Fit
This is essential. Wearing a bra that doesn't fit you perfectly could cause pain and eventually injury.
Pay attention to the specific sizing charts listed with each bra and re-measure yourself if you have to.
Sizing often varies between manufacturers, unfortunately.
Designed for Your Activity
Do you run? Are you into CrossFit? Or do you mainly cycle or lift weights?
Knowing what level of support you need will help you to decide whether you need a high impact or medium impact sports bra.
We have a couple of articles dedicated to the best sports bras for CrossFit and bras for running so if you're interested in getting an idea of what suits those sports specifically then be sure to take a look before you make your choice.
A Shape that Flatters You
You've got to feel comfortable in your workout gear! I know it's all about looking good, but bras come in different shapes.
Some women prefer a pointier look, some prefer to squeeze their girls into submission as much as possible.
Choose a bra that you like the shape of so you can feel good about yourself while you're working out.
That wraps up the checklist of what to consider when choosing the best sports bra for big breasts.
At the end of the day, the two most important things are comfort and support. Everything else should follow automatically after that.
But, for big breasts, choosing a bra with reinforced, separate cups, really is a game-changer. So be sure to bear that in mind!
No more doubling up of crop-top style sports bras designed for B cups, please. We can do better than that!
FAQs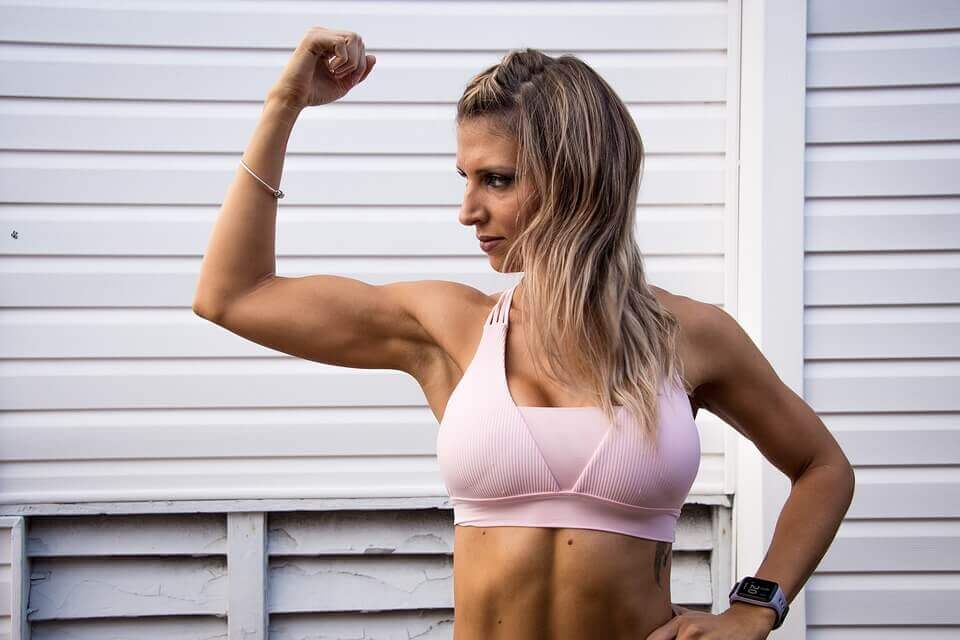 What is the Difference Between Sports Bra and Normal Bra?
A sports bra is designed to be a lot more supportive than a normal bra, preventing bounce and allowing you to exercise or play sport without having to worry about breast pain.
Is Sports Bra Good for Large Breasts?
Sports bras that are specifically designed for large breasts are good for large breasts. Some sports bras are excellent, but what works for a B cup will probably not work for a DD.
So, the best sports bras for DDs and up absolutely need to have the criteria listed above.
What is the Best Sports Bra for a Large Bust?
This depends on your specific shape and size. But Enell and Panache sports bras are widely considered to be some of the best. All of the bras on the above list are great choices.
Can Sports Bras Flatten Breasts?
Some sports bras support by compressing the breasts against your chest which can appear to flatten them.
However, the effect is not permanent and lasts only as long as you're wearing the bra!
Is Underwired Bra Good for Heavy Breasts?
Not everyone loves underwires, and they do have a habit of popping out and inconvenient moments.
But, they do provide excellent support and are often necessary for heavy breasts. So, yes, underwires are good for heavy breasts.
Why are Sports Bras so Tight?
Sports bras need to be tight in order to provide enough support. If they're too loose, you'll still end up bouncing all over the place when you run.
Do Sports Bras Stop Bouncing?
Good ones that fit you properly do, yes!
They'll never stop the bounce completely, but they should reduce it to a level that keeps you comfortable and eager to keep exercising.
Hopefully, you now feel confident choosing your next best sports bra for large breasts, so you won't have to worry about any painful bouncing in your upcoming workouts.
If you're still interested in good sports bras but think you maybe don't need one specially designed for large breasts, after all, be sure to have a read of our list of the best high impact sports bras.
And, make sure you're subscribed to our newsletter before you leave so you can be sure to be one step ahead of all the latest reviews.