TOP 14 Best Sports Bras for CrossFit – Recommendations and Reviews for 2023
Ladies listen up!
I know it's a struggle to find the best bra for CrossFit.
As a CrossFit athlete myself, I know how hard it can be to find a bra that performs well and looks cute.
You need a bra that can hold everything down under impact while looking really cute at the same time.
Some of you ladies want a bra that can be worn as is with no top or tank, because let's be honest, you get hot and sweaty and going shirtless is so much more comfortable.
This hand-picked, carefully-curated lineup has something for every lady, bras you can wear without a shirt, bras for large breasts, small busts, wide backs, muscular backs, plus size, etc.
Let's get to it!
TOP 14 Best Bras for CrossFit 2023
Born Primitive Rhapsody Sports Bra 2.0
Review: Top-Rated CrossFit brand Born Primitive heard their customers and made a few adjustments to this updated Rhapsody 2.0.
It now has an extended front for a wee bit more coverage on the bottom, and a slight V neck in front. It still has the same cute strappy design in back with the same medium level support as the previous model.
Pros
A little more tummy coverage than the previous model.
Cut large enough for ladies with large traps.
Ideal for A to DD cup size – keeps everything in place.
Cons
Runs a tad small or tight.
Takeaway
Top quality CrossFit bra you can wear without a top – cute on its own with plenty of room for muscles and support for the ladies.
Reebok Wireless Racerback Sports Bra
Review: This cute and affordable Reebok CrossFit sports bra works supports ladies between an A and D cup by offering medium support.
It is not only attractive, but offers a little extra coverage so you feel secure, even if your workout calls for jumps or other dynamic moves.
This bra is padded, but padding is removable, and best of all – it's affordable.
Pros
Wide, comfortable band keeps bra in place.
Good coverage, wider on the sides compared to other CrossFit bras.
Available in several stylish colors.
Cons
Runs large.
Not enough support for larger busted gals.
Takeaway
A cute, comfortable CrossFit bra with good coverage from one of the best-rated brands, Reebok.
Brooks Uplift Crossback Bra
Review: The Uplift Crossback bra is designed specifically for women in the C to D cup range. It offers ample support, bounce control and coverage so you will always feel secure.
The Crossback racerback style conceals the bra under a tank, but some ladies also like wearing this bra without a top because it has decent coverage and could pass for a crop tank top.
Pros
Dry layer and mesh panels allow your skin to breathe.
Ideal for cup sizes C to D.
Cute enough to wear on its own.
Easy off back clasp.
Cons
Tends to create a uniboob look.
Takeaway
These Uplift bras are supportive, comfortable and easy to get off post WOD.
This Brooks Uplift bra works great for CrossFit, but it also makes a fine running bra. If you are involved in both sports, you might appreciate a list of the best running bras I put together here.
Virus ECO31 Stay Cool Elite CrossFit Bra
Review: My favorite aspect of this bra tank is the Cool Jade fabric which keeps you cool and dry as your workout heats up. The mesh panels allow you to stay dry and the overall design is very cute.
The higher neckline provides coverage and comfort while lifting. This top can be worn on its own and looks completely at home in any gym or box.
Pros
Mesh panels help you stay dry.
Cool jade fabric is cooling.
Cute design – looks like a workout tank and supports like a bra.
Cons
Not great for ladies with large breasts.
Takeaway
This tank fits right in at the gym or box, is cooling and keeps you dry and provides style and functionality you need.
Vull Sport Basics Breath Sports Bra
Review: The best feature of this CrossFit bra is the high neckline which protects your collar bones and chest from the bar as you lift heavy.
That high neckline also insures nothing ever falls out, even if your WOD happens to take you upside down – I'm looking at you handstand pushups!
Pros
High neckline conceals and protects.
Really cute crosshatch back keeps you cool.
Stylish and conservative enough to wear without a top.
AA to D cup.
Cons
Takeaway
The best bra for CrossFit on barbell days when the WOD calls for heavy lifting, high neckline protects and covers.
Anita Women's Extreme Control Sports Bra
Review: This popular and highly recommended sports bra is a favorite of female CrossFit athletes. It's no surprise to me, I think the bra is great!
I love the back close, it's easy to get on and off like a normal bra. It keeps the girls tucked away safe, without creating a uniboob look and the fabric is very cooling and breathable.
It also washes well and is long-lasting.
Pros
Mesh panel and sport tech fabric keep you cool and dry.
Wide comfortable straps won't dig in.
Individual cups provide secure fit with a flattering look – no boob smash here.
Cons
Bra runs a tad small – check the size chart carefully.
Looks too bra-like to wear without a shirt.
Takeaway
High impact support, excellent breathability, and extreme comfort.
Triumph Triaction Underwire Racerback Bra
TRIUMPH Women's Sport, Brown, 34B
80% Polyester, 20% Spandex
Imported
Hand Wash
Foam-lined, underwire sports bra designed for high-impact activities
Cushioned, fully adjustable straps with modern racerback detail
Review: This Triumph Triaction underwire bra is a favorite for female CrossFit athletes with large breasts who need serious support.
If your WOD calls for double unders, box jumps, thrusters, wall balls or any other jarring or high impact movement, you will be glad you wore this supportive bra to keep the ladies in place and minimize bounce.
Pros
Underwire for supreme support.
Ideal for larger breasts.
Lightly padded to conceal nipples.
Cons
Can feel a bit warm on hot days.
Takeaway
A supportive underwire bra that is good for ladies with large breasts.
Berlei Women's Sf2 Medium Impact Contour
Review: This high impact underwire sports bra comes in a variety of sizes and has mesh panels built into the underside of the breast for excellent ventilation.
The straps can be worn straight, or as a racerback to conceal under your favorite CrossFit tank, and the cotton-lined cups feel super comfortable against your skin, even as your workout gets hot.
Pros
Mesh underbust panel provides cooling relief.
Cotton lined cups are comfortable while working out.
Underwire is not noticeable and provides excellent support.
Cons
Runs small, order a size up.
Takeaway
A comfortable underwire bra that holds everything in place.
Berlei makes a great sports bra that works well for CrossFit, and other sports. If you participate in multiple sports, you might be interested in this list of the best sports bras for all sports that I put together.
Freya Active Underwire Molded Sports Bra
Freya Women's Sonic Underwire Spacer Molded Sports Bra, Carbon, 36DD
High performance with average coverage, wide wired comfortable supportive fit
Coolmax fabric in inner bra and microfiber wicks away moisture while mesh panels provide cooling comfort. Breathable spacer fabric keeps you cool and dry. Mesh panels for cool comfort
Double lined for firm support. Firm flat bottom band for good anchorage
Built up padded strap and soft hook and eye for extra comfort and support
Review: If you want a bra that is box-jump proof, this is the one. This bra is recommended by women CrossFitters of all sizes because it keeps your breasts in place, and keeps you comfortable when you jump, run and move.
Seriously, you can workout, worry-free with this thing on. The bra also separates the breasts well and prevents sweat from pooling between, leaving you feeling cooler and drier.
Pros
Uses encapsulation instead of compression to support each breast individually.
Padded straps won't dig into your shoulders.
Clip can turn straps into racerback style to conceal straps under a tank top.
Great bra for wide backs – wide set cups.
Cons
The cups are wider set than other brands, which may or may not work for you, depending on your shape.
Takeaway
A comfortable sports bra for high impact movements that keeps you cool, refreshed and supported.
Victoria's Secret VSX Sports Bra
Review: This Victoria's Secret sports bra is attractive enough to wear without a tank top or shirt because it has pretty good coverage and a racerback style that makes it look like a crop tank on its own.
It has two layers of support and uses encapsulation and compression together to lift, separate and support the breasts so they will not move. All this and they make you look great too!
Pros
Boosts and lifts the chest – very attractive.
Uses both encapsulation and compression to prevent bounce.
Ironclad – your boobs won't move.
Cons
Hard to get fastened, even though it's a zip front.
Takeaway
This attractive sports bra is fine worn on its own and really gets the job done in terms of minimizing movement, even for larger breasts.
Panache Women's Underwire Sports Bra
Panache Women's High Impact Underwire Sports Bra, Black, 36DD
AMAZING COMFORT: Our sports bra is designed to fit like a normal bra, not like other sports bras that just compress your breasts. We also designed ours with ventilating mesh panels on the shoulders and bust as well as cushioned shoulder straps
MAXIMIZE SUPPORT: The 5021 sports bra individually encapsulates each breast - lifting, shaping and supporting them from all sides. The adjustable back converts this into a racerback bra, which is great for running
MINIMIZE BOUNCE: By encapsulating the breasts rather than simply strapping them down, Panache sport comfortably reduces 'bounce' by an amazing 83%, whilst fitting and feeling like a normal bra. Reducing the bounce helps maintain shape and perk
GREAT FOR HIGH IMPACT SPORTS: Our bra is made to support your during any exercise, including yoga, basketball, or CrossFit. We want you to get the most out of your workout with the best activewear bra for regular and plus size women
FIND THE PERFECT FIT: Panache strives to accommodate all shapes and sizes, but please note that our sizing is listed in UK sizes. You can use our sizing guide, conversion chart in the product images to get a perfectly fitting bra
Review: Panache is another popular bra for CrossFit women. This underwire sports bra is full coverage, keeps movement to a minimum, excellent for large or heavy boobs, and can be clipped into a racerback style to hide those straps under a tank top.
Pros
Perfect for large or heavy boobs.
Mesh panel between the breasts is cooling.
Lifts and separates breast to prevent sweat from accumulating.
Cons
A bit matronly looking, best worn with a shirt or sports top.
Takeaway
The dream bra for CrossFit ladies with large, cumbersome breasts that want to eliminate movement.
90 Degree By Reflex High Impact Sports Bra
90 Degree By Reflex High Impact Full Support Racerback Sports Bra - Black - Small
Interlink Fabrication. Made from 86% Polyester and 14% Spandex, this high impact bra is comprised of our advanced Interlink Fabric technology. Designed with a compression fit to hold your chest down while jumping, running or stretching, this athleisure bra will keep you in place through any physical activity. The wide elastic band provides additional support and overall comfort. This scoop neck bra is made with four-way stretch fabric to move with you and allow a full range of motion.
Stylish Ladderback Design. Be the star of the gym in this fashion-forward bra with a ladder back design. Trendy slits of fabric go across the back from the top, attaching to the bra straps, all the way to the bottom of the band. Not only does the open back add stylish details, but it also adds breathability and ventilation so you don't overheat in hot yoga or pilates class. Best of all, this bra is moisture wicking so you're sure to stay cool and sweat free during your most hardcore workouts.
Removable Padding. This wireless sports bra is versatile and perfect for women of all bust sizes. Whether you want extra support, definition, or you're bustier and want less of a boost and more coverage, this is the bra for you. The bra has two layers of fabric with open slits so you can remove and put back in the support cups with ease from washing to wearing. You'll never sag or bulge in our high-quality athletic bra, and no underwire means no poking or digging into your sides.
Reliable, Well-Loved Brand. 90 Degree by Reflex is a lifestyle brand that combines style, comfort, fit, and performance. The high quality activewear is both affordable and accessible, perfect for fitness enthusiasts and everyday athleisure. Rest assured that you will receive a quality product from Amazon's #1 seller of workout apparel. Consumers love our products and reviews speak for themselves. Get on board with the brand that men and women are raving about!
30-Day Money Back Guarantee. 90 Degree by Reflex's products are sold with a 30-day, full-money-back warranty and can be returned no questions asked. Add this ladderback bra with straps to your cart by clicking the "Add-to-Cart" button and buy it now. We run out of inventory quickly, so order now while colors and styles last.
Review: This 90 Degree by Reflex high impact sports bra is great for all size breasts, looks cute with or without a top, is supportive enough to run and jump in, and the back design is so cute, you will get many compliments when you wear it.
Plus, it's easy to get over your head to get off, unlike some other shelf style sports bras.
Pros
Cute ladder design in back – can be worn without a top or tank.
Good for small, medium and large-busted ladies.
Offers good support and impact control.
Cons
The elastic band gets twisted in the wash.
Takeaway
Cute, supportive, shelf style sports bra with good impact control for all size breasts.
Are you looking for a good sports bra with the ultimate impact control? I created this list of best HIGH IMPACT sports bras with that feature in mind.
Born Primative Luna Sports Bra
Review: This super stylish CrossFit bra is as good looking as it is functional. It has a cooling mesh panel that sits between the breasts airing you out as your workout heats up.
The style is designed so that you can wear it without a top or tank and fit right in at the box, and the wide straps are comfortable and adjustable.
Pros
Cooling mesh between breasts.
Wide straps are adjustable.
Includes removable pads – helps prevent headlights.
Cons
Not ideal for larger breasts.
Takeaway
This cute, cooling Luna bra is the best bra for CrossFit because it holds everything in and looks great on its own.
Enell High Impact Sports Bra
ENELL Women's Full Coverage High Impact Sports Bra (100) (US, Numeric, 0, Regular, Regular, Black)
SUPPORT, STABILIZE, SECURE - The ENELL SPORT is scientifically designed to support, stabilize, and secure. We are determined to provide sports bras that well-endowed women can count on when and where it matters most.
FINDING YOUR PERFECT FIT - For the very best fit, please do not refer to your current bra size. Sports bras for large breasts require exact measurements to ensure a bounce-free fit. While wearing your everyday bra, take your actual measurements around the fullest part of your bust and around the rib cage directly under your breasts. Then refer to the ENELL size chart to see which ENELL size is your perfect fit. If in-between sizes, size down.
SNUG IS SECURE - ENELL fits differently than any other bra. It may seem too small, at first, but a snug fit ensures superior support and comfort. ENELL bras feature our signature hook-and-eye front closure, stabilizing bottom band, and comfortable wide straps that don't dig or pinch to keep you secure, supported, and comfortable during high-impact activities.
MOVEMENT CONTROL BAND FOR EXTRA SUPPORT - The wide elastic band provides superior support to help reduce back pain, boost your posture, and keep the girls where they belong.
LYCRA SPANDEX AND MOISTURE-WICKING NATUREXX FABRIC - Made from high-quality LYCRA spandex that will not only help keep the girls more secure, but also more comfortable. NATUREXX transfers moisture away from your body and prevents heat build up, keeping you cool and dry.
Review: The Enell Sports Bra is called the "body armor" bra by female athletes with really large breasts. If you are an athlete who has large breasts that get in the way when you are trying to lift, jump, and move, you will appreciate the absolute full coverage, no-nonsense design of this bra.
Sure, it's not a bra you can wear without a top, but it is the one to choose if you want to work out pain-free – with the confidence in knowing your boobs will not move, even if they are very large.
Pros
Great for really large breasts and plus size athletes.
Boob Armor – will not budge – prevents movement.
Long-lasting – high quality – great investment.
Cons
Not the cutest bra in the world, but it works well!
Takeaway
If you need stability, security and support and you have really big boobs you want to put on lock down, this is your ideal CrossFit bra.
Quick Buying Guide to the Best Bras for CrossFit
Here are a few things to consider before you decide on the best CrossFit bra for you.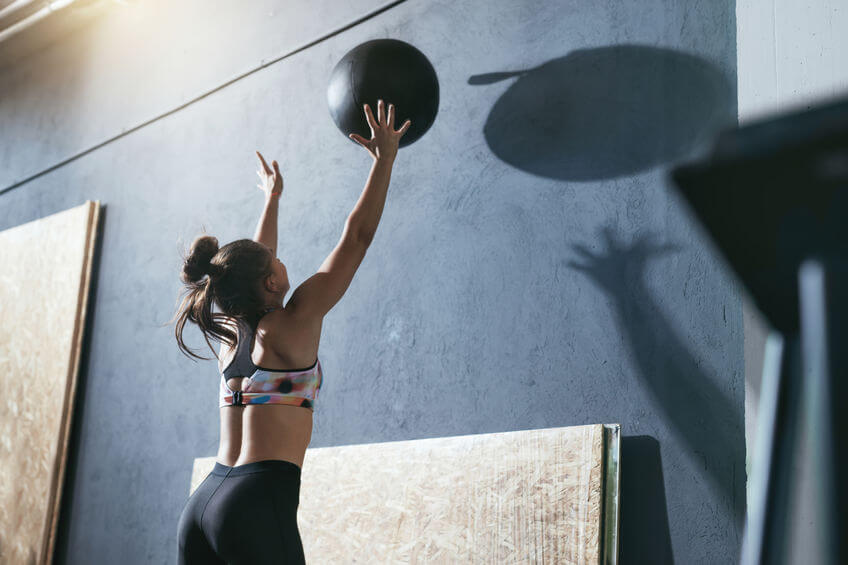 Should My CrossFit Bra have Padding?
Personally, I like a touch of padding because I find it covers headlights and I feel more confident and covered wearing a bra with a little padding.
Some ladies don't like padding because it adds extra volume, and certainly, a heavily padded push-up type bra is not the best for the gym.
Heavy padding can get hot, and the point of a sports bra is hold the ladies in and keep them under control, not create visible cleavage which is the goal of heavy padding.
Of course, your preference is what really matters, but the padding is a factor to consider.
How do You Feel Wearing it? Test it Out!
Try the bra while running, for box jumps, wall balls, thrusters, double unders, weight lifting, and handstands.
Do you feel safe and secure doing these dynamic movements? If so, you may have a winner.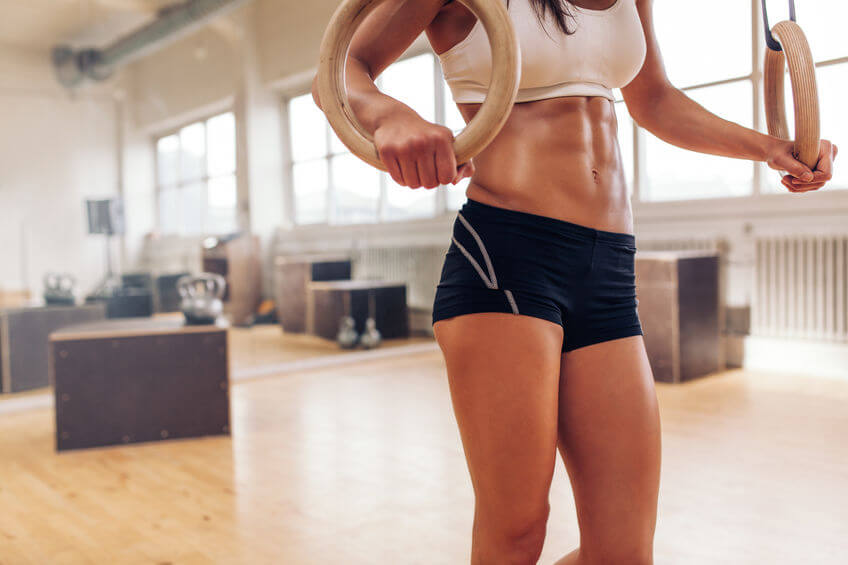 What CrossFit Bra Style is Best for Me?
There are several style bras:
CrossFit Bra that can be Worn without a Top
There are CrossFit bras you can wear without a top. These are popular with many female athletes.
They look really cute and they keep you cool during your workout. But some ladies may be uncomfortable showing a lot of skin, and this type of bra shows a lot of skin.
Shelf Style Compression Sports Bra
There are shelf style bras that use compression to hold you together. These are the traditional style sports bras that you put on over your head.
They can be a pain to get off when you are hot, sweaty and sore after a workout and they tend to give you a flattened, mono boob look I am not a fan of.
Sports Bras that Fit like Normal Bras
There are sports bras that are more like regular bras with moisture-wicking, quick-drying, light sports-specific material that is ventilated and quick drying.
These bras may also have other sport-related features like wider straps and strategically placed mesh panels.
These bras are easier to get on and off, and usually quite supportive and comfortable. The downside is that this type almost always needs to be worn with a top or tank.
CrossFit Sports Bra Recommendations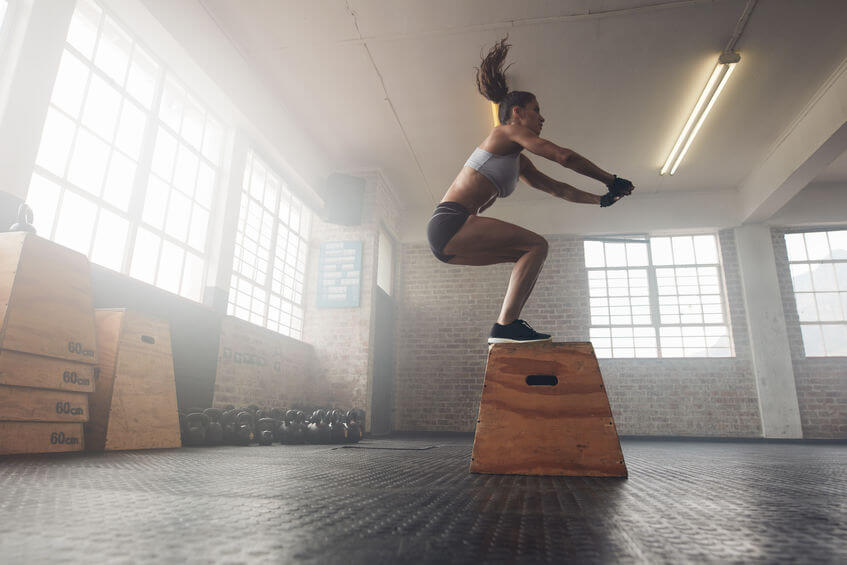 Can You Recommend a Good Bra for CrossFit for Ladies with a Wide Back?
Freya Women's Active Underwire Molded Sports Bra has wide set cups and 4 rows of hook and eye closures which really anchor the bra, and a wide range of sizes so you can get a custom fit.
Remember, always measure your rib cage right under the breast to get the right width for your back.
Can You Recommend a Good Bra for CrossFit for Ladies with Really Large Breasts?
Enell High Impact Sports Bra is the bra for women who have large breasts and experience pain, excessive movement and exposure with other bras.
The Enell bra locks your breast down, keeps them secure and concealed and gives you the confidence to do any exercise without worrying about what your boobs might do.
Article Summary
I hope you find your best bra for CrossFit in this lineup.
While you are in the market for CrossFit gear, why not take a look at the best CrossFit shoes for women and the best women's CrossFit shorts to round out your workout wardrobe.
If you love garage gym gear and reviews, sign up for the newsletter and never miss another CrossFit gear or equipment review again.
[starbox id=katielynwriter]