TOP 15 Best Bosu Balls & Balance Trainers Reviewed + Buyers Guide 2023
I'm sure you have heard about the benefits the Bosu ball offers.
The Bosu Ball offers a lot!
Improved balance, recovery from injury, stability training, and core strengthening to name a few.
Even neuromuscular training, or exercises that train the nerves and muscles to react and communicate can be had by using a Bosu ball.
But you may be wondering, with so many options and alternatives out there is this:
What is the best Bosu ball or balance trainer for me? How do I choose the right Bosu ball?
I have what you need!
A review of the top 15 Bosu balls and balance trainers, plus a Bosu ball buying guide to help you choose the right Bosu ball for you.
TOP 15 Best Bosu Balls & Balance Trainers 2023
Guide to Bosu Balls and Balance Trainers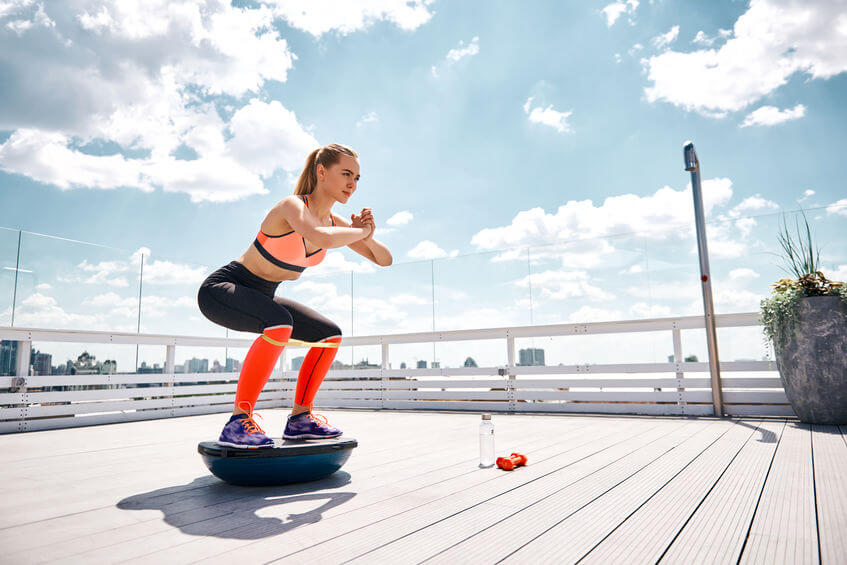 What is Bosu Training? What is a Bosu Ball Used For?
The Bosu ball is a half ball, or hemisphere, attached to a flat, solid platform.
The Bosu ball can be used dome side up or platform side up. Exercises using the Bosu ball train the core, increase balance and rev up muscle activation and help increase neuromuscular control.
Bosu balls have been gaining popularity because they are used in gyms around the world as a part of a group class. A group class is a great way to stay motivated to get fit, and I highly recommend one.
If you have toyed with the idea of signing up for a group class, I have a review of the top 10 group fitness classes.
Is a Bosu Ball Worth the Money?
I admit it, the brand name Bosu ball is a bit pricy, so you may be wondering is a Bosu ball worth the money?
If you are serious about increasing your balance and working your core muscles, yes, a Bosu ball is worth it.
There are good Bosu ball alternatives out there, and I have listed several in my to 15 best Bosu ball and balance trainers above.
The two I think are on par with the Bosu trainer are the Beleboom Balance Trainer Ball and the Devebor Half Ball Sport Balance Trainer. Both are less expensive than the brand name Bosu ball, and have virtually the same quality.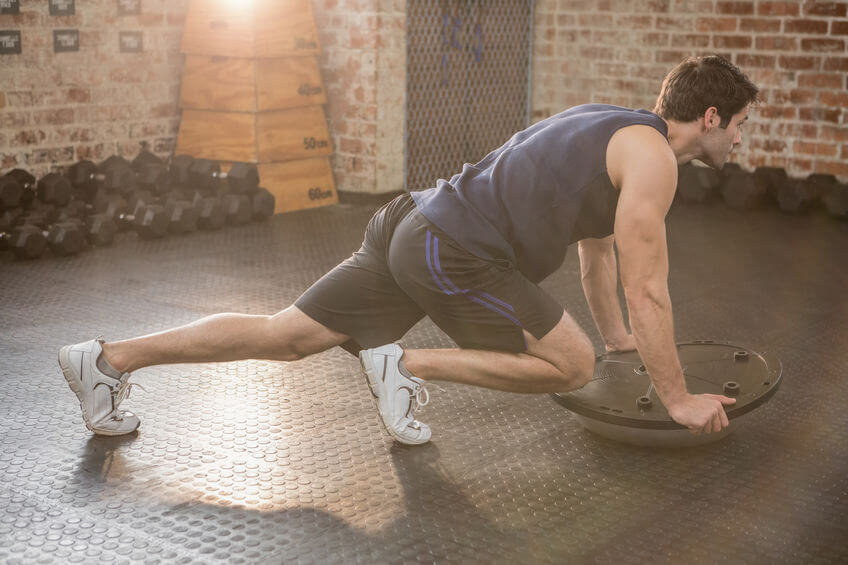 Why is a Bosu Ball Good? What does a Bosu Ball do?
Where the Bosu ball really shines is its ability to improve your balance and core stability.
If you exercise or do sports that require balance and core stability, like gymnastics or dance, or you work out on uneven or unstable surfaces, like roller derby, ice skating or trail running, a Bosu ball can really help your performance.
It is also good for physical therapy, recovering from injury and it is good for folks in their golden years who are looking to regain or maintain balance.
In either of these cases, I say yes, a Bosu ball is a good investment.
What Exercises can You do with a Bosu Ball?
The number of exercises that can be done on a Bosu ball are seemingly endless.
You name it: squats, mountain climbers, planks, push-ups, burpees, sit-ups, and lunges. You will never get bored with a Bosu ball.
Need some ideas on what to do with your new Bosu ball? Get the most out of your Bosu pall with these great exercises.
How do I Choose the Right Bosu Ball or Balance Trainer?
What Size Bosu Ball do I Need?
The vast majority of Bosu balls and balance trainers have a dome diameter of about 23 inches.
The one exception is the Bosu Sport Balance Trainer – Travel Size which is just under 20 inches in diameter.
I recommend the 23-inch variety to give yourself some space to work, but if you need a smaller Bosu to travel, by all means, invest in the smaller travel edition.
How Much Should I Spend on a Bosu Ball or Balance Trainer?
At the end of the day, you get what you pay for. Expect to spend between 90 and 150 dollars on a good Bosu trainer.
If you can afford it, avoid balance trainers that use plastic clips to hold in the resistance bands, and spend a few more bucks on the balls that use metal clips. Brand name Bosu balls do not have resistance bands, so you can forgo using them altogether if you wish.
What Texture Should I Pick for My Bosu Ball or Balance Trainer?
One of the HUGE differences between Bosu balls and balance trainers is texture.
Some are smooth and can be slippery, while others, like this Finer Form Yoga Half Ball have a non-slip surface I really like.
For obvious reasons, I prefer the textured version, because the last thing I want when standing on a ball is to slip off it.
Should I get a Bosu Ball with Resistance Bands?
Maybe.
As I said, the original Bosu ball does not include resistance bands, and resistance bands are not necessary to get the balance and core strengthening benefits of the Bosu ball.
Resistance bands are something nice to have, but not a requirement in my book.
Bosu Ball FAQs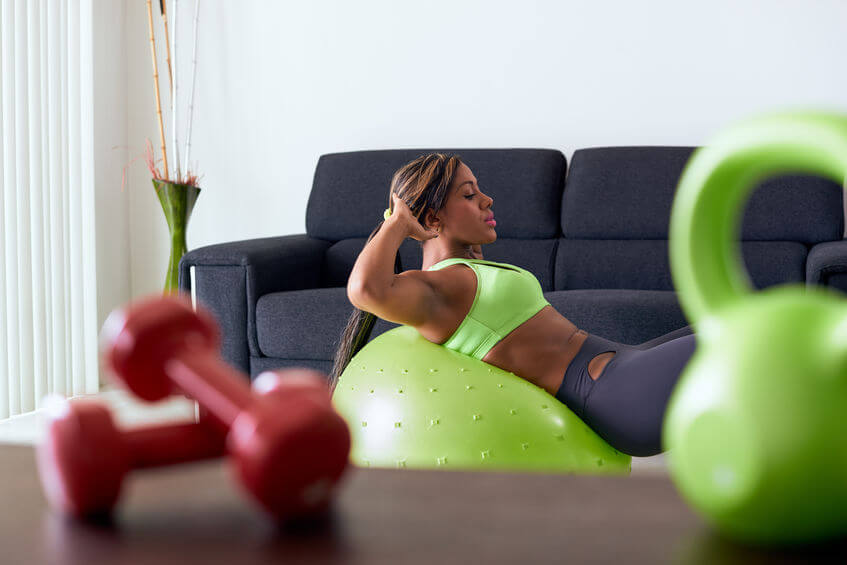 What Can I Use Instead of Bosu Ball? Bosu Ball Alternatives
Thanks to the free market, there are about 20 different companies who make Bosu ball knockoffs, or Bosu ball alternatives that are very similar to the original Bosu ball.
Some of these Bosu ball alternatives are on my list of the top 15 best Bosu balls and balance trainers above. If they made my list, it's because I think they are good.
Another alternative to Bosu balls and balance trainers are exercise balls. They can be used to improve balance as well.
Like the idea of an exercise ball? Check out my reviews of the best exercise balls.
Does Bosu Ball Improve Balance?
Yes.
But don't take my word for it!
This study showed trained athletes who used the Bosu ball for a period of six weeks, increased their performance on a balance test at the conclusion of the study.
How Much Weight can a Bosu Ball Hold?
This depends on which Bosu ball you get. The Bosu Balance Trainer Original holds 300 lbs, while the commercial version Bosu Pro Balance Trainer holds 350 lbs.
Keep in mind, this weight takes into consideration dynamic exercises, like jumping, so the Bosu ball can actually hold a user who weighs up to 300 lbs, plus the force from that user jumping, without bursting.
What Muscles do Bosu Squats Work?
Bosu ball squats work the same muscles standard squats do: the glutes, hip flexors and quads, mainly.
Secondary to those muscles, Bosu ball squats work the hamstrings, abs, and calves.
Where the difference comes in is the extent the secondary muscles are used. A Bosu ball squat will activate secondary muscles to a greater extent.
How do You Clean a Bosu Ball?
It is simple to clean your Bosu ball.
Use a mild cleanser that is safe for your skin and the PVC plastic the dome is made from. Dip a rag in mild dish soap diluted in water and use that to clean the surface.
How Much Should I Inflate My Bosu Ball?
Most Bosu balls have a height requirement so you need to check the owner's manual carefully to see how high to inflate the dome.
Many Bosu balls and balance trainers say to inflate the dome to 8.5 inches.
You measure based on height by placing the ball dome side down. Then measure from the top edge of the platform to the floor.
That sums up our top 15 best Bosu balls, and I sure hope you find the perfect Bosu ball or balance trainer for you.
If you are looking for all in one, whole-body workout systems that don't cost much or take up much space, take a look at our review of the best TRX and suspension trainer reviews.
Love fitness gear and home gym equipment?
It's our passion and we would love to share more with you.
Sign up for the Garage Gym Power newsletter to get notified of new reviews and garage gym news.