Best Cable Crossover Machine Guide & Pulley Machines Reviews 2021 + Workouts
Looking to build strong chiseled Pecs?
Maybe you have been thinking of adding a cable crossover machine or functional fitness machine and are trying to decide how to choose the best crossover machine.
Get This:
Cable Crossover machines work more than the Pecs, in fact they can be used to work every major muscle group.
Just Google Cable Exercises "back" and 7 different exercises pop up!
It just goes to show how versatile a cable machine is. It is a well rounded piece of equipment and an excellent addition to a home gym.
Picture

Cable Crossover Machines

Our Rating

Available

Editors
Choice
PowerLine PCCO90X Cable Crossover

Valor Fitness BD-61 Cable Crossover Station

XMark Functional Trainer Cable Machine

Body-Solid Functional Cable Cross Machine

Freemotion Dual Cable EXT Crossover
So, What's next?
We want to show you why we love the cable crossover and functional fitness machines so much. We have compiled a short list of workout videos using the cable crossover and functional fitness machines, plus explained a few differences between certain models and styles.
We outline what we believe is important to look for when choosing a machine, and then review 7 of the most popular machines available today.
Ready to get down?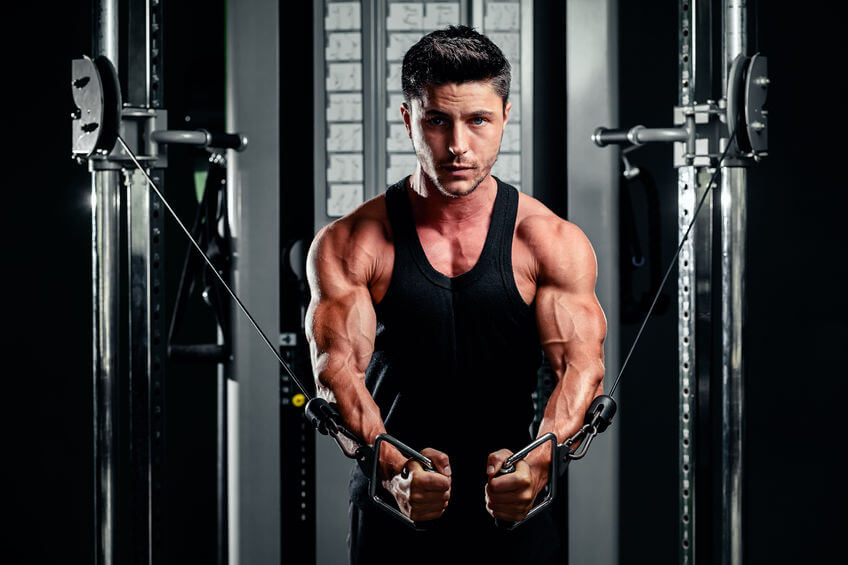 Best cable machine workouts
These workouts are sorted by muscle group and/or sport targeted.
The How To and What not to do:
How do the Cable Crossover
Lance from Livestrong demonstrates the cable crossover. This video is perfect for the beginner, as he addresses every detail the beginner needs to know before performing the exercise.
What NOT to do
Vince from V Shred explains the mechanics of Chest Fly's and how to activate the CHEST muscle instead of other shoulder and back muscles.
The proper form Vince demonstrates will show any Cable Crossover machine users how to maximize chest activation and efficiently use their workout time to meet their goal of defined, strong chest muscles.
Best cable machine workouts for Pecs
How to Build Lower Pecs
This is another video by Vince of V Shred. What we like about this video is Vince explains the different chest muscles in a little detail before he get is into the exercises.
This is important, because in order to properly work a muscle, it is best if you know how that muscle works, and can visualize it in action.
The best weightlifters and body builders know that lifting is NOT a mindless activity, at least, not if you want to be the best, and use your time efficiently.
How To: Upper, Middle and Lower Cable Chest Fly
Victor explains proper form for the cable crossover and cable chest fly which address the upper, mid and lower Pecs.
Lower Body Workouts with a cable Machine
Cable Ankle Strap Exercises
Katherine Vega shows us some moves we can do with the ankle strap that is included with most systems, in this short lower body workout video.
Full Body Routines
Full Body Workout with a Cable Machine
Alfonso with FitFluential shows the athlete how to use one simple machine to get a full body workout. Includes chest, back, biceps, triceps, glutes and legs.
Workouts for the back
Get a Wider back with a cable crossover machine
Jim Stoppani offers us a novel way to build a HUGE back using the cable crossover machine. He also offers one sneaky tip at the end to modify a fixed weight stack.
9 Killer Back Exercises Just what it says, 9 back exercises, with heavy focus on the lats.
Cable Machine Abs Workout
3 Cable Exercises for ABS
Eric demonstrates and explains proper form for three abs exercises. Its like a personal trainer from home. Highly Recommended abs video.
Build your Obliques The woodchopper is a very effective obliques exercise. Scott demonstrates proper form and explains the move completely so that you TRULY target the oblique's, which is actually challenging to do.
Sport Specific workouts
MMA Training Workout with a Cable Machine
Naudi Aguilar gives a functional training using a cable machine. The audio is not great, but the video demonstrates the versatility of a cable machine and proves it can be used for just about any athlete in any sport.
Why do some Cable Crossover machines feel heavier with the same amount of weight?
We hear this question a lot.
On one machine, or at one gym, the athlete can lift 50 lbs, but o a different machine, only 25.
So what gives? Why do machines vary so much?
As it turns out, this is an important concept, and it has to do with the pulleys on machines acting as levers and carrying some of the weight.
Single pulley vs. double pulley. Makes a ton of difference.
What you need to understand about the pulleys on cable crossover (and other machines) is that, the more pulleys that are used to pull the weight, the less heavy the weight will feel.
Lee Hayward explains this in detail, and it is an important concept to grasp before you purchase a machine and are left wondering why it feels so much different than the one at the gym.
How to choose the best cable Crossover machine for your home gym?
What to consider before you chose the best cable Crossover machine for your home gym:
Ratios
This has to do with the amount of weight you select, vs. the amount of resistance your muscles actually feel.
Basically this:
The more pulleys a machine has, the less weight you will feel on the muscle, aka resistance.
For Example:
A 2:1 ratio means you load two lbs of weight, and get 1 lb of resistance.
A 1:1 ratio means you load one pound and feel 1 lb of resistance.
THIS finding surprised us:
Commercial grade machines, the kind you find in gold gym or 24 hr fitness, usually have the highest ratios. So you could load 75 lbs, and only feel 25 lbs. Crazy right?
TOP 7 Best Cable Crossover Machine Reviews 2021
Powertec Fitness Functional Trainer Deluxe
Review: This Functional fitness trainer is a game changer because it can accept weight plates or be upgraded to use weight stacks.
But that is not all! It can be loaded with up to 1000 lbs. It uses a combination of a cable system with easy load slide rods for precise smooth movement.
Pros
extra "weight horns" allow you to add weight to specific moves.
Features ring stoppers to control the weight and keep it from falling
Nearly 80" wide, perfect for Cable Crossover
82" high
400 lb capacity chin up bar
Cons
Weighs sold separately, and weight stacks require an upgrade.
Our Take
Hardcore Home Gym equipment. If you are looking to beast, this is the machine for you.
Bonus Video:
This video demonstrates a lot of exercises done on the Powertec FTD. This gives you a good idea of the variety available with this machine.
PowerLine PCCO90X Cable Crossover
Review: This budget priced home gym Cable Crossover machine can be used with standard and Olympic weight plates, offers a full 180 degree range of motion, and you can work every area of the body with this machine.
Pros
Includes ankle strap
82" high, assembled
Can hold up to 40lbs on one side
Smooth clean movement
1:2 ratio. For every 2 pounds loaded on the machine, you will have 1 lb of resistance
Cons
One high and one low pulley position, pulley is not adjustable
Our Take
Best cable crossover machine for home gyms on a budget.
Body-Solid Functional Cable Cross Training Center
Review: The Body Solid Cable crossover includes weigh stacks on both sides with 160 lb stacks on each side.
Pros
1:2 ratio. For every 2 pounds loaded on the machine, you will have 1 lb of resistance
60" between Pulleys
19 pulley adjustments
Smooth as any commercial Machine
Pull up bar with tow possible positions
Cons
Stacks use numbers instead of weight; however each plate is 10 lbs, so it is easy math to find the weight you are using. Limited to 160 lbs on each side
Our Take
This s a quality home Cable Crossover machine with a space saving footprint that is compact without being too narrow.
BodyCraft HFT Functional Trainer Home Gym
Review: This functional trainer includes cable crossovers and so much more.
This machine includes a long and short bar, triceps rope, multi grip chin bar, strap for assisted pull ups, ankle straps, and two handles for the cable crossovers and more.
Pros
31 height positions, very adjustable
150 lb stacks on either side, 2: 1 ratio, every 2 lbs loaded, gives 1 lb of resistance
Stack covers, a nice safety feature
Compact footprint
Cons
Will need to stand in front of the machine for cable crossovers, as opposed to standing between the columns
Our Take
High Quality Functional training machine, with hundreds of possible exercises, including the cable Crossover, to work all muscle groups at home.
Excellent for tight quarters one of the best cable machines for small spaces.
Valor Fitness BD-61 Cable Crossover Station
Review: The Valor Fitness BD-61 is an at home Cable Crossover machine at a very affordable price. It has 17 adjustments; a high pulley, low pulley and a multi grip pull up station.
Pros
.75 to 1 ratio on Cable Crossovers, meaning if you use 20 lbs in weight, it is equivalent to 15 lbs of resistance which is better than many higher priced machines, because effectively means you are lifting more weight.
Wide enough to place a sit-up bench between columns
Includes ankle strap. Can perform Cable kickbacks.
Includes lat bar and curl bar.
Cons
No weight included, one reason the machine is affordable
Our Take
The price to benefit ratio is high on this machine, small cost, lots of great features and functionality.
XMark Functional Trainer Cable Machine
Review: This functional trainer has 200lb weight stacks that use solid metal plates, on either side. The pulley is completely adjustable, and the system comes with ankle straps, straight bar, triceps rope, strength bar and more.
Pros
Loaded with 200lbs stacks on each side
Nearly 71 inches wide (65" of interior width)
2:1 ratio, every 2 lbs loaded, gives 1 lb of resistance
Cons
Can not be adjusted or upgraded to accept more weight, but 200 lbs covers a lot of ground on its own.
Our Take
For the price, a 200 lb weight stack is a good value. Some more expensive machines have been known to have smaller stacks. As far as value go one of the best cable machines available.
Light Commercial FreeMotion EXT Dual Cable Crossover
Review: This Commercial gym quality Cable crossover machine is loaded with 210 lbs of weight on each side and adjusts to be 113" wide to accommodate all body types, making it ideal for Professional gyms.
Pros
210 weight stacks on either side.
113" wide, fully extended
Stands up to heavy use, standard gym conditions
Includes ankle cuff
Weight stacks are enclosed, for safety
Cons
High ratio 3:1 meaning you load 75lbs, but only get 25lbs of resistance
Our Take
This gym quality machine can open to be very wide, accommodating very tall people and allowing for easy cable Crossovers.
What muscle groups do you want to work on your cable machine, and what cable crossover machine did you decide to buy.
We are looking for the best cable crossover machine, so we want to hear your thoughts in the comments below.

Latest posts by Michael DuBoff
(see all)