Best Exercise Trampolines for Adults & TOP 13 Rebounder Reviews 2023
When you think of a mini trampoline, do you think of it as something to just jump on?
Yes, most are designed for jumping, but what you may not realize is how many other uses they have.
Some can be used with medicine balls to work arms, you can do ab work on a rebounder, they can work the core, and they can even be used while holding weights.
Many mini trampolines these days come with accessories like resistance bands, small weights, adjustable tension, DVD workout videos and more to change up your routine.
Plus most are so quiet, they can be used while binge watching your favorite TV series.
I am going to walk you through a few of the benefits of mini trampolines and what to pay attention to before buying one. Plus I will cover some unique rebounder workouts you may not have seen yet and round things out with reviews of 13 of the best exercise trampolines out there.
So let's hop to it!
Guide to the Best Rebounder Trampolines for Adults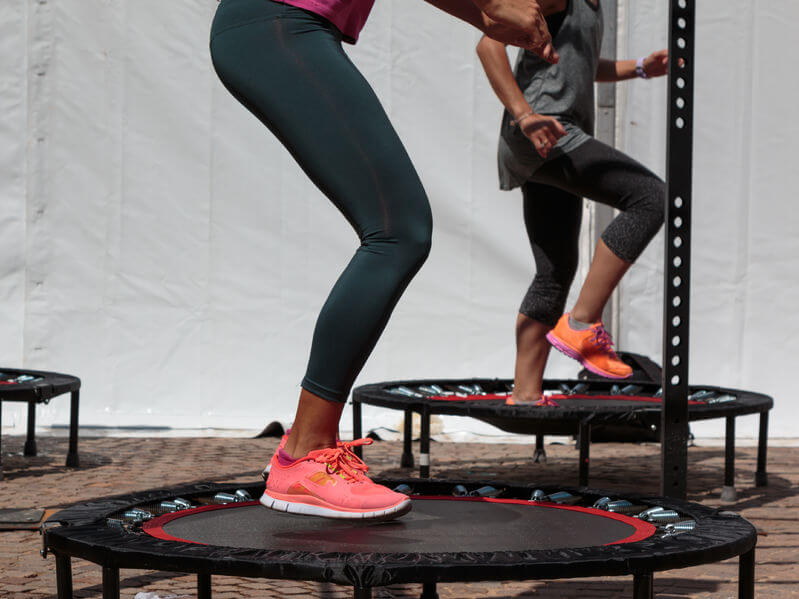 Is a rebounder a good workout?
Yes!
If you make the most out of your mini tramp it can be great exercise. Mini trampolines have the potential to work:
Legs via bouncing, jogging, stepping, and more.
Abs via specific a routines done on mini trampolines.
Arms – some have resistance bands, and you can always add a pair of hand weights to your routine.
Cardio and therefore heart- jumping, jogging, jumping jacks, and many other exercises done on a mini trampoline get your heart pumping and work up a sweat.
Take a look at the rebounder and mini trampoline exercises below to get some specific ideas on how you can get a total body workout on your new rebounder trampoline.
How can a rebounder trampoline benefit you?
Quiet yet potent cardio workout you can do from home, even in front of the TV.
Weight loss-Cardio means burning calories, which can lead to weight loss.
Strengthens Ankles muscles.
Works glutes, while jumping.
Enhances circulation and movement in the lymphatic system.
Helps work core and stabilizing muscles, which improves balance.
Light impact bouncing gently increases bone density.
So easy to store away, not huge and awkward like a treadmill or elliptical.
It is FUN!
Is it worth it to invest in a mini trampoline?
Is it worth it to invest in any piece of exercise equipment? Truthfully, the best exercise equipment to own, is the one you will use, and that can be different for everyone as we all have our own likes and dislikes.
Like most types of exercise and equipment trampolines have glowing fans who rave about trampolines and naysayers who say they are a waste of time.
I say a trampoline is worth it, if you make it worth it; that takes a little time to research all the different exercises that can be done using a trampoline and learn just how versatile they actually are.
If you like using a trampoline and learn how to maximize all that they are capable of then they are absolutely worth it!
Rebounder Workouts and Exercises on Trampoline
Fat and weight loss
Rebounder for Weight Loss Workout
This brief workout starts with a gentle warmup, moving into a more intense cardio using jumping jacks, light bouncing, side to side movements, twists and more.
The instructor says 10 minutes of this workout is equivalent to 30 minutes of a 30 minute run, plus it drains the lymphatic system and strengthens bones.
Sheree's 30 Minute Cardio + Strength REBOUNDER Workout
This intense workout includes faster intervals for more experienced rebounders. This workout includes moves like booty kickers, jogging, knee raises, squats! and agility work.
Then the instructor moves into a body weight strength portion, and finishes with ab work on the trampoline.
ABS on the rebounder
Rebounder Exercises: Abs/Core Workout
In this video Ashley shows one easy, gentle and effective move and is a great introduction to using your rebounder to work the core and ab muscles.
Plus it is easy on the back, spine and neck.
4 Minute Tabata Ab Workout on the rebounder
This short but intense ab workout uses the mini trampoline and a light barbell to really work the core. This is a workout for more experienced trampoline users.
Cleaning, stimulating and detoxing the lymphatic system
Lymphatic Drainage Exercise
This lymphatic stimulating workout uses simple body weight moves and also incorporates a few different small hand weights to get your lymphatic fluid moving.
Lymph flow Rebound exercises – Edema help
This easy 10 minute routine is designed to move lymph fluid toward the heart and relieve edema, and moves on to more vigorous movement to get fluid moving.
Power Up! More intense training on the rebounder
Power Bounce Workout
This rebounder workout uses body weight to build strength in the legs and gravitational force to work and strengthen the arms.
This is an advanced video and uses tucks, squats and turns to work all muscle groups.
Plyometric Rebounder
Some of the JumpSport trampolines can be outfitted with an adaptor for some pretty intense and novel plyometric workouts.
These jumpfit trampolines that have the adaptor installed are pretty unique because they can be used at an ankle, with medicine balls but they are also designed to hold body weight and can be used for bouncing.
This video below demonstrates and discusses how this very cool rebounder is used and how easy it is to switch between a jumping trampoline to a rebounder used with med balls.
Are Mini Trampolines Safe for You to Use?
Yes! But like just about all exercise equipment, and exercise in general, care should be taken to avoid injury and there are a few points I want to discuss to make rebounding a safe activity for you.
Bounce depth
You probably realize that a mini trampoline is not just a small version of the classic backyard trampoline.
Mini trampolines are NOT designed for:
Doing flips, tumbling, parkour moves or gymnastics.
Doing heavy bouncing. Mini tramps are usually only 9 to 12 inches off the ground, so doing deep bounces may lave you hitting the floor, although most have surfaces which are firm enough to prevent this type of bouncing.
More than one person at a time. These rebounders are for one user at a time and they also have weight limits that vary depending on model.
Stability
The wider the diameter of the mini trampoline, the more stable it will be. Also consider the legs.
Some manufacturers used curved legs that extend past the rim so the feet sit eve wider apart than the diameter of the rebounder making the rebounder very stable.
Needless to say, more expensive and higher quality rebounders are also heavier, more likely to stay in place, and the weight of them adds stability while you exercise.
What You Should Consider before Deciding on a Mini Trampoline or Rebounder
Let's cut to the chase.
What should you be looking for in a good rebounder?
Some manufacturers brag about having a spring cover, while other high end models sport NO cover over their bungees.
So what gives?
What are the important factors to consider before deciding?
Storage
Do you need to stow it away? Or is it good enough to just lean it against the wall at the end of a workout and call it a day?
If possible, avoid folding models, because these have joints that can be stressed and are somewhat less stable than their non-folding counterparts.
Sometimes a compromise can be made with a mini trampoline that has easy to remove legs, as these can be tucked under a bed or in a closet when you are not using it.
Quality matters
More expensive trampolines are built better.
They are more solid and usually heavier which makes them stable. They also feel different than low priced models when you compare the bouncing side by side.
The higher end models absorb impact better and are easy on the joints.
Plus…
Inexpensive models tend to fall apart pretty quickly, usually starting with broken springs or straps that wear after only a short time of bouncing.
Look at those legs!
Legs are another part to check out-on your mini trampoline that is!
The legs can be very telling.
Do they attach securely so you will feel safe moving on your rebounder?
How high do they place you off the ground?
Are they stable?
Are they easy to detach from the rebounder?
These are all important things to consider before choosing the rebounder that is right for you.
And now let's leap into those reviews, shall we?
Top 13 Best Exercise Trampoline and Rebounder Reviews 2023
JumpSport 250 Fitness Trampoline
Sale
JumpSport 250 Cardio Fitness Rebounder Durable Silent Bounce Exercise Mini Trampoline with Arched-Legged and Wide Padded Mat for Home Cardio Fitness
Fitness trampoline designed to provide a comfortable, quiet level of bounce; Features a large jumping surface and extra-wide padded mat; Comes almost fully assembled
Designed with a black powder-coated 39-inch frame with a 35.5-inch Permatron jumping surface with EnduroLast elastic cords are tested to millions of bounces and give users a lively, but cushioned bounce
Arched legs provide stability and resist tipping for added safety while having a 40 percent reduction in impact as opposed to traditional bouncers; Includes JumpSport Basic DVD; Weight limit of 250 pounds
Take advantage of the 5.5-inch petals for a variety of movements; Not included add-ons like a stable handlebar and other fitness accessories can elevate the experience even more
Great for low-impact cardio, core exercises, high-calorie burns, lymphatic flow, and so much more; Exercise trampoline measures 39 inches long, 39 inches wide, and 12.5 inches tall; Weighs 22 pounds
Review: This JumpSport 250 rebounder is one of the best rated mini trampolines out there, no doubt due to its quiet operation, padded petals that cover the bungee, deep impact absorbing bounce and high quality.
You will not be disappointed with this high quality mini trampoline.
Pros
Arched legs prevent tipping.
Made with 30 bungees instead of metal springs.
Includes replacement bungee.
Cons
Many users note one or two broken bungees after 6 months to 1 years time (bungees are replaceable).
Takeaway
Quiet and easy on the joints, the best trampoline for adults and worth the extra cost.
MaXimus Pro Quarter Folding Rebounder
Maximus PRO Folding Rebounder USA | Voted #1 Indoor Exercise Mini Trampoline for Adults with Bar | Fitness & Weight Loss| Free Storage Bag, Resistance Bands, Online & DVD Workouts | Already Assembled
✅ LOSE WEIGHT & GET FIT: with this Low Impact, High Performance trampoline. The MaXimus PRO Indoor Rebounder supports a person up to 310 lbs and is very low impact to protect your joints. Just 20 minutes daily bouncing to help you burn 1000s of calories and lose weight fast. The 7 amazing rebounding workouts on DVD are great FUN and will motivate you and keep you challenged as your fitness levels go through the roof! 
✅ HOME GYM PACKAGE: includes MaXimus Pro Rebounder (40in), Handle Bar, Resistance Bands & Sand Weights for Conditioning/Strength training and Rebounding Workouts (online and DVD) to Train Your Body All Over! Spring loaded legs mean no assembly nightmares. This portable indoor mini trampoline folds into quarters for easy storage. Personal Trainers and Fitness Instructors love this rebounder which can be easily transported in a neat Carry Bag that is also included.
✅ BUILT TO LAST – NOT A TOY: The MaXimus Pro Rebounder is built to last using high quality component parts (unlike many cheaper trampoline products). 32 highly calibrated giant springs give the most resilient/low impact bounce providing the correct support to foot/ankle whilst bouncing. Our double cross-stitched non-slip mat & non-marking rubber feet make it very strong and safe. CE Marked & tested to USA ASTM F381 it comes with a Full Warranty and Spare Parts are available.
✅ KEEP MOTIVATED with ONLINE & DVD REBOUNDING WORKOUTS: 7 FREE Rebounding workouts on DVD, all fitness levels & 100s of rebounding workouts are ONLINE from our International Presenters.  Different workout styles give all proven benefits of Rebounding; detox the body/improve immune system through lymphatic drainage, improve bladder control/pelvic floor, balance, coordination and build muscular strength and endurance. BEWARE: cheaper rebounders will not achieve these results!
✅  HAVE A QUESTION ABOUT WHICH REBOUNDER OR REBOUND TRAINING? CONTACT OUR REBOUNDING EXPERTS AND FRIENDLY AND HELPFUL CUSTOMER SUPPORT: Contact us at service@rebound.fitness or call 0114-4333-444-0846
Review: This folding mini trampoline includes an instructional DVD with well thought out routines that include arm exercises using the included resistance bands and sand bag weights.
It folds into quarters and is ideal for those who need to stow it away when not is use.
Pros
286 lb weight limit.
Not too soft nor too firm.
Folds into quarters, very compact.
Cons
Be careful opening the legs, they can hurt your fingers!
Takeaway
Best foldable mini trampoline.
Valor Fitness RX-T2 Med Ball Rebound Trampoline
Valor Fitness RX-T2 Medicine Ball Trampoline Rebounder with Med Ball Storage for Physical Therapy Trampoline Workout
BOUNCE BACK TO FITNESS- Use this fitness trampoline rebounder to perform a variety of unique medicine ball exercises including overhead throws, single leg throws, sit-up throws, and many more for your physical therapy workout!
ADJUSTABLE ANGLES- The RX-T2 features 8 adjustment positions so you can find the perfect angle for your workout or rehabilitation! From lowest to highest setting, angles measure 32.5, 37.5, 40, 42.5, 45, 47.5, 50, and 55 degrees.
MEDICINE BALL STORAGE- 3 ball holder slots at the rear and sides of the trampoline to organize your medicine ball set in your facility, keeping your fitness area safe and clear of clutter.
DURABLE CONSTRUCTION- Sturdy 2" x 2" solid steel frame built with a reinforced, extra-strength nylon trampoline (36" diameter). Trampoline protective cover made of nylon to cover the springs and prevent contact with balls or hands.
ADDITIONAL- Perfect addition to any home gym & a great piece of personal training/physical therapy equipment. Note: the RX-T2 Medicine Ball Trampoline is not meant for human propulsion.
Review: This special rebounder is designed for medicine balls, it was not meant to jump on. It will allow you to do a medicine ball workout without a partner.
There are not many medicine ball rebounders available, but this is one of the best rebounder trampolines available.
Pros
36 " bounce surface.
Rubber feet prevent the rebounder from moving when you throw medicine balls against it.
Folds for storage.
Cons
Packaging and shipping needs improvement.
Takeaway
Best rebounder trampoline on the market today.
Ancheer Max Load 220lbs Rebounder Trampoline
Review: This cost effective mini trampoline holds users up to 220 lbs and is the best fitness trampoline for the price.
It is available in a folding, or non-folding model and choice of 38 or 40" diameter.
Pros
Great price.
Folding models available.
Non-folding models use V springs.
Folding version is sturdy and stable.
Cons
Firmer bounce, not too much give.
Takeaway
Best trampoline for adults for the price.
JumpSport 350 Fitness Trampoline
Sale
JumpSport 350 Indoor 39 Inch Fitness Exercise Trampoline, in Home Rebounder with 3 Adjustable Tension Settings, Arched Legs and 4 in 1 DVD, Black
Engineered with no-tip arched legs, strong and durable, adjustable cords, and an enhanced lay-flat mat with a 39-inch frame to provide a large surface area with lots of freedom to move
Offers 3 adjustable tension settings that allow changes to mat firmness for a customized bounce, ideal for higher intensity workouts, small group, and personal training
Virtually silent and wonderfully smooth, cushioned, yet lively bounce; Features patented arched legs that provide stability and won't tip over for added safety
Commercial-grade construction features strong 16 gauge steel tubing engineered for unmatched durability and long-lasting performance; Includes 4-in-1 DVD with cardio core and strengthening exercise
Optimized for individuals up to a maximum weight capacity of 275 pounds; Exercise trampoline dimensions are 39 inches long, 39 inches wide, and 12.5 inches tall; Weight: 21 pounds
Review: The question everybody is asking is "what is the difference between the Jumpsport 250 and the JumpSport 350?"
Well let me tell you.
The 350 model has a slightly larger "workout area" is rated for 800, 000 bounce cycles vs the 250 which is rated for 400,000, and the 350 model has three different tension settings to switch up the firmness, where the 250 is set and can not be changed.
Pros
3 tension settings to lower or raise bounce tension.
Rated for 800,000 bounce cycles.
Arched legs prevent tipping.
Large bounce surface.
Cons
Sits high up off the floor which may be an issue for some.
Takeaway
Best indoor trampoline for adults.
MaXimus Pro Gym Rebounder Mini Trampoline
Maximus Pro Home Gym Rebounder Mini Trampoline 40'' + Handle Bar | Includes Workouts Online + DVD's | Adults Indoors | 150kg User Weight. Adult Exercise Trampoline | Already Assembled
✅ Professional Gym Rebounder - Great for fitness and Sports Training, weight loss, lymphatic drainage and core and joint stability training. FREE RESISTANCE BANDS & 3 VIDEO MEMBERSHIP!
✅ The most Robust and High Quality Rebounder on the market, used by many Professional Athletes and Sports men and women for cardio and core training. Your deep core muscles are engaged involuntary allowing you to produce more core power which is vital for any sport. You will improve, speed agility, balance and coordination giving you the edge over your opponents on the playing field.
✅ Very low Impact bounce, due to Advanced Large Spring System for low impact bounce and training. Non slip surface. Extremely Robust. View - www.youtube.com/watch?v=lkxTal4uWh4
✅ Stability handle bar for the Maximus Rebounder is also included. As used in Thousands of Gyms Worldwide, including Spa's and Holistic Therapists for Detox purposes and Lymphatic Drainage that helps boost your Immune system and rid your fat or toxins allowing you to burn fat more efficiently. Many Validated Researched Fitness and Health Efficacies for best results.
✅ Super Strong folding Spring loaded legs with triple welding for easy storage/set up - Can take up to 150kgs person.Rebounder dimensions are 102cm (standard fitness size rebounder) weighs 12kg weight so it wont tip up or move unlike cheap lightweight rebounders . Full Warranty and spare parts service available from USA Warehouse.
Review: This rebounder includes a stability bar and workout video, and has a pretty high user weight limit of 286lbs, making it one of the best mini trampoline for exercise.
Pros
User Weight Limit 286 lbs.
Stability bar included.
Folding legs make for easy storage without disassembling.
Slid and heavy, does not move or slide around.
Cons
Takeaway
Best trampoline for exercise with a stability bar.
Upper Bounce Mini Foldable Rebounder with Adjustable Handrail
Sale
Machrus Upper Bounce Mini Trampoline for Adults- Rebounder Exercise Fitness Indoor/Outdoor Trampoline- Small Foldable Trampoline for Kids with Adjustable Bar and Safety Padding
Calorie Burner and Muscle Strengthener: The mini trampoline encourages you to stay healthy and be in shape. 10 minutes of rebounding burns as many calories as 30 minutes of jogging and develops your core muscles. Rebounders help you to get your cardio exercise more conveniently than a high-knees type workout
Foldable Trampoline with Easy Setup: This Indoor trampoline can fold in half, and doesn't occupy too much space while keeping it under the bed, sofa, closet, or car trunk. It includes a user manual that helps assemble your exercise trampoline in less time. Also, the manual contains a workout program to build your exercise habit
Feel Secure with the Heavy-Duty Design: Well-constructed steel frame with high tension springs make the small trampoline extra durable to achieve your weight-loss goals. Our safety pad with high-quality PP mesh is constructive for children, adults, and sports lovers in reducing their body's stress during the workout. The rubber-tipped legs will not wear your flooring, and the anti-skid factor will keep you running in place
Fun Family Fitness at Home: The mini trampoline with handle is adjustable to make its utilization suitable for kids. The safety bar act as a stabilizer for kids and adults as it prevents them from falling and losing balance while jumping. Surprise your loved ones by gifting them our fitness trampoline
After-Sales Support: Providing top-notch customer service is our #1 priority. In case you need assistance, we will reply promptly, professionally, and courteously. Our exercise trampoline for adults comes with a 6 month limited warranty for Mats, Frame Parts, Hardware, & Springs and a 30 Day limited warranty for Pads and immediate replacement at zero cost, if anything is found defective
Review: This budget priced bouncer includes an adjustable handrail for stability while exercising.
It has a decent size exercise surface but not too much bounce, plus is lower to the ground making it a good choice for adults who use it to exercise, but not kids who want to jump.
Pros
Easy to move around from room to room.
Good for walking/jogging, not too much bounce.
Includes stability bar with adjustable height.
Cons
The hand rail is flimsy and the trampoline is light.
Takeaway
Best mini trampoline for adults for the price.
Stamina InTone Oval Jogger
Stamina Fitness Trampoline - Exercise Trampoline with Smart Workout App - Indoor Trampoline Fitness Rebounder
SAFE, SUPPORTIVE BOUNCE: The Stamina InTone Oval Jogger has elastic resistance bands to provide a quiet and supportive bounce. A safer alternative to metal springs. The safety pad covers the bands to keep you bouncing safely.
ADJUSTABLE HANDLE & UPPER-BODY RESISTANCE TUBES: This indoor trampoline includes a height-adjustable and foam-padded support handlebar. Grasp the padded handles on the tubes to work the shoulders, back, chest, abs, core and arms.
DURABLE, HEAVY-DUTY DESIGN: This adult trampoline rebounder supports up to 250 pounds and is easy to assemble. Eight rubber-tipped legs protect your floor space. At just 45" x 33.5" x 48", the fitness rebounder provides a great home workout without taking up a lot of floor space.
SMART WORKOUT APP: This mini rebounder trampoline comes with muuv, the all-in-one app that provides personal coaching, a follow-along assembly video, and workouts tailored to your fitness goals and the equipment you own.
LARGER OVAL REBOUNDING SURFACE: The wide oval jumping surface provides more stability and variety than regular trampolines. The blue optic border helps you make sure you're always jumping in the best spot, making this the perfect indoor trampoline for adults.
Review: The oval rebounder gives the jogger a little extra space to move.
The shape also makes the mini trampoline quite stable and easy to use. It has a hand rail for stability, and resistance bands for arm work.
Pros
The oval shape is very stable and ideal for jumping jacks.
Great impact absorbing jogging surface.
Includes useful workout DVD by experienced fitness instructor.
Cons
The spring cover material is cheap.
Takeaway
Best trampoline for adults who need a larger stable exercise area.
David Halls Cellerciser Rebounder with Balance Bar
Review: The Cellercicer is a top rated rebounder trampoline for good reason. It is built with tri flexion springs with tapered ends that stretch and move evenly.
The bounce comes from the movement of the springs vs the canvas used, so you are less likely to twist your ankle, as is the case with less expensive models.
Pros
Legs fold and exercise surface also folds up, super easy to store.
Includes storage bag with handles to stow and go.
Tri-flexion springs move evenly and recoil consistently, each taper of the spring moves according to pressure and movement from the user.
Includes balance bar with three height adjustments.
Cons
Takeaway
Easily the best rebounder trampoline 2023.
Bellicon Classic 39" Fitness Trampoline
bellicon Classic 39" with Screw-in Legs (Black Mat/Silver Bungees, Medium Bungees (80-140 lbs))
Total-body fitness solution for amazing cardio, muscle-toning, fat-burning and health-boosting.
World's best quality, best performing rebounder with online workout video platform.
Unique, custom-formulated bungee suspension for the perfect fitness experience.
Beautifully designed, industrial-strength German-engineered steel frame.
Arrives fully assembled and includes free 30-day trial to the bellicon Home online workout video platform.
Review: This mini trampoline is unique because when you buy it, you select the bungee strength, which corresponds to the user weight.
This means the trampoline can accommodate weight up to 440 lbs. This is a high quality German made trampoline that will last for years to come.
Pros
Accommodates weight in 4 ranges 80 lbs to 140 lbs, 140 lbs to 200 lbs, 200 lbs to 280 lbs and 280 lbs to 440 lbs.
Silent squeak free operation.
Smooth even bounce.
Cons
Takeaway
The best rebounder trampoline money can buy!
Xtreme Monkey Medicine Ball Rebounder
Xtreme Monkey Medicine Ball Rebounder
ADD TO YOUR WORKOUT - The Rebounder enables a user to vary med ball workouts to make it fun and intense.
THE IDEAL FITNESS PARTNER - Add to circuit, functional, athletic training or personal use at home
BUILT TO LAST - The angle of the rebounder can be altered to suit any workout. Ideal for home or commercial use
ADJUSTABLE - Adjust the angles of the rebounder from 30 to 45 degrees to vary workouts
PREVENT SLIDING - Add Plates to the weight peg on bottom (See Pictures) to prevent sliding.
Review: This medicine ball rebounder will certainly allow you to get a great Upper body, lower body and core workout.
It is only meant to rebound balls and is not designed to be jumped up, so keep that in mind when deciding which is the best rebounder mini trampoline for you.
Pros
Very sturdy, commercial gum quality medicine ball rebounder.
Tilts to angle and lie flat (not intended for jumping).
Rubber feet to help stabilize the unit, best placed up against a sturdy wall.
Cons
Can be a bit loud while using.
Takeaway
Best trampoline for exercise using medicine balls.
Boing Rebounder Bungee Trampoline
Review: The Boing rebounder covers a wide range of user weights, with three choices, up to 150 lbs, 150 to 250 lbs, and 250 to 350 lbs.
The difference is in the strength and stiffness of the bungee. This bungee is a decent height, and sits about 12 inches from the ground.
This mini trampoline is built well, like much more expensive trampolines, at a more down to earth price.
Pros
Legs fold for quick storage.
Uses bungee cords instead of metal springs, very quiet smooth operation.
Soft bouncy jump, provided the bungee cord is appropriate for your weight.
Cons
Takeaway
Best mini trampoline for adults who want to bounce.
Stamina 36-Inch Folding Trampoline
Sale
Stamina 36 inch Rebounder - Portable Exercise Trampoline - Mini Trampoline with Smart Workout App - Indoor Trampoline Fitness Rebounder - Up to 250 lbs Weight Capacity
HEAVY-DUTY TRAMPOLINE - Our Stamina 36 inch Foldable Mini Trampoline provides a fun, safe and supportive workout that helps tone your legs, abs, glutes, and back. Bounce back to health and add fun to your everyday workout with our mini trampoline.
BURN CALORIES AND TONE MUSCLE - This exercise trampoline helps achieve your desired fitness goals. An indoor trampoline bungee workout provides low-impact exercise, burns calories, supports heart health, and improves cardiovascular fitness.
SAFE AND STABLE BOUNCE - Our indoor trampoline is composed of spring-free tension bands that provide a more quiet, safer, and more supportive bounce. This fitness trampoline also has an elastic safety pad and rubber-tipped legs for protection.
COMPACT AND PORTABLE - Our foldable trampoline provides low impact cardiovascular workout ideal for any indoor or garage space. The heavy-duty polypropylene surface of this workout trampoline is made to last.
SMART WORKOUT APP - Experience connected fitness with this home gym equipment with the müüv app. With smart guided coaching, exercise demo videos, personalized workouts, assembly videos, and more, müüv provides the best workout and fitness experience with your Stamina Trampoline.
Review: This small budget prices trampoline can make a nice addition to an established home gym, be used to burn off the wiggles of an active child, or used for an older adult to strengthen muscles and bones.
At this price, you can not go wrong.
Pros
Low price.
Safety pad covers bands.
30 inch diameter bounce area.
Cons
Must unscrew legs to fold and store.
Takeaway
Of all 13 of these exercise trampoline reviews, this one has the lowest price, and excersisers seem really happy with it.
Don't wait!
Jump on your opportunity to get one of the best exercise trampolines today.
There is a trampoline for just about every budget in my list of best rebounder trampoline reviews, so there is sure to be one here that is right for you.
I would love to hear what you think.
Have you had experience using a mini trampoline to get in shape? What was your experience? Drop me a line in the comments below.
Don't forget to also subscribe to our newsletter for more awesome fitness content!