Best Exercise Trampolines for Adults & TOP 13 Rebounder Reviews 2023
When you think of a mini trampoline, do you think of it as something to just jump on?
Yes, most are designed for jumping, but what you may not realize is how many other uses they have.
Some can be used with medicine balls to work arms, you can do ab work on a rebounder, they can work the core, and they can even be used while holding weights.
Many mini trampolines these days come with accessories like resistance bands, small weights, adjustable tension, DVD workout videos and more to change up your routine.
Plus most are so quiet, they can be used while binge watching your favorite TV series.
I am going to walk you through a few of the benefits of mini trampolines and what to pay attention to before buying one. Plus I will cover some unique rebounder workouts you may not have seen yet and round things out with reviews of 13 of the best exercise trampolines out there.
So let's hop to it!
Guide to the Best Rebounder Trampolines for Adults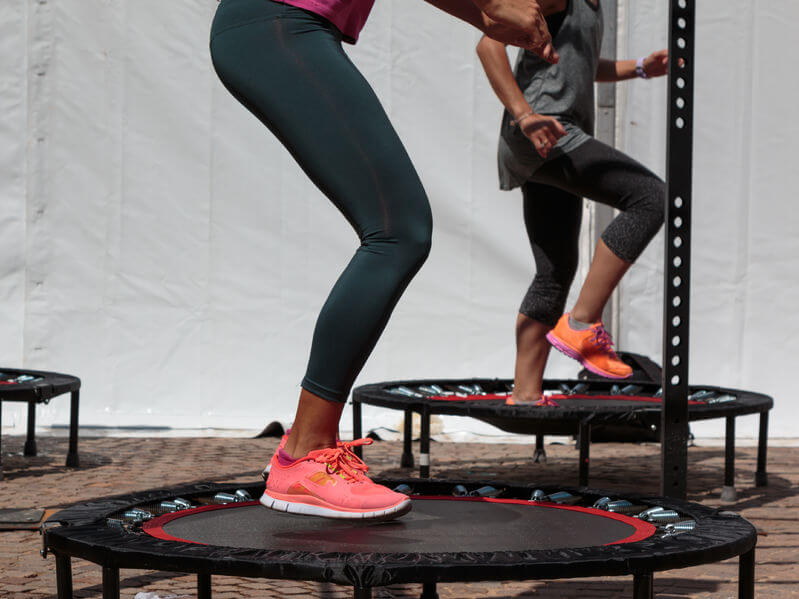 Is a rebounder a good workout?
Yes!
If you make the most out of your mini tramp it can be great exercise. Mini trampolines have the potential to work:
Take a look at the rebounder and mini trampoline exercises below to get some specific ideas on how you can get a total body workout on your new rebounder trampoline.
How can a rebounder trampoline benefit you?
Is it worth it to invest in a mini trampoline?
Is it worth it to invest in any piece of exercise equipment? Truthfully, the best exercise equipment to own, is the one you will use, and that can be different for everyone as we all have our own likes and dislikes.
Like most types of exercise and equipment trampolines have glowing fans who rave about trampolines and naysayers who say they are a waste of time.
I say a trampoline is worth it, if you make it worth it; that takes a little time to research all the different exercises that can be done using a trampoline and learn just how versatile they actually are.
Rebounder Workouts and Exercises on Trampoline
Fat and weight loss
Rebounder for Weight Loss Workout
This brief workout starts with a gentle warmup, moving into a more intense cardio using jumping jacks, light bouncing, side to side movements, twists and more.
The instructor says 10 minutes of this workout is equivalent to 30 minutes of a 30 minute run, plus it drains the lymphatic system and strengthens bones.
Sheree's 30 Minute Cardio + Strength REBOUNDER Workout
This intense workout includes faster intervals for more experienced rebounders. This workout includes moves like booty kickers, jogging, knee raises, squats! and agility work.
Then the instructor moves into a body weight strength portion, and finishes with ab work on the trampoline.
ABS on the rebounder
Rebounder Exercises: Abs/Core Workout
In this video Ashley shows one easy, gentle and effective move and is a great introduction to using your rebounder to work the core and ab muscles.
Plus it is easy on the back, spine and neck.
4 Minute Tabata Ab Workout on the rebounder
This short but intense ab workout uses the mini trampoline and a light barbell to really work the core. This is a workout for more experienced trampoline users.
Cleaning, stimulating and detoxing the lymphatic system
Lymphatic Drainage Exercise
This lymphatic stimulating workout uses simple body weight moves and also incorporates a few different small hand weights to get your lymphatic fluid moving.
Lymph flow Rebound exercises – Edema help
This easy 10 minute routine is designed to move lymph fluid toward the heart and relieve edema, and moves on to more vigorous movement to get fluid moving.
Power Up! More intense training on the rebounder
Power Bounce Workout
This rebounder workout uses body weight to build strength in the legs and gravitational force to work and strengthen the arms.
This is an advanced video and uses tucks, squats and turns to work all muscle groups.
Plyometric Rebounder
Some of the JumpSport trampolines can be outfitted with an adaptor for some pretty intense and novel plyometric workouts.
These jumpfit trampolines that have the adaptor installed are pretty unique because they can be used at an ankle, with medicine balls but they are also designed to hold body weight and can be used for bouncing.
This video below demonstrates and discusses how this very cool rebounder is used and how easy it is to switch between a jumping trampoline to a rebounder used with med balls.
Are Mini Trampolines Safe for You to Use?
Yes! But like just about all exercise equipment, and exercise in general, care should be taken to avoid injury and there are a few points I want to discuss to make rebounding a safe activity for you.
Bounce depth
You probably realize that a mini trampoline is not just a small version of the classic backyard trampoline.
Stability
The wider the diameter of the mini trampoline, the more stable it will be. Also consider the legs.
Some manufacturers used curved legs that extend past the rim so the feet sit eve wider apart than the diameter of the rebounder making the rebounder very stable.
Needless to say, more expensive and higher quality rebounders are also heavier, more likely to stay in place, and the weight of them adds stability while you exercise.
What You Should Consider before Deciding on a Mini Trampoline or Rebounder
Let's cut to the chase.
What should you be looking for in a good rebounder?
Some manufacturers brag about having a spring cover, while other high end models sport NO cover over their bungees.
So what gives?
What are the important factors to consider before deciding?
Storage
Do you need to stow it away? Or is it good enough to just lean it against the wall at the end of a workout and call it a day?
If possible, avoid folding models, because these have joints that can be stressed and are somewhat less stable than their non-folding counterparts.
Sometimes a compromise can be made with a mini trampoline that has easy to remove legs, as these can be tucked under a bed or in a closet when you are not using it.
Quality matters
More expensive trampolines are built better.
They are more solid and usually heavier which makes them stable. They also feel different than low priced models when you compare the bouncing side by side.
The higher end models absorb impact better and are easy on the joints.
Plus…
Inexpensive models tend to fall apart pretty quickly, usually starting with broken springs or straps that wear after only a short time of bouncing.
Look at those legs!
Legs are another part to check out-on your mini trampoline that is!
The legs can be very telling.
These are all important things to consider before choosing the rebounder that is right for you.
And now let's leap into those reviews, shall we?
Top 13 Best Exercise Trampoline and Rebounder Reviews 2023
Don't wait!
Jump on your opportunity to get one of the best exercise trampolines today.
There is a trampoline for just about every budget in my list of best rebounder trampoline reviews, so there is sure to be one here that is right for you.
I would love to hear what you think.
Have you had experience using a mini trampoline to get in shape? What was your experience? Drop me a line in the comments below.
Don't forget to also subscribe to our newsletter for more awesome fitness content!