Best Portable Dip Bars for Home or Garage Gym + 9 Reviews 2023
In the market for the best portable dip bar?
Why not?
Portable dip bars, also sometimes called high parallette bars, are a good addition to your home gym or garage gym.
Dips target all three heads of your triceps, plus they can be used for chest exercises and more.
Here I am going to quickly review what to look for before choosing the best portable dip station, what exercises can be done using one (hint: there are many) and review 9 of the best portable dip bars out there.
Ready?
Let's get started.
Quick and Dirty Guide to the Best Portable Dip Bars
Ok, this guide will not actually be dirty, but I promise to keep it quick.
I have used a few different styles of dip stations and dip bars, and I have discovered these 4 factors are the most important.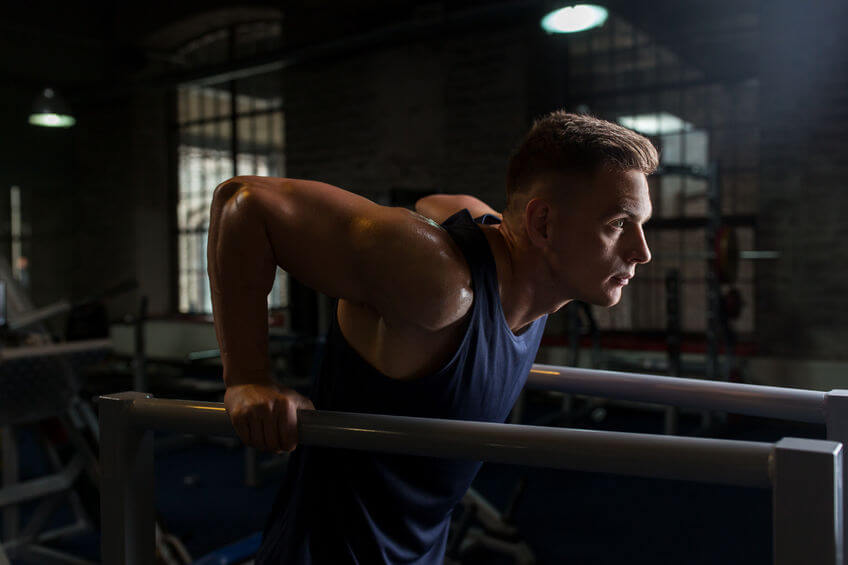 1. Height
This one is so important; which is why I list it first.
To do dips on portable dip bars you must bend your knees. Unless you enjoy hitting the ground with your knees on every dip, you need to make sure the height of the unit suits you.
Generally, if the dip bars are 31" or less, they will be good for athletes under 6 feet.
If you are over 6 feet, opt for dip bars that are at least 33" or preferably higher.
2. Width
Width matters too.
In order to perform dips with correct form, you need to keep your arms close to your body. This is especially true if you intend to focus on the triceps.
If you want to focus on the chest, you can perform dips with your hands slightly away from the body.
Either way, the length of your arms is also a factor. If you are a petite woman, dip bars that are fixed far apart will not serve you well.
Honestly, dip stations with angled handles, or those that have an adjustable with are best.
3. Max Weight Limit
Check the max weight limit on the portable dip station before pulling the trigger on your purchase.
The less the max weight usually means the more wobble it will have as you use it.
Plus
A dip station with a high weight limit can be used with a weighted dip belt, another nice feature of high quality dip stations.
4. Extras
Knurled handles, suspension trainers and weighted resistance style belts are all examples of extras these portable dip stations may have.
A suspension trainer adds so much versatility and utility to your dip station, making it a more valuable investment.
Is a Portable Dip Station Really Worth Buying?
Is a portable dip station a good investment?
You may get more utility out of a Complete dip station or tower power, and if you decide to head that direction take a look at our best power towers here.
But…
Power towers can be used for more exercises, but they do have their drawbacks.
First, they are considerably more expensive. While many portable dip bars can be had for under 100 dollars, and even less than 50 dollars for a few, power towers usually cost double or triple that.
Portable dip stations are also smaller and easier to store out of the way, in addition to being a lot shorter.
Something to consider if you have low ceilings (think basement), live in an apartment, or have a small home or garage gym and can not spare the extra space a power tower uses.
Portable Dip Station Exercise and Workout Ideas
Learn how to target Triceps or the chest using dips
The key to targeting triceps is keeping your arms closer to the body. This is why dip stations with angles handles, or dip stations that have an adjustable width, will allow you to change the distance apart you have your hands.
To target the chest, the opposite is true. You need to have your hands a little farther from your body to target the chest.
Be sure to check the width of the dip station before purchasing one. Bonus points if they are angled or otherwise adjustable.
What other exercises can portable dip bars be used for, besides dips?
Elevated Push ups:
Prop both feet up on one of the bars and get into push up position. Elevating your feet makes the pushup even more challenging.
You can also use this position for extended and bent arm planks by holding your arms in either an extended or bent position for a minute at a time.
Or really challenge your arms by alternating between extending and bending your arms during the plank.
Looking for a whole body workout?
This fast paced two minute video (below) quickly demonstrates a Complete Dip Bar Workout for the Whole Body.
The demo includes agility moves, body weight exercises, triceps, chest, and plyometric moves.
There really is a lot you can do with a piece of equipment as simple and inexpensive as portable dip bars.
TOP 9 Best Portable Dip Bars for Home Reviewed 2023
Titan Fitness HD Dip Station
Titan Fitness HD Dip Station Stand Body Press Black Solid Foam Grips
Usage: Tricep dips, armpit dips, rows, leg swings & other exercises; Can be used with push-up rings or straps
Durability: Heavy duty steel frame and tough powder-coated finish are built to last
Safety: Foam grips and floor pads prevent slipping; 750 lb. real weight capacity
Convenience: Easy to assemble; Light and portable
Design: 1-piece design & extra-wide base make it hard to tip; Ergonomic foam handles for easy grip; Plastic feet avoid scratching your floor
Review: This Titan Fitness HD dip station is large enough for tall users and sturdy enough to use with weighted dip belts.
It is reasonably tall, at 39" and is 20" wide, so you have room for dips, leg swings and more. This is a useful piece of equipment to invest it, you will not regret it.
Pros
750 lb weight capacity.
Wide anti-tip base.
Durable foam grips.
Cons
Assembly can be challenging.
Takeaway
One of the most sturdy dip bars for home gym and garage gym.
Fuel Pureformance Dip Station
Fuel Pureformance Deluxe Bodyweight Training Dip Station Black/Blue - Deluxe Dip Station
SPECS – Assembled dimensions are 29.92" x 24.8" x 38.58".
CONSTRUCTION – Built with 12- and 14-gauge steel with a durable, powder coat finish and gussets for added stability.
FEATURES – Angled, padded grips add comfort while performing exercises. Open, pass through design adds versatility. 12- and 14- gauge steel construction with gussets adds stability and the durable powder coat finish prevents rusting.
VERSATILE – This bodyweight training station allows you to target the chest, shoulders, triceps, abs, legs and more.
FUNCTIONAL – Open, pass through design allows multiple exercises to be performed, such as chest dips, pull ups, hanging leg and knee raises, and more.
Review: This durable upright dip station is built to last a lifetime.
It is powder coated, has a wide stable base, and is made from sturdy steel. It includes a chart of suggested exercises, with pictures, so you can see the variety of exercises you can accomplish with this unit.
Pros
300 lb weight limit.
Super compact, sore against a wall.
Great Price.
Cons
The foam on the handles is thin.
Takeaway
A high quality, well rounded portable dip station at a reasonable price.
Ultimate Body Press Dip Bar Fitness Station
Ultimate Body Press Dip Bar Fitness Station - Adjustable Folding Dip Stand,White/Black
THE PATENTED DIP STATION: The patented adjustable Dip Station with 2 width positions that correctly fits you and every member of your family. Dip Station stands 3' tall to fit users up to 6. 5' in height and builds up to 350 lbs
EASY STORAGE: The only Dip Station that folds easily for transport or storage with fast color-coded spring-tab assembly that requires no tools. Quick-adjust leveling feet are firm on every surface
BETTER FORM: Exclusive angled grips ergonomically reduce strain and support proper form to rapidly sculpt arms, chest, shoulders and core. Premium pads and thick wall steel stand up to your most rigorous workouts
BETTER BALANCE: Bodyweight rows balance your chest results with back development. Take your workouts further with optional Bodyweight Resistance Trainers or the Weighted Dip Belt Agility Trainer for intense full body training (accessories sold separately)
DESIGNED IN THE USA: Ultimate Body Press is a North Carolina company committed to delivering better workouts every day. Includes Prime eligible shipping and USA customer service.SHOP WITH CONFIDENCE: The Dip Bar Fitness Station is backed by Ultimate Body Press against manufacturer's defects for 10 years
Review: This sturdy portable Dip bar is made from 1.5 inch steel tubing and a be assembled using no tools.
You can get optional accessories to add even more variety to the exercises that you can do on it, including a resistance band style "weighted" dip belt and agility trainer and push up trainers.
Pros
3 feet tall.
350 lb max weight.
Portable, folds flat and locks for easy carry.
Cons
Wobbles slightly when you are doing dips.
Takeaway
One of the best dip bars for home with the available push up and dip belt agility upgrade options.
Sunny Health & Fitness SF-BH6507 Dip Station
Sunny Health & Fitness SF-BH6507 Dip Station Body Press Parallel Bar with Adjustable Length and Foam Grips
SOLID STEEL FRAME: Durable steel frame makes this dip trainer excellent for your home gym. Get the confidence to increase the intensity of your workout with the dip bar fitness station that will support you.
SAFETY CONNECTOR: Unlike traditional dip stations, the Sunny fitness dip exercise equipment is connected through the adjustable safety connector. This will allow you to contract and extend the bar to your liking from 20" to 28".
FOAM HAND GRIPS: Soft foam grip handles are designed for comfort during your exercise. Non-slip handles allow you to perform your dips and pushups without experiencing hand fatigue.
FULL BODY WORKOUT: The dip bar fitness station will help you sculpt arms, chests and shoulder muscles.
COMPACT DESIGN: Measuring at 46L x 26W x 30H the dip station works as a compact personal fitness trainer for any home gym. The low impact, strength training workout exerciser is very easy to assemble.
Review: The Sunny health and Fitness dip bar station makes a great addition to your home or garage gym.
It is priced right and simple to put together and use. It has a stabilizer bar across the bottom for added security and is best suited for athletes 5'10" and under.
Pros
Adjustable width.
Connected bars make them more stable.
Made from 1.5 inch steel tube.
Cons
30 Inches tall, better for those under 5' 10".
Takeaway
A good set of portable dip bars for the money.
Body-Solid Commercial Dip Station
Body-Solid Dip Station
Oversize 1 3/4" diameter dipping bars
Slip-proof rubber grips
Electrostatically applied powder coat finish
Assembled Dimensions: 53"H x 38"L x 27"W
Distance between dip handles 19" at base to 21" at end
Review: This Body Solid Dip station was thoughtfully designed with an ample 38 inch height and handles that flare out, causing dips to focus on the pectoral muscles.
This a premium quality dip station, at home in or in a commercial gym or your own garage gym.
Pros
38 Inches tall.
Very stable and solid, 400 lb max weight.
Comfortable foam padded and angled handles.
Cons
Takeaway
The best dip bars for home gym or commercial gym. The Finest quality.
Lebert Fitness Dip Bar Stand - Original EQualizer Total Body Strengthener Pull Up Bar Home Gym Exercise Equipment Dipping Station - Hip Resistance Band, Workout Guide and Online Group - Black (XL)
ORIGINAL EQUALIZER BODY PRESS STATION: With over 100 workouts available for beginners to advanced athletes, this sturdy and stable dip stand works great as a pullup bar, dipping station, push up bar for arm exercises, L-sits, knee & leg raises, and more
DESIGNED FOR THE PERFECT FIT: Lebert EQualizer Bars are available in two sizes and tested rigorously to ensure the right fit for you and your safety - Regular (28" high) fits users up to 5' 10" while the taller XL (31" high) is best for users over 5' 10"
FREE-STANDING BARS: Separate, unconnected bars offer superior stability and versatility, and are critical to any dip stand exercise as it creates the instability needed for an effective parallette bar style routine with proper form and tower alignment
ACCESS TO ONLINE FITNESS GROUP: As a welcome to the Lebert Fitness family, you will be invited to join our private online fitness group featuring free workout programs, extensive support and coaching tools designed to get you started and stay motivated
INCLUDES: Two EQualizer bars with heavy duty foam handles, resistance band, exercise guide, and access to an online coaching group. Bars support up to 400lbs, are easy to assemble, stack and store and are great for your home gym or group class bootcamps
Review: These brightly colored dip bars by Lebert are not connected and therefore very easy to store out of the way when you are not using the.
They have comfortable handles, a nice enamel finish, and are offered at a reasonable price. The fact that they are not connected at the bottom means you can use one to do raised push up's.
Pros
Includes workout DVD demonstrating how to use the bars.
Very easy to assemble, under 5 minutes.
Comfort grip foam handles.
Cons
31 Inches high. OK for those under 6 feet tall.
Takeaway
Useful and attractive dip bars.
RELIFE REBUILD YOUR LIFE Dip Station Functional Heavy Duty Dip Stands Fitness Workout Dip bar Station Stabilizer Parallette Push Up Stand
💪【Powerful & Solid】Dip stands made of heavy duty steel and supports to 300LBS, durable steel construction provides safety assurance during exercise.
💪【Connecting Rod】4 holes each sides for adjustable with pull knob, just pull the knob a little bit, you can move the rod, then adjust the holes you want.
💪【Adjustable Foot Strap】Different face of the foot cover thickness is different, you can adjust it at any time to fit the ground and prevent it from shaking.
💪【Adjustable Height】Height is 31.11-35.04 inch, you can adjust it based on yourself. Perfect for bar exercises, dips, pull ups, push ups, leg raise, bench press and more, works arms, chest, back and muscles.
💪【Customer Service】ONE-YEAR WARRANTY on main frame, LIFE WARRANTY on all other vulnerable part. If you have any question, please feel free to contact us through E-mail.
Review: These ReLife portable dip bars are adjustable height up to 34.25 inches, plus they are connected at the bottom to add stability, and they hold up to 350 lbs securely.
Plus, since they are independently adjustable, you could use each bar at a different height to mix up your routine.
Pros
Adjustable height up to 34.25 inches.
Foam grim comfort handles.
Non-slip rubberized feet.
Cons
A little wobble when using.
Takeaway
Adjustable and easy to use dip bars.
Trademark Innovations Fitness Training Dip Station
Sale
Review: One of the most economical set of dip bars available because not only are they offered at a low price, but they include the push up suspension trainers.
Works for dips, inverse rows, aussie pull ups, suspension style push ups and more. A multipurpose little dip station.
Pros
Includes push up suspension trainer hangers.
Excellent price.
Comfy foam handles on the bars and push up suspension trainers.
Cons
Takeaway
Best dip bars for home that include a few extras like the suspension handles. A great choice!
Yaheetech Heavy Duty Dip Stand
Review: This Yaheeteh dip station has an impressive 500 lbs weight limit and is built for heavy duty use.
This freestanding dip station has a stabilizing crossbar, easy grip knurled handles, and stands at 53 inches tall.
If you are tall or heavy or both, this is the dip station for you.
Pros
Suitable for weighted dips, max load is 500 lbs.
Built from 2 by 2 inch square steel bar.
Knurled handles for optimum grip.
Cons
The handles are not angled.
Takeaway
For the height and quality, the price is absolutely unbelievable. This is the best choice portable dip bar station for tall and heavy users.
That concludes my review of the best portable dip bars.
To see more reviews like this and other excellent home and garage gym equipment, sign up for our newsletter and we will send reviews right to your inbox.
Be sure and drop me a line in the comments below and let me know which of the best portable dip bars you picked out for your home gym.