TOP 10 Best Trap Bars & Rackable Hex Bars 2023 + Buying Guide with Reviews
Developing proper deadlift and squat form is a prerequisite for any serious weightlifter.
But…
Learning good form can be challenging using a straight barbell.
That's why I set out to research and find the best trap bars, because a trap bar allows you to learn good form and technique by positioning your weight on your heels and maintaining a beneficial center of gravity.
After a lot of searching, I put together this list of what I believe to be the top 10 best trap bars.
Plus…
I included a guide to finding the right trap bar for you, a collection of trap bar workouts and exercises and a trap bar FAQs that will answer your questions.
TOP 10 Best Trap Bars & Rackable Hex Bars 2023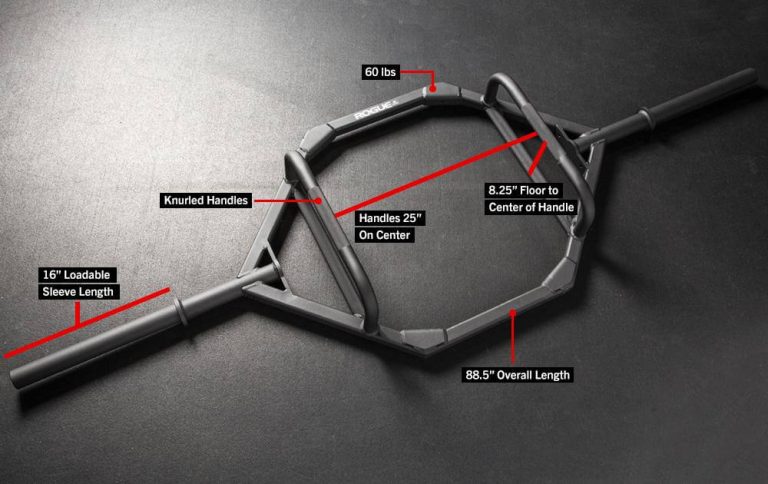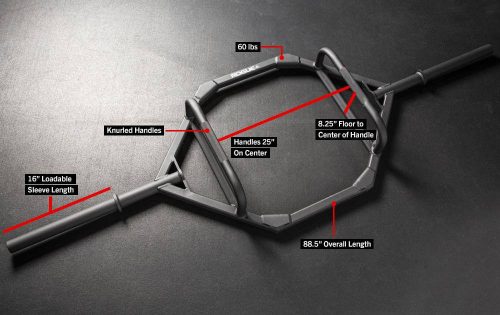 Review: The Rogue TB-2 trap bar is the model with the raised handles, which makes the starting height about 8 inches higher, so it's a little easier on your back than a traditional barbell deadlift.
Rogue is famous for attention to detail and this trap bar has it. The welds are smooth and carefully finished, the knurling on the handles has a little bite, without being too aggressive and the matte black finish looks really professional.
Specs: 60 lbs unloaded, 88.5" inches long, 25" inches between handles, 8.25" inch high raised handles.
This hex bar is rackable, so you can use it inside your rack or rig and do rack pulls or just get a little higher off the ground starting point.
I will say this, both of Rogues hex trap bars have a 25 inch width between handles, which is on the wider side, and tend to work better for athletes who are tall or have long arms.
Pros
5 inches long and rackable, can use inside your power rack.
25" width between handles, great for tall people or those with long arms.
High quality – smooth welds, perfect knurling, stylish matte black finish.
Cons
Non-standard sleeve diameter, standard barbell collars won't work.
Takeaway
My #1 Pick, a high quality Rogue trap bar with raised handles and a large between handle width.
This trap bar is rackable, which means it is long enough to use inside your rack or rig. This means you can use this bar for rack pulls and much more. If you do not yet have a power rack, check out this list of the best power racks and pick one out for yourself.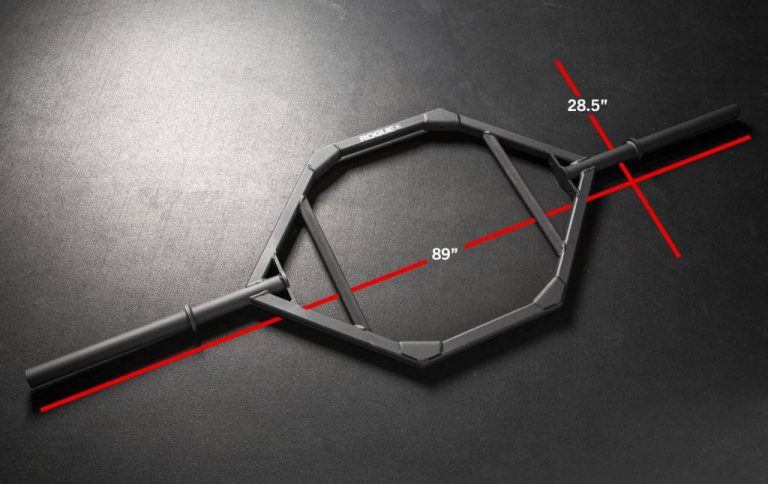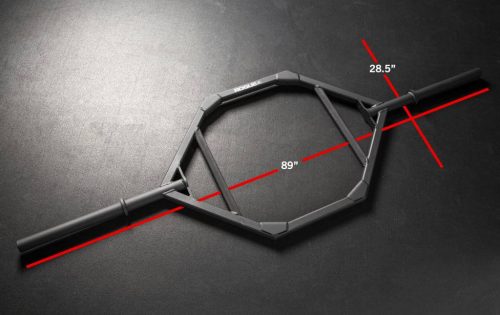 Review: This Rogue trap bar is slightly lighter than the TB-2 because it has no raised handles. It still has the other great features, like the perfect knurling, carefully finished welded seams, and a flawlessly applied coat of Rogues renowned matte black finish.
This trap bar is long enough to use in your power rack and at 25 inches wide between the handles, it is great for large or tall lifters.
Specs: 58 lbs unloaded, handles 25" inches apart, 89" inches long, no raised handles,
Pros
Rackable length.
Wide between the handles.
Superior knurling and finish.
Cons
Sleeves are smaller than a standard Oly bar, so standard barbell collars won't work.
Takeaway
Well-built trap bar from a top fitness brand. Best hex bar with NO raised handles.
Looking for collars for non-standard diameter sleeves like the sleeves on Rogue's trap bar? The Rogue HG 2.0 Axle Collars have the perfect fit for the sleeves of these trap bars.
Review: The Titan hex bar for Olympic weight lifting is an affordable option for those that deadlift under 500 lbs.
It has raised handles that make the starting height pretty high and the width between the handles is wide enough for big guys.
Specs: 500 lb weight capacity, 44 lbs unloaded, 56 inch total length, 24.5 inches between handles, 4.25 inch handles.
Pros
Barbell clips are included.
Chrome, rust-resistant finish.
Good for larger athletes.
Cons
Sleeves are short. It's pretty hard to load over 300 lbs, even though the bar is rated for 500 lbs.
Takeaway
Nice chrome finish and raised handles make this one of the best trap hex bars for the money.
Titan Fitness Hex Trap Bar
Titan Fitness Hex Trap Bar V2 Knurled Handles Steel
Heavy-duty construction for a stout and durable design for years of heavy lifting
Two sets of knurled handles add even more versatility to your workout
Raised set of handles stands 7.5-in from the floor for a raised starting position when lifting
Frame is perfectly sized so you can rack inside standard power racks on the J-Hooks
Solid 48mm weight posts for maximum capacity and long-term durability
Review: The Titan Fitness hex trap bar is a heavy-duty bar that can is rated for more than 810 lbs. It is long enough to use in your power rack for rack pulls and other exercises where you don't want to start from the floor.
Specs: 85.5 inches long, rackable, 22 inches between handles, 60 lbs unloaded, 810 lb weight capacity, sits 7.5 inches in the raised starting position.
Both sets of handles are knurled for superior grip and the bar sits about 7.5 inches from the ground so it's much easier to peel off the ground than a standard barbell.
Pros
Rackable, can be used in your power cage.
5 inch staring height when set on the ground.
Knurled raised handles.
Cons
Does not accept standard size collars.
Takeaway
High weight capacity, rackable and one of the best Olympic hex bars around.
CAP Barbell Olympic Trap Bar
CAP Barbell Olympic Trap Bar, Hex Bar, Shrug Bar, Deadlift Bar, Black, 50 inches
SPECS: Dimensions are 50" L x 29" W x 14" H; Loadable sleeve length is 9.5 inches; Total assembled weight is 28lb; Suggested Max Weight Capacity 500 pounds
GRIPS: Neutral placed grip are comfortable and elevated sleeves making lifting easier on the back
COMPACT: Constructed of tubular steel, this bar takes up minimal amount of space in home gym
STABILITY: Incorporated feet protect floors from weights and balances bar while loading and unloading; Medium carbon steel bolts are SAE 429 Grade with a tensile strength of 74,000 PSI and shear strength of 37,000 PSI
FULL BODY WORKOUT: This bar allows for a full body workout by engaging large muscle groups thereby building strength and fueling muscle growth; For use with Olympic weights
Review: This CAP trap bar is ideal for small spaces because its total length is just 50 inches, yet it accommodates big guys because the space between handles is 28 inches.
It has raised handles and a stand so you can easily load the weight plates.
Specs: 50 inches long total, 28 lbs when not loaded, 28 inches between handles, 500 lb weight capacity, with raised handles and stands.
This is the most affordable hex trap bar I can find and is a good buy for the money, so if you are on a tight budget, get it. But, it is not without its limitations, specifically a lower weight capacity.
Pros
Cheap.
Very compact.
Plenty of space between handles for big users.
Cons
No knurling on the handle.
Not much room for your hands.
Takeaway
Inexpensive trap hex bar for small spaces and those who plan to lift less than 500 lbs.
GYMAX Olympic Hex Bar, Folding Trap Bar 56" Chrome Finish Hex Weight Lifting Bar Deadlift Bar with Two-Handle, for Squats, Deadlifts, Shrugs Power Pulls, 800Lbs Weight Capacity (Silver)
【Versatile Strength Training】You can exercise hamstrings, quads, forearms, and even grip strength by performing various training with a trap bar. The change in angle incorporate less of your glutes and lower back while increasing the use of the quadriceps. It suits your various needs whether you are training in the house, gym or any institutional.
【Folding Design & Solid Steel Construction】The trap bar is constructed from heavy duty steel frame and sealed with chrome finish, making it durable for you. Meanwhile, folding handle allows you store it at home easier.
【2 Different Grip Positions w/ Knurled Handles】Made of a tough and coarse texture that is cut in a diamond pattern on stainless steel grab bar. This hex bar features dual knurled handles that are designed to increase the friction and provide you a sturdy and comfortable grip when lifting heaving equipment.
【Easy to Fasten Barbells】Two snap springs are included in the package which helps you to fix weight plate more convenient, and they can lock the plates tightly. By the way, with loadable sleeve length, this hex bar is perfectly built for you to comfortably perform exercises and load your desired weights.
【Ergonomic Design】This hexagonal bar is designed to helps you isolate muscle groups and keeps weight centered through the body's mid-line during dead lifts, shrugs, and power pulls, reducing risk of injury. It puts less stress on the lumbar spine, which is a great relief for those with back problems
Review: The Gymax hex bar has great quality considering its price. It has a nice chrome finish, knurled raised handles and the spring clips are included.
Specs: 53 lbs unloaded, rated for 800 lbs of weight, 25 inch space between handles, but not long enough to use in a power rack.
This bar is surprisingly affordable considering the professionally done welds and solid one-piece construction, it is as good as more expensive bars.
Pros
Spring collars included.
High weight capacity: rated for 800 lbs.
10 inch sleeves to load it up heavy.
Cons
Shipping box needs to be improved.
Takeaway
This trap bar is an excellent deal, it's a well-made, high weight capacity bar that will not disappoint.
If you need a set of Olympic weight plates for your trap bar, I have a list of the best Olympic barbell and weight sets here.
Make your home gym complete with both the trap bar and a straight barbell with a set of plates you can use for both.
Day 1 Fitness Olympic Trap Hex Bar
DAY1 FITNESS Olympic 2-Inch Combo Hex Bar by D1F for Weight Lifting - 750lb Capacity -Silver Hexagon Deadlift Bars with Knurled Handles for Powerlifting - Standard Dead Squat Barbell for Bodybuilders
Professional and Durable Weightlifting Equipment: Our 45 pound trap bars are made with a high-quality silver chrome surface, with long-lasting knurled handles. They will suit your needs whether you are training in your garage, or you're a gym owner.
Powerful Conditioning Hex Bars: With the ability to hold up to 750 lbs to suit your personal needs, each Olympic hex bar accommodates 2-inch weights. This allows for appropriate weight variation when doing squats, deadlifts, shrugs or power pulls.
Two Options for Physical Activity: These hexagon barbells offer two different handles to suit your desired exercise regiment. They combine hex and high hex bar handles, which allows you to isolate desired muscle groups while weight lifting.
Strength and Safety: The octagon-shaped trap bars offer a more secure center when strength training, reducing risk of injury compared to standard bars. Additionally, the knurled surface of our handles provide a more secure grip during exercise.
Suitable for Anyone: In addition to being able to support a lot of weight, the hex barbell will fit anyone, men or women. Each bar is 55.25" in total length with a 24.5" x 23" wide opening. The solid craftsmanship allows for commercial and private use
Review: I really like the Day 1 Fitness trap bar because it's a high-quality bar that holds a lot of weight and is not too expensive. It has a nice chrome finish, decent welds, and feels solid.
Specs: 55.25 inch long total length, rated for up to 750 lbs, 23 inches between the handles, raised knurled handles, 44 lbs unloaded.
There is knurling on both sets of handles, and the knurling is grippy, but not so much that it shreds your hands, which I appreciate.
Pros
Good for smaller athletes thanks to the 23" inch space between handles.
Both sets of handles are knurled.
High weight capacity – 750 lbs.
Cons
Not long enough to use with a power rack, compact design is better for small spaces.
Takeaway
Solidly built hex bar with a great finish, grippy knurling, and compact sized and high weight capacity.
Valor Fitness Hex Trap Bar
Valor Fitness OB-ADJ- Adjustable Trap Bar with 3 Grip Positions- Standard Grip- Shrugs Deadlifts Squats- Exercises Home Gym Workout Equipment- Max Weight 500 lbs
EXCLUSIVE DESIGN- Exclusive PATENTED 1" grip handle can be adjusted between 3 different angles, allowing the user to choose which grip width suits them best. Simply squeeze the pin with springs to adjust the position of the handle.
UNIQUE HANDLE POSITION- Ensures correct lifting form allowing midline center of gravity to stay balanced, reducing strain on spine to safely lift heavy weight. ETCHED SLEEVES- Ensure plates won't slide during workout use.
BUILDS MUSCLE- Shrugs, squats, & deadlifts are primary lifting functions ato add muscle strength to upper body. The exclusive ability to adjust between grip width allows the user to develop target muscle groups from different angles for muscle building.
RUBBER STOPPERS- Protects gym floors from damage or scratching. Note: The OB-ADJ is not meant to be dropped. Damage may still occur if not set down properly.
ADDITIONAL- Bar weighs 51 lb. Assembly required – hex key included for assembly. Total footprint measures 71" x 28" x 7". Ideal addition to any home or light-commercial gym to meet the needs of multiple users. Max weight load of 500 lb.
Review: This Valor Fitness trap bar is an excellent choice for home gyms that are used by more than one person.
The adjustable handles allow three different angles, which makes the space between the handles adjustable from 28.75 inches to 20 inches so all size users will be comfortable using this trap bar.
Specs: 71 inch total length, adjustable width between handles is between 28.75 inches and 20 inches, max weight of 500 lbs, 59 lbs unloaded.
I should note: this set is ideal for those who plan to lift less than 400 lbs, as this trap bar is not designed for heavy lifters.
Pros
Adjustable angle grip accommodates all size athletes.
Aggressive knurling insures you will not lose your grip.
Easy to load with weights.
Cons
Not for heavy lifters. Not for overhead presses, due to the adjustable handles.
Takeaway
Well-built adjustable handle trap bar fits multiple users.
Review: This TDS hex bar is the business. It has a simple, strong design, and can hold up to 1000 lbs.
It has plenty of room for the weight plates, and places the weights well away from your hands, unlike a few other brands that have the weights too close.
Specs: 63 inches long, 40 lbs unloaded, 6 inch high raised handles, 1000 lb weight capacity and 23 inches between the handles.
I love the chrome plating and clean design, and believe this high capacity trap bar will be a key player in your home gym for many years to come.
Pros
1000 lb weight capacity.
Deep knurling on the raised handles.
10 inch sleeves have plenty of room for weight plates.
Cons
Made for standard 1 inch hole plates NOT Olympic 2 inch hole plates.
Takeaway
Solid, well-made hex bar designed for high weight and standard 1 inch hole plates.
TDS Trap Hex Bar with Stand
Review: This reasonably priced trap bar by TDS is a good choice for large and big guys because there is a lot of room between the handles to stand.
Specs: 400 lb weight capacity, raised handles, 28" between handles, 23 lbs unweighted.
This light-duty hex bar is really easy to load up with plates because it has a built-in stand. Just be aware that it can only hold up to 400 lbs of standard 1" weight plates.
Pros
Easy to load with weight.
Spring barbell collars included.
Plenty of space for large athletes, 28" space between handles.
Cons
Uses standard size 1" plates, NOT Olympic plates.
Takeaway
Best trap bar for really large athletes that plan to lift less than 400 lbs and use standard 1 " plates.
This TDS trap bar with stand must not be dropped or you can cause damage to the bar and your floor.
In fact, I recommend you use proper gym flooring if you decide to get a trap bar that has a built-in stand. I have a list of the top gym flooring here. Take a look!
What is a Hex Bar? What is a Trap Bar?
Trap bars are also known as hex bars because the center cage of the bar is the shape of a hexagon. You stand inside the hex cage to perform lifts. The reason it is often called a trap bar is because using this bar for deadlifts tends to be better for your traps.
I will explain more about that in a minute, so stay tuned.
There are sleeves on each side of the hex cage where weight plates are loaded.
The trap bar itself usually, but not always, has two sets of handles. One set of handles in on the hex itself, while the other set of handles are raised handles that are welded on to the hex cage.
What are Trap Bar Deadlifts Good for?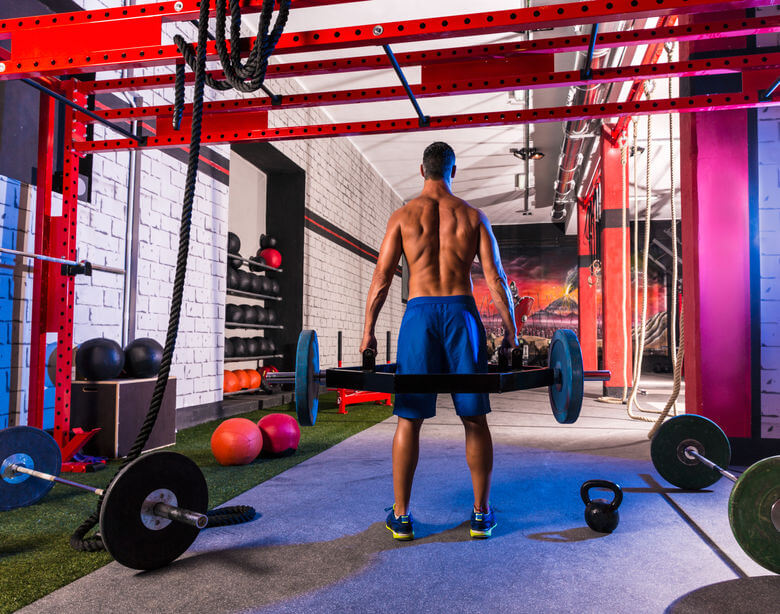 Proper Form
A trap bar makes it easier for the athlete to learn proper form and at the same time, allows them to lift more weight.
The hex bar forces you to stand more upright than you would for a barbell deadlift, which places your center of gravity in a more vertical position, encouraging proper form.
Hip Flexion Issues
A standard deadlift, seen here, starts near the end of most folks' hip flexion range of motion. Some people simply do not have enough range of motion to do a barbell deadlift properly, so they make up for lack of range of motion by flexing their spine.
Ouch!!!
Flexing your spine during a deadlift is a recipe for back injury and pain, and that's why many athletes opt-out of the deadlift over time, missing the great benefits of this staple movement.
A raised handles of the trap bar places the bar higher from the ground so most athletes do not need to flex their spine as they peel the weight from the floor, preventing back pain and injury and encouraging proper form.
Keeps Knees Out of the Way
Often, with a barbell deadlift, your knees get in the way, or you must bend your back to get the barbell up and over your knees.
This is especially true for athletes with long legs, whose knees stick out farther in front when bent. Being tall, in the case of doing deadlifts, is not a benefit.
It is MUCH easier for a person with long legs to do a deadlift using a trap bar, since their knees are not in the way.
Trap Bars are Quad Focused
With a traditional barbell, you must always clear your knees while lifting.
Not so with a trap bar, since you stand inside, with the bar surrounding you, your knees do not get in the way.
With a trap bar you can stand more upright, and when you become fatigued, you can shift the load to your quads, meaning your quads get a better workout with the trap bar deadlift than a straight barbell deadlift.
What Factors to Keep in Mind Before Buying?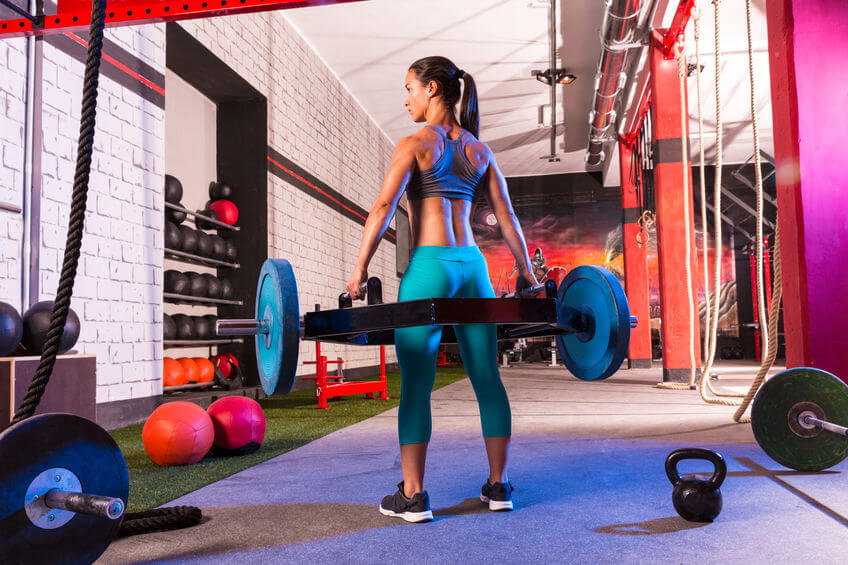 Handle Width: What is the Width Between Handles?
The distance between the handles determines how large or small of an athlete the trap bar can accommodate.
For example, the TDS Trap Hex Bar with Stand has 28 inches between the handles, so those who are big, tall, or have long arms will be comfortable using it, but a more petite person, especially in they have shorter arms, will feel uncomfortable.
On the other hand…
The Day 1 Fitness Olympic Trap Hex Bar has just 23 inches between the handles and may feel better for someone who is shorter or has shorter arms.
Weight of the Trap Bar, Unloaded & Max Weight Capacity
The weight of the trap bar unloaded can vary quite a bit, and you should consider the weight before you choose your bar, because it will add to the final weight you use for your exercises.
Heavy-duty trap bars (500 lbs + max)
Heavy-duty trap bars designed for heavy lifters are usually between 58 and 60 lbs. If your bar is in this weight category you can bet it will also have a higher max weight capacity.
Light-duty trap bars (less than 400 lbs max)
Light-duty bars, or bars that have a lower max capacity of 400 to 500 lbs are predictably lighter when they are unloaded.
If your bar is between 23 and 28 lbs unloaded, it is a lighter duty bar, which is OK, as long as you do not plan to lift more than 400 lbs.
Is it Rackable? Can You use the Hex Bar Inside Your Power Rack?
A rackable trap bar means the total length of the bar, including the sleeves, is long enough to set on the J Cups or safeties of your power rack.
Rackable trap bars allow you to do overhead presses, rack pulls and more from your power rack.
Generally, a trap bar needs to be at least 82 to 84 inches long, or longer, to be rackable.
The Titan Fitness Hex Trap Bar and the Rogue TB-2 Trap Bar are two great examples of rackable trap bars.
Trap Bar Workouts and Videos
The trap bar can be used for much more than deadlifts!
Here is a list of just some of the exercises you can do with a Trap Hex bar:
Deadlifts
Farmer's Walks
Shrugs
Push-Ups
Bent Over Rows
Hex bar jumps
Twists
Squats
Long-Stride Walks
Overhead press
Want more?
Check out this Bull's Strength video that quickly demonstrates 16 exercises you can do with the trap bar. I love that he's lifting in Chucks, my favorite weightlifting shoes.
Trap Bar FAQs
Is a Trap Bar Deadlift Easier than a Straight Bar Deadlift?
Yes, in a sense. Let me explain.
Lift More Weight
Most folks can deadlift more weight with a trap bar than a barbell. In a way, this makes the trap bar seem easier.
Easier to Learn
One of my favorite benefits of the trap bar is that it is easier to learn a trap bar deadlift than a barbell deadlift.
When you first learn to deadlift with a barbell, it can be hard to find your balance, since the bar must stay in front which can potentially cause two errors; either losing your balance forward, or flexing your spine.
With the hex bar deadlift your knees are not in the way, so you do not need to maintain as forward a position, putting you in a more upright position where you are both less likely to lose your balance or flex your spine.
What Muscles does the Trap Bar Work?
You can do so many exercises using the trap bar, it's nearly impossible to list all the potential muscles a trap bar might work.
Deadlifts.
But, just for sake of answering the question, let's look at what muscles the trap bar deadlift works compared to a barbell deadlift.
The trap bar deadlift places more emphasis on the quads, since you are in a more upright position as you lift.
It also hits the traps a lot more since you are not bent over as much, and not using your lower back as much during the lift.
Of course, trap bar deadlifts also work the lats, glutes and hamstrings as well.
How Heavy is a Trap Bar?
Trap bars vary in weight quite a bit. I have seen low-end light-duty trap bars that weight 23 lbs on their own. Of course, the max weight capacity on these light-duty bars is lower, usually around 400 lbs.
Heavy-duty trap bars can weigh between 55 and 60 lbs. But they also hold a lot more weight, sometimes as much as 1000 lbs.
Want to see a REALLY HEAVY deadlift using a trap bar? Here you go!
Article Summary
Now that you have seen the best trap bars, and why they are a beneficial addition to your standard barbell routine, it's time to pick up one for yourself and reap all the benefits this bar has to offer.
If you are looking for a trap bar to round out your CrossFit gym, why not take a look at our carefully created list of all the necessary CrossFit equipment you need for a completely stocked CrossFit gym.
Before you go…
Don't forget to sign up for the Garage Gym Power newsletter and stay informed on the latest and greatest garage gym equipment and news.