What is SkiErg? The Best SkiErg Workout Routines for You
Just a glance at a SkiErg can make this machine very confusing.
We're used to things like treadmills, gazelles, and Nordic track runners, but the SkiErg is something remarkably different.
While other pieces of equipment are designed to mimic the impact of intense aerobic activities such as running or climbing, the SkiErg is designed to mimic the impact of skiing.
Skiing is an excellent workout, but not all of us have access to the real thing.
If you live in a warmer climate or a flat area, you'll never be able to ski locally. Instead of flying out to the Swiss Alps to work out, the SkiErg brings the intensity of a skiing workout to your home gym.
When you think about it, you'll realize it's the most economical way to experience the same workout conveniently, and year-round.
The SkiErg machine is constructed similarly to a
rowing machine
, except it is positioned vertically rather than horizontally.
SkiErg by Concept2
Concept2 SkiErg with PM5 Performance Monitor
This item benefits from an Extended 90 Day Return Window
Build strength and endurance using the poling motions integral to both techniques of Nordic skiing
PM5 Performance Monitor provides immediate, accurate performance data during and after your ski
Mounts to a wall (hardware included); Optional Floor Stand (sold separately) makes the SkiErg free standing and easily moveable
Lightweight, high strength drive cords for a smooth feel and long life; Ergonomic strapless handles
At the top, there are two handle grips, and the round piece at the bottom that looks like a small electric fan is a flywheel.
The machine itself may not look like much, but it's capable of providing you with a high-intensity workout.
SkiErg Floor Stand by Concept2
Concept2 SkiErg Floor Stand, Black
Allows skiers to use the SkiErg with PM5 without mounting to a wall
Compatible with SkiErgs manufactured from August 2014 to present
Anti-skid, wear-resistant base
Steel supports; Wood interior
Caster wheels make it mobile
When using a SkiErg, you should always pace yourself.
You're getting a better workout than you think, so it helps to start slow and build up the intensity as you gain experience in order to avoid workout-related injury.
Using Your SkiErg for a Powerful Workout
Personal trainers and expert athletes love the SkiErg for the versatility that it offers.
The SkiErg replaces a whole host of workout equipment, allowing you to maximize the potential of a single machine.
Almost every muscle group you're trying to target can be successfully strengthened with a SkiErg. It's merely a matter of structuring your workout and engaging the right zones.
Always start slow and build up reps and intensity. After you've been using your SkiErg for a while, you'll be able to lengthen your workout with increased reps.
Lat Twists
With your feet at shoulder width apart, start out with your right side facing the SkiErg. Without moving your feet, turn your torso to the right.
Reach up with both hands, and firmly grasp the handles. Without engaging your lower body, pull the handles down diagonally, crossing your left side. As you come down, begin to squat and ease into bending your knees.
Don't snap back – gently transition up to your original position.
Repeat without taking a break. Spend about a minute working on your right side, and then switch to your left side.
As you've gained experience with lateral twists, you'll be able to add more reps.
Pistol Hops
You can't do a typical pistol hop with a SkiErg, simply because of the way it's constructed. The alternative is more of a hop pull that employs a slight variation of the typical pistol.
Start with your right leg. Extend it in front of you, and raise it slightly off of the ground.
Shift your balance solely to your left leg. With your arms over your head, grasp the handles of the SkiErg. Then, pull your arms down along your sides, descending into a one-legged squat as you bend your right knee.
Immediately hop back up once you've completed your squat, and switch sides.
Cross Country
Assume the standard stance, with your feet at shoulder width apart.
Stand a couple feet away from the SkiErg machine. Most people find about two feet to be an ideal distance. Bend your knees slightly, and with your arms above your head, grasp the handles of the SkiErg.
In essence, you'll be executing a squat pull, but upping the intensity. Alternate lifting your feet off of the floor every time you pull.
Don't tense up your knees, but shift your balance from leg to leg with every other squat pull.
Double Pulls
With your feet at shoulder-width, stand a comfortable distance away from the SkiErg.
For most people, two feet away works perfectly. With a slight bend in your knees, grab the handles with your arms over your head.
Pull straight down on the handles.
As you come down, ease into a squatting position with your hips forward. Keep your back flat, and reach toward your glutes.
As you come back to your standing position, raise your arms back over your head and repeat the motion.
Amped Up Double Pulls
This is similar to the standard double pull, but it incorporates a ploy.
Start these the same way you would a double pull, but instead of reaching toward your glutes, keep your arms straight by your sides.
While you're lifting your arms back up to resume standing position, use both of your legs to hop to the left. When you repeat, hop back to the right.
Keep alternating sides as you return your arms back to their overhead starting position.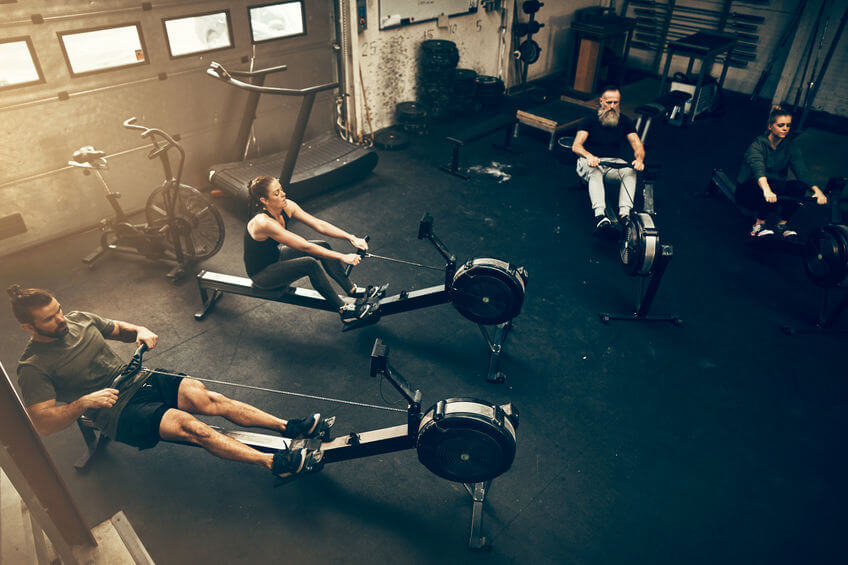 Intermediate Step-Downs
This exercise should be saved until you're comfortable with your ability utilizing the SkiErg, as the intensity is added by incorporating a rowing machine.
If you're ready for the next level, intermediate step-downs provide a full-body workout that's parallel to none.
A step-down is performed by alternating skiing and rowing, and each time, you'll decrease the duration by one minute.
Start at ten minutes, and work your way down to one minute.
Bounce back and forth between the rowing machine and the SkiErg, without taking any breaks. Though this exercise is only recommended for highly skilled individuals, it's worth working up to the required level to master the rowing and skiing step-down.
Intermediate Back and Forths
Many personal trainers believe that working in intervals is better for both strength building and calorie burning.
This is where one intense exercise is traded for a slightly less intense exercise, with the individual bouncing back and forth between these alternating speeds without a break.
With Back and Forths, you'll be using both a rowing machine and a SkiErg, much like the step-downs but with relief from the intensity.
Start your back and forths in five-minute increments.
Hit the Ski Erg for five minutes as a warmup, and then go for a 15 minute intense row. Slow down and paddle at a reasonable pace for about five minutes, and then jump back on the SkiErg for fifteen minutes to get in another intense ski.
Go back to your rowing machine, and do five minutes of easy rowing.
Switching up intensity allows your body to recalibrate itself, making the most of your workout.
It's better than fully stopping in between activities because alternating to a lower impact exercise allows you to maintain your calorie-busting heart rate.
Having a SkiErg in your home gym will prove to be invaluable.
Whether you're using it as your sole piece of workout equipment or a supplement to other machines you already have, your SkiErg will provide you with a world of options for maximum efficiency workouts.
Whether you're a beginner or an expert in the world of fitness, the sky is the limit with a SkiErg.
You're unlikely to outgrow this piece of equipment, and even people who seek the most challenging workouts possible will be impressed with the SkiErg's versatility.