15 Best CrossFit Shoes for Wide, Flat & Narrow Feet with Reviews 2019
Getting a pair of CrossFit shoes that fit right is crucial to getting the most from CrossFit.
Poor fitting, or incorrect style shoes can cause pain, foot injury, or even a sprained twisted ankle.
OUCH!
If you have wide, flat or narrow feet, we have a list here of 15 of the best CrossFit shoes for wide feet, narrow feet and flat feet you should check out.
But first, a quick discussion on what you should look out for before choosing your perfect goldilocks pair.
Keep This in Mind Before Buying CrossFit Shoes for Wide, Flat or Narrow Feet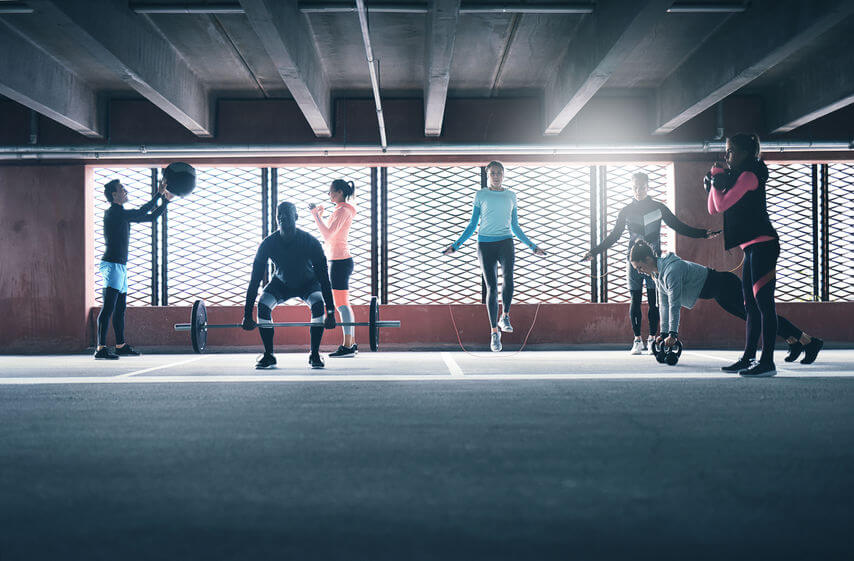 The Specific Activity
Metcons
Metcons need training shoes that are flexible and durable, generally with a drop of between 0 and 4 mm.
Metcons involve exercises for agility, speed, coordination, metabolic conditioning, speed training and can include running.
Shoes for this type of activity should be completely unsupportive, unpadded and flat to avoid injury to the athlete.
Heavy Lifting
Shoes for heavy lifting generally have a solid stable base and a dense or even hard heel.
A large drop, sometimes up to or over 22 mm to give you a slight lean forward, and straps to lock your feet in.
Running
Running shoes typically have cushion or padding under your foot to protect your knees and joints from impact and return energy back to your stride.
These shoes are the opposite of training shoes like Nike Metcons or Reebok Nanos, which have little to no cushion under foot.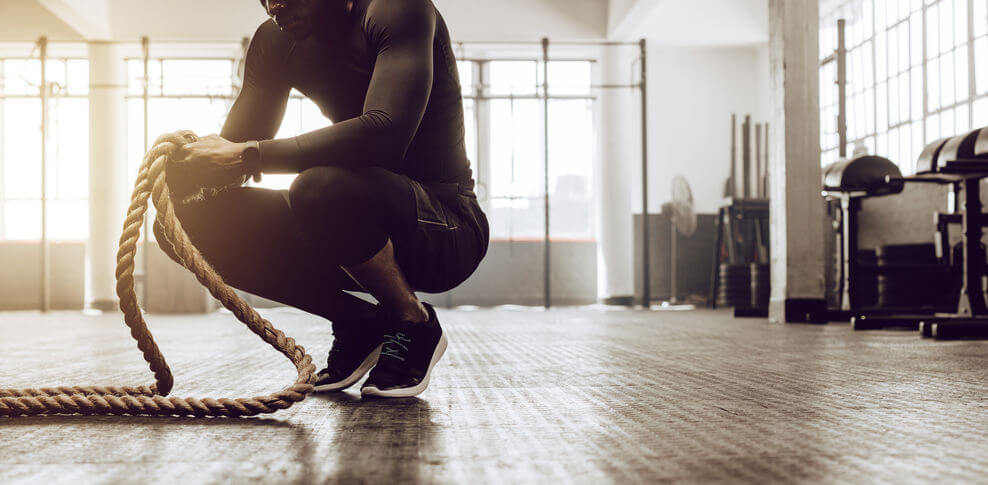 Advice and Tips
Many CrossFit athletes swear by barefoot style or minimalist shoes. Give them a try if you find traditional trainers are too bulky.
Remember: for Metcon trainings, the ideal shoes are Unpadded, Little structure, really light weight and flat with 0 to 4 mm drop.
Lifting shoes need a stable, solid base or heel- nothing cushy squishy or padded.
TOP 5 Best CrossFit Shoes for Flat Feet 2019
Reebok Men's CrossFit Nano 8.0 Flexweave
Review: The new Nano 8.0 features Flexweave, a technology that makes the upper both strong and durable thanks to the figure 8 weave pattern.
The shoe has a wide toe box, reinforced toe and low cut ankle for the most mobility.
This moderately cushioned, shoe gives just a touch of support, without being over cushioned, making it one of the best CrossFit shoes for flat feet.
Pros
Rope Pro and Toe Tection Technology.
Flexweave is both breathable and strong.
Removable insoles – can wear insert or orthotic.
Cons
More cushioned than other CrossFit shoes, which some athletes do not like in training shoes.
Takeaway
One of the best Reebok CrossFit shoes for flat feet.
Inov-8 Men's Bare-XF 210 V2 Cross-Trainer
Review: From the "Y" lock heel lock system that keeps for foot secure to the Rope tec and added toe reinforcement, this shoe is designed for CrossFit.
These CrossFit shoes are ideal for athletes with flat feet who prefer minimal arch support.
The new 210 v2 is sturdier than previous models and much better suited to functional style training than previous versions.
Pros
0 Drop – low to ground feel – just 6mm between your feet and the ground.
Includes RopeTec and A reinforced toe.
Super flexible sole.
Cons
Really limited color options.
Takeaway
Great barefoot style CrossFit shoe for athletes with flat feet who want minimal support.
New Balance Men's 1260V7 Running Shoe
Review: This is the CrossFit shoe for those with flat feet who DO want solid arch support.
The shoe has both a nitro infused Fuel cell midsole and a layer of Abzorb foam cushioning for good arch support and impact protection. Some of the best CrossFit shoes for flat feet.
Pros
Abzorb foam layer and Fuel cell midsole layer support flat arches.
External heel counter locks foot in and adds stability.
One of the best CrossFit shoes for wide flat feet (available in wide and extra wide).
Cons
Purists may find this shoe too cushy, not good for heavy lifting.
Takeaway
Provides excellent support for CrossFit athletes with flat feet or who overpronate.
NIKE Men's Free Train Versatility Running Shoe
Review: The NIKE Free Train Versatility Training shoes make a great choice for those with flat feet looking for arch support.
There are two midsole layers, a removable foam insole and the dual density phylon midsole. You can remove the insole to customize the level of arch support.
The sole of the shoe has hex-shaped lugs for multidirectional traction- great for agility and plyometric exercises.
Pros
Multi direction lugs for traction in any direction.
Good choice for wide and flat feet.
Flywire laces help shoe comfortably conform to your foot.
Cons
Takeaway
A great NIKE training shoe for wide or flat feet.
ASICS Men's Gel-Craze TR 4 Cross-Trainer
Review: The Solyte midsole and Rearfoot gel pad make this Cross Trainer a good choice for flat feet.
This shoe sports plenty of impact protection while also performing well in the gym or CrossFit box. The high abrasion resistant outsole and flexibility of the shoe make it a good shoe to train in.
Pros
High abrasion resistant upper.
Rear foot gel cushion for superior impact protection.
Fluidride midsole provides support and bounce.
Good arch support.
Cons
Lacks reinforcement in key areas of the upper.
Takeaway
A great shoe for when the WOD calls for running or agility work.
Want to see more shoes for flat feet? Click here for more training shoes for flat feet.
TOP 6 Best CrossFit Shoes for Wide Feet 2019
Reebok Women's CrossFit Nano 8.0 Flexweave
Review: Reebok has been doing it right for years with their Nano line and the Nano 8.0 is no exception.
The Nano 8.0 is made from incredibly durable Flexweave, which makes a difference in a harsh gym environment where shoes take a beating.
The Nano 8.0 is suitable for wide feet, has a wide comfortable toe box, and is reinforced in the lace area, another common problem area for training shoes. Reebok really thought of everything with this excellent CrossFit shoe.
Pros
Rope Pro grip on the sole and sides.
External heel counter for added support.
Flexible yet unusually durable upper.
Reinforced toe.
Cons
They run a tad small, but stretch over time.
Takeaway
Top Reebok CrossFit shoes for wide feet.
NIKE Men's Metcon 4 Training Shoe
Review: The NIKE Metcon 4 was specifically designed by NIKE for cross training and weight lifting. The shoe works well for wide feet, has a stable flat base, ideal for lifting, and multi-direction grip for traction in all directions.
If the WOD calls for short runs, heavy lifting, jumping, pushing or pulling, the metcon has you covered.
Pros
Texture overlay on mesh upper for a durable shoe that can take abuse.
Rope Tec built into the sole for superior grip, wear and strength.
4mm drop.
Removable insole.
Cons
Takeaway
The most durable Nike Metcon yet, everything you need for your WOD.
New Balance Men's 40v1 Minimus Training Shoe
Review: New Balance Minimus 40v1 is an excellent cross training shoe for wide feet. It has just a little cushion in the heel and midsole to make this a decent shoe for a little running, while still being a good lifting shoe.
The Vibram rubber sole is flat and the base of the shoe provides a stable platform for lifting.
Pros
Available in Wide and Extra Wide.
Rev lite heel and Rapid rebound midsole make this minimalist shoe decent to run in.
Rubber reinforced lace eyelets.
Flat stable base for heavy lifting.
Cons
Need more color options available.
Takeaway
Really good CrossFit shoes for wide feet, these New Balance Minimus will not disappoint.
Reebok Men's Legacy Lifter
Review: The Reebok legacy lifter is ready for competition with a wide, solid heel and 22 mm drop, you will feel secure busting out your next PR.
The heel clip is made from extra hard TPU and the shoe has two lockdown straps so you feel secure enough to focus on your heavy lift and not your lifting shoes.
Pros
22mm drop.
Wide stable heel.
Competition ready.
Cons
Takes a while to break in.
Takeaway
An excellent lifting shoe for wide feet.
Reebok Men's Yourflex Train 9.0 Xwide Shoe
Review: These Extra wide Reebok Cross Trainers are comfy and super lightweight.
They can be worn for long periods of time, unlike many trainers, so if you are on your feet all day, check these out.
Pros
Extra Wide.
Super light weight.
Comfortable cushy midsole.
Cons
Some find the shoe too soft, not substantial enough.
Takeaway
The all day, every day trainer for wide feet.
Inov-8 Women's F-Lite 250 Fitness Shoe
Review: This shoe is a hybrid lifter and metcon style shoe. It has an 8 mm drop, higher than most CrossFit shoes, plus a power heel, which is a dense, stable lifting heel, so you can power through your heavy lifts confidently.
It also features Rope tech grip, reinforced toe, and is roomy in the toe box. The Inov-8 F-lite 250 is a good choice WOD shoe for wide feet.
Pros
Power heel specially designed extra dense lifting heel.
8 mm drop.
Flex groves in the sole so you can move during metcons and agility.
Cons
Takeaway
A great hybrid lifting – WOD – Metcon trainer for wide feet.
TOP 4 Best CrossFit Shoes for Narrow Feet
NOBULL Men's Training Shoes
Review: These Cross Trainers have a stiffer sole and narrower build than other trainers, which is why they have so many die-hard fans.
Their uncomplicated look is another reason they are so popular. The upper is made from durable guard plate infused fabric that is super durable and flexible.
The sole has multi-directional lugs for agility work and the shoe has a flat, stable base for lifting.
Pros
Laces have real, reinforced eyelets.
Fabric is heavy duty, durable and flexible.
4mm drop.
Cons
Takeaway
The best CrossFit shoes for narrow feet with an understated look.
Asics Men's Fuzex Tr Cross-Trainer Shoe
Review: This Asics Fuzex cross trainer is one of the best CrossFit shoes for narrow feet. It's also good for running.
With front and rear gel, and two midsole layers it has plenty of impact protection and energy returning bounce.
Pros
Fuzegel and Solyte midsole layers.
Heel and forefoot gel pads.
Antimicrobial sock liner.
Cons
Not great for lifting heavy.
Takeaway
Comfortable and lightweight cross trainers for narrow feet.
Altra HIIT XT Men's Cross-Training Shoe
Review: This Altra HIIT training shoe is a good fit for athletes with narrow feet. The sole comes up over the side, similar to NIKE Metcons, which adds significant stability to the shoe.
The toe box sports a natural foot shape so your toes can lay in a natural position, the insole is removable as well, so you can choose your level of cushion.
Pros
0 drop training shoe.
Foot shape toe box – allows natural foot splay.
Removable insole support.
Cons
Takeaway
This CrossFit shoe is a good choice for narrow feet.
Nike Men's Metcon 3 Training Shoes
Review: Nike Metcon 3 shoes are one of the best CrossFit shoes ever made in terms of performance. They can take all the abuse the sport throws at them and keep on going.
The sole of the Metcons extends up over the sides for added strength, stability and protection while climbing a rope.
Pros
Drop in midsole.
Low profile dense heel – great for lifting.
Sole extends up the sides for stability and added durability.
Cons
Takeaway
The best Nike CrossFit shoe made.
That wraps up 15 best CrossFit shoes for wide feet, flat feet or narrow feet, and I hope you find the right fit for your feet!
Don't forget to sign up for the newsletter to get access to exclusive content and get notified of new shoe and gear reviews as they come out.
We only need your email address and we never send spam!
Want more shoes?
We have more CrossFit Shoe Reviews for Women and CrossFit Shoes for Men, be sure and check them out!