TOP 11 Best Weighted Dip Belts Reviewed in 2023 + Buying Guide
A good dip belt is a quick, inexpensive and versatile way to level up your weightlifting or bodyweight routine by adding resistance.
Weighted dip belts are good for so much more than dips!
But…
…I will get to that in a minute.
I researched, vetted, reviewed and assembled this list of the top 11 BEST dip belts of 2023 so you can find the belt that's right for you.
Plus, I include a buying guide and weighted dip belt FAQs so you get all your questions answered.
Let's get to it!
TOP 11 Best Weighted Dip Belts 2023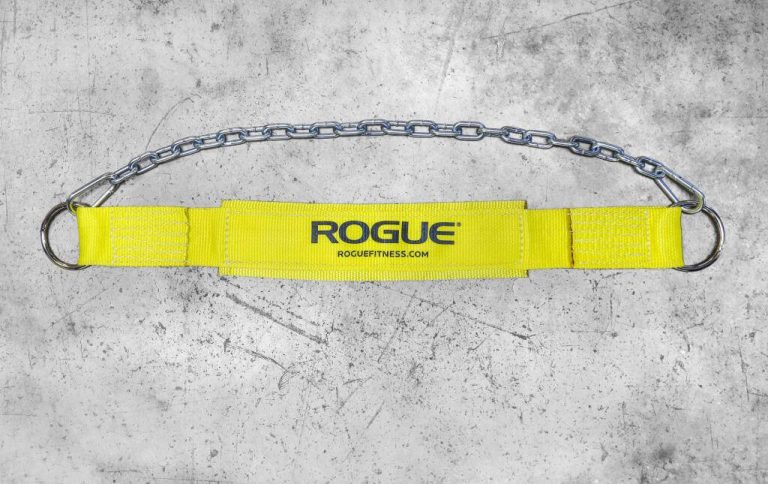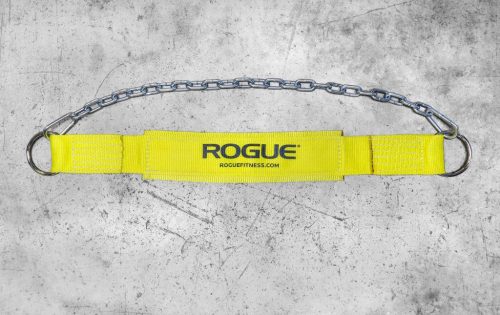 Review: The Rogue dip belt is a heavy-duty nylon belt with top-notch stitching that is safe and secure under the stress of heavy weight.
The heavy-duty stitching and construction and the beastly chain are what set this belt apart. The chain will not bend and the links will not open when loaded heavy, unlike some cheaper belts out there. This is easily the best dip belt with chain you can get.
Pros
Heavy-duty top-quality stitching.
30 inch super heavy-duty chain.
Pair of locking carabiners included.
Made in the USA.
Cons
The attachment rings are large and may dig in at the hips.
Takeaway
The best dip belt of 2023, with the strongest stitching and the toughest chain. This belt will last for years to come!
If you already have a weight belt you love, why not consider the Rogue dip accessory strap? It is a leather attachment with chain included that converts your existing weight belt into a weighted dip belt.
Don't have a weight lifting belt? Check out the best weight lifting belts here.
Review: The Spud is not your everyday run of the mill dip belt. It is designed for heavy weighted squats and super heavy weights. When it comes to weight capacity, this dip belt is the highest-rated belt, up to 1200 lbs!
It is designed to take a massive weight and abuse and outlive your toughest workout day after day, year after year.
Pros
Built tough, meant to take abuse and HEAVY weight.
Available in small, medium and large, XL and 2XL sizes.
1200 lb capacity.
Cons
Chain and spring clips not included.
Must order by size, not one size fits all.
Takeaway
The dip belt that will last longer than you will, designed for heavy weight.
Dominion Strength Training Dip Belt
Leather Dip Belt with Chain - For Weighted Pullups and Dips - Professional Grade - Fits Any Waist Size (Gray Suede)
Heavy Duty Leather Lifting Belt, Suede Lined for Extra Grip, 1/4" Steel Chain, and Carabineers will not wear out and are rated for 1000 pounds.
Perfect for Weighted Dips, Pullups, Chinups, and Squats. Harware is sized to work with plates, dumbells, and kettlebells.
Lifting Belt is 34", the Chain is 36". Fully adjustable to securely fit any size waist. Compact enough to easily fit in your gym bag.
Large Steel Carabineers are easy to latch and unlatch and can pass through a 2" hole plate. Can also be removed for smaller plates.
Lifetime Replacement Guarantee. If our lifting belt ever fails for any reason simply contact us for a no-hassle refund or replacement!
Review: Dominion dip belts are made in the USA from superior quality top grain cow leather and a heavy-duty chain, rated for 1000 lbs.
The chain is 36 inches long and fully adjustable to fit lifters of all sizes. This belt was designed by experienced weightlifters, for weightlifters. It will not disappoint.
Pros
Wide, comfortable for back and hips.
Made from high-quality top-grain cow leather.
Rated for 1000 lbs.
Made in the USA.
Cons
Chain could be a bit longer.
Takeaway
This high-quality dip belt is one of the most comfortable, durable leather and chain belts out there.
Hypeletics Weight Lifting Dip Belt
Sale
HYPELETICS Weighted Dip Belt - 40 inch Strap Built for Heavy Weights Replaces Chain - Holds 300 lbs for Weighted Pull ups & Belt Squat - Weight Lifting Dip Belts with Chain
WON'T FALL OFF YOUR WAIST: Our Regular size fits waists 30 – 40" and Small size fits waist sizes 23 - 30". The traditional dip belt comes with a 36" chain that you have to loop several times through your weight and D Rings; then you have to awkwardly hold the belt on your waist while you walk or step to the dip bar; our dip belt comes with an adjustable waist strap and buckle that gives you a snug fit around the waist and ensures the belt never falls off allowing you to comfortably exercise.
PREMIUM QUALITY AND DURABILITY: Our Dip Belt is made with high-grade neoprene, reinforced stitching, very comfortable inner pad, steel carabiners and D-rings and a 40" heavy-duty weight strap; small chain lengths on traditional dip belts, are usually too short to safely work out with multiple plates. You lose about 3 to 5 inches looping it through your waist loops leaving the weight hanging to close to you; All 40" of our weight strap is available to hold 6 Olympic size plates with room to spare
WON'T DIG INTO YOUR SIDES: Tired of trying to rush though your training because some part of the belt is digging into your sides, hip, leg or back? This belt is designed by athletes who understand the weightlifter's needs! Our dipping belt eliminates all of those issues with its unique design and soft inner padding.
FULL BODY WORKOUT EVEN AT HOME: Add to your bodyweight; You just need a pullup and dip bar; with dips you can target your Chest, tricep, front shoulders; with pullups and chin ups, you can target your traps, back and biceps and rear shoulder; from a raised platform, you can also do squats with this belt, targeting your Quadriceps and hamstrings; great for men, women, kids, powerlifting, bodybuilding, crossfit, and football, basketball, wrestling and fighters looking to build strength and muscle
LIFETIME GUARANTEE: Order now risk free; we're very confident you will see the quality invested into this belt.
Review: This Hypeletics weighted dip belt stands out in the crowd because it has a nylon waist strap that allows you to get a snug fit, unlike a chain, which can be awkward to move around. The weights are attached using a separate nylon strap.
It has a nice, wide padded back, making it comfortable to wear and the price is decent, not too shabby!
Pros
All nylon construction, no metal chain.
Wide, comfortable, padded back.
Separate strap to tighten around the waist so the belt always stays snug.
Holds 6 plates, up to 270 lbs.
Cons
The carabiners are too small, but can easily be replaced – otherwise it's a perfect belt.
Takeaway
A true value, all nylon weighted dip belt that's comfortable, and will not slip down.
Review: Kinobody is a good choice for the exercisers who prefer straps vs chains. This nylon belt is more comfortable than those that use a chain.
This belt is geared toward bodyweight fitness and is perfect for weighted pull ups and dips. It is a lighter duty belt, and has a max capacity of 240 lbs, but its comfort is what makes it worth the purchase.
Pros
It uses military-banded nylon instead of chains.
Durable and lightweight
Very easy to use.
Cons
The piece of plastic on the belt is not as durable as it could be.
Takeaway
Kinobody is awesome for the bodyweight fitness enthusiast who regularly work on dips, pull ups and chin-ups.
Harbinger Polypropylene Dip Belt
Harbinger 28900 Polypropylene Dip Belt with 30-Inch Steel Chain , Black
Dip belt constructed of durable polypropylene with heavy duty steel grommets to secure chain to belt
Contoured belt design provides back support and fits comfortably during serious training
30-inch steel chain and carabiner mechanism to easily add weight for chin-ups and dips
Weighted dip belt helps build power and strength in triceps and chest
Adjustable, one size fits all
Review: Harbinger is one of the best choices for beginners. The chain is very easy to use.
The max weight on this belt is around 200 lbs, so this is not a belt for heavy lifters, but it is perfect for bodyweight fitness beginners, and it is offered at a budget price.
The belt is also quite comfortable and easy to use, which all together, make this belt such a popular choice.
Pros
Excellent for beginners.
Easy to attach and detach weight.
Really affordable.
Comfortable.
Cons
200 lb capacity.
Not suitable for weightlifters using heavy weights.
Takeaway
This low priced weighted dip belt is great for low budgets and users with the will to improve.
IronMind De Rigueur Dipping Belt
IronMind De Rigueur Dipping Belt — Handles Half Ton Chins & Dips With Ease
Top-rated, top-performing belt - Dip heavy, dip often, and get the chest, shoulders, and triceps you've been lusting after
Sharp looking, comfortable, durable and adjustable—one size fits nearly everyone
The belt is approximately 6.5" wide and 35" long, with a 48" strap
Features IronMind Wicked-Strong construction and handles half-ton (1,000 pounds) loads with ease
Works well for weighted chins and for basic pulling and dragging
Review: This is the best weight lifting dip belt for HEAVY lifters with an all-nylon design.
This belt can be used by threading the strap through the weight plate first, or by securing the strap around your waist and using a loading pin. It has a very strong construction and you will be able to attach up to an impressive 1000 lbs on this belt.
It's good for weighted dips and chin ups or pulling and dragging. It keeps your spine fixed and decreases the chances of injury and is well padded in the back.
Pros
It can handle up to 1,000 pounds.
Made in the USA.
All nylon design, no metal chain.
Cons
Not good for squats, unless you have an elevated surface.
Expensive.
Takeaway
If you are a weightlifter who lifts heavy weights and high repetitions, this is the belt for you!
Sale
DMoose Dip Belt For Weightlifting - Weighted Pull Up and Squat Belt with Chain for Intense Workouts - Heavy Duty Stainless Steel Chain & Coated D-Ring - Weight Dipping Belt for Pullups and Dips
𝐁𝐎𝐎𝐒𝐓𝐒 𝐒𝐓𝐀𝐌𝐈𝐍𝐀 𝐀𝐍𝐃 𝐄𝐍𝐃𝐔𝐑𝐀𝐍𝐂𝐄: The DMoose pull up weight belt is perfect for increasing stamina and endurance while working out. Whether you're doing weighted dips or squats, the dip weight belt will help you quickly get through your workout.
𝐈𝐌𝐏𝐑𝐎𝐕𝐄𝐒 𝐁𝐎𝐃𝐘 𝐏𝐎𝐒𝐓𝐔𝐑𝐄: Pull up belt for weights is worn around the waist and help counterbalance weight during exercises. This helps prevent strain on your back and shoulders and can help you maintain good posture.
𝐈𝐍𝐂𝐑𝐄𝐀𝐒𝐄𝐒 𝐌𝐔𝐒𝐂𝐋𝐄 𝐆𝐀𝐈𝐍: A weighted belt with 36" weight lifting chains is a great way to increase muscle gains. It allows you to add extra weight to your dips and chin-ups and provides extra resistance for other exercises like squats and lunges.
𝐄𝐗𝐓𝐑𝐄𝐌𝐄 𝐂𝐎𝐌𝐅𝐎𝐑𝐓: The weighted belt for pullups provides extreme comfort because of the anatomically molded EVA rubber sheet. Its split design lets you remain agile and mobile during powerlifting.
𝐋𝐈𝐅𝐄𝐓𝐈𝐌𝐄 𝐃𝐔𝐑𝐀𝐁𝐈𝐋𝐈𝐓𝐘: This workout belt is designed for lifetime durability. Made from high-quality materials, it's built to withstand constant use. Whether a professional or just starting, this chain lifting belt for men and women will provide the necessary support.
Review: The D Moose weighted dip belt is a chain style belt available in three color schemes. I love how wide the belt is because it's more comfortable and does not dig in at the sides.
The weight capacity is 225 lbs, so it's a belt suited to beginners and intermediate level athletes, but the price and comfort this belt offers keeps clients coming back to it.
It features double stitching, a 36 inch chain, and reinforced D rings, so it will last for several years if used correctly.
Pros
Affordable.
Universal size and fully adjustable.
Double stitching and long-term stability.
Reinforced double D-rings and carabiners.
Cons
Maximum recommended weight is 225 lbs.
Takeaway
This is one of the top-rated dip belts for beginners because it's affordable, comfortable and well made!
Rip Toned Dip Belt for Weight lifting, Pull Ups, Dips, Chin Ups - 36" Heavy Duty Steel Chain - Weight Belt with Chain for Weight Lifting, Powerlifting, and Strength Training
DIP BELT FOR WEIGHT LIFTING with heavy duty 36" steel chain. Load on more weight and ramp up resistance for dips or pull-ups. Keep making progress by adding plates, kettle bells, dumbbells easily and quickly to your weight belt with chain. Our weighted pull up belt comes equipped with an upgraded carabiner to keep you safe during your weighted lifts.
PREMIUM DURABLE CONSTRUCTION - Feel the support and secure fit from your pull up weight belt, contoured to comfortably wrap your back and hips. Great for pullup bars, dip racks, squat platforms and more.
LOVE YOUR WEIGHTED BELT FOR PULLUPS or we'll send your money back - You'll literally wonder how you ever worked out without it. This high performance weight lifting belt with chain provides you a strength training boost in your workout performance for more challenging advanced lifts like pull ups, weighted dips, chin ups and platform hip belt squats.
SAFELY MAXIMIZE YOUR GAINS - With this pull up belt for weights you'll throw up the most reps with the most weight of your life! For both men and women. Using this dip belt with chain for weightlifting you will build strength evenly and optimize muscle appearance. Our pull up belt is easy to apply or remove during exercise. Best dip weight belt and weighted chin up belt on Amazon.
RIP TONED LIFETIME REPLACEMENT GUARANTEE - All Rip Toned dip belts and lifting gear is backed with our lifetime replacement warranty. Simply contact us if you have any issues with your weight dip belt and we will send you out a new workout belt at no cost.
Review: One of the best dips & pullup belts out there – the only dip belt endorsed by 2014 World Champion Powerlifter Kevin Weiss.
It's a high performance weighted dip belt that provides you a strength training boost and 200 lbs of weight capacity.
The 6" tapered belt, heavy-duty chain, carabiner, D ring and reinforced stitching are built to last and the belt is fully adjustable for all sizes.
This belt is one of the widest reviewed in this list and is very comfortable to wear.
Pros
Very affordable, perfect for beginners.
Easily and quickly add plates, kettlebells, dumbbells or other weights.
36" heavy duty chain.
Cons
Takeaway
This is one of best dip belts on the market for beginners and those on a tight budget.
Iron Bull Strength Dip Belt
Advanced Dip Belt - Dip Pullup Squat Multifunction Versatile Weight Belt for Lifting (X-Large)
✅ MAXIMUM VERSATILITY: Dip Belt, Pull Up Belt, Squat Belt, Sled Harness, Weight Lifting Belt... Name it, our advanced dip belt does it! We designed the advanced dip belt with 3 different anchors used for countless different attachments and exercises.
✅ PREMIUM QUALITY: The advanced dip belt is made of 100% nylon, the strongest, lightest, flexible material for a multipurpose lifting belt. Nylon is the perfect material for maximum grip, comfort and temperature control while training with heavy weights.
✅ HIGH DURABILITY: We designed this belt with one simple idea in mind: It has to support a ton of weights without giving up. The advanced dip belt has reinforced stitching all around, on the belt and on the sling, heavy-duty nylon threads, black steel hooks and carabiners for maximum strength and durability.
✅ SIZE: Please use sizing char in listing images to order the correct size. DO NOT ORDER PANTS SIZE!
✅ 100% SATISFACTION GUARANTEE: We're confident you'll absolutely love our multipurpose belt. If somehow you aren't 100% satisfied, just contact us!
Review: This is a world-class dip belt which has THREE anchors. More anchors mean more placement options for clipping in weights for weighted pull ups, squats, sled pulls and more.
Because the anchors are attached directly to the belt, you could load up weights on either side of you for pulls.
This is a very versatile weighted dip belt that uses a nylon strap instead of a chain and has a Velcro close.
Pros
Premium quality stitching and heavy duty nylon construction.
Includes three anchors attached directly to the belt.
Wide and comfortable dip belt.
Different sizes.
Cons
Not the best choice for weightlifters, the weight over 135 pounds is critical.
Only black color is available.
Takeaway
This is the best dip belt on the market with three anchor points attached directly to the belt.
Grizzly Fitness Premium Leather Dip, Pull Up and Chin Up Belt for Weight Lifting, Weight Training and Body Building by Men and Women | Used by Pros | One-Size | Double Stitching for Extra Durability
IN BUSINESS SINCE 1985 : For 30 years Grizzly Fitness has provided worldwide bodybuilding community with products of highest quality and durability. We stand behind what we sell, and will be here to support you
LAST BELT YOU'LL BUY : Our belts are built for the pros out of high quality leather and steel to be durable and not wear out like belts made from cheaper materials.
LAST BELT YOU'LL BUY : Our belts are built for the pros out of high quality leather and steel to be durable and not wear out like belts made from cheaper materials.
DOESN'T DIG IN : Our weight belts are designed as thick wide belt made of  flexible soft genuine leather so they won't dig into hips or back even with maximum weight.
USED BY THE PROS TO INCREASE MAX : Our weight belts are used by professional body builders around the world to help provide stability and increase the amount of weights they can lift without injury. Will hold up to 750 lbs.
Review: This all leather and metal weighted dip belt is a good choice for those who want to lift less than 4 plates, or 200 lbs.
The leather back is wide, making it a little more comfortable to wear. Plus, leather tends to stay put better than nylon, which is prone to slipping.
Pros
Leather stays in place, does not slip.
Wide back is comfortable.
Chain is durable.
Cons
Takeaway
This is an excellent weighted dip belt for anybody who plans to work on building serious muscle!
How to Choose the Best Dip Belts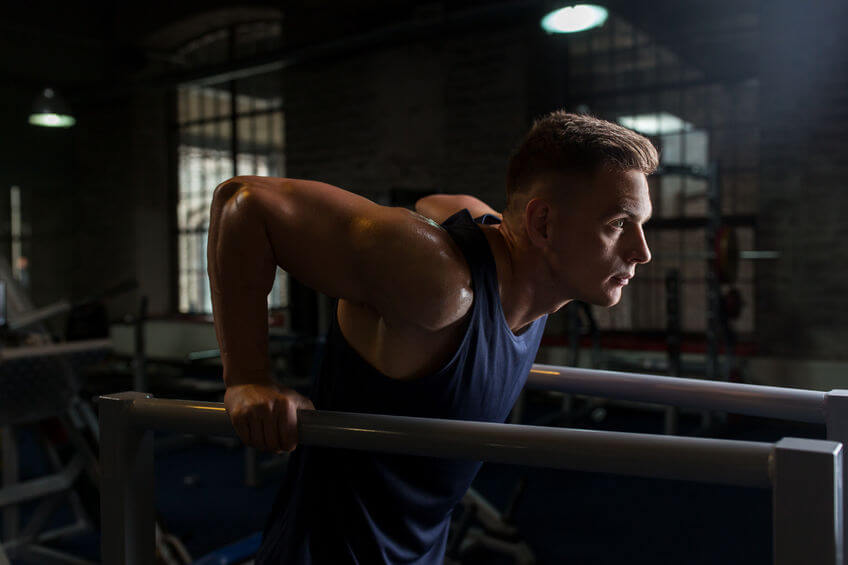 Choosing a GREAT dip belt is not rocket science, when you know what to look for.
Here are the 5 factors to consider before pulling the trigger on the best weighted dip belt for you.
What Material is Best for a Weighted Dip Belt?
Many high-quality dip belts are made of leather. While others are nylon. Each material has its pros and cons.
Leather
Leather is tricky. It is a great material if it is high-quality leather, like the leather used to make the Dominion Leather Weighted Dip Belt.
But buyer beware!
Some inferior leather is made from split-grain leather, which has a weaker fiber structure and is, therefore, inferior to TOP grain leather.
The last thing you want from a belt loaded with weight plates is a crappy weak leather that fails on you at the wrong moment. It can be dangerous!
Bottom line: look for superior quality, top-grain cow leather.
Nylon
Nylon belts are normally cheaper than leather, but can be just as strong in terms of weight-bearing capacity. The biggest complaint I hear about nylon is that it can be uncomfortable or possibly dig into the skin.
But the lower price of nylon and its good durability still make it a fine choice. Just be sure the belt and straps are wide enough that they do not dig into your hips.
Size and Length of the Weighted Dip belt
Dipping belts are usually one size fits all. The belt is wrapped around your back and it isn't tight, per se, but it won't fall during exercises.
When you look for a weighted dip belt, check which options are available when you make the adjustments. A few companies make dip belts to fit specific sizes.
The Spud Black Belt is one company that sells weighted dip belts in different sizes.
Should Your Weighted Dip Belt have a Chain vs Strap?
Most weighted dip belts use a chain, while others use a nylon strap.
So?
Which is better, a weighted dip belt with a chain or nylon strap?
Both have their pros and cons.
Chain
A chain can hold a lot of weight, but may damage the finish of the plates or kettlebells. It's hard to get a really snug fit around the waist with a chain, but it is quite durable.
The chain is heavier, so it adds some heft to your gym bag, that's for sure. A chain can be used with easy to find carabiners, so it's relatively easy to add weights and adjust it.
Nylon Strap
Won't hurt finish of kettlebell or weight plate. Nylon is lighter and won't weigh down your gym bag. You can secure a nylon strap tightly around your waist so it won't slip down, but you will need to use a loading pin to attach the weight.
The benefit of using a loading pin is you can change the weight without removing the belt. The downside is it is one more item to buy.
Chains Lengths and Training Purpose
Chains go through the center of the weight plate while the belt goes around the athletes' back. The length of the chain depends on your planned exercise.
If you have a higher platform, you can use a longer chain for squats. Pull-ups and chin-ups also support a longer chain.
But…
For dips or core exercises, and especially if you are shorter, a shorter chain is ideal.
Bottom line: get a reasonably long chain, perhaps at least 36 inches, that is adjustable and have the best of both worlds!
Durability of Stitching
Always check the stitching and attachment points of the chain to be sure the stitching is solid because stitching and attachment points are a common failure point on crappy weighted dip belts.
If you really purchase the best quality dip belt, it can last for years or even a decade!
Exercise Routines that Use a Weighted Dip Belt
Weighted dip belts can be used for weightlifting, bodyweight fitness, Functional fitness and other sports.
Here are a few ways to use a weighted dip belt:
Upper Body Workout-Arms, Chest, Back
This Critical bench workout uses a weighted dip belt, a dip station and a pull up bar to work your arms, chest and back.
If you need a pull up bar or power tower, I have a list of the best wall mounted pull up bars, the best free standing pull up bars or the best pull up bars overall and best power towers so you can pick up what you need.
Lower Body Workout – Legs, calves
Hip belt squats can be done using a weighted dip belt and either a weighted barbell, or weight plates. The beauty of a weighted hip squat is it has the potential to build huge leg muscles, without putting stress on your shoulders and back.
Weighted Dip Belt FAQ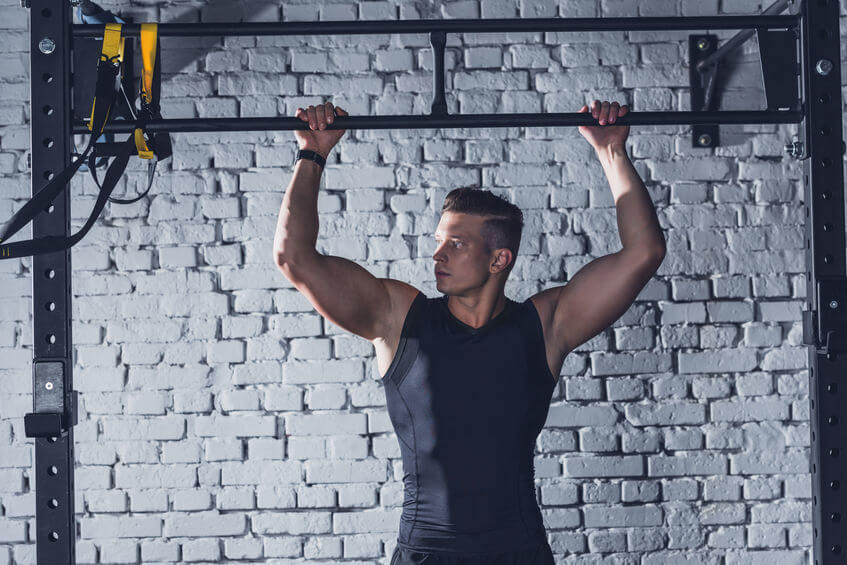 Are Dip Belts Worth it?
There are several types of athletes, mainly, that use weighted dip belts. Most commonly, weighted dip belts are used by Weight Lifters. Functional fitness athletes, like CrossFit athletes and body weight athletes also use weighted dip belts.
There is a reason these athletes use them, and if your gym does not have a weighted dip belt, or your workout from home, they are worth it.
Weighted dip belts are especially important as you advance.
If pull ups, chin ups and dips are easy for you, you know it's time to add some weight. One way to add weight is with a weighted dip belt.
If you are at a point in your training where you need to advance, then yes, a weighted dip belt is worth it.
What is a Dip Belt Used for?
Weighted dip belts are used for so much more than just dips.
Weighted dip belts are used to add challenge and resistance to MANY weightlifting and bodyweight exercises.
To see what bodyweight fitness is all about, check out the calisthenics guide here.
They can be used for weighted pull ups, muscle ups & chin ups, hip belt squats, weighted kettlebell lunges, as an alternative to leg presses, hip hinges, leg lifts, weighted push ups and so much more.
Bottom line: a weighted dip belt is a low cost, effective way to add resistance to a huge number of exercises.
What is a Belt Squat Machine Good for?
A belt squat machine is a machine that was designed for athletes to reap the benefits of a squat, without putting stress on the shoulders or lower back by taking the weight off the spine and placing the weight at the hips and legs.
This machine allows you to step on to a platform, place a weighted belt around the hips and lift. It allows you to build legs and calves without destroying your back.
Bottom line: a belt squat machine is the best option for squats, deadlifts, calf raises and more, if you have lower back issues.
How Much Weight Can a Dip Belt Hold?
That depends.
The best weighted dip belts are rated for 1000 lbs or more.
The Dominion Weighted Dip Belt and IronMind de Rigueur weighted dip belts hold at least 1000 lbs.
Less expensive budget dip belts like the Rip Toned belt only hold up to 200 lbs.
Bottom line: check the weight capacity rating or your belt before you buying!
How do You Wear a Weighted Dip Belt?
Start by taking the belt and wrapping it around your waist. Make sure the carabiner is on your right.
Take the end with the carabiner and drop in through the D loop on your left side of the belt.
Pull the chain thru the D loop until the belt is snug around your waist.
Take the chain and loop in through the hole in the weight plate
Clip the carabiner and clip it to the D ring on your right.
You are ready to rock!
Check out this short clip to see how it's done.
How do You do a Weighted Pull Up without a Belt?
It is possible to do weighted pull-ups without a weighted dip belt.
One method is to use a dumbbell between your legs. The problem with this method is you will need assistance placing the dumbbell between your legs unless your pull up bar is really low.
Another alternative is to use a martial arts Gi style belt or length of webbing to tie the weight around your waist, like a makeshift weighted dip belt. This style is limited as to how much weight it can hold, but if you are just getting into weighted pull ups, it should get you off to a good start.
This wraps up the dip belt reviews and guide. I am confident you will find the right weighted dip belt solution for you.
If you are building your home gym, no doubt, a weighted dip belt is a great option for small spaces. If you are dealing with limited space you might also consider a space-saving all in one home gym to save on floor space.
Do you love Garage Gym gear?
It's a passion here at Garage Gym Power. Don't forget to sign up for the Garage Gym Power newsletter and we will let you know when new garage gym gear reviews and news are released.