Best Incline Chest Press Machines – Complete Guide & TOP 8 Reviews 2023
Even the novice is likely to know what a bench press is.
Virtually everyone knows someone who has a bench and a few dumbbells or a barbell set up in the garage or back patio.
What is the Chest press? Is it also done on the bench?
More on that in a minute.
Today we are going to discuss the incline bench press, reveal the difference between it and the chest press, discuss how the incline bench press is used, talk about the hammer strength chest press and the incline chest press machine, and wrap it up with reviews of the top incline press benches and machines.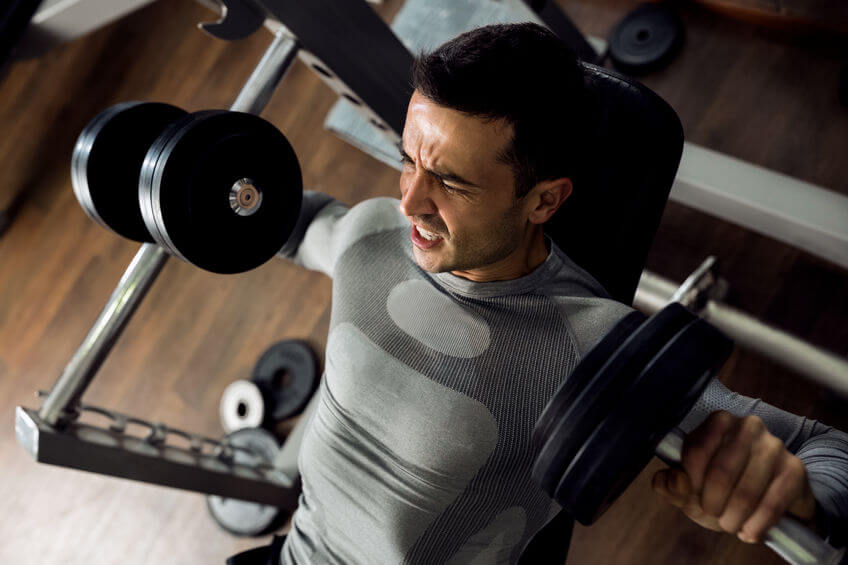 What is an Incline Chest Press?
The incline bench press is a weight training exercise that focuses of the chest, shoulder and triceps muscles.
The bench is set at an incline. Lower inclines target mid level chest muscles while sharper bench angles target upper chest muscles.
Many machines offer adjustable angles to increase chest training range.
Resistance for the incline chest press can be made several ways.
Barbell Resistance
Barbell incline press machines usually have an adjustable bench and can be used for incline, bench, decline and shoulder press.
They have a barbell rack for either standard or Olympic barbells.
Dumbbell Resistance
A simple incline bench can be used with a set of dumbbells to perform the incline bench press.
Olympic weight plate Resistance
Plate weighted incline press machines like the hammer strength chest press, use Olympic weights hung on pegs on the arms of the press to give resistance.
These machines are generally able to accommodate a lot of weight. They are used to focus on isolating and growing muscles.
Weight stack resistance
You may see this style Incline chest press machine at popular commercial gyms for the masses (think 24 hr fitness).
They use a weight stack and cable system to add resistance but do not have the weight capacity of plate loaded machines.
Benefits of the Incline Chest Press Machine
The biggest benefit of using a machine for the incline press instead of using free weights like dumbbells or barbells is isolation.
No Spotter Needed
While machines do not work stabilizing muscles, you can use them without a spotter and load them with really heavy weight to make gains in the chest.
While you should include free weights in your chest routine, the Incline chest press machine is a good choice after using free weights.
What Does the Seated Chest Press Work?
The seated Chest press uses a chest press machine to target the pecs in favor of the deltoids.
Unlike free weights, which rely heavily of supporting and stabilizing muscles, machines allow you to focus the move on the pecs specifically, which can lead to gains.
Of course, for a well rounded look and true functional strength, you want to also include free weights in your routine.
What Muscles do Incline Bench Press with Dumbbells Target?
The incline Bench press using dumbbells aka incline dumbbell press, uses an incline bench with dumbbells to target the pecs and stabilizing muscles.
Be aware of your form while using the dumbbells. You should lift the dumbbells up over your chest with the dumbbells in-line with your nipples.
This handy how to video shows you how to use chest press on an incline bench with dumbbells.
How to Use the Chest Press Machine
The most complicated aspect of using an incline Chest press machine is probably adjusting the seat.
Notice I did not say the hardest thing. The hardest thing is lifting the weight. The machine itself is easy to use.
Simply adjust the seat for your height, load the appropriate amount of weight and sit.
Place your hands on the hand holds and slowly extend your arms completely, pause, and then return your hands to the starting position in one smooth controlled motion.
Comparison: Chest Press vs Bench Press
The chest press is done in a seated position with fixed position arms. The seated chest press targets the pecs in isolation, and does not rely on stabilizer muscles.
The bench press is done on a while lying on a bench in a flat position. It can be done with dumbbells or a barbell.
The barbell adds some stabilization, but the stabilizing muscles are still used more than with a machine chest press.
Using dumbbells for the bench press engages stabilizing muscles to the greatest extent.
The chest press vs bench press can be used for gains while the bench press is a more "well rounded" exercise.
Are Hammer Strength Machines any Good?
The hammer strength chest press is a plated chest press machine. It has the same advantages as plated chest press machines in that it works to isolate and build chest and pectoral muscles.
Your range of motion is limited with a hammer strength chest press and you won't work the stabilizing muscles as much as free weights.
The benefits are you can list really heavy weight, and make good gains, all without a spotter.
TOP 8 Best Incline Benches & Plate Loaded Incline Chest Press Machines
Powertec Fitness Multi Press Work Bench
Powertec Fitness Multi Press Work Bench, Black
The WB-MP16 features a newly designed workbench
The new workbench allows users to adjust the seating area by sliding the seat assembly on its sealed bearings carriage
The isolateral arms can be used independently or locked together to use as conventional bench press arms
Max load capacity - press arms: 500 lbs
Review: Solid, sturdy incline press machine. This machine is versatile as it adjusts for flat and decline or 15 % for decline press as well.
Arms can be locked with a pin to move together and can be unlocked to move separately. This machine accepts Olympic size weight plates for resistance and can hold 500 lbs of plates.
Pros
500 lb capacity on the arms.
Arms can be used together in a fixed or locked position, or separate, moving independently.
Uses Olympic Size weights.
Adjusts for Incline, flat and decline.
Cons
Some users report the bench is not aligned with the tower.
Takeaway
This Heavy duty Olympic incline press bench for the home gym is built to last.
Bowflex SelectTech 5.1 Adjustable Bench
Bowflex 5.1 Adjustable Bench (Discontinued)
Stowable feature saves 50% space when not in use
Adjust to 6 positions for total versatility: incline, flat, 30°, 45°, 60°, 90°
600 lb. load capacity
Built strong to last long with heavy-duty commercial quality steel
Corrects posture and stabilizes positioning for a safe, muscle-building free weight workout
Review: This is a solid incline bench for the home gym. With a weight limit of 600 lbs, it is suitable for dumbbell work and mid level barbell work.
Its affordable price, solid stable feel, and comfortable seat make is a good choice for the beginner to intermediate lifter.
Pros
6 Position adjustability with an incline range of 17 to 90 degrees.
600 lb weight capacity, good for dumbbell incline press.
Removable leg brace keeps you locked in.
Cons
Does not lay completely flat, it is off a few degrees from horizontal.
Takeaway
A simple, adjustable incline bench for the beginners home gym.
Body-Solid LVIP Leverage Incline Press
Body-Solid Leverage Incline Press
Independent, unilateral arm action for balanced muscle development
Converging press arm movement for advanced biomechanics
Adjustable press arms to fit all size users, with gas assisted start positions
Weight plate holders for plate storage
Dimensions: 68" L x 51" W x 57" H
Review: This Body Solid Plate loaded Incline Press Machine allows you to isolate your chest muscles and make gains.
The arms are adjustable to get the length and movement just right. The movement is a converging movement and is biomechanically correct.
The arms move separately, have a gas assisted start and use Olympic weight plates for resistance.
Pros
Unilateral arms that move independent of each other.
Adjustable arm height and adjustable seat height, get the perfect alignment.
Gas assisted start.
700 lb capacity.
Cons
Bench is fixed at a 45 degree angle only.
Takeaway
Professional quality plate loaded chest press.
Powertec Fitness Lever Gym Work Bench
Powertec Fitness Workbench Lever Gym, Yellow
The new workbench allows the users to adjust the seating area by sliding the seat Assembly on its sealed bearings carriage
The new backrest can be adjusted at different settings and still provide added stability
The I so lateral arms can be used independently or locked together to Use as conventional bench press arms
Max load capacity - press arms: 500 lbs. Cable: 300 lbs
Review: This incline bench press machine gym shares many features with the Power Tec multi press bench, including independently moving arms you can add 500 lbs of Olympic plates to.
This machine also has a cable system with lat bar and arm pull ups.
The bench adjusts for multiple exercises, and this machine has the added benefit of offering unilateral weighted exercises. Uses Olympic size weight plates.
Pros
Dial in the perfect seat location with bearing slide seat adjustment, excellent for multiple users
Includes adjustable bench, vertical lat pull, cable pull up and you can remove the bench for dips.
500 lb plate capacity on the arms and 300 lbs of plates can be loaded when using the cable system.
Independent movement of each arm means the machine also provides many unilateral exercises.
Cons
A few users noticed either an extra screw or missing screw when assembling the machine.
Takeaway
The no excuses, no spotter needed, muscle building machine every serious lifter needs in their home gym.
Fitness Reality X-Class Light Commercial Utility Weight Bench
Review: This stable heavy duty weight bench is designed to hold up under a load of 1500lbs. It is great for home gyms that use dumbbells, even heavy dumbbells.
The Bench has 7 adjustments from -15 degrees to 85 decrees for incline press, bench press and decline press. The bench with headrest measures 41" and is suitable for tall folks.
Pros
Stabilizer bar keeps the bench steady under heavy weight.
Bench is compatible with cage, rack or can be used on its own.
7 incline positions ranging from -15 degrees to 85 degrees to hit all chest muscles and more.
Includes foot lockdown pads.
Cons
Bench is a little over 20" high, a few inches taller than standard competition level benches.
Takeaway
Built to support heavy lifters, surprisingly affordable incline bench for the home gym.
SportsArt Fitness A977 Plate Loaded Incline Chest Press
Review: This plate loaded incline press machine has press arms than move separately or together.
The design of the arms allows the arms to come together and gives them most resistance at the height of the move which means more muscle groups are engaged during the entire press movement.
Pros
Machine arms hold 500 lbs of Olympic plates.
Press arms have multiple angle hand holds, to target chest muscles differently with each hold.
Machine provides plate storage posts.
Cons
Seat angle is not adjustable.
Takeaway
Commercially rated, plate loaded machine chest press.
Body Champ Olympic Incline Bench
Sale
Body Champ Olympic Weight Bench, Workout Equipment for Home Workouts, Bench Press with Preacher Curl, Leg Developer and Crunch Handle At Dark Gray/Black, BCB5860
Made For Your Fitness Goals: This Multi-Function, Heavy-Duty 2.5-Inch Square Tube Olympic Weight Bench Comes With Added Attachments And Accessories For Complete Workout Circuits
Enhanced Safety And Comfort: The U-Shaped Front-Leg Stabilizer Provides Safety And Stability During The Workout. The Racks Have Safety Hooks On Catches And A Safe-Grip Feature To Prevent Your Hands From Getting Pinched When Re-Racking
7-Position Adjustable Backrest: This Bench Press Has Customizable Features For Ergonomic And Optimal Training Positions, Including An Adjustable Full-Action Leg Extension/Leg Lifts Developer And An Arm Curl Bar With Adjustable Foam Rollers
Attachments Included: Accessories Include The Plate Adapter, Spring Clip For Leg Developer, Preacher Curl Pad, Arm Curl Bar, And Ab Crunch With Foam Grip Handles Attachment. All Are Included With The Set; No Need To Buy Separately
Review: This Body Champ Olympic Incline Bench can be used with an Olympic barbell as it includes an Olympic barbell rack.
The seat has seven adjustment angles for incline, flat, decline and military presses and the unit is sturdy enough for heavy lifters.
Extras include a leg developer, weight storage pegs, preacher curl, arm curl bar and ab attachment for a full body workout.
Pros
Compatible with 6' and 7' Olympic bars.
Preacher curl attachment accepts standard or Olympic plates, with included adaptor.
Rack has built in j hooks. Hooks have a built in ridge that prevents pinching your hand as you set the bar in the hooks.
Bench Seat adjusts in 7 positions including incline, decline, and flat.
Cons
Assembly tools are lacking, use a socket wrench instead.
Takeaway
A respectable home gym Incline Bench press machine with many extras for a well rounded workout.
Powertec Fitness Workbench Olympic Bench WB-OB15
Powertec Fitness Workbench Olympic Bench, Black
All Workbench benches incorporate the Powertec linkage mechanism that allows for the bench section to pivot from the front to the rear locked position
An access tube and knob lock pin has been incorporated in to the Olympic Bench providing the new Workbench Machine Accessories to be added
Bodyweight/Resistance: 600 lbs. - Racking Catches: 600 lbs
Stopper added for your protection during exercise
Review: This Powertec Olympic WB-OB15 bench offers not only an incline chest press, but decline, bench and shoulder press as well.
The barbell rack accommodates Olympic barbells and the bench pivots into a front or rear locking position.
This piece of Olympic lifting equipment comes ready for the Incline press (just add barbell and weights) but is also extremely customizable.
You can add a lat tower, arm curl, leg lift, leg press, pec dec machine attachment and dip machine accessory, all which use Olympic size plates for resistance.
Pros
Dual Bar Catch hooks, use a bar from the bench side for bench and incline press or from the back side for squats, barbell curls and other exercises.
Bench adjusts for Incline, bench, decline and shoulder press.
Many Custom additions available, a machine that grows with you including pec dec machine.
Standard 18" height, so you can keep your feet flat on the ground as you press.
Cons
The seat handles get in he way during some exercises.
Takeaway
An excellent piece for the beginning lifter who wants more, hold up under heavy weight and can be customized piece by piece.
Conclusion
When choosing an incline chest press machine keep in mind what it is you are trying to accomplish.
If you are a serious lifter, a plate loaded machine might be the right choice, but many lifters prefer to use a standard incline bench with dumbbells or barbell.
Opinions are like mothers, everybody has one! We want to hear your opinion, of the incline bench press, not your mother.
Let us know what you think in the comments below.