Best Running Shoes for Knee Pain + TOP 14 Shoe Reviews 2019
So you want to run, but your knees hurt?
That is the worst. Agreed?
Luckily, choosing the right pair of shoes along with some strategic stretching and strengthening exercises could significantly reduce your knee pain and get you back out there doing what you love.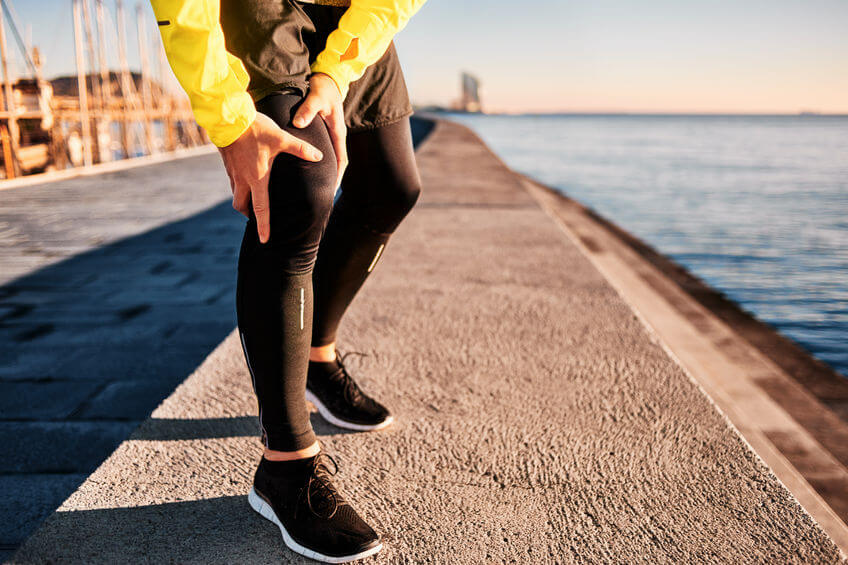 First, You Need to Figure Out Why You Are Experiencing Knee Pain
Runner's knee, or, patellofemoral pain syndrome (PFPS) is, unfortunately, a common affliction, hence its common name. It describes pain located in the vicinity of the knee cap and can result from a number of triggers.
Here are some common reasons:
Under pronation (supination).
Heel striking with inadequate cushioning.
Poor running form.
Lack of core strength.
Muscle imbalance.
ITB issues.
Getting a muscle balance assessment and visiting a physiotherapist will help you to ascertain the causes of your knee pain.
Then it is important that you DO THE EXERCISES AND STRETCHES. (The number of people who visit a physio and then don't follow their guidance is astounding!)
Also, don't run through pain. Ignoring pain will not make you a better runner. Pain is your body's way of telling you that something is wrong. You need to listen to it and figure out how to fix it.
Videos such as below can be a great aid in resolving your knee pain issues.
Next, Choose the Best Running Shoes for Knee Pain
Here is where it gets interesting.
You have choices!
Do you want to take the ultra-supported route with maximum cushioning and custom inserts?
Or, would you like to take the au naturale approach and opt for minimal shoes, adjusting your running technique over time and working on building up your foot strength?
Both options have pros and cons and will depend on your running style, foot physiology and degree of pronation.
So, in order to cover all bases, the following list will include shoe recommendations for either journey.
In general, the best running shoes for runners with bad knees are going to be the shoes that provide the right kind of support for your foot type and running style, together with plenty of cushioning.
Broadly speaking, as you go down this list and within each category, the degree of support and cushioning will decrease, and flexibility will increase.
Pronators will be better suited to shoes at the top of the list, supinators to those in the middle.
At the end of the list are some barefoot options which should be transitioned to gradually.
TOP 14 Best Running Shoes for Knee Pain 2019
Stability Shoes
Review: Extremely comfortable, highly supportive and cushioned road running shoe from Brooks, the Beast is designed specifically for men.
It is ideal for pronators and well suited to heavier runners and those with flat feet due to its wide fit, fabulous cushioning and 12mm drop. Omega Flex Grooves enhance flexibility and allow for a natural running style.
Pros
Extreme cushioning.
Motion control.
Roomy toe box.
Great traction.
Removable inserts.
Durable.
Variety of widths available.
Flexible.
Cons
Takeaway
The Beasts are the best men's running shoes for bad knees due to their extreme cushioning and motion support.
The variety of widths available also make them the best running shoes for flat feet and knee pain.
Brooks Women's Adrenaline GTS 18
Review: The Adrenaline GTS is an extremely lightweight stability shoe with a reasonable amount of cushioning.
It has an extremely comfortable, sock-like mesh upper which provides additional support and breathability.
Designed for over-pronators, it will support a more neutral foot to knee alignment, helping to reduce knee pain.
The high drop means these shoes are suited for heel strikers rather than forefoot strikers so it is not the shoe for you if you are considering transitioning to a more barefoot running style.
Pros
Segmented crash pad for smooth transitioning.
BioGoMo DNA for enhanced cushioning that is biodegradable.
Structurally supportive mesh upper.
Breathable.
Removable insole.
Comfortable.
Good sized toe box.
At the more affordable end of the spectrum.
Cons
Some durability and cushioning sacrificed in favour of light weight.
Takeaway
A highly supportive and cushioned shoe that is exceptionally lightweight and comfortable, this shoe will resolve knee pain resulting from alignment issues while feeling light on your feet.
These are likely to be the best women's running shoes for knee pain.
Asics Men's Gel Kayano 24
Review: The Asics Gel Kayano is a top of the line option for pronators due to its arch support, cushioning and shock absorption, all of which alleviate knee pain.
The excellent arch support will also aid in resolving alignment issues that can result in ITB stress and consequent knee and hip pain. The Kayano uses Flytfoam and includes additional external heel support.
Perfect for long distance running, these work horses are comfortable and extremely supportive.
Pros
Well cushioned.
Midsole shock absorbing technology.
Good arch support.
Wide toe box.
Good heel fit.
Breathable.
Lightweight.
Durable tread.
Removable insole.
Cons
Expensive.
Like most Asics, likely to be on the narrow side through the mid foot.
Takeaway
These are easily the best Asics running shoes for bad knees, and due to their superior arch support, likely to be the best running shoes for knee and hip pain.
Asics Women's Gel Venture 6
Review: Another reliable Asics shoe that will stand you in good stead if you're experiencing any pain during or after running, the Gel Venture 6 is a popular choice for remedying knee and ankle pain due to its balance of stability and cushioning.
It is a trail shoe so a great choice for countering joint issues and still getting off road, providing the support to have you jumping boulders and dodging puddles injury-free.
Pros
Dual form of ankle support.
Very comfortable.
Durable.
Cushioned.
Breathable.
Great for trail running.
Cons
On the heavy side compared to some other shoes on this list.
Takeaway
As always with Asics's reliable stability, these are likely to be the best running shoes for knee and ankle support and similarly the best running shoes for knee and ankle pain.
Review: The Nike Dart is a fail-safe option for top quality construction and technical features resulting in a shoe that will go the distance.
These stability shoes are designed for mild to moderate over-pronators so will suit those whose knee pain resigns from such misalignment.
They are also well cushioned while being responsive for a comfortable, light ride.
Pros
Full length midsole foam.
Molded mid-foot saddle provides support.
Good traction.
Durable.
Affordable.
Breathable.
Cons
Takeaway
These are the best Nike shoes for knee pain due to their combination of arch support and cushioning.
Neutral Shoes
Hoka One One Men's Clifton 4
Review: The Hoka One One Clifton 4 is a highly cushioned, neutral shoe while being lightweight and providing moderate stability.
These shoes are comfortable from day 1 and don't require a break in period, making them perfect for recovering from injuries such as runner's knee and shin splints.
What is impressive about the Clifton 4 is that in updating the cushioning to enhance longevity, the shoes are now also highly responsive giving an energetic feel that will help you to stay springy in the latter miles of your long runs.
Pros
Highly cushioned so fantastic for shin splints.
Extremely comfortable.
Lightweight.
Durable.
Wide toe box.
Breathable.
Cons
Not the most flexible but this could be an advantage in terms of stability.
Review: The Puma Faas 600 should not be overlooked for its ability to remedy knee pain. The key ingredient is the FaasFoam Lite cushioning which provides responsiveness and support while being lightweight, durable, and of course very comfortable!
It is a neutral running shoe so won't provide extensive support for those who over pronate, but it does provide enough stability that if you're looking to increase foot strength in order to remedy your knee pain naturally, this could be a good option.
With its 8mm drop, it's at the lower end of conventional running shoes so leaning towards a more natural running style favored by the barefoot community.
Pros
FaasFoam Lite cushioning.
Breathable mesh upper.
Snug, comfortable fit.
Secure lacing system.
Lightweight.
Antimicrobial sock liner.
Cons
Questionable outsole durability.
No width variations available.
Takeaway
With its neutral stability, 8mm drop and formidable cushioning, the Puma Faas 600 is a great option for remedying knee pain while transitioning towards a more natural running style.
Review: The Brooks Ghost 10 is a very popular shoe which deserves its popularity owing to its versatile qualities such as fantastic cushioning and yet, fast, responsive feel.
It is a neutral shoe but still provides medium to high arch support, which together with its top of the line cushioning, makes it a great choice for knee pain sufferers.
The segmented crash pad in the midsole offers great shock absorbance, lessening the load on your knees. However, one of its top features is the high amount of energy return making it feel springy and light in each stride.
Pros
Well cushioned.
Full length segmented crash pad.
Breathable mesh upper.
Great traction for a road shoe.
Highly responsive.
Cons
Heavier than other shoes on this list, but more cushioned as a result.
Takeaway
A fantastic shoe for those not requiring a high degree of motion control but still benefiting from some arch support along with excellent cushioning.
These are easily some of the best running sneakers for bad knees and likely to be some of the best running shoes for inner knee pain.
New Balance Women's 890 V6
Review: New Balance is known for their comfortable shoes and this one is no exception. The 890 V6 is a neutral shoe with a high level of cushioning while also being light, responsive and breathable.
Its low 5.8mm drop is perfect for promoting a more natural running style while its springy feel makes it popular for upbeat tempo runs.
The cushioning feels firm but is supportive and ideal for minimizing knee pain.
Pros
REVlite midsole for optimum cushioning.
Responsive.
Breathable.
Durable.
Seamless upper.
Cons
Takeaway
A popular shoe for mitigating knee pain due its responsive, stable cushioning, and perfect for forefoot strikers due to its low drop.
New Balance Men's Fresh Foam 1080v8
Review: The Fresh Foam 1080 is a neutral road running shoe with an 8mm drop. The style of cushioning is great for under pronators, or supinators, encouraging a natural pronation through the length of the foot strike.
The wide forefoot and ample mesh upper make this shoe a great choice for wider or flat feet, while the midsole remains firm and supportive.
Pros
Wide mesh toe box.
Extremely cushioned.
Breathable.
Wider width options.
Cons
Not a fast shoe.
On the heavy side but that's the price you pay for this amount of cushioning.
Mizuno Women's Wave Rider 21
Review: Mizuno's "go-to" shoe in its neutral line with good cushioning while remaining lightweight. The cushioning being on the firmer side results in a faster, more responsive ride than more cushioned shoes but maintains enough cushioning to prevent excess knee impact.
Its highly breathable mesh upper makes it ideal for hot weather running though may make it a little breezy in colder weather.
Pros
Cushioned.
Very breathable.
Flexible.
Responsive.
Capable of handling mileage up to half marathon distances.
Cons
Cushioning may feel firm compared to other more pillowed shoes.
Takeaway
A reliable go-to shoe for neutral feet with moderate cushioning and lightweight, smooth ride.
Saucony Men's Cohesion 11
Review: Saucony's Cohesion 11 is a neutral, lightweight road running shoe that is moderately cushioned and affordable when compared to others on this list.
It provides basic stability and midsole cushioning within a breathable mesh upper.
Pros
Durable.
Breathable.
Comfortable.
Secure and well cushioned heel.
Good traction in rubber outsole.
Lightweight.
Affordable.
Good sized toe box.
Cons
Not suitable for high mileage.
Takeaway
An affordable, light weight, comfortable running shoe that will resolve uncomplicated knee pain providing just enough support and cushioning for low mileage or beginner runners who don't over-pronate.
Barefoot Shoes
Merrell Women's Bare Access Arc 4 Trail
Review: Considered to be cushioned for a minimalist shoe, the Bear Access Arc 4 is a great option for those wanting to transition to barefoot running.
It is a neutral road running shoe with a zero drop and a minimalist outsole but reasonably cushioned midsole.
After a mile or two of breaking in, it fits like a glove the way minimalist shoes are supposed to and carries you the distance while encouraging a natural running style.
Transition slowly and the increased foot strength that will result should aid significantly in remedying knee pain naturally.
Pros
Extremely spacious toe box.
Zero drop.
Light weight.
Breathable.
Cushioned.
Flexibility.
Reasonably stable for a minimalist shoe.
Cons
Benefit from being broken in.
Outsole wears out a little fast.
Not as durable as they could be.
Takeaway
These are likely to be the best barefoot running shoes for flat feet due to the little extra cushioning and spacious fit and for the same reasons the best barefoot running shoes for beginners and those experiencing knee pain.
Review: Vibram's latest FiveFinger barefoot road running shoes are designed for the road. They have a softer, more breathable upper than previous designs, they truly excel on the road and are especially great for long distances and high volume running.
They are also designed to be a comfortable shoe in more extreme temperatures, giving you a versatile option for barefoot running throughout the year.
The EVA foam midsole provides cushioning and responsiveness while being durable and lightweight. If barefoot running is something you are thinking about transitioning to remedy your knee pain, then these shoes are the best option for gradually introducing to your training regime.
Pros
Lightweight.
Breathable.
Snug fitting.
Cushioned compared to other Vibram barefoot shoes.
More durable than previous models.
Extremely soft, comfortable upper material.
Easy to get on and off.
Good traction.
Cons
Takeaway
These are the best barefoot running shoes for road running, so if this is a route you're wanting to take, the V-Runs are your best choice provided you transition slowly.
This list should provide a great starting point for choosing the best pair of shoes to remedy your knee pain.
Good luck and good running!
Be sure to comment below and subscribe for more useful info to boost your running performance.