Best Running Shoes for Lower Back Pain & 15 Shoe Reviews 2019
They say the best remedy for back pain is to keep moving. And what better way to move than to run?
But what if running seems to make your back feel worse?
This is a paradox!
But, it is a paradox that can be solved with the right shoes!
So, How Do We Choose the Best Running Shoes for Back Pain?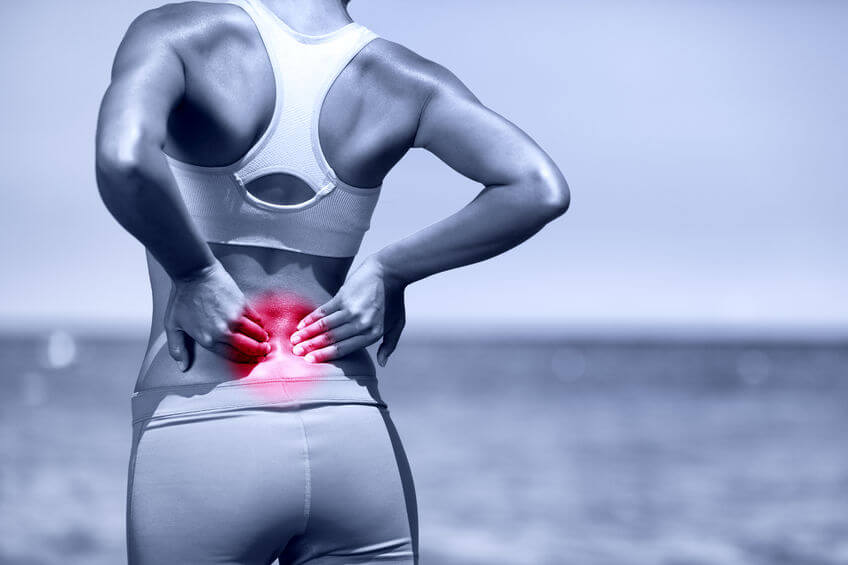 Know your foot type
The first thing you need to figure out is the shape of your foot: flat feet, neutral or high arched.
Once you know this, you're most of the way towards choosing the right pair of shoes to help with your back pain.
People with flat feet or high arches will be most prone to back pain resulting from running, so stability (especially for flat feet) and cushioning (especially for high arches) are really important.
However, problems can result from any foot type if the muscles in your feet are weak.
Similarly, regardless of your foot type, if you have strong feet, you'll be better able to handle the rigours of running.
So, strengthening the muscles in your feet through specific foot exercises and spending time barefoot can help to prevent the stress of running transferring to other parts of your body, such as your back.
If you know your feet are weak, you're new to running or you barely spend any time barefoot, then choosing the shoes with the right amount of support and cushioning will be essential in relieving your lower back pain.

Cushioning, cushioning, cushioning!
After this, it's all about the cushioning.
And really, you can't have too much if you're a heel striker with back pain.
Lower back pain can be exacerbated by running as the shock of landing is felt more here than other parts of the back.
Running in shoes without adequate cushioning means that your back muscles and spine must absorb a lot of the shock of hitting the ground with each heel strike.
So, a good amount of cushioning and shock absorbance will be essential.
Of course, as with all running related ailments, there are other things that you can do to relieve your back pain, such as avoiding too much road running and sticking to soft grassy or forest trails, and including plenty of stretching in your exercise routine.
However, choosing the right running shoes will greatly improve your chances of being able to run pain-free.
15 Best Running Shoes for Lower Back Pain 2019
Let's start with the best running shoes for back pain for men!!!

Nike Men's Zoom Vomero 13 Running Shoe
Review: One of Nike's top neutral running shoes and its most highly cushioned, the Zoom Vomero 13 is a popular choice for neutral feet and a great option for mitigating back pain.
In particular, the 10mm drop and the air pockets that form the extra cushioning in the heel make the Vomero a great shoe for heel strikers.
The Circular knit and Flywire technology create a pretty supportive and well ventilated upper, while the Dual-density midsole is responsive and well cushioned.
The sole unit is a well-balanced design that provides enough flexibility and support across its length to keep you comfortable and supported while its outer boasts excellent traction.
Pros
Affordable.
Well cushioned.
Durable sole unit.
High mileage shoe.
Excellent traction.
Reasonably lightweight for such a cushioned shoe.
Cons
The fit of the upper takes time to break in.
Toe box is on the narrow side.
Takeaway
The excellent cushioning and overall superior sole unit in the Zoom Vomeros is what makes them some of the best athletic shoes for lower back pain if you don't mind having to break them in a little.
New Balance Men's 1080v8 Fresh Foam Running Shoe
Review: The Fresh Foam 1080 is a neutral road running shoe known for its hefty cushioning and shock absorbance.
It is not a fast shoe, being a little on the heavy side and with little responsiveness or energy return, but when it comes to recovery from an injury, especially somewhere as important as your back, then it makes sense to alter priorities towards a more protective sole unit.
1080 fits this bill with its firm, supportive EVA foam midsole which encourages a natural amount of pronation, particularly helpful for supinators.
The engineered mesh upper is soft and breathable with a spacious toe box and plenty of space for wider feet.
Pros
Wide mesh toe box.
Extremely cushioned.
Breathable.
Wider width options.
Comfortable upper.
Cons
Not a fast shoe.
On the heavy side.
Feels a little firm underfoot.
Takeaway
This shoe is a great choice for wider, neutral feet, looking for a sturdy, cushioned shoe that will go the distance.
Brooks Men's Ghost 11 Running Shoe
Review: The Ghost 11 is a premium, neutral, cushioned shoe from Brooks which remains light and responsive enough to be a versatile all-rounder.
DNA foam with a segmented crash pad provides firm and responsive cushioning making this shoe ideal for middle distance runs, but able to handle shorter and longer distances as well.
Like the NB 1080, the cushioning doesn't provide a soft feel but rest assured, it's doing its job. The seamless mesh upper is breathable and very comfortable for narrower feet while protecting from debris.
Pros
Well cushioned.
Full-length segmented crash pad.
Breathable mesh upper.
Great traction.
Highly responsive.
Cons
A little heavy.
Slightly narrow toe box.
Takeaway
Another solid shoe from Brooks, the Ghost 11 is a great choice for those looking for a compromise between extreme cushioning and fast-feeling responsiveness.
Mizuno Men's Wave Inspire 14 Running Shoe
Review: Mizuno's Wave Inspire is an extremely comfortable stability shoe that will provide all of the support and cushioning that a pronator with lower back pain might need.
U4ic and U4icX form the midsole cushioning which combined with the 'wave' plastic plate running is almost the length of the sole, which makes for a very soft and yet responsive ride.
The upper is also extremely comfortable, with a seamless mesh that is snug fitting in the heel and midfoot and open in the toe box. If you're a pronator who heel strikes, this is probably one of the most comfortable choices out there.
Pros
Well cushioned.
Responsive.
Comfortable upper.
Roomy toe box.
Stable ride.
Lightweight feel.
Cons
Price is a little on the high side.
Takeaway
If you don't mind the 12mm drop, scoring top points for comfort and stability, the Wave Inspires are some more of the best running sneakers for lower back pain.
Hoka One One Men's Gaviota Running Shoe
Review: The Gaviota is a stability shoe by Hoka One One that could almost be classed as a cushioning shoe as it does its job so well.
Hoka nail it every time with their unique designs which manage to achieve incredible cushioning while being lightweight, responsive and supportive.
With a 5mm drop and weighing just 10 oz., the Gaviota provides stability and cushioning while sporting the weight and drop of a much more minimalist shoe.
The high sole may take a bit of getting used to: this is one area where the shoe is definitely not minimalist.
However, if you're looking for a lightweight, stability shoe with a top of the line cushioning, the Gaviotia is definitely worth trying out.
Pros
Soft cushioning.
Responsive.
Very comfortable.
Lightweight.
Supportive.
Cons
Toe box on the narrow side.
Takeaway
A stable, extremely cushioned, light weight and uniquely comfortable shoe that will provide all the cushioning you need to relieve lower back pain while remaining supportive, fast and responsive.
The Gaviotas are easily some of the best running shoes for bad back pain.
Saucony Men's Redeemer Iso 2 Running Shoe
Review: Designed for runners with flat feet, the Saucony Redeemer ISO 2 is a motion control/stability shoe with an EVERUN inner sole that results in a well cushioned and comfortable ride.
Saucony's ISOFIT systems form the upper, a unique design that you'll either love or hate. It consists of a plush sock-like material with a stiff exterior layer that links the laces.
The fit of these shoes has been variable for different people so the Redeemer is a shoe that could be fantastic provided you try it on and make sure it fits your foot shape first.
Pros
Extremely stable.
Comfortable.
Well cushioned.
Responsive.
Flexible.
Cons
Upper could be more breathable.
Issues with fit.
Takeaway
A very stable and well cushioned shoe with an even more comfortable upper (provided it fits you)! This shoe is a great choice for flat feet and back pain.
Altra Men's Torin Knit 3.5 Road Running Shoe
Review: Altra have produced a premium cushioned, neutral shoe in the Torin 3.5 knit. A versatile road shoe, the Torin 3.5 will hold up to long endurance runs and tempo training.
This shoe combines the sole of previous Torins with a knit upper that results in an extremely comfortable, responsive and smooth ride.
Altra maintains its classic zero drop which may take a bit of getting used to if you're coming from a more conventional 12mm drop but ultimately may aid in reducing back pain through promoting a more natural running style.
The knit upper is very comfortable but minimalist, providing little in the way of support, so, it is the cushioning and the zero drop aspects of this shoe that will be the draw-card for sufferers of back pain.
Pros
Highly cushioned.
Responsive.
Good ground feel despite 28mm stack height.
Zero drop.
Cons
Minimalist upper may not provide enough support.
Takeaway
The Altra Torin 3.5 knit is an extremely comfortable and well cushioned shoe which may well be the solution to your back pain if conventional 12mm drops and stability shoes haven't worked for you.
…and now, my TOP 8 women's running shoes for low back pain!
Saucony Women's Triumph ISO 4 Running Shoe
Review: The Triumph ISO 4 is Saucony's top neutral shoe with extreme cushioning. The EVERUN midsole runs the full length of the shoe being responsive and very cushioned, which with its 8mm drop makes it a shoe that feels fast and yet ready to go the distance.
The ISOFIT technology in the upper provides a superior fit that literally molds to your feet in a way that few other shoes do, providing an extremely comfortable and secure ride.
The Triumph is one top of the line shoe which will give a neutral foot all of the cushioning and support it needs to manage lower back pain.
Pros
Extremely well cushioned.
Supportive upper.
Flexible and responsive.
High mileage shoe.
No breaking in required.
Breathable.
Cons
A little pricey.
Traction could be better.
Takeaway
The Triumphs are one of the few expensive shoes on the market that justify their higher price point. If you're after extreme cushioning that doesn't feel slow and sluggish then this is the shoe for you.
If you don't mind fronting the money and are looking for a top of the line neutral shoe, then these are some of the best running shoes for bad back pain.
Brooks Women's Glycerin 16 Running Shoe
Review: The Glycerin 16s are extremely comfortable cushioning shoes for neutral, long-distance runners. Brooks have upgraded their DNA foam to incorporate air bubbles into the new DNA loft for an extra light, soft ride, making it an excellent marathon shoe.
More revelations come to light with the upper which provides more comfort and support using a 3D printed layer on top of the seamless mesh with a particularly soft collar which makes the shoe comfortable enough to wear without socks.
If you loved previous Glycerins, the 16s won't disappoint.
Pros
Highly cushioned.
Durable outsole.
Very comfortable supportive and seamless upper.
Good tread.
Cons
May take a while to dry out.
Takeaway
Easily some of the best neutral women's running shoes for back pain owing to their superior comfort and cushioning.
Asics Women's Gel-Nimbus 20 Running Shoe
Review: The Nimbus is a classic from Asics, being its top neutral, cushioned shoe. However, while it remains a top of the line shoe, it hasn't changed as much as its counterparts from different brands over the years, keeping a traditional feel which users will either appreciate or resent.
So, whether or not to go with the Nimbus comes down to preference. But it does have some solid attributes in its favor.
The Flytefoam midsole coupled with Gel cushioning in the heel and forefoot provides plenty of cushioning while additional sole structure increases general stability. This edition is also gender-specific, with lighter weight and higher 13mm drop for female runners.
Pros
Extremely cushioned.
Well structured.
Breathable upper.
Durable.
Cons
Narrow forefoot.
Runs small.
Expensive.
Takeaway
For those who prefer the feel of traditional running shoes while receiving plenty of cushioning, the Nimbus is a great choice.
ASICS Gel-Kayano 25 Women's Running Shoe
Review: The Kayano's are easily some of the best stability shoes on the market, and always a fail-safe option for pronators.
They are reliably cushioned while supporting your roll through to maintain optimum alignment and remaining responsive enough to not feel sluggish on long runs. The Kayanos are known to go the distance and relieve all sorts of problems that arise from over-pronation including lower back pain.
The introduction of new Flytefoam Lite and Flytefoam Propel cushioning in the midsole mark the advances from previous Kayanos while maintaining use of the classic Gel and Duomax components.
The final product is a highly cushioned and yet lighter, more responsive shoe.
Pros
Extremely supportive.
Well cushioned.
Durable.
Comfortable.
Breathable mesh upper.
Cons
Takeaway
The Kayanos are a fail-safe option for pronators with lower back pain looking for a cushioned and comfortable ride.
Brooks Women's Adrenaline GTS 18 Running Shoe
Review: Designed especially for over-pronators while prioritizing cushioning and light weight, the Adrenaline GTS 18 is another reliable 'go-to shoe' from Brooks.
The upper has been redesigned into a sleek mesh to further reduce the weight of the 18 making it an impressively light shoe while still being very stable and pretty well cushioned.
The BioMoGo DNA foam in combination with the Progressive Diagonal Rollbar controls over-pronation while absorbing impact shock.
The higher 12mm drop does mean that it's only really suited to heel strikers but if this is your jam and you want a shoe that will keep you stable over the long miles then the Adrenaline is for you.
Pros
Lightweight.
Comfortable.
Breathable.
Good sized toe box.
Reasonably affordable.
Cons
Some durability and cushioning sacrificed in favour of light weight.
Takeaway
The Adrenaline is the Brooks equivalent of the Kayano. When choosing it really comes down to fit and comfort.
The Adrenaline's optimum arch support and cushioning won't let you down.
New Balance Women's Beacon V1 Fresh Foam Running Shoe
Review: The Fresh Foam Beacon is a revolutionary shoe for New Balance, combining extreme cushioning with light weight and a good amount of responsiveness.
The result is an extremely comfortable shoe that doesn't feel sluggish and heavy but that will provide ample cushioning for managing back pain.
The Beacon uses a new variety of Fresh Foam which feels much softer than the original and allows for better ground-feel.
With its lower 6mm drop, it's also moving in the direction of less conventional running shoes and reducing the need to heel strike.
Pros
Light weight.
Very well cushioned.
Soft feel.
Comfortable knit upper.
Responsive.
Lower drop than most conventional shoes.
Cons
Exposed foam in the sole may be less durable over time.
Takeaway
A highly versatile shoe that will be an excellent choice for recovery runs, longer distance runs and some tempo sessions. An exceptionally light weight, supportive and cushioned shoe.
New Balance Women's 890v6 Running Shoe
Review: The 890 V6 is a versatile neutral shoe that will support you comfortably through long distance training and tempo work.
Full-length REVlte foam forms the cushioning in the sole unit which results in a highly responsive midsole feeling firm and fast. TPU strips in the forefoot of the sole unit combined with the 6mm drop make the roll through even smoother and the ride even faster.
The 890 won't feel as cushioned as other shoes on this list, but it's a great choice if you suffer from mild back pain but still want a fast and responsive performance shoe with adequate cushioning.
Pros
Full length REVlite midsole.
Very responsive.
Breathable, seamless mesh upper.
Durable.
Cons
Narrow toe box.
A little heavy.
Takeaway
A great choice for providing cushioning and support for back pain while remaining fast and responsive.
Altra Women's Escalante Running Shoe
Review: In the classic Altra style with its zero drop and foot shaped toe-box, the Escalante matches Altra's expectations and more.
FootPod technology in the outsole is designed to promote as natural a running style as possible, allowing the foot to bend where it is supposed to.
Altra EGO foam provides soft and springy cushioning in the midsole while the completely knit upper is flexible and comfortable but definitely not as supportive as more conventional shoes.
Pros
Cushioned.
Very comfortable.
Lightweight.
Versatile.
Very flexible.
Zero drop.
Cons
Not as much ground-feel as other Altra shoes.
Upper provides limited support.
Takeaway
This is an extremely comfortable shoe with a fantastic amount of cushioning and more minimalist design than the other shoes on this list, promoting a more natural running style.
Not recommended if you're used to highly supportive 12mm drop shoes but a fantastic choice if you have some foot strength.
And that wraps up 15 fantastic choices for the best running shoes for lower back pain on the market this year.
I hope this article was helpful!
Feel free to comment below and subscribe for more running shoe hacks!