Gift Guide: 29 Best Fitness Gifts for Her – Awesome Gifts She'll Cherish & Use
This is THE gift list for the lady in your life who would rather climb Machu Picchu than lounge poolside, rather try the new smoothie shop than that chic new dessert bar, and finds achieving new PRs (personal records) more exciting than watching a new episode of "Better Call Saul", as much as I love that show.
This is my choice of the 29 best fitness gifts for her, chosen for fitness-minded women, by a fitness-minded woman.
Enjoy!
TOP 29 Best Fitness Gifts for Her 2023
Fitness Watch – Garmin Vívomove HR
Because what fitness fanatic does not like to track her calories burned, her heart rate, or the intensity of her workout?
Not only that…
But today's fitness watches do double duty and can be used at the office too.
The Garmin Vivomove HR can notify her of important emails, meetings, and even let her know when it's time to take a break. It has a beautiful and feminine design that looks good no matter what she is wearing or doing.
Fitness watches are the perfect gift for the busy multitasking fitness gal in your life!
Looking for more fitness watches for her? We have the best fitness watches for women reviewed here.
Google Music All Access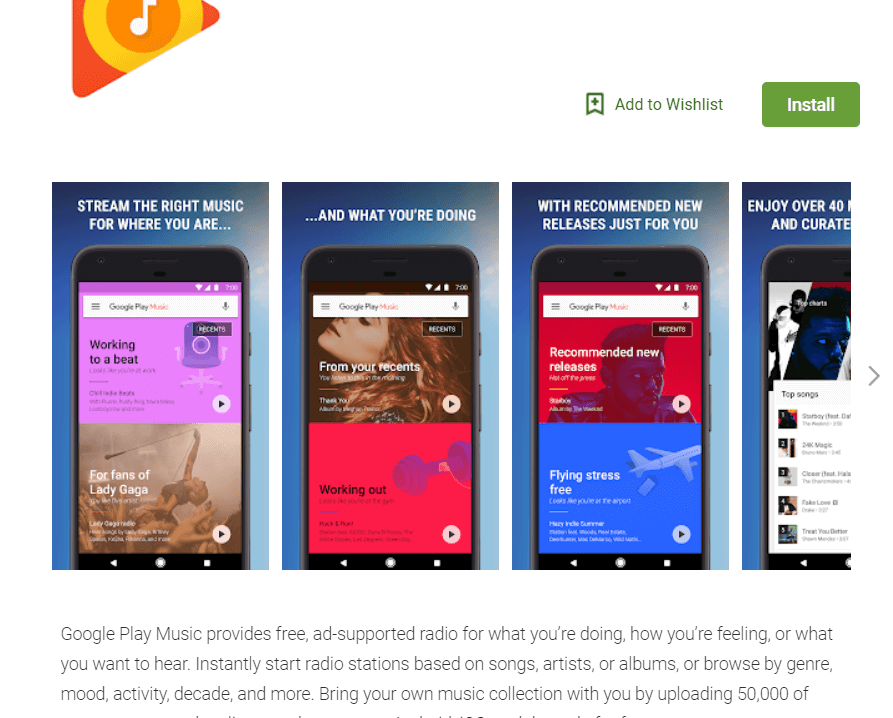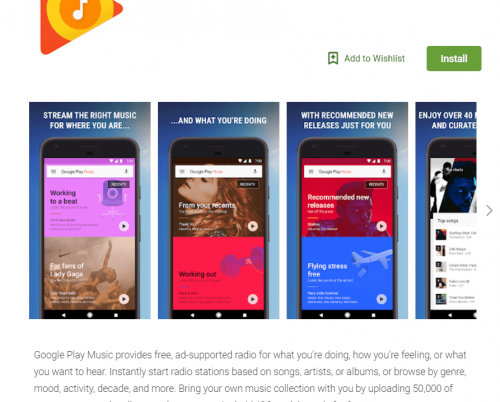 Get her the gift of music with Google Music All Access.
Not only can she listen to her favorite tunes, but Google all access offers up suggested playlists that do the work for her, and she may even find some new tunes to get her into beast mode.
Grrrr!
Jump Rope – Rogue SR-1 Bearing Speed Rope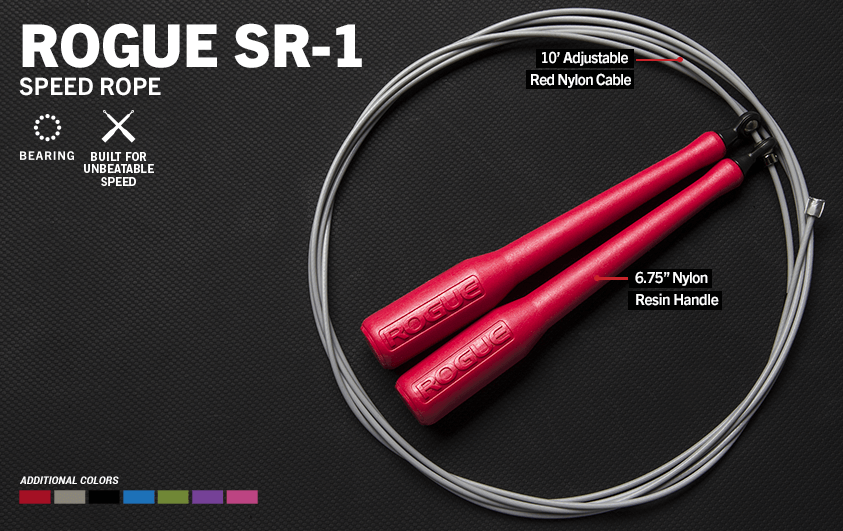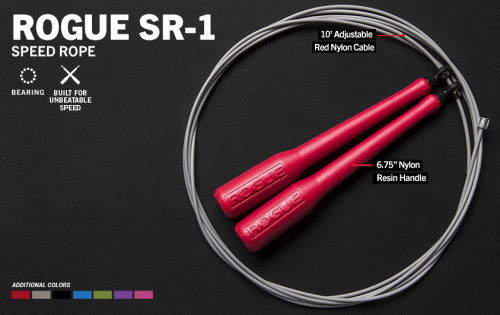 Want to win her heart?
Get her a high-quality jump rope.
Not only is jumping rope a solid cardio workout that is great for the heart, but it also travels easy, fits into any bag and is a go anywhere, do anytime cardio exercise.
Pair the jump rope with a pair of tickets to a vacation spot on her bucket list and you will win her heart.
Plus she can bring the jump rope along for a quick workout on the go.
This Rogue SR-1 Jump rope has speed bearings that help her jump really fast and allow a nice smooth action is she wants to jump double unders.
It is one of my favorite jump ropes and she is sure to appreciate it. Enjoy!
Foam Roller – Rogue Foam Rollers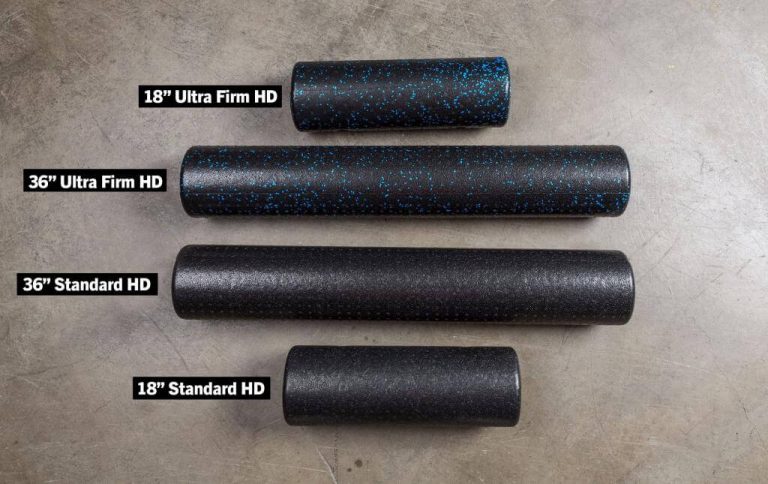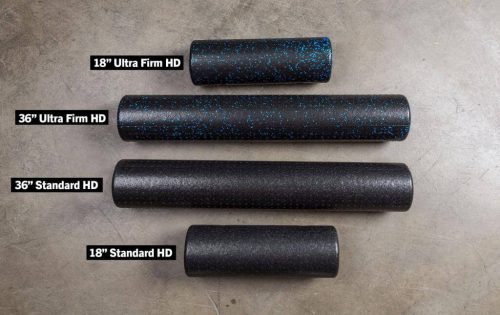 Believe it or not, a simple foam roller is on the gift list of MANY fitness-minded gals.
A foam roller is great for after a hard workout for stretching sore muscles.
One of the best things about a foam roller is it's not specific to any sport.
A foam roller can be used by ladies that run, box, CrossFit, practice Yoga, lift weights, kickbox, or just about any other sport out there.
This Rogue foam roller is available in several sizes and lengths and is available in standard density or ultra-firm, so there is bound to be one she will adore.
TRX Suspension Trainer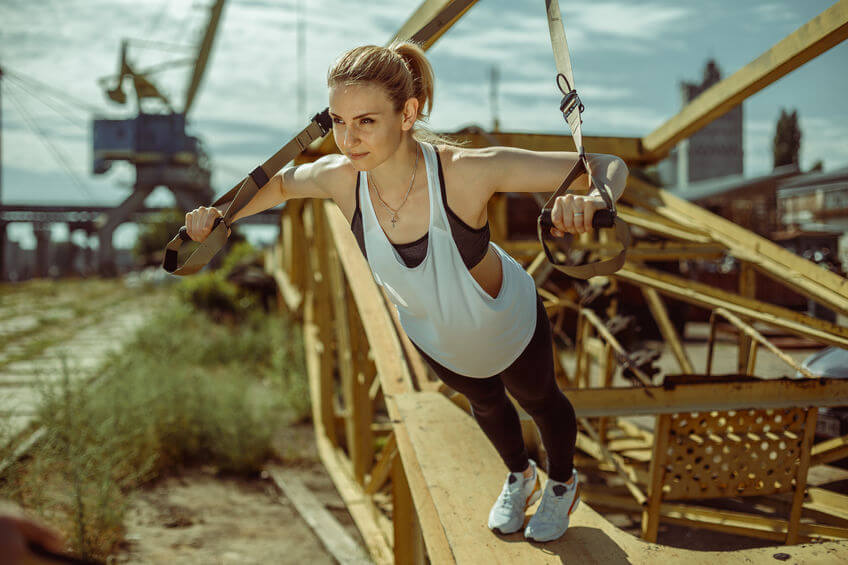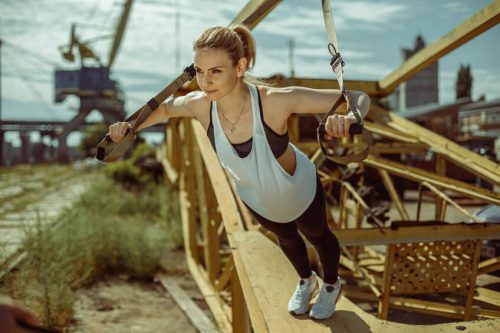 A TRX suspension trainer is an awesome gift idea for fitness lovers.
The TRX suspension trainer can be used for travel, or at home, when your fitness-minded female friend cannot get her regular workout in.
The TRX works all major muscle groups, takes up very little space, and can be done anywhere there is a door or place to anchor the system. It is one of the best workout gifts for her.
There are several model TRX suspension trainers available. I have reviewed 9 of the best TRX trainers here. Check it out!
App Store Gift Card
An Apple gift card allows her to buy her favorite fitness apps, or in-app purchases.
Fitness apps like couch25k, Strava and MyFitnessPal offer some cool and useful features via in-app purchases for just a buck or two, so an apple play gift card can really go a long way.
Shaker Bottle – Rogue BlenderBottle® Classic™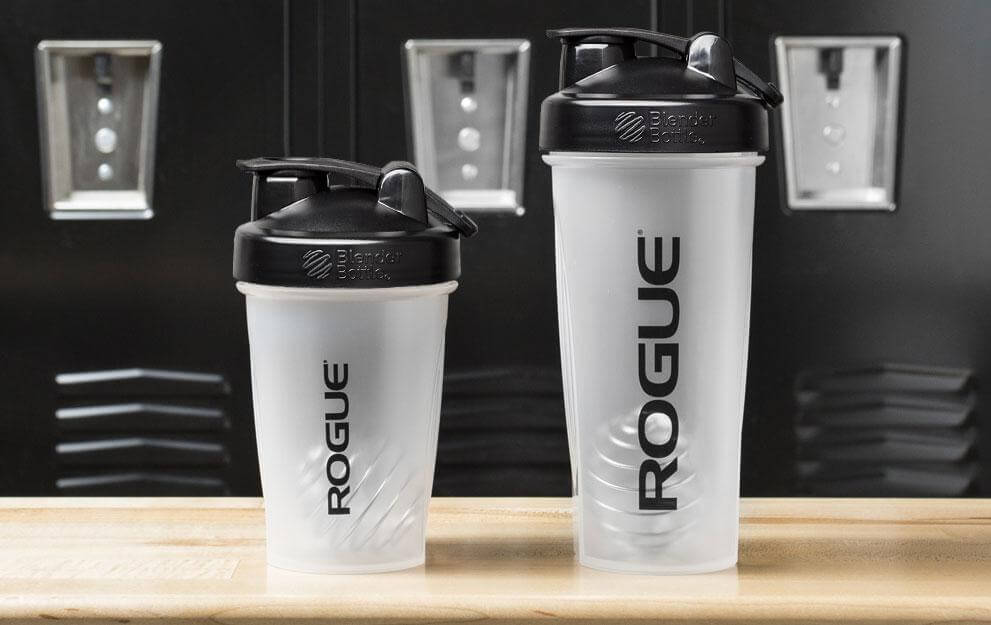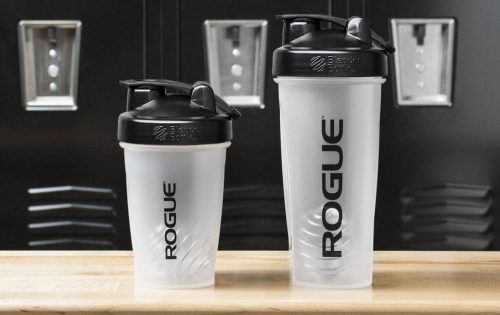 A shaker bottle is a gift just about every fitness buff on your list can use!
…and you know what?
You can never have too many of them.
Even if you get them a shaker bottle every year as a stocking stuffer, they will always be used and appreciated.
This Rogue blender bottle includes a handy, removable, stainless steel ball for perfectly mixed drinks without the hassle of using the blender.
Food Scale – Etekcity Food Kitchen Scale
A food scale is a good gift for the woman in your life if she has already asked for a food scale, or she likes to prep meals ahead of time and is careful about what she eats.
In fact, many women in the above category dream of having a food scale to get their macros perfect.
However, as a caveat, do not get a food scale for a woman if she has not already expressed or demonstrated an interest in carefully monitoring her food intake.
For your health nut co-worker who always brings in her perfect premade lunch of chicken breast, romaine, and exactly 5 almonds, a food scale is a great gift.
For your overweight cousin who says she wants to diet, but always seems to be snacking, this gift may be a bust.
Good Kitchen Knife – WÜSTHOF Chef's Knife
This is honestly the perfect gift for anyone who loves to cook, including a fitness-minded woman. A good knife makes food prep, and life, so much easier.
The fact is, you don't know how much a good knife is worth until you have owned a good knife, and then you cannot live without it.
And…
…since knives are not something many women splurge on, but just about any woman can use, it makes a great gift!
Leg Warmers – Eurotard Women's Legwarmer
A pair of Leg warmers make a great gift for the cyclist, runner or lady who practices yoga.
They make an easy removable layer in cold weather, keep muscles warmed up and ready to go, and they look really cute.
If she runs or cycles, consider these Pearl iZUMi Women's Cycling legwarmers which are sleeker and offer a little compression.
If she practices yoga or is using the leg warmers indoors, consider a pair like this.
Cute Tank for Her
A woman can never have too many workout tanks, especially if she is working out several days a week.
Get her a cute workout tank so she is not left scrambling on laundry day and always has something cute to wear to the gym or for her workout.
A carefully chosen slogan on the front demonstrates how well you know her and the connection you two share.
Wireless Headphones or Earbuds – Apple AirPods
Wireless headphones are one of the most requested items from my female fitness friends.
Wireless headphones or earbuds are great for just about any athlete, from runners to cyclists, to weight lifters, they always come in handy.
Give her freedom from annoying and restricting cables with a pair of wireless earbuds.
These Apple Airpods connect automatically, can be controlled by her voice, and come with a wireless charger. How cool is that?
Water Bottle – BuildLife Water Bottle
Water bottles are another great small gift for her.
They make the perfect stocking stuffer or gift for a friend at the office, and they are always appreciated.
Staying hydrated is important to all health and fitness-minded gals, and she can always use more than one!
This Buildlife 1 gallon is a fun way for her to stay hydrated and meet her water consumption goals.
It has a gauge with time of day and markers so she knows how much she drank and keeps her motivated.
Sports Bra – Under Armour Women's Bra
A sports bra is another item the female athlete in your life probably feels like she does not have enough of, and another one is always welcome.
A quality sports bra is a must when working out – she can't wear a regular bra, they simply do not perform the same as a sports bra, your wife or girlfriend will appreciate it.
Looking for the best sports bra?
I know it can be hard to choose since there are so many out there. I review 15 of the best right here.
Chalk on a Keychain – Liquid Fit Chalk
Looking for a gift for the lady CrossFit fanatic?
Liquid chalk is a great idea. The liquid is less messy than loose chalk, can be held on a key ring or tossed in her gym bag, is more sweat-resistant than regular chalk and best of all – IT WORKS!
Looking for more CrossFit Gifts? I have the perfect list right here.
Resistance Bands – JYM Strength Bands System
A set of good resistance bands, like these Jym Strength bands, allow her to get a quick workout from the comfort of home.
She can take them with her when traveling too!
The JYM Strength bands are my top choice because they are so durable, where others have failed.
They come with an exercise book so it's easy for her to use them, and it has a large variety so she can customize the resistance to her level.
Gift Certificate for a Massage or Spa Day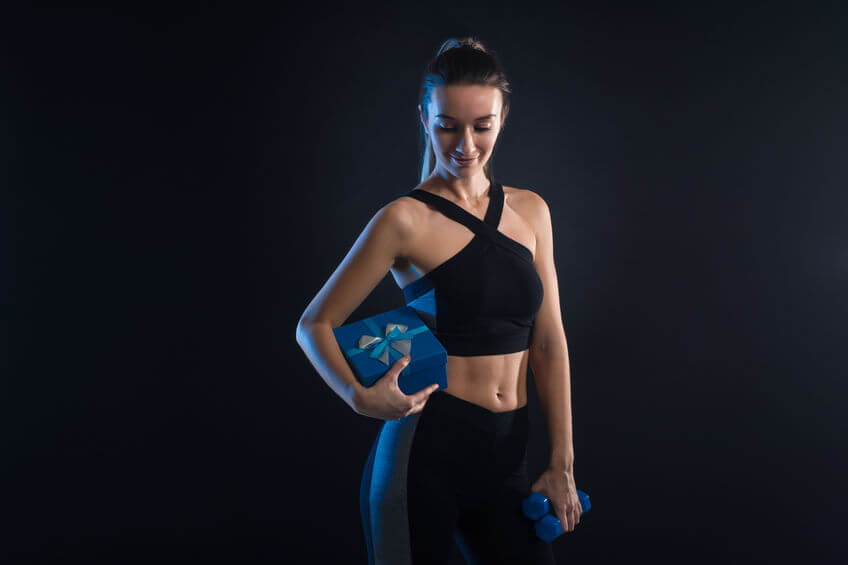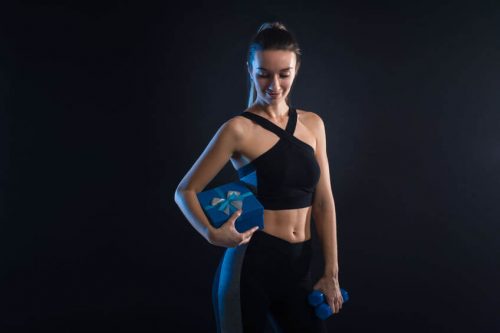 So many women ask for this so I must list Spa Day or Massage certificate here.
Treat your woman to a spa day!
A spa day or massage gift certificate is different from other types of gift cards because it is personal.
It is buying her an experience, the experience of a relaxing day at the spa or a tension relieving massage.
Smart Scale – Greater Goods Smart Bathroom Scale
Many fitness-minded ladies want a fitness scale, but may not splurge on one.
This Greater Goods fitness scale is on my must-have list because it is offered at a reasonable price and does everything those other more expensive scales do.
This Greater Goods scale connects to all her favorite fitness apps and trackers including Fitbit, MyFitnessPal, Apple Health and more.
Not only that…
This scale is Bluetooth capable, making it super easy to connect. It measures BMI, and can differentiate between lean mass, fat, and water weight. So cool!
Gym Bag – Under Armour Undeniable Duffle 3.0 Bag
Every female athlete can use a gym bag. This popular Under Armor Undeniable 3.0 duffle comes in so many colors it is easy to find her favorite.
This Under Armor duffle is just the right size to hold everything she needs at the gym, without being bulky.
It is very cute, that's important!
And it has a separate shoe compartment and is made from high-quality materials. She will love it!
Looking for more great gym bags? We have reviewed the BEST gym bags for women here, so take a look.
Book – Starting Strength
While this book is appropriate for both men and women, it's a fitness book I see women recommend to other women all the time.
I have seen female athletes call it a "MUST READ" and say it is a "glorious bible of the big lifts" that will teach beginners proper form, all the standard lifts, and give her the confidence and strong foundation to start lifting weight at home or in a gym.
This fitness book teaches women what they need to get off to a good start in lifting without watering things down, limiting abilities, or being condescending.
I can't recommend it enough!
Workout Leggings – 90 Degree By Reflex Leggings
Women need like a million pair of workout leggings, no joke. Workout leggings will always be an appreciated gift so you can't go wrong getting her a pair.
Look for a pair with a pocket, she will appreciate a place to stow her keys or phone. These workout leggings by 90 Degree fit the bill.
They have a pocket big enough for a large phone, are very flexible, while still giving good coverage so her panties don't peek through, and have a high, flattering waist that STAYS UP!
If you are considering a different pair, the best brands are Lululemon, Alo Yoga, 90 degrees, Under Armor, Athleta, Zella, and Danskin.
Want to see more workout leggings for her? I reviewed the best brands and the best designs here.
Fitbit Versa Lite
Easily one of the most seen items on the gift list of many fitness-minded ladies is a Fitbit.
This Fitbit Versa lite has features she will love, like female health, activity, sleep tracking and its waterproof.
Plus it's lighter than the original Fitbit Versa. She will appreciate that.
Want to see more fitness trackers? I reviewed 31 of the best fitness trackers right here. I have them organized by function and style to make it easy to find the perfect fitness tracker.
Kettlebells – Body-Solid Vinyl Coated Kettlebells
A set of kettlebells are a great gift idea for the female athlete. They can be used for both strength training and cardio.
Did you know that just 5 minutes of kettlebell swings burns 100 calories and delivers a heart-pumping cardio workout at the same time?
Plus kettlebells in various weights allow her to customize the weight to her strength and progress when she is ready.
This set of Body-Solid kettlebells are attractive and vinyl-coated so they won't scuff up her floors and are easy to wipe down.
Plus the handles are made wide enough so she can lift one with both hands.
Stopwatch – Gymboss Interval Timer & Stopwatch
She can use a timer to track intervals, rounds and time for Tabata, HIIT, Boxing, Kickboxing, Interval Training, Sprinting and more.
This small Gymboss timer has large, easy to push buttons that can be pushed even if your lady is wearing gloves, unlike a smartphone.
The Gymboss also has a removable clip and can be stored in her pocket too!
A Personal Home Gym – Home Gym Planner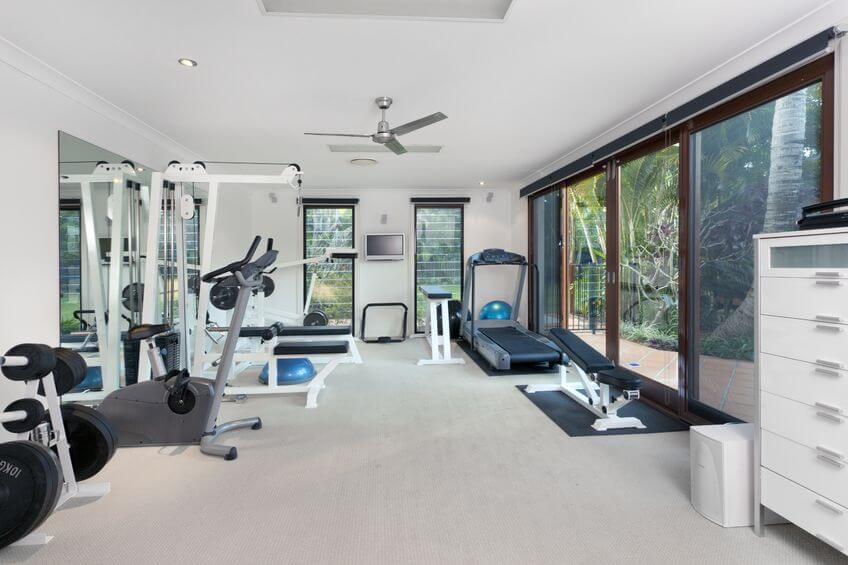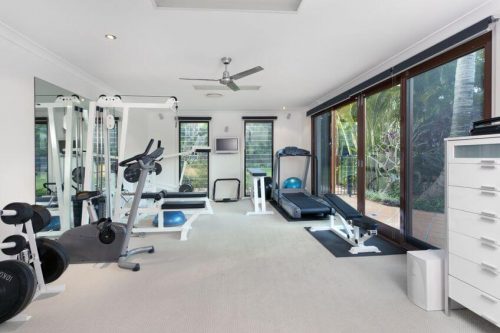 Build her a gym space of her own!
She will love the freedom to work out from home if she is short on time and cannot make it to the gym, does not like commercial gyms, or wants to get a supplemental workout from the comfort of home.
Check out the complete garage and home gym planner here for great ideas and layouts so you can plan her the best home gym.
Crockpot – Crock-Pot Cook & Carry
If the health-minded woman on your gift list leads a busy life she will love the ease and convenience of a crockpot.
A crockpot offers the gift of time and health, less dishes and less time slaving away at the stove – something any busy woman can use.
Plus, if she is into meal prep for herself or for the whole family, this is one tool she needs. From homemade chili and pulled chicken to roasted veggies, stews, and pot roasts – the crockpot is ideal.
This Cook and Carry is one of the most popular Crockpots out there. It is large enough to hold a roast, it has a locking spill-proof lid, and the crock is made from stone wear so it's healthy too cook with, removable and dishwasher safe.
She's gonna' love it!
Gym Membership or Fitness Class Subscription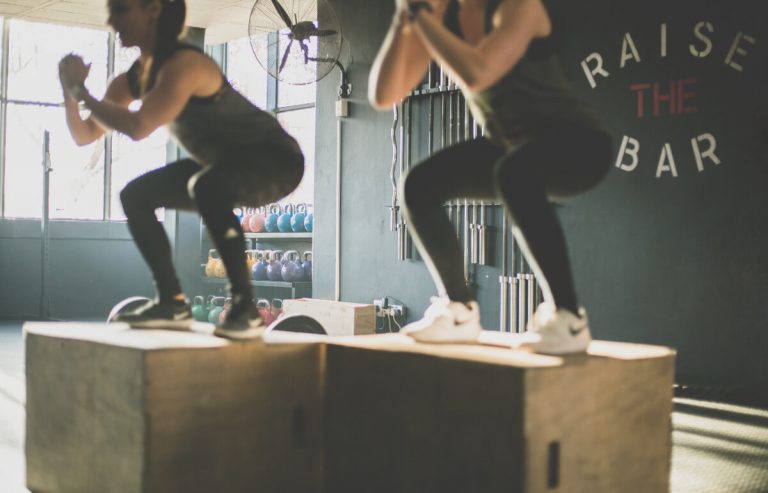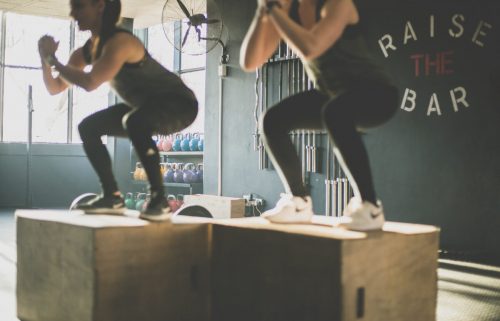 You might be surprised how many ladies have a gym membership at the top of their gift list.
Even ladies that already go to the gym want to be gifted a gym membership.
You can buy her a yearlong membership or get her a punch card for a class she has been wanting to try.
Need some great class ideas?
Here is my review of the top 10 group fitness classes to give you some great ideas for your gal.
Give your gal the gift of trying something new so she can spice up her fitness routine.
Meal Prep Containers – Rubbermaid Food Containers
For the serious meal prepper there's nothing better than a set of high-quality meal prep containers.
I love this set from Rubbermaid because the lids are interchangeable, they snap shut so you are confident you got a good seal, and they don't chip and crack like a few other brands do.
The lids on this Rubbermaid meal prep set always stay pliable and the plastic is not brittle so they will not shatter if accidentally dropped.
Nutri Ninja Personal and Countertop Blender
Every girl needs a good blender, that's a fact.
A powerful blender is the star of the show when making the perfect smoothie and this is the best fitness gifts for her in my book.
This Nutri Ninja blender is a powerful blender that is strong enough to blend frozen fruits, nuts and seeds and even ice. Plus this comes with three blender cups with lids so you can grab and go!
I hope you found the best fitness gifts for her on this list.
Do you love fitness gear and reviews?
Don't forget to sign up for the Garage Gym Power newsletter and get notified of the latest and greatest in the fitness world. Just enter your email and click submit!
[starbox id=katielynwriter]