Best Beginner Weight Lifting Guide & Weight Lifting Equipment For Home Gym
Work, work, work, work work.
With so much time devoted to work – and so little time to get to the gym, it's almost impossible to stay fit. A great way to stay active (and save time & gym membership costs) is to build a home gym.
No need to drive to the gym, just pop into the garage in seconds.
A home gym can be built for the same (or even lower) price of a regular gym membership, and all of the equipment can be found easily (and cheaply) right online.
And in this article, you're going to learn about some of the best weight lifting equipment for home gyms currently available. As well as provide some weight lifting equipment reviews on the equipment recommended.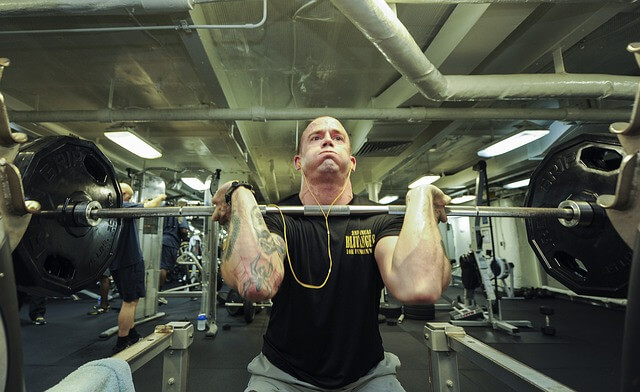 The Basics
Good flooring
Good flooring is a necessity. Whether you are a cross-fit junkie dropping power cleans, a powerlifter dropping a heavy deadlift, or a cardio guy simply doing his crunches, a clean, safe floor is one of the most important investments you can make.
While many sporting goods stores advertise "foam exercise mats" (typically very expensive per square foot), the highest quality, most cost effective flooring are horse trailer mats.
These mats are one of the best weight lifting equipment purchases you can make.
Horse trailer mats, such as Mat by Equine should be a staple in any home gym.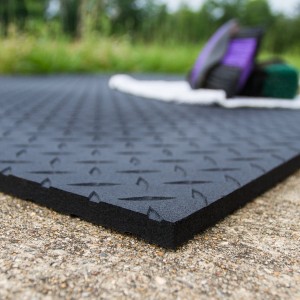 Click Here for Pricing, Pictures and Reviews on Amazon.com
Horse trailer mats will keep your concrete floors undamaged and in pristine condition, and will provide years of durability from dropped weights, dropped kettlebells, and any other implement a home gym owner can think to drop.
Safety
Once your flooring is installed, the best weight lifting machine investment you are going to make for your home gym is a quality squat rack or safety cage.
Every single year a handful or lifters are killed and many more injured, doing a very basic exercise, that everyone does. The bench press. The bench press is the single most dangerous exercise a home gym user can do. Chances are a home gym lifter is lifting alone without a spotter.
Body Solid's Pro Power Rack has been a proven piece of equipment.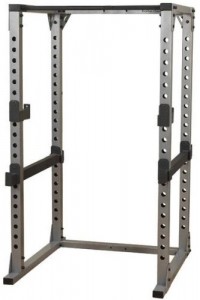 Click Here for Pricing, Pictures and Reviews on Amazon.com
With 20 different adjustment levels, the safety catches can be lowered or raised to fit any body type. Adjustable pins will allow all lifters, short-arms, long-arms, the ability to have a solid, safe liftoff, and being able to have the peace of mind to — push it to the limit!
If you squat (which all of us should be doing), there is no better weight lifting equipment for home, than this Body Solid Pro Power Rack. With its wide, walk in design, it's deep enough to squat inside. Eliminating any need for a spotter, and keeping the user perfectly safe from the fear of failure.
Bars and Weights
Our next piece of vital equipment is going to be a high-quality barbell. Since our home gym isn't going to have room to store ten different types of barbell, the idea is to buy one, well-made versatile bar, that will fulfill all our needs.
CAP Barbell has been making high quality weight lifting equipment for home and commercial gyms for over 25+ years. The 7 Foot, CAP Barbell Olympic Bar (with 1000-pound capacity) is the perfect home gym barbell.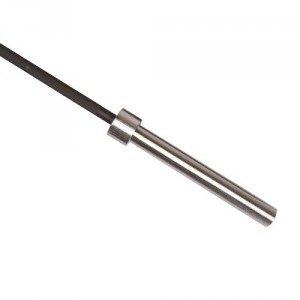 Click Here for Pricing, Pictures and Reviews on Amazon.com
This bar can be used for any type of lifter. The "whip" and "spin" is going to feel comfortable to both cross-fitters and Olympic style lifters. And the "solid" feel is going to appeal to anyone looking to hit new personal records!
CAP Barbell also is the "go-to-choice" for high quality bumper plates.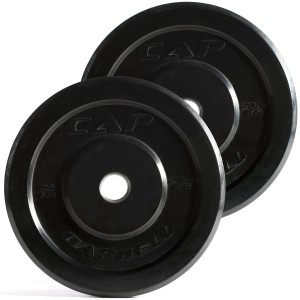 Click Here for Pricing, Pictures and Reviews on Amazon.com
Even with horse trailer mats on our garage floors, the wife and kids (and the neighbors) aren't going to be too happy with metal plates dropping on the floor all hours of the morning and night.
CAP bumper plates are the perfect addition to any home gym. They are quiet and can be dropped safely from any height. These plates come in a variety of sizes. 10lb, 15lb, 25lb, 35lb and 45lb and can be purchased in pairs.
Something overlooked, but none the less important, is fractional plates.
As lifters, our goal is always to make progress. To keep on pushing forward. Sometimes, though, it is impossible to make 5lb jumps every day. Standard equipment typically (on its lightest side) only lets you add 2.5lb plates to each size of a barbell.
Fractional plates, such as Serious Steel Fitness plates allow loading as small as one quarter pound weight to each side of the bar. A half-pound increase, and a more manageable lift.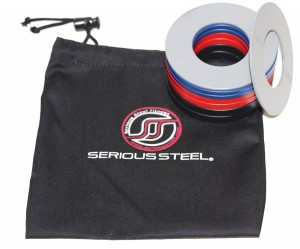 Click Here for Pricing, Pictures and Reviews on Amazon.com
Dumbbells
In a word. Versatile. Since we are looking for the most bang for our buck (and our space), the addition of dumbbells to our home gym is crucial.
Most commercial gyms provide a full dumbbell rack with an assortment of different sizes. However, the standard home gym size, just won't allow for that.
The alternative – Adjustable Dumbbells. And one of the best pair around is the Bowflex SelectTech 552 Adjustable Dumbbells.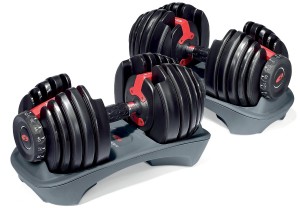 Click Here for Pricing, Pictures and Reviews on Amazon.com
This set combines 15 sets of weights into one dumbbell using its unique dial system. Each dumbbell can be set to 5, 7.5, 10, 12.5, 15, 17.5, 20, 22.5, 25, 30, 35, 40, 45, 50, and 52.5 pounds to give any user, exactly the weight combination needed for their favorite exercises.
Kettlebells
One of the best ways to gain both strength and physical fitness in the shortest amount of time is the addition of kettlebell training, and adding kettlebells to our arsenal of weight lifting equipment for our home gym is extremely easy.
Here again, we can look no further than CAP Barbell.
Their high quality, cast iron kettlebells are perfect for our home gym. The diameter of the handle is perfect for almost any sized trainee.
Kettlebell swings, cleans, snatches, presses & squats – some of the very best exercises in existence, can all be performed safely and securely. And the fact that they come in 10lb, 15lb, 20lb, 25lb, 30lb, 35lb, 40lb, 45lb, 50lb, 60lb, 70lb, 80lb sizes, means they are ideal for anyone from beginner to advanced, and since space is always at a premium in our home gym, you can just buy the sizes that you need.
Cardio Equipment
Elliptical/Bike
The next best weight lifting equipment for home is our cardio equipment. In a perfect world, of insane home gym storage space, we would want both an exercise bike, as well as an elliptical to make sure our "dreaded" cardio days are kept to a minimum, and that there are always a variety of things we can do.
The ProForm Hybrid Elliptical machine "ProForm Hybrid Trainer" is the best of both worlds (in a smaller footprint).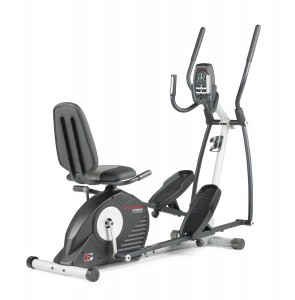 Click Here for Pricing, Pictures and Reviews on Amazon.com
This machine has 14 different workouts, as well as 14 different resistance levels. A ridiculous amount of combinations can be set, and you'll never have the same workout.
Also, for the "techies". The ProForm Hybrid Elliptical can be connected to iFIT via BlueTooth, and will allow you even to download workouts. You can even use Google Maps and take your workout anywhere in the world!
It also comes with a built-in table holder, freeing your hands to work even harder.
Rower/Bike
Another high-quality alternative to an Elliptical is a combination Rower/Bike. Exercise science increasingly tells us that rowing is one of the best full body movements we do for increased overall cardiovascular health.
The Avari Conversion II Rower/Bike combination is a perfect way to fit a rower (and a bike!) into our home gym. This machine is extremely quiet and extremely comfortable to use.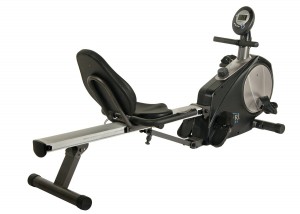 Click Here for Pricing, Pictures and Reviews on Amazon.com
It has all the features one would expect in a cardio machine. Distance, speed, time, odometer, heart rate monitor and it keeps track of calories burned. It's fully adjustable for all sizes, and it's 46 x 26 x 10-inch footprint, means it's virtually guaranteed to fit in any home gym.
Odds and Ends
Our home gym would be complete using the equipment described above.
But for those owners with a little more space, or for trainees looking for a little more variety, there are a number of high useful "extra" pieces of exercise equipment that can be added to our home gym.
Resistance Bands
The addition of resistance bands to add variable assistance/resistance to any lift or body weight exercises, makes resistance bands an almost necessity in any home gym.
Serious Steel Fitness makes some of the most durable bands on the planet.
Plyometric Boxes
"Plyo" boxes are perfect for box jumps, step-ups and can be safely added inside our power rack, to allow box squats. While these boxes can be home-made relatively easy, one of the best choices to make, to save time & money on supplies, is the 3 in 1 Wood Plyometric Box made by Rep Fitness.
Ab Wheel
Another piece of "core" weight lifting equipment for home, is the Ab Roller. One of the best values out there is the Fitness Master Ab Wheel Roller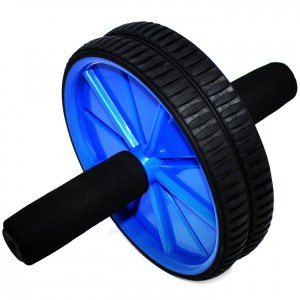 Click Here for Pricing, Pictures and Reviews on Amazon.com
The next step
The next step is all yours. Make the commitment to a better body and a better life. A home gym is one of the best investments you can make.
Hopefully we've introduced you with some great weight lifting equipment reviews to get you started down the right path.